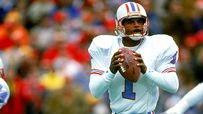 Warren Moon threw for over 49,000 yards in his NFL career.
Welcome to SportsNation! On Wednesday, Pro Football Hall of Famer, and former Houston Oiler, Warren Moon stops by to chat about the upcoming 2009 NFL season.
Moon's new book "Never Give Up on Your Dream" hit stores July 13. The book chronicles Moon's rise to become the first, and so far only, black quarterback in the Hall of Fame.
The University of Washington product played 16 seasons in the NFL and another six in the CFL. He was selected to play in nine Pro Bowls, winning the 1990 Offensive Player of the Year. While in the CFL, he won five straight Grey Cups.
Send your questions now and join Moon Wednesday at noon ET!
More Special Guests: Previous chats | SportsNation
Buzzmaster
(11:51 AM)
Warren Moon will be here at noon ET to take your questions!
Buzzmaster
(12:02 PM)
Warren is on his way!
Buzzmaster
(12:04 PM)
He's here!
Douglas Weaver (Coventry, RI)
Looking back, you were the only QB that made the Run and Shoot offense work. What was it that you had that made it work that others did not?
Warren Moon
(12:06 PM)
I think it was my versatility. I was a good enough runner and good enough on my feet that I could do the half rolls and sprint outs that you had to do. Also I had a strong enough arm that I could make those same throws on the move. Versatility was my key.
Steve (NYC)
Hey Warren, how did you come up with your idea for a book? Is it something that you always wanted to do or did someone approach you about it?
Warren Moon
(12:08 PM)
I had been approached a lot throughout the last part of my career by a bunch of writers to write my story. I was always hesitant, becuse it takes a lot of time and reflection to write a book. But I also thought I had a story to tell and my message of getting through road blocks and I didn't come from a whole lot, but still was able to accomplish my dreams. Some people give up, but I showed if you don't give up you up can accomplish those things.
Mike (Ohio)
Warren, how did you feel about the Oilers moving to Tennessee?
Warren Moon
(12:08 PM)
I wasn't surprised, only because there were huge rumors that we were going to move to Jacksonville when I was there. I knew the owner was looking to move somewhere because they couldn't get a new stadium deal. It really didn't surprise me that much because that had been in the works for a long time.
Craig (Norwich, CT)
What did it feel like when you found out you'd been elected into the Pro Football Hall of Fame in 2006?
Warren Moon
(12:10 PM)
It was probably one of the most emotional moments I've had in my life. Only because the Hall of Fame is not something you set out to achieve. It really means something and when it finally did, everything that I went through to get to the NFL, all the things that were said about me, to play QB, came out of me. It was a very fulfilling moment.
Kevin Bere (Boonsboro, MD)
You didn't talk much in your book about accepting a backup role when you went to both Seattle and Kansas City. Was it hard to accept the backup role, especially at age 43 in Kansas City? Is there a reason you just didn't retire after Mike Holmgren let you go after 'the '98 season?
Warren Moon
(12:11 PM)
It was, but I went to both of those places knowing that at 40 or 41 that was what was going to be offered me. But it was also two situations that if those guys didn't play well, I could step in. In the back of my mind, I always felt that I could be the starter. In Seattle that happened, but in KC it didn't because Elvis Grbac played some of the best football of his career. They both had history of injury, so that played into my decision. It was very hard being a backup.
Brian (Walla Walla WA)
Mr. Moon, its my birthday and i've been a husky/seahawk fan all my life. Your my second favorite QB of all time after Randall Cunningham. PLEASE PLEASE PLEASE answer my questions!!!If Jake Locker stays healty can the Huskies go to a bowl game tihs season?? thanks. can't wait to hear your commentary during seahawk preseason games
Warren Moon
(12:12 PM)
I watch it very very closely. I'm really excited about Steve Sarkisian the new coach. He brings enthusiasm to the program. If Locker stays healthy, they could make a bowl game.
Steve Ozimec (Toronto, ON.)
I am wondering how you would compare the Canadian Football League and its style of play with that of the NFL. Did playing in the CFL ease your transition from college to the pros? Do you think you would have been given a chance to start in the NFL as a black quarterback if you had not been given the chance to first prove yourself north of the border?
Warren Moon
(12:14 PM)
There's no question it's a different style of game. Different rules, different style. The CFL made me a more versatile QB because of all the things you had to do once you got on the field. And if I wasn't as versatile as I was, I wouldn't have been as successful in all the different offenses that I was in in the NFL.
Brandon Keslar (Florida)
Warren, I am a big fan. I was wondering what you think the NFL has become since you were playing in it. Any good improvements?
Warren Moon
(12:16 PM)
The biggest changes I've seen has been free agency. Something I went on strike for and was a union rep for in 1987. Free agency allowed players to move around to different teams. It's created bigger salaries. The advent of TV has just made the game so much bigger and more popular. It's by far the most popular sport.
Warren Moon
(12:16 PM)
I think the labor peace they've enjoyed for so long has made it very successful. Baseball and basketball has had labor stoppages. That's something that worries me now that the new CBA is coming up.
Warren Moon
(12:16 PM)
As a side note, I wish they would have protected the QBs back then like they do now.
Mike (Ohio)
Did you have a QB hero growing up?
Warren Moon
(12:17 PM)
My biggest hero was Roman Gabriel, who was the QB of the Rams and Roger Staubach. Those were the two guys I tired to emulate when I was little.
Keith (Enfield, CT)
Have you fully recovered from the Buffalo game? 15 years later and it's still a nightmare for me!
Warren Moon
(12:18 PM)
I never think about it except for when people like you bring it up that terrible memory! Or when I see the game on ESPN Classic. I always watch the first half and turn off the second half.
Warren Moon
(12:18 PM)
That game will always bother me.
Warren Moon
(12:18 PM)
It's one we let get away.
Kevin Bere (Boonsboro, MD)
Who was your favorite target you could always count on?
Warren Moon
(12:19 PM)
I think it was a guy named Drew Hill who I played with in Houston. He was really consistent, had a great feel for the game. And, of course, Cris Carter later on when I played in Minnesota.
greg boston
what's been the response from the book/
Warren Moon
(12:20 PM)
It's been pretty positive. I think people have really enjoyed the read. I think they've learned a lot about me that they didn't already know. It's been an eye opener and all the different things I went through to make it to the NFL.
Matt (IN)
Warren, lets say you're a coach. There's 2 minutes left in the Super Bowl and your team needs to drive 80 yards to win. Aside from yourself of course, what QB past or present would you want leading your team?
Warren Moon
(12:21 PM)
Probably John Elway. I know he beat me one time in the playoffs with 1:58 to play, 98 yards to go and he completed 2 fourth downs. He probably has more come from behind victories than anyone else in the game. His ability to run and scramble make him so dangerous in that situation.
Dave (LV)
Any particular reason why you chose to wear #1?
Warren Moon
(12:22 PM)
Two reasons: A QB at OSU Cornelius Green wore that against USC in the Rose Bowl one year. That's when I first saw it. I thought No. 1 signified to my team where we always wanted to be and where we wanted to finish. Then, to me, that I was the leader of the team, to show the team.
Warren Moon
(12:23 PM)
I'd just like to say I want to thank you all for supporting me throughout my career and post career. For those of you who want to get a better understanding of who I am and wha tI'm all about, reading Never Give Up on Your Dream is a good way. For those of you who have read it, I hoped you enjoyed it.