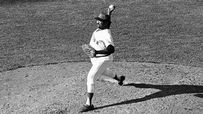 Tiant was inducted into the Red Sox Hall of Fame in 1997.
Welcome to SportsNation! On Thursday, former MLB pitcher Luis Tiant stops by to chat about baseball's stretch run, as well as the upcoming ESPN documentary "The Lost Son of Havana."
Tiant pitched for four teams during his 19-year career, making three All-Star teams. A Cuban native, Tiant pitched four straight shutouts in 1966, tying a then-MLB record. In his career, he won 229 games, winning 20 or more four times, with a 3.30 ERA.
The ESPN documentary on Tiant premieres on ESPN on August 10 (10 p.m. ET). It tells Tiant's story of spending a half-century in exile from his homeland in Cuba. The film follows Tiant on his heartfelt return to Cuba for the first time since the 1960s.
Send your questions now and join Tiant on Thursday at 4:45 p.m. ET!
Be sure to join former Yankee Bucky Dent's chat Thursday at 1:10 p.m. ET!
More Special Guests: Previous guests | SportsNation | Chat Index
Buzzmaster
(4:34 PM)
Luis should be here shortly!
Buzzmaster
(4:40 PM)
Luis is on his way over!
Buzzmaster
(4:50 PM)
Luis is here!
Tim (Seattle)
Have you seen the film yet that ESPN made about you? How did you like it?
Luis Tiant
(4:52 PM)
I saw it. I saw it about 8-9 times already. I like the way they put it together. It means a lot to me and my family. They showed two people - the Luis Tiant baseball player and the Luis Tiant of life. They showed what I had to do to make it. Any time they make a documentary on you, you have to be happy, because they don't make one of those for everyone. I think it's a good achievement for me.
Jim (Chicago)
Was the Red Sox-Yankees rivalry as big when you played as it is now?
Luis Tiant
(4:54 PM)
Yeah. We had a lot of rivalries. I think the way the press brings in the people and hte TV. It's crazy because, to me, I don't mind the rivalry. I like to see it. They want to beat each other. But when you're talking about fights or people in the stands wanting to fight, I don't think that's good for the rivalry or good for basball. You go to the game, you want to have a good time, go with your wife, drink a beer, have some peanuts, but not to fight. You don't need that. I don't want to see a rivalry like that. When I was with the Red Sox, I never heard anyone say that they hate the Yankees. The only players that I knew that didn't like each other was Lou Pineilla doesn't like Carlton Fisk. He told me that he didn't want to hear him talk any more. He said every time I go to bat, he's talking about my mama. When the players are doing that, it's fine, but the fans, it's not.
Luis Tiant
(4:56 PM)
I remember the fight with Alex and Varitek. Now, every time the Yankees come into Boston, that's the first picture you see in the game is that fight. What are you telling people? That baseball is about fighting? We wanted to beat the Yankees. We wanted to go to the next level to beat the Yankees. I never heard or talked about wanting to punch the guy. But now all you see and hear about is the fight.
Bill (Boston)
How emotional was it for you to return back to your native Cuba?
Luis Tiant
(4:58 PM)
Emotional. I cried. Thinking everything you can think in the world. It was the best thing that happened to me, but when you're landing on the plane. You don't know what's it going to be. You don't know if you can go back or put you in jail. I applied for the visa and they lied to me. That's the chance that I took. It makes you nervous, makes you tihnk about it. Sweating. You don't know what's going to happen. But thank God, nothing happened. The guys doing the documentary did their thing. They took movies of me, movies of the place where I used to play. I saw some of the guys that used to play with me. They're still alive. We had no problem doing that.
Luis Tiant
(4:59 PM)
Everything that you were doing or thinking, it's a different story when you get there. Then you get depressed and you don't know if you want to cry or be happy. You start talking to yourself, why? Why? That's the question all the time. It really hurts your brains. Thinking too much. I did what I wanted to, in coming back to my country. See the land and where I grew up. That's what I asked God, to let me go back home before I die. I think that's sad that you can't go back to your land before you die. If you find out your mother and father died before you can get that. That's sad.
Chris (Florida)
Where did you learn that delivery of yours?
Luis Tiant
(5:02 PM)
I learned it myself, I guess. One day, I just came out with the idea, 1972 when I was in Boston. The first time I did it in a game against Cleveland. I don't remember the hitter, but I had him on 2 strikes. I looked in the sky, in centerfield. The guy at home plate had big eyes and it was strike 3. The guy asked Fisk what that was and he said it was a new pitch. I kept practicing it and the release. It worked for me. When I was in Cleveland 1964-68, I threw 98-99, but I got hurt and I couldn't throw that hard any more. I tried to work out something. I started using my body better. That's when I started throwing that.
Luis Tiant
(5:02 PM)
I had fun too. It was fun to see the hitters with their look. They didn't want anything to do with it. I enjoyed playing. That was the greatest thing that happened to me. God gave me an opportunity to do it. I never thought I'd do what I did, but it happened. I enjoyed to pitch. It's a good game. As long as you do something you like to do in life, that's good.
Mitch (Dallas)
You had over 180 complete games in your career and 25 in one season. These days a pitcher will be lucky to have 25 complete games in his career. What do you think of the fewer number of complete games being pitched?
Luis Tiant
(5:05 PM)
I think what the problem is the system has changed, not the players. I have to pitch them in this situation. They're trying to change the game. I don't know why. Not too many good pitchers anymore. Guys throw hard, that's not pitching. The harder you throw, the farther they hit you. You have to learn to set the hitters up. Change speed. You have to pitch inside, not hit him, just inside. But the kids don't know how to do that. They don't learn. The kids throw 98, who cares. I can't understand it. But it's not the problem of the players, it's the system. And with the money they're paying them, they don't want to get hurt. The guy's pitching in the 8th inning, winning 1-0, why take him out? Look at what happened with Lester the other day. They took him out and they lost the game. Why? He pitched 110 pitches? So what. I used to pitch complete games and 160 pitches. I pitched extra innings games. Why can't guys do that? It's the system. They want to change the game. You can't do that.
Luis Tiant
(5:07 PM)
They want to make people believe that you have to do this or do that. You're spoiling the guys. When they get into a jam, they take them out. It's the system. How will they learn how to pitch? This guy will get hurt because they don't let him pitch. And then the pitching coach gets fired, the manager gets fired, the strength coach gets fired. Then they sue the team for $100 million. They hurt the game. You go to the ballpark and in the 3rd inning and it's 10-1. That's not baseball. but that's the way it is now. You can't point the finger to the player. The system made it that way.
Greg (Michigan)
How closely do you still follow baseball? Do you still pay attention to the Red Sox?
Luis Tiant
(5:07 PM)
I work for them.
Luis Tiant
(5:08 PM)
That's how close I am. I work for them.
Luis Tiant
(5:08 PM)
I do PR. I go to spring training. I put my uniform on, go around show my ugly face. I look at the pitchers in the minor leagues and if I see something that I can help with, I mention it. I am a fan, no question.
Luis Tiant
(5:09 PM)
The fans know me more with the Red Sox than the Indians. That's way back. The old guys, they know the game. I met a lot of people from Cleveland and they remember, but most of the people know me from the Red Sox.
Buzzmaster
(5:41 PM)
Thanks for chatting Luis!