Chat with Team USA's Carlos Bocanegra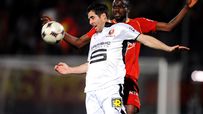 Bocanegra has captained Team USA for two years.
Welcome to SportsNation! On Thursday, U.S. Soccer captain Carlos Bocanegra stops by to chat about the U.S. national team's preparations for World Cup 2010.
Bocanegra, a defender, scored a second half goal in the World Cup qualifier against Honduras, a 2-1 U.S. win. He missed group play at the Confederations Cup, but returned to captain the team in the semifinal win over No. 1 Spain and the loss to Brazil in the final.
Bocanegra earned his first cap with the senior national team in 2001 and has since amassed 70 caps, scoring 11 international goals.
The California native played collegiately at UCLA and began his professional career with the Chicago Fire in 2000. He was the first two-time MLS defender of the year in 2002 and 2003 and now plays for Stade Rennais F.C. of France's Ligue 1.
Send your questions now and join Bocanegra on Thursday at 3 p.m. ET!
More: Previous guests | U.S National Soccer Team Blog | SportsNation | Chat Index
Marcos (Houston, TX)
Hey Carlos, what are you doing mentally to prepare for the tough match against Mexico after you witnessed the devasting loss here at home?
Carlos Bocanegra
(3:03 PM)
That was two separate games and basically two separate competitions as well. Anytime we play Mexico, it's our main rival. We get fired up and excited for the opportunity. As far as doing anything different mentally, I just go about my preparations the same way for any qualifier. But we all know the magnitude for this game.
Michael (Tallahassee, FL)
Hey Carlos, which stadium that you have played in has been the most hostile. And is there ever a line crossed by the fans when your in the stadium?
Carlos Bocanegra
(3:05 PM)
The most hostile? Wow. We've been to quite a few of those. Wow, I can't remember which stadium it was in Central America, either El Salvador or Guatemala but the ceiling is pounding in the locker room and they were burning American flags in the stands and they had signs that read, "Osama is hiding here." I thought that was a bit over the top. We go down there to play football. Yeah we love our country and so do they, but I thought that was a bit much.
Zac (Nashville, TN)
Hey Carlos, what happens to all the opposing team jerseys you get when you exchange them at the end of the game
Carlos Bocanegra
(3:07 PM)
Good question, man. I think one of the coolest things about being a professional footballer. PLaying against all kinds of teams in our domestic league or other countries. It's just something that is pretty unique to our sport, you trade jerseys. I have a cool collection at home that I've collected over the years. A few of them are framed and the rest are in the closet. But I love all of them. I traded with all the Americans in the premiership a couple years back, that was cool to me. Reyna, Freidel, Eddie Lewis, Spector, Timmy Howard, all the other Americans. That was pretty sweet.
Preston (Utah)
Carlos, What do you think it will take to push futbol, soccer, football, whatever someone may call it through and become a major sport here in the U.S.? What is keeping it from happening?
Carlos Bocanegra
(3:09 PM)
That's a difficult one, man. We've got quite a few established sports already. The good thing about the U.S. is it's so big and it's such a massive media market. I don't know what it's going to take. Obviously the big TV contracts bring in the money and more and more people are starting to watch it. When I was a senior in HS, MLS started and you'd see it here and there on the media. Now I'm on the internet in France with my teammates talking about the Galaxy and Barcelona. It's making rapid strides, giant leaps and we're headed in the right direction. Just a matter of time.
Reuter (NYC)
Carlos, First, good luck on the 12th. We're all behind you. And now...my question. If you could pick any three players in the world (past or present) to play along side in a defensive formation, who would it be?
Carlos Bocanegra
(3:12 PM)
That's pretty sweet question, man. Wow, past or present, huh? I would be ecstatic if I could play with these guys. I would say Rio Ferdinand and Maldini would be next to me. Man, at right back? Dude, that's a good question. Geez. This is killing me. There are so many. We just faced a few good ones in the Confederations Cup. At that moment, Macion for Brazil. He was an absolute horse in that tournament, pretty difficult to deal with.
Jacob (Sarasota, FL)
Heres a question for you Carlos. Who is the best player you have ever played against? And what team would you say is the best youve ever played against..out of all the clubs and national teams youve faced over your career
Carlos Bocanegra
(3:14 PM)
Another good question. This one is not hard for me at all. I remember playing against Ronaldo one of my first seasons in the premiership. He was too strong, too fast, too quick. So I had a difficult time dealing with him. He was one of the biggest pains in the butt for an outside back. Anytime we played Arsenal with Fullham, they always matched up well and we couldn't quite get them. So playing against them, they just, they had our number and that was tough to face.
Jay (Berkeley, CA)
How is being an American playing in Europe? Is there still somewhat of a trailblazer mentality? How are you received by the players and fans from other countries?
Carlos Bocanegra
(3:16 PM)
That's one that people ask about a lot. I don't know if it's a trailblazer mentality, but definitely we go out and feel the need to prove ourselves to the world. Traditionally people look down on AMerican soccer. That's starting to change. But I feel I need to go out there and prove every time. I don't know if that's the American spirit or the trailblazer as you said ... I know a lot of players and fans love the American player for our work ethic. The fans have been awesome to me in France. I was a bit worried about that, but they have been awesome over here, super friendly to make me feel comfortable.
Justin (Houston, TX)
Jozy just got transferred to Hull City. How do you think he will do in the fast paced Premier league? And of course, we are all behind you for the game on August 12th
Carlos Bocanegra
(3:18 PM)
It's a tough league and the thing is, Hull City, there is a good chance they'll be fighting relegation. Whatever kind of player you are, that's a difficult situation to be in. He could be up top by himself a lot and that's difficult to do when you're chasing the entire game and then they kick the ball to you and you're against two defenders who aren't tired. He's got the qualities, though, big strong kid. Great opportunity for him to play against the best teams in the world. That's only going to make him grow as a player and person and help him grow on the national team.
Jason (Philadelphia)
Hey Carlos I love watching you play for the US National team. At the Confed Cup it looked like Spector had played fantastically and secured being out right. Demerit also played solid in the middle paired with Gooch. With Demerit playing well and the current questions about left back do you think we will be seeing you play on the left more or will Jay just be good depth behind you and Gooch in the middle?
Carlos Bocanegra
(3:20 PM)
That's something, another good question, man. That's something that Bob will have to decide. He's the coach. He makes the tough decisions. As far as that goes, we just want to go out and whatever is best for the team, we want to win. Me or whoever playing wherever, we don't mind. WE just want to be in the best formations to give ourselves a chance to succeed. I don't have a preference -- I play out left with my club team. I've played in the middle. Not that big of a deal for me. It really just seriously is whatever the best defense we can put on the field.
Mark (New York City)
Carlos, are there any fans of El Tri in the Bocanegra family? Which clubs did you grow up supporting?
Carlos Bocanegra
(3:21 PM)
There is obviously fans in the Bocanegra family tree of the El Tri, but never when they're playing against the United States. Never, never when they're playing us. It's great. They all go to my grandma's house and watch the games on Telemundo or Univision. They all come together and cheer for the USA. Growing up, I followed the Dallas Cowboys, the Dodgers. It wasn't much of a soccer household until high school.
Carlos Bocanegra
(3:22 PM)
I'm going to hop over and chat for a few minutes in Spanish. Join me on ESPN Deportes.
Carlos Bocanegra
(3:22 PM)
Thanks everybody ...