Chat with Dennis Phillips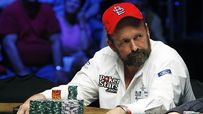 Dennis Phillips finished third in the 2008 World Series of Poker.
Welcome to SportsNation! On Monday, professional poker player Dennis Phillips will stop by to chat about poker and the November Nine.
Phillips will appear on ESPN.com's new show "ESPN Inside Deal presented by PokerStars.net," an orginial web-only poker show that airs Tuesdays. The show will feature some of the biggest names in the game as well as taken a look at the lifestyle in the world of poker.
Phillips placed third in the 2008 WSOP, after entering the final table as the chip leader. His finish earned him over $4.5 million. Phillips won a place in the tournament through a $200 tournament at his local Harrah's Casino in St. Louis. Phillips is also an account manager for Broadway Trucks, a commercial trucking company in St Louis, Missouri. He finished the 2009 WSOP in 45th place, setting a WSOP record of back-to-back 50-place finishes and outlasting the most players over the course of two years - 13.378.
Send your questions now and join Phillips Monday at 2 p.m. ET!
More Special Guests: Previous chats | SportsNation
Buzzmaster
(1:53 PM)
Dennis Phillips will be here at 2 p.m. ET to take your questions!
Buzzmaster
(2:01 PM)
Dennis is here!
Jack (Vegas)
What was it like playing in July last year and then having to wait until November, with all of the new attention?
Dennis Phillips
(2:02 PM)
Two things...the negative was that I was on a role at the table and didn't want to leave. The positive is that I had 117 days to establish my branding, improve my game, get involved my charities that I wanted to, get my friends ready for the game, who you mave have noticed out in Vegas.
Bob (Maine)
What did you think about your performance in this year's tournament?
Dennis Phillips
(2:03 PM)
This year was harder than last year. With the cameras following around, everyone wanted to get involved in a hand, with the cameras there. It was harder for me to get in the top 50 this year than the final 3 last year.
thomas (Chicago)
What do you tihnk of your Cardinals' chances this year?
Dennis Phillips
(2:04 PM)
Cardinals are going to be tough if they make the playoffs. With two Cy Young candiatates and Pineiro, that's all you need is three in the playofffs. The problem will getting into the playoffs. Their problems are with the 4 and 5 spots.
Stan (Florida)
When you first started with the 200$ buy in last year, what were your expectations? Did you think you'd get as far as you did?
Dennis Phillips
(2:05 PM)
Honestly, I didn't know. I had never played in that kind of oturnament before. My goal to start with was to just to get to money. I played very tight the first two days, felt more comfortable and then played aggressive after that.
Paul (Houston)
how was it doing the Inside Deal show? Did you have a good time?
Dennis Phillips
(2:06 PM)
Absolutely. Good bunch of guys doing it. Felt very relaxed. Both the crew and co-hosts made it a breeze.
Dan The man (ellington Ct)
At the final table, do you feel that you were too timid when it came to all in situations...and do you feel like the other players took advantage of you?
Dennis Phillips
(2:07 PM)
In hindsight, I could have played other hands different, obviuosly. The entire table to start with was very tight and timid. THe second hand that you see on ESPN was four hours in. Nobody wanted to leave ninth and nobody wanted to leave without a second check.
Wes (Alabama)
With your showing last year, did that make you want to play poker more or were you happy to lay low again?
Dennis Phillips
(2:08 PM)
It made me want to play more. I had so much fun. It brings out the ability to get involved in the charities and other causes. I had the chance to sit at the table and make 8 new friends.
Will (Denver)
What's been the biggest thing that's changed for you since last year?
Dennis Phillips
(2:09 PM)
Frequent flier miles...LOL. I tried to keep my lifestyle about the same. Still live in the same place, drive the same vehicle, same friends...Drink a little better wine. LOL.
Scott (Austin, TX)
Do you notice more people challenging you because of your fame? If so, is there a funny situation you can share with us?
Dennis Phillips
(2:10 PM)
I see both extremes. I played at the Bellagio a while ago. Two people stood up and took their chips. But there were four others waiting to take their place. People want to get in on the hands just to say they beat me.
Mike (Maryland)
So what new trucks have you bought?
Dennis Phillips
(2:11 PM)
Basically the company stayed the same. We're a truck dealership so we're buying and selling trucks all the same.
Tyler (Dallas)
What is the worst bad beat you have seen/experienced first hand?
Dennis Phillips
(2:12 PM)
Everybody has bad beat stories. AT the borgatta's main event last fall, I flopped a set of 6's with a 10, 6, 3 board. Long story short, my raise got re-raised all in, he turned over pocket 8s. Turns a 10, Rivers a 10. Countered my set. That was nasty.
sam (boston)
so, have you retired yet? or are you still working?
Dennis Phillips
(2:13 PM)
Didn't retire, actually bought the company. LOL.
Frank (Atlanta)
Do you like to play any other card games?
Dennis Phillips
(2:13 PM)
Love playing cards of any kinds. Pinochle, Bridge. You name it, I've played it. Just started playing Raz and Deuce the Seven Triple Draw. Getting addicted to them as well. Love playing cards.
Billy P (P)
Congrats sir on bringing poker back down to the working class players! I'm planning on doing a lot of satellites this fall to qualify for a 10k buy-in in CT. What is your advice for this ...tight or aggresive or a mixture?
Dennis Phillips
(2:15 PM)
The game can vary according to the table. The basic strategy for me is to play tight to begin with and then see who are hte weaker players. Bust them out and when you're in the half way point, you can play aggressive.
Shelton (MO)
What do you mean by establishing branding? Why did you pick PokerStars?
Dennis Phillips
(2:17 PM)
I was a total unknown during the break. This gave me 117 days to let people know who I am. To go out and get sponsorships. Sharpen my game. Branding, what is your image in poker? That is your branding. I wanted to get branded as the guy that I am - a regular guy. I was able to get the ability to work with charities.
Carl (Florida)
Which poker player do you fear, but would love to bash heads with?
Dennis Phillips
(2:17 PM)
The totally inexperienced aggressive player. There's a danger that they'll draw out on you, but you put me in a cash game with them any day of the week.
Scott (Austin, TX)
Dennis, are you a Rams fan as well? Would you want to see Michael Vick on the roster?
Dennis Phillips
(2:18 PM)
Unfortunatley, yes, considering the last two seasons. I support the teams. I'm also a Blues fan.
Fred (Detroit)
Looking back, was the break from July to November good or bad for you?
Dennis Phillips
(2:19 PM)
As I said before, overall it was good. There was no way I could have put together that group of people in November if it had happened in July. Looking back, if I could have either won in July or finished third in November, I would take finishing third.
Robert (Bunker Hill IL)
Dennis, is there a Pro Poker player that you just have a hard time reading? Also whats the best restaraunt in Cottage Hills. Has to be the place by the old Landreths doesn't it?
Dennis Phillips
(2:20 PM)
If they cloned Chris Ferguson, I'd be in trouble. The man is totally unreadable. That's a rare commodity among anybody, even among pros.
Mike (Santa Monica, CA)
In big tourneys like the Main Event, luck seems to play a big factor in short-term swings. How did you avoid those kinds of swings to get so far two years in a row. Did you play tight-aggressive or did you mix it up a lot to navigate the field?
Dennis Phillips
(2:22 PM)
The one thing I tried never to do was to get involved in a race. I actually thought I could out play most of the people I was against, so why would I want to get involved in a 50-50 chance. One day I flopped a set, I had pocket 5s. There was a bet and a raise ahead of me. I just folded it. Even if one was on a flush draw or one was at a straight draw. At best I had 50% chance. I had little invested and I didn't want anything to do with it. I don't think many people would have folded a set.
Scott (Austin, TX)
Do you sense that you will always wear your "uniform"? It seems this is part of the branding you spoke of earlier.
Dennis Phillips
(2:23 PM)
It's fit in well. I feel comfortable in the Cardinal hat. It's probalby a good chance that I'll be wearing this in the years to come.
Rob (at work)
When did you find out about the Demidov AQ vs. AK hand and what was your reaction?
Dennis Phillips
(2:24 PM)
Found out just before Peter and I started their heads up match. Ivan had talked to a reporter concerning it. At that stage, I had third and I said more power to him and moved on. I think we both misplayed the hand.
Josh (Philadelphia)
Can you explain why poker is being shown on ESPN? It's obviously not a sport, or even really sport related other than the fact that it's competitive. Any insight?
Dennis Phillips
(2:25 PM)
My thoughts is that competition is a key ingredient in any sport. It's competition among friends. It may be more of a mental sport than physical sport. To me, yes, poker is a sport.
scott (austin tx)
Congratulations on your success Dennis. Is there a book that you read that influenced your poker education?
Dennis Phillips
(2:26 PM)
Actually, no. I didn't read any of the books ahead of time. I cut my teeth on the casinos in St. Louis, playing both cash and tournaments. Established a good reputation there. Won my seat there and then rolled the dice in Vegas.
Jamie (VA)
Where do you like to play at when you are in St. Louis?
Dennis Phillips
(2:27 PM)
The radio show is live at the Lumiere and I play there Tuesday nights. I will play wherever the best game is in town.
Jim (Mansfield, MA)
What's your best advice for people that want to drop everything and become poker pro's!
Dennis Phillips
(2:29 PM)
Probably don't. To do a true circuit and playing in the major tournaments, travel, buy-ins can add up to $500-600,000 a year. There's almost no way someone can afford that. You almost have to go into it without a backing. "Don't quit your day job." It will eat away at your bankroll like you wouldn't believe.
Tyler (AR)
How long have you been playing poker?
Dennis Phillips
(2:30 PM)
Hold 'Em - Cash games, I started about 6 years ago. Tournaments about 3 years ago. But I started playing Stud and such all the way back in college.
Rick (San Diego, CA)
I heard you're friends with Nelly? how did that start?
Dennis Phillips
(2:31 PM)
Very good friends with Nelly. I knew him before the Main Event in '08. I was at HArrah's before he came to play the 2-5. We used to like having him come in before he became a good player. But now he's a very solid player. But yes, he's a very good friend of mine.
Dennis Phillips
(2:31 PM)
Look for the two of us to be hosting a tournament in the future.
Scott (Austin, TX)
Do you subscribe to the addage that aggression is rewarded over time?
Dennis Phillips
(2:33 PM)
Actually, in many cases that is true. But overaggression can be deadly. Aggression for aggression's sake will eventually bite you in the butt. You have to know when to pull in your horns and you have to know when people will assume your aggressive and try to trap you.
Dennis Phillips
(2:34 PM)
Enjoyed it. Follow me on the radio show, let me know what you think of that. You can e-mail me if you want someone as guests or if you have questions at ChipLeader.com, it's podcasted on there, so you can play it any time. I would love ot have some feedback on that.