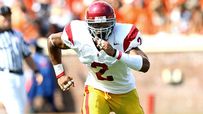 Taylor Mays is a two-time All-American.
Welcome to SportsNation! On Thursday, USC safety Taylor Mays stops by to chat about the upcoming 2009 college football season.
Mays enters his fourth season of starting at safety for USC. Last season, he started all 13 games for USC to earn a second bid as an All-American. He ranked fifth on the team with 53 tackles and first with nine pass break ups.
Send your questions now and join Mays Thursday at 3 p.m. ET/noon PT!
More Special Guests: Previous chats | SportsNation
Buzzmaster
(2:57 PM)
Taylor Mays will be joining us as he gets off the practice field. Keep sending in those questions.
Buzzmaster
(3:04 PM)
Just got word from SC that Taylor is just getting some ice and he'll be here in about 5-10 minutes.
Buzzmaster
(3:20 PM)
Taylor is here!
Luke (San Francisco)
Which Colleges recruited you out of high school? Why did you choose USC?
Taylor Mays
(3:21 PM)
Everybody. I was going to go to Miami because Sean Taylor went there. I'm from Seattle so Washington recruited me hard. Coach Carroll convinced me that they'd give me the opportunity to be the best player I could be. That's what got me. I wanted to make the most of my opportunity.
Vess (Corona, CA)
When you go to hit someone, how often do you look to go for a big hit as compared to just making the play by wrapping up and bringing them down.
Taylor Mays
(3:22 PM)
There are some that you can tell. If you can close on the ball carrier or receiver before he sees you, you can run full speed. If he sees you, he can make a move in the open field. If you're in the open field, you have to wrap up. But if you can take a shot on him, I'm going to take a shot on him.
Marcos (Bakersfield CA)
What made you come back one more for your senior year?
Taylor Mays
(3:23 PM)
Unfinished business. Nothing to do with accolades. I never felt that I was playing to my potential. I always wanted to finish college knowing tha tI did everything that I could to be the best I could. Me and Coach Carroll sat down and talked about it and that was the deciding factor.
Ian B (Los Angeles, CA)
In your opinion, how is the D-Line looking? Obviously (and in great part thanks to you) the secondary will be killer; just wondering how much pressure USC is going to be able to put on other QBs. Fight On!
Taylor Mays
(3:24 PM)
They looked the best that I've seen these first couple of days. We stood up the run pretty well. I'm proud of the guys. They're big, fast, physical. We're fast on the pass rush. The DL is pretty strong. We have a chance to be pretty good.
Kyle (Los Angeles)
Taylor, you are a phenomenal player! How much does it irk you that you have not won a national championship during your tenure at USC? (How) will you be able to overcome your schedule to create that opportunity for yourselves in 2009-'10? If you do suffer 1 in-conference loss, do you think you'll be able overcome it and still play in the Natty?
Taylor Mays
(3:25 PM)
It's tough. Every year we feel we have that potential. That's another reason for coming back. Another chance at doing this thing. We just have to put the pieces together. We have to get the guys in the right mindset so we don't have to realize how fragile this season is.
Johnny (Culver City)
What SC Football game, play or moment to date will you always look back to as your favorite or most memorable experience at USC?
Taylor Mays
(3:26 PM)
I don't know. I think it's pratice every day. We treat it like it's a game. You go to practice and the level of preparation that we go through. We treat every day like it's a Rose Bowl game. It's something that I realize more as a senior and it's special here.
Evan (Los Angeles)
Taylor I'm a huge fan. Which running back between McKnight, Stafon, Tyler, McNeal, Bradford, and Gabel strikes the most fear in the defense during practice?
Taylor Mays
(3:28 PM)
They're all different. They can all do different things. We have so many guys that are talented. Alan runs so hard. Stefon and Mark run hard, but have good balance. CJ and Joe are kind of the game breaker, the slashers. Moody is kind of all of that put together minus a couple of inches. He's a little guy but he runs with power. We ahve so many guys that can do so many things but only one RB spot.
Chris (Los Angeles)
What NFL Safety would you compare yourself to?
Taylor Mays
(3:28 PM)
My favorite player was Sean Taylor. Definitely. I try to model my game after him. He's a big fast safety. That's who I try to play like.
Will (Northridge, CA)
I am very excited to see you and Josh Pinkard play together this year, I personally think you guys will complement each other very well, whats you feeling on this years secondary?
Taylor Mays
(3:29 PM)
This is the best. We have so much experience. Guys have played in a lot of games. We have a chance to be really really special. If we can continue to stay hungry and wanting to learn and stay healthy, there's no limit.
brandon (toledo)
Hey what do u think about the upcoming game at ohio state..Goo bucks!
Taylor Mays
(3:30 PM)
I think it's one of the reasons why you play college football. It's what you dream about playing in a big stadium like that. Two prestegious programs. Those are the games you talk about 10-20 years from now.
Brock (Georgia)
The defense seemed to have lost alot to the NFL this year. Has that seemed to effect the defense at all during practice? Or will that be a problem for USC this year? Only reason I'm mentioning this is because it sometimes it takes a few years for players to develop a chemistry that possibly the players who left encountered when they started.
Taylor Mays
(3:31 PM)
No. We have just as much talent this upcoming year as we did last year. WE realize that in the lockerroom and on the field. If we can find the same level of work ethic and drive we can have the same success as last year.
Steve (Phoenix)
Who's the best wide receiver you've ever faced.
Taylor Mays
(3:31 PM)
Steve Smith.
Andrew (San Diego, CA)
Is Matt Barkley really as good as everyones says?
Taylor Mays
(3:32 PM)
Yeah, he's good. He has a swagger. He rolls out. He fires the ball. He has that QB look. He never was intimidated. He just stepped in and it looked like he has been here for a while.
ben boston
what do you do when you're not playing football?
Taylor Mays
(3:33 PM)
Get ready for the next practice, next workout, weightlifting session. I really don't do too much. I think most of my life is directed toward football and being a family person. They all know how important everything I do is in preparation for football.
Cutter (DC)
Do you close your eyes when you hit someone?
Taylor Mays
(3:33 PM)
No, I don't think so. I don't think I close my eyes. But at the point of impact, you don't really know what happens, just what happens after.
Paul Dockal (Seattle, WA)
After you deliver a bone crushing hit, is there a favorite trash talk line that you have?
Taylor Mays
(3:34 PM)
I don't know. I just let him know that SC has big safeties and big safeties dominant. I don't make it anything personal, but I let him know we're there and this is how we play. We're going to run into him every single play.
Nick (Florida)
Are you any good at Madden or NCAA football video games?
Taylor Mays
(3:35 PM)
I don't play them, because I don't have enough time. I'm always at home. And if I'm at home, I'm studying or eating or hanging out. Most of the time I have is spent at school getting work done.
Dallin (California)
How would you prepare for a game against such a versatile and quick team like Florida?
Taylor Mays
(3:36 PM)
WE have certain defenses that we run for those types of offenses. Playing those kind of offenses, you have to be fundamentally sound. If someone's not in the right place, the offense will gas you. You have to tackle really well. A lot of those tackles are in the open field. We have a lot of confidence in our defense and we're ready for that.
Taylor Mays
(3:36 PM)
Thank you for chatting!