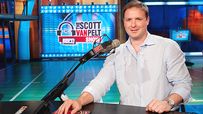 Welcome to SportsNation! On Tuesday, ESPN Radio's Ryen Russillo will be stopping by to chat.
Russillo is currently co-host, along with Scott Van Pelt, of The Scott Van Pelt Show on ESPN Radio, which runs 2-4 p.m. ET. Listen live

Send your questions now and join Russillo on Tuesday at 1 p.m. ET!
More Ryen Russillo: ESPNRadio.com | Chats | Search | SportsNation index
Ryen Russillo
(1:02 PM)
I am ready to go...we can touch on any topic. But don't ask me about fantasy...there are seven other chats for that.
Joe (Miami)
The best place for buffalo wings is .....
Ryen Russillo
(1:03 PM)
The best place for wings is Buffs Pub in Newtown, MA. Or J Timothy's here in Bristol. Although I've never been to Buffalo so...
John (Chicago)
Would you rather have your favorite team win a championship or have one night with the girl of your dreams? And who is that team and girl?
Ryen Russillo
(1:05 PM)
up until I had this job there was no doubt it would be a team championship. But I just don't know how excited I get now if St. John's won the tournament. Girl of dreams, like we said last week, blonde girl, in the original Goldfinger.
Jess (Chicago)
Do you have a girlfriend/wife?
Ryen Russillo
(1:06 PM)
new girlfriend. Jess, I hope this isn't from a dude.
John (NYC)
You seen the new Tarantino movie?
Ryen Russillo
(1:07 PM)
No...I feel like he's 0 for the last few years. The Kill Bills were alright. Grindhouse?
Joe (LA)
Ryen, are you buying the Ole Miss hype this year?
Ryen Russillo
(1:08 PM)
To be good, yes. To win the west, no. Their schedule sets up well, but I'm buying into Bama's D, and I still think LSU is going to be tough this year.
Marc (Charlotte)
Did you go to Vegas with SVP?
Ryen Russillo
(1:09 PM)
No...and he didn't go either. One of us did stay out until 5AM in Chicago. I ran into Ben Gordon, he was at the table next to us. And he could not have been less impressed with your boy.
Dave (DC)
So who's your college team so I can determine accurately if I hate you or if I should buy you a beer.
Ryen Russillo
(1:11 PM)
I grew up rooting for Notre Dame, but I wouldn't classify myself as a Weiss supporter. I find myself rooting for Oregon and Texas a lot. But again, I don't really root the way I root with this job. when I watched Dennis Dixon a few years ago, I got into it. And I like watching Colt McCoy.
Bob (buffalo)
do you feel bad for plaxico burress?
Ryen Russillo
(1:12 PM)
yeah, I do. But what he did was stupid...and he has a track record of making a lot of bad decisions.
Dave (DC)
Notre Dame? No beer for you.
Ryen Russillo
(1:13 PM)
that's what I figured
J.B. (Dunmore, PA)
So if I ask what the best FFL team name you've ever had for one of your teams was, you wouldn't answer?
Ryen Russillo
(1:14 PM)
I want to but I can't. it's a long story and the guy typing is struggling today
Chance (Colorado)
Can CU take NEB for the North Div?
Ryen Russillo
(1:15 PM)
I like Nebraska better than Missouri. but I think like Kansas better than nebraska. But I really want CU to be good so I can go to Boulder again
J.B. (Dunmore, PA)
Do you think Michael Vick being seen having a drink is being overblown or are you like many who believe he should be more careful as a recently released felon getting a second chance and making far more money than convicted felons normally make upon release?
Ryen Russillo
(1:16 PM)
I understand both sides. but if it was a glass of wine at dinner no one would have a problem with it.
Marc (Charlotte)
The Guy typing? You don't type for yourself?
Ryen Russillo
(1:17 PM)
no...I'm slower than he is
joey (tx)
dont you think everybody is making a big deal about the scoreboard in Dallas? If you watch the video if the scoreboard wasnt there it would have gone about ten feet. He kicked it straight in the air. Its like kicking it straight on the ground and complaining about the turf.
Ryen Russillo
(1:19 PM)
it is funny. but it's also Dallas, most NFL fans hate them. And if you spend over a billon dollars on the stadium and the scoreboard gets hit by punts the first time your play there, people are going to over react.
Jimi (Nashville)
Who you think wins the NFC North? Please don't say Chicago.
Ryen Russillo
(1:19 PM)
Green Bay
pardu (folsom, ca)
who do you think will be the surprise team in college football?
Ryen Russillo
(1:20 PM)
North Caolina
fred (omaha)
ryan are you ready for another rocktober, go rockies
Ryen Russillo
(1:21 PM)
I already said it in this chat...anything that gets me to Colorado is a good thing. last night's win was great, middle relief has been great and Tulo looks like the best young SS in baseball.
Steve (Syracuse)
Does Greg Paulus bring more interest to the Syracuse football program?
Ryen Russillo
(1:23 PM)
yeah he does...I'm going to be interested to see how he does. And if he gets benched, he has experience with how to deal with that already.
Spelling Police (On Patrol)
Ryen, unfortunately we'll have to give you a ticket for your incorrect spelling of "Carolina".
Ryen Russillo
(1:24 PM)
I'm not tying. I told you the guy was slow
Jess (Chicago)
Short for Jessica. You can breathe easier now.
Pete (NC)
Ry, can I call you Ry?, what was the biggest non-story you had to report because you work for ESPN but really found annoying to do?
Ryen Russillo
(1:25 PM)
T.O. updates 2 summers ago with Dallas. Talked about him for 28 straight shows and he wasn't even working out.
Spelling Police (On Patrol)
Doesn't matter. It's your chat. You are held responsible.
John (NYC)
I like this anything goes type of chat. Where would you like to travel to that you haven't been before?
Ryen Russillo
(1:27 PM)
Probably on a massive Euro bender. Italy, the Greek Islands. State side, staying at a nice hotel at Laguna Beach trying to get on The Hills. Just a dude waving in the background with an expensive t-shirt.
Adam (Boston)
Did your parents misspell Ryan or try to name you after Ryne Sandberg and fail?
Ryen Russillo
(1:28 PM)
My parents did it because they thought it would be cool. Now girls spell their name this way.
Joe (LA)
LC or Heidi?
Ryen Russillo
(1:29 PM)
LC, I know a girl that looks like her, but better. We call her LC2
John (Chicago)
Speaking of benders, what are your favorite drinks?
Ryen Russillo
(1:29 PM)
Grey Goose soda, Coors Light bottle. Followed by orange pedialite in the morning
mike (pa)
do you watch any nascar?
Ryen Russillo
(1:30 PM)
no. I'm not a hater, I just don't have time.
Chance (Colorado)
What do you think of Buster? Now it all or a genius?
Ryen Russillo
(1:31 PM)
one of my favorite guys at ESPN. He did weekly spots with me in Boston 6 years ago. His daily blog is a must read
Ryen Russillo
(1:32 PM)
Thanks, we will be back again next week. Tell your friends. Tune in at 2PM ET to ESPN Radio...we will talk about the college football coach you would least like to play for.