Chat with the Forces, Antron Brown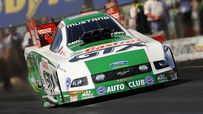 John and Ashley Force and Antron Brown stop by SN Monday!
Welcome to SportsNation! On Monday, we have a special treat for all of you drag racing fans out there when John and Ashley Force and Antron Brown all stop by chat about the NHRA's 55th Annual Mac Tools U.S. Nationals which will be held over Labor Day weekend (Sept. 6-7, ESPN2).
Ashley Force sits third in the Funny Car category and owns seven career wins. Her father John Force is a 14-time Funny Car champion, with 126 career wins. Entering this season, he had won at least one race in 22 straight years.
Through the first 16 events of the season, Brown, in his 11th NHRA season and second in Top Fuel, sits atop the points standings. He owns 19 career wins.
Send your questions now and join Ashley and John at 2 p.m. ET and Antron at 2:15 p.m. ET Monday!
More Special Guests: Previous chats | SportsNation
Buzzmaster
(1:56 PM)
The Forces will be here shortly!
Buzzmaster
(2:02 PM)
Following Ashley and John Force, we have Antron Brown!
Buzzmaster
(2:10 PM)
They're here!
Kyle Jackson (Corona, CA)
For John Force:What does the future hold for John Force Racing? Is it your hope that Brittany and Courtney eventually move up to Funny Car?
John Force
(2:11 PM)
Without a doubt. I always said that NHRA took me away from my kids. Now Ashley is up here driving. And I am back here with my kids. Its a away of making income and our jobs. I get the best of the both worlds, with my family here and my job. I can watch them grow in this sport.
Pete (Las Vegas)
Ashley, after an explosion like you had on saturday, your firesuit was completely oiled down, do you clean the suit or do you wear it as a battle scar?
Ashley Force
(2:12 PM)
Wel, my firesuit didn't get damage, no problem with it. Maybe a little dirtier. I wore the same one the next day. I do have a spare of everything just in case. But the firesuit's good. It will hold up for a few more.
chet croft (chiefland, fla.)
ashley, when you step out of the seat, will you continue to be a hands on day to day owner or will you completly retire and be a spectater?
Ashley Force
(2:13 PM)
Well, that's really hard to think in the future like that. I can't imagine being out of racing completely. I'm a fan of the sport and I'm really excited that my sisters are moving up. Maybe I can help them in the fututre. It takes a lot of people to run the team and do all the media and set up the schedules. I'm sure I'll stay involved somehow.
Melody Burkhead (Bardstown, KY)
Hi John, can't wait to see all of you at Indy...Will you be doing any special appearances at the Top Eliminator club??
John Force
(2:14 PM)
We'll be there with NHRA. We have press day on Wednesday. We have a show at John Force Racing. It will start early in the week. Every show they have, we'll all be making appearances. That's what it's all about, getting cash flow moving forward. It's important to stay in the limelight. It's imporant. We'll be there.
tom (boston)
how excited are you about Indy?
Ashley Force
(2:15 PM)
I'm very excited to be racing there again. I can't remember ever missing an Indy. It was always the final race of the summer before school started. I won in 2004. I would like to repeat that scenario. Maybe get a win this year or cheer on one of my teammates.
bill (atlanta)
I love to watch drag racing, but I think the hardest thing I find about following it is the different racing groups (funny car, top fuel, etc.)
John Force
(2:18 PM)
That's part of what NHRA drag racing offers is full throttle racing. It's not like one category like NASCAR. Drag racing offers you from the grass roots, ma and pa. If you can buy a helmet, you can take your totally stocked street car. They have young kids, real young kids that can be a part of that. There are other categories, I can't even name them all. Eliminator classes, the super classes that my daughters drove. Then they moved on into the semipro categories. Then you have the pros, where Ashley has moved up. You have the bikes, the pro stock, funny car, top fuel. We always called it PT Barnum, like going to the circus. No matter what you like, we have it. Whatever it is, we have it. The pro stock cars. It's a show. The Warren Johnsons and the kid down there. It just goes on and on. Greatest show on earth. You have the rest of your life to learn it.
Kyle Schrader (Franklin Park, Il)
Ashley, I saw your fireball explosion at the Toyo tires nationals, were you afraid to hammer the gas on raceday at all????
Ashley Force
(2:20 PM)
No. I think everyone else was more afraid for me than I was. I just jumped back in it. When I was in it and it exploded, I never felt it. I was just busy getting my chutes out. That's a good thing to keep your mind busy and get into action and what you need to do. I was more upset that we'd have to bring out a new car. We were all worried about how the car would do, because we hadn't run it yet. The longer you wait, the longer you have to get mental about it. You can't think when you're in those cars.
Deena Kuharski (Bristol, CT)
Just wondering what ever happened to your tv show "Driving Force"? What a great show that was. I heard a rumor over the weekend while in Reading, that there maybe another tv show in the works-is there any truth to that rumor? I sure hope so!!!
John Force
(2:22 PM)
We always want to keep our nose in Hollywood. We have a great guy Brent Travers producing the show. But at the end of the day, it was all about family. We lost our next generation of driver. When we lost him, he was a big part of the shows. I never had a son, if so, I would have loved to have him. In the process of all that, it was very painful. As hard as it was on the family that their personal lives were put out there, it was hardest on Ashley the most. We still owed A E two shows. they're still running them. They were the best. You can buy the DVDs. Right now it's on hold. Hollywood was great for the kids. We made some money to put back into the hot rods. Maybe we'll go back someday. Right now it's about testing the cars and maybe we'll go back.
Kyle Jackson (Corona, CA)
Ashley,How much guidance do you give to your sisters Courtney
Ashley Force
(2:24 PM)
I don't really give them too much info. They know they can come to me with questions. I know from my experience, I had Dad helping me and Robert and Eric, I had these great teachers, but I would learn myself. I had the runs that I would keep in mind for future runs. I think your own experience is worth 10 hours of info from other drivers. You really have to run the car to know what's going on. They can come to me and Dad, but I think their own communication between them and their crew chief will help them more than anything.
Russell Kimball (Puyallup, Wa.)
This is For John Force how was the crew switch this past weekend go for you?
John Force
(2:26 PM)
It went really smooth. I've been around the race cars, in my 25th year in Castrol, and over 33 years in the sport. I can just adapt to about anything. But Robert, the crews, he's been driving for four years now and he's been with me 12-13 years in the early days as a mechanic. It was an easy transition for him. I moved up in the points and got myself locked in the countdown. Robert moved up. The transition went well. The big thing was that I missed Austin. I kind of grew up with him. I will go back to that car in time.
Todd Brode (Rawlings, Maryland)
Ashley, Do you ever get scared in a race car and do you ever think about going circle track racing?
Ashley Force
(2:28 PM)
I never think of getting into circle track racing. Every experience I've had turning a car was a bad one. I like to go straight. There have been some scary moments, but not to the point where I was scared of going down the track. You start by doing your routine and it's important to be focused on that. I think that's how you have the ability to not have the fear in your mind. You have to do your job in the car, for the safety side of things. You have to do things the right way. I've never been in a wreck like dad. I think this past weekend was one of my biggest explosions.
John Force
(2:29 PM)
We would like to say watch us on ESPN2. You're our lifeline out there. We try to give you the best show out there. We're up here at ESPN today and seeing a lot of the stars, the ones that bring us to you.
Ashley Force
(2:30 PM)
Keep watching. This time of the year is the most exciting time. Follow it because it will be very exciting and it will go down to the final race in Ponoma.
Buzzmaster
(2:30 PM)
We've got Antron!
Brad (Gadsden,Alabama)
Do you like to watch some other sports like football or basketball who is your fav. teams?
Antron Brown
(2:31 PM)
Yes, I do. Some of my favorite teams are the Philadelphia Eagles, the Phillies and also I like watching the Indianapolis Colts.
Kyle Jackson (Corona, CA)
Atron,Is there any similarities between Pro Stock Motorcycle and the Top Fuel Dragster? If not how did you adapt so quickly to such a different machine?
Antron Brown
(2:32 PM)
The only similarties they are is just racing. What helped me adapt so quickly was I had to race again. The same focus goes into both. It looked like I adapted very quickly, but I'm still working on how to hone my driving skills each and every race.
Bobby Turnbow (Dyersburg,TN)
Antron, Is there anything that your team needs to improve on in order to be better in the countdown to one?
Antron Brown
(2:33 PM)
That's a tough question. i feel that we can always improve on all parts of our team. We have a very fast race car and we are very consistent. We are in a great spot in the No. 1 spot, but we want to get more consistent for when the countdown starts.
mark Jackson (bakersfield CA.)
Antron do you ever see yourself in a funny car?
Antron Brown
(2:34 PM)
Maybe one day. I love to race every vehicle out there. I never count funny car out.
ryan (calif)
Do you think drag racing gets enough attention?
Antron Brown
(2:34 PM)
I think that drag racing has definitely grown over the years. We're always striving to get more attention.
chet croft (chiefland, fla.)
antron, as a successful driver do you see yourself crossing over to nascar as a driver or possibly a owner?
Antron Brown
(2:35 PM)
Never know. I'm a big fan of the sport. I don't know what the future holds. I'm a drag racer at heart and I love where i'm at right now.
Shannun T. Walker (Dallas,TX)
Antron, which race track on the list of the count down to one do you think will be the most difficult to win at?
Antron Brown
(2:36 PM)
I think Memphis will be the toughest and Richmond race tracks. Just due to it will be part of the summer and the track will be hot and slick. IT will be one of the hardest races to get down and to win.
Shorty (Daytona Beach Fl)
What is your favorite thing to do on your time off?
Antron Brown
(2:36 PM)
My favorite thing to do when I have time off is to play with my kids, outside, throwing the football around.
jim barner (napa,ca)
antron, your team is amazing! do you credit your team for your quick success as a top fuel driver?
Antron Brown
(2:38 PM)
I credit much of my success to them. Our drag racing is a team sport. You only excell as your weakest link. I owe them a lot and I couldn't do what I'm doing without them. I'm just one part of the team.
Craig G. (Fairfield, California)
Hey Ashley, John and Antron. I saw all of you when you came to Sonoma and loved it! I was wondering what drivers and/or racers you admire or have influenced your careers?
Antron Brown
(2:38 PM)
The late great Dave Schultz, Joe Amato and John Force have always been some of my biggest heros.
Steve (Boston)
Antron!!!!! You are my favorite Top Fuel driver I just loved seeing Grandma B this weekend... she must be so proud of you!!! What favorite meal does she cook for you?
Antron Brown
(2:39 PM)
Nothing. You never want to eat my Grandmom's cooking. Believe me when I tell you. We always cook for her. When I was a little kid, we never ate her cooking. We always took her out to eat!
Angela (Richmond, VA)
Antron, do you do anything special to help you mentally prepare before a race?
Antron Brown
(2:40 PM)
Yes, I listen to Lose Yourself by Eminem. I try to get myself amped and my mind leveled and focused and get myself ready for the first battle we have at hand.
Chris radvansky (Whittier CA)
How do you think the sport will remain viable and grow through out these trying econonic times?
Antron Brown
(2:41 PM)
Yes. I do. NHRA has such a great selling piont that every ticket is a pit pass. Our fans are wide open to see, touch, and even if they want to smell, the drivers, but I wouldn't advise that.
Dave Trusty (Houston TX)
I know all three of you have won at Houston, (Baytown).What do you like or dislike about the track. I have been at every spring nationals for the last 12 years.
Antron Brown
(2:42 PM)
We always love going down to Houston, because the fans are drag racing nuts. I call them Nitro-holics. They love the smell. It gives us a boost because it's at sea level.
Kyle Schrader (Franklin Park, Il)
Antron, do you feel the bump at the end of the racetrack at route 66 raceway???? and say hi to grandma
Antron Brown
(2:44 PM)
It's hard to remember the bump, but every track has bumps or different bumps and vallies. THat's part of drag racing. As long as it's not where we accelerate at or where we hit the chutes, it's fine.
Antron Brown
(2:45 PM)
I just want to thank all the fans for your support this year. Make sure you keep on staying tuned to NHRA drag racing. The Countdown is going to be thrilling. I can't wait to get started.
Buzzmaster
(2:45 PM)
Thanks to all!