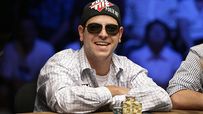 November Nine's Eric Buchman chats Monday!
Welcome to SportsNation! On Monday, 2009 November Nine member Eric Buchman stops by to chat about the upcoming final table in the World Series of Poker.
Buchman will join eight others November 7 to play in the main event finale. He enters the table second place in total chips. Buchman has won over $900,000 in his career in poker.
Send your questions now and join Buchman at 3 p.m. ET Monday!
More Special Guests: Previous chats | SportsNation
Buzzmaster
(2:56 PM)
Eric should be here in minutes!
Dave (Austin, TX)
Are you strictly a tournament player or do you play cash games as well? Which do you spend the most time playing?
Eric Buchman
(3:00 PM)
I spend the most time playing cash games. I typically only play a few tournaments a year. I don't travel much. I go to Vegas once a year and then play the local tournaments on the East Coast.
bill (boston)
do you think the layoff will help or hurt your game?
Eric Buchman
(3:01 PM)
I don't think it will do either. It will be pretty neutral. I think it might help other people with less experience. Give them time to get better.
Randy (Georgia)
Starting off second in chips, how do you plan on staying focused and not relaxing too much?
Eric Buchman
(3:02 PM)
I plan on playing a few sit and go's when I'm online at PokerStars and a few games with some friends whose games I respect. But I don't really think taking a few months off will make me not focused. When I get to the table, I will be very focused.
Dave (Austin, TX)
Do you watch poker on TV? If so what's your favorite show?
Eric Buchman
(3:03 PM)
I watch the ESPN World SEries of Poker every year. Then I like to watch the High Stakes Poker on GSN when they come out with new episodes.
Eric Buchman
(3:03 PM)
I will also occasionally watch the World Poker Tour.
george (wash)
has the time off given you a chance to analyze your strategy? Will you change for the final table?
Eric Buchman
(3:04 PM)
No, I'm not really going to change anything. I'm going to trust my reads and make the best decisions I can.
Bob (Chicago, IL)
Do you have any suggestions for a beginner to play and win online, cash games or tournaments?
Eric Buchman
(3:06 PM)
I think playing online is a good place to start and to learn. But it can take a while before you become a winning player. It's possible that you may never become a winning player. But if you really put in the time and effort and you have some talent, then you can make money at it.
Jamie (Long Island)
How much online poker do you play? Is that why you signed with PokerStars?
Eric Buchman
(3:07 PM)
I play occasionally online. I like to play a few days a week for a short period of time, maybe an hour or two. But after November, I'll probably play a little bit more online.
Jeff (Toronto)
If you don't win, who would you most like to see win the WSOP bracelet in November?
Eric Buchman
(3:09 PM)
I'd like to see Darwin Moon win, if not myself. He is an every day guy and a very likeable person.
Cameron (Jacksonville, FL)
What aspect of your game to you need to work on the most?
Eric Buchman
(3:10 PM)
I would say heads up. I have a lot of confidence and I think I play very well heads up. But I think there is also room for improvement in my heads up game.
Rachel (Long island)
Are you planning any big splurges? Maybe something extra special for your girlfriend?
Eric Buchman
(3:11 PM)
Yeah, I was thinking about buying her a car.
Bob (Chicago, IL)
did you have a strategy during the WSOP?
Eric Buchman
(3:12 PM)
Yeah, at the beginning my strategy was survive each day and make it to the next day. My strategy the last day was to try and get and accumulate chips and put myself in a position to win the tournament if I were to make the tournament.
Gary (NYC)
What's up Eric, Congrats on making it to the November 9th.I was hoping you can give me your best advice for tournament play, starting aggressive? or waiting for premium hands and try to maximize my profit by trapping or slowplaying and then pushing etc,etc.
Eric Buchman
(3:13 PM)
It all depends on who you're playing against. If you can get away with playing aggressively and stealing pots that would be an optimal strategy. But if you're up against a tough table, and they're not going to just let you steal pots left and right, you have to tighten up and pick your spots more selectively.
Steve (DC)
Who will be more intimindating at the final table, Moon with all his chips or Ivey with all his skill?
Eric Buchman
(3:14 PM)
Moon, because in poker your chip stack dictates a lot about how you can play.
David (Atlanta, GA)
If you could steal any aspect of any other poker player's game, what would it be?
Eric Buchman
(3:16 PM)
I don't think that one poker player is that much better than another when you're at a top level. So, I'm pretty happy with my game for the most part. So, there's not too much that I would want to change as of now.
Jeremy (Seattle)
Eric, Do you have any advice for a player that who can't seem to quit while down at the tables? Seems I can always walk away with my winnings but stay at the tables and lose more than I should because I can't seem to take a losing session.
Eric Buchman
(3:21 PM)
It's natural instinct to not want to win a loser and try to get your money back when you're losing. If you're running back, it's probably better to take the lose and quit at some point. Most people don't play nearly as well when you're winning as losing. Poker is very streaky. Some days, if you just can't win, it's better to just quit early. There's always tomorrow.
Jason ((Columbus, OH))
Eric, how long have you been playing poker? How long did it take you to become a winning player?
Eric Buchman
(3:23 PM)
I've been playing for 10 years. At the beginning I was a break even player. It took me about 2 years to really become a winning player.
Allan (Miami, FL)
Do you think the label "the best poker player" is really realistic? Given the amount of variance in every game I personally don't think their is such a person...
Eric Buchman
(3:25 PM)
I agree with you, but if I had to choose one player who was the best in the world, I would choose Stu Unger. He had the sickest batting average or slugging percentage in major tournaments. He came in first in 10 tournaments with a buyin of $5,000 or higher out of something like 32 tournaments that he entered. In poker, they don't show the misses, they only show the hits, so you don't get the whole story.
Andy (Denver)
Are the players at the final table that you think you have pretty good reads on already?
Eric Buchman
(3:26 PM)
Yeah, there are, but I prefer to not mention any names at this point.
Bob (Michigan)
How many times were you all in at risk at the WSOP?
Eric Buchman
(3:28 PM)
There were three teams when I was all in and behind and managed to suck out and win those three hands. There were probably another handful of times where I was all in and ahead and my hand held up.
Randy (Georgia)
Do you see yourself playing as long as D. Brunson or do yo uhave a "set retirement age" in mind?
Eric Buchman
(3:30 PM)
I think I am going to have a long career at this, because I'm young and not burnt out at this point. But if I get sick of poker, I'll play less often. I don't really see myself giving it up completely for a long time.
Eric Buchman
(3:31 PM)
Thanks for the questions. Watch me tomorrow on the Inside Deal on ESPN.com. And check out my website that will be coming out next week, BuchmanPoker.com.