Chat with Floyd Mayweather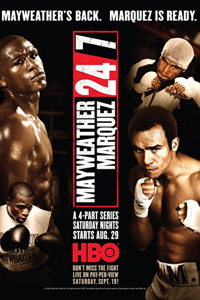 Welcome to SportsNation! On Thursday, we have an exclusive chat with Floyd Mayweather Jr. as he makes his comeback to the ring.
Mayweather (39-0, 25 KOs) faces Juan Manuel Marquez (50-4-1, 37 KOs) at MGM Grand in Las Vegas on Sept. 19 at 9 p.m. ET/6 p.m. PT live on HBO Pay-Per-View.
Mayweather returns to fight after retiring in 2008, months after his last bout - a 10th round KO of Ricky Hatton in December 2007.
HBO will mark the lead-up to the fight with the series "24/7." The four-episode show premieres Saturday at 10:15 p.m. ET/PT and will show the behind-the-scenes preparation the fighters have for their fight.
Send your questions now and join Mayweather Thursday at 5 p.m. ET!
More Special Guests: Previous chats | SportsNation
Buzzmaster
(5:01 PM)
Floyd is here!
Benjamin (Atlanta)
Do you look forward to re-establishing your dominance at welterweight, and if so, what is your road map for doing so? What fighters are in your sights?
Floyd Mayweather
(5:01 PM)
Most definitely. I left as thebest fighter in the world and I'm returning as the best fighter in the world. Come Sept. 19, those nonbelievers I will remind them on who the boss is.
Jay (NYC)
First off, great to see you back!!! Knowing that you wont let us in on your gameplan. Do you see any flaw(s) that you can take advantage of Marquez fighting style?
Floyd Mayweather
(5:02 PM)
Well, Marquez is a tremendous fighter. What he brings to the table, he has a ton of experience. He's been one of the best fighters in the world for a number of years.
Floyd Mayweather
(5:02 PM)
Come Sept. 19, I will expose him just as I have done with my other 39 opponents.
BRANDON TOOMBS (HOUSTON, TX)
What do you think about the potential of having your fights in movie theatres? Whose the fighter you feel would've been the ultimate fight for you during your career from an all-time perspective?
Floyd Mayweather
(5:04 PM)
Brandon, it's a reality. This is another example of what we bring different to the table. I want to send a special thanks to Richard for all of his efforts for making this happen for the rest of my team.
Leon Tillman Jr. (Sacramento, CA.)
How are your hands? How are your ribs? Did you retire because of your reoccuring shoulder injurys?
Floyd Mayweather
(5:04 PM)
I'm feeling good. The time off after I initially got injured allowed my body to heal. And come Sept. 19, I'm looking to be the best Floyd Mayweather the fans have seen to date.
AquaZibra (Mexico Citiy)
Hey Floyd, Why are you Ducking Manny Pacquiao??
Floyd Mayweather
(5:06 PM)
Anybody who knows me knows that I'm not ducking him or anybody. His guy has never, ever come out of his mouth that he wants to fight me. He has a boss and I'm my own boss. So, in order to make that happen, he has to go through his boss. His boss knows what time of day it is. Besides, my focus is what's in front of me. What happens with other fighters, they tend to focus on things that could potentially happen in the future, instead of what's in front of him. My sole focus is on Marquez. Manny knows he couldn't beat me in a million years and his boss knows that too.
Alex (Vancouver CANADA)
Floyd, will ring rust be an issue? Do you feel good, strong and fast? And no rib issues? Good Luck, go for the KO!
Floyd Mayweather
(5:07 PM)
The work that we have put in in the gym, I know I'll be able to overcome that. We've been working really good. I've had excellent sparring and I'm ready to go.
Tim (Pittsburgh,PA)
Floyd, what do you hope to accomplish with your comeback to boxing?
Floyd Mayweather
(5:08 PM)
With me being the face of boxing, I'm just looking to go out there and give the fans an exciting performance and continue to bring more fans to the sport.
russell (snellville,ga)
does it bother you that a lot of people seem to think you are no longer the best, even though you have not lost a fight?
Floyd Mayweather
(5:09 PM)
Nobody who is a true boxing fan doens't believe that I'm the best. How can I not be the best when I've never lost? When there are so many people on the mythical best list have lost? If I was the No. 1 on the list when I left and the guy who is lost, how can I not be the best when I come back? That doesn't even make sense. My record speaks for itself.
Racco (Shorewood, IL)
Dispite the rust you may have since last fighting Ricky Hatton, how are you preparing diffrently in order to execute a Juan Marquez successfully in the ring? Are you willing to brawl with him if needed?
Floyd Mayweather
(5:10 PM)
I'm just looking to going out there and being the same old Floyd to give the fans the best fight that I can give them.
Nick W (Grand Rapids, Michigan)
Floyd, on a scale of 1-10, 1 being the lowest, what would you rate your effort in training and preparing for this fight? And how do I get Mayweather Promotions Gear?
Floyd Mayweather
(5:10 PM)
A 10. I'm itching, itching to get back in the ring. I can't wait.
Floyd Mayweather
(5:11 PM)
I truly miss the sport and I miss all of you guys.
Gustavo (Austin Texas)
Floyd do you think you will knock out JMM?
Floyd Mayweather
(5:11 PM)
That's why all of the fans have to tune in on Sept. 19 to find out. It will be must see.
Jeff (New Orleans)
Good Luck next month. Will you have any problems making weight due to you being off so long?
Floyd Mayweather
(5:12 PM)
Making weight is never a problem.
John (New Jersey)
Floyd, have you been totally cleared for incident at the skating rink on Sunday where allegedly your Rolls Royce was involved in a shooting? Also will your Uncle Roger still be in your corner on the 19th? If not who will take his place?
Floyd Mayweather
(5:13 PM)
I had no involvement. None whatsoever.
jr (orlando)
do you plan on being a little more aggresive in this fight since marquez is the smaller man ?
Floyd Mayweather
(5:14 PM)
I guarantee to the fans that this will be truly an exciting fight. I'm going to do whatever it takes to give my best performance to date.
Eric (Thousand Oaks, CA)
Floyd - what is it about Marquez that could make it a difficult fight for you, and how would you deal with it?
Floyd Mayweather
(5:14 PM)
Well, I know this fight isn't going to be easy because nothing is easy about Marquez.
Josh (Waikiki, HI)
Yo Floyd, last time you did an ESPN chat, you gave out your boy's digits for those of us who wanted to see a good time in Vegas. If we want to celebrate you knocking out Marquez next month, that number still good?
Floyd Mayweather
(5:15 PM)
You most certainly can! Everybody knows where to find me at.
NK (NY)
Floyd, I am a hug fan. Where do you think you rank all time and how much longer do you want to fight for?
Floyd Mayweather
(5:16 PM)
Well, I leave that up to the fans to judge where I'll be ranked all-time after my career is over. I still have unfinished work to do. When it's all said and done, the fans will judge what I have accomplished in my career. Fought the best fighters of my era and never losing. The fans can judge me based on fighting the best and remaining undefeated.
David (Corning)
Floyd on fight night will your dad or Roger be in your corner?
Floyd Mayweather
(5:16 PM)
Most definitely my Uncle Roger is my trainer and he will be in my corner.
Derrick Austin (Dallas)
Who would you consider the number 2 pound for pound king, yourself being number 1
Floyd Mayweather
(5:17 PM)
Marquez.
Floyd Mayweather
(5:17 PM)
I truly feel as though he beat Pacquiao in both of those fights, he just wasn't given the nod.
ace (san bernardino)
how much older does mosley have to get before you fight him???will you ever take on Paul Williams???
Floyd Mayweather
(5:19 PM)
Ace, Ace, obviously you haven't been keeping up with your boy Shane Mosley. He had his opportunity in Nov. '06 to fight me for twice as much money he's ever made in his career. He chose to take a family vacation and have some dental work done. Shane Mosley is calling my name out just like the rest of these fighters because what I represent is the biggest payday for any fighter out there. I'm not mad at them for doing that. That's what they're supposed to do. Shane Mosley knows what time of day it is. He had the chance to fight me and he turned it down. WHo knows what the future holds, but he's just looking to make some money. He knows he can't beat me.
John Sigona (Paramus, NJ)
My favorite Floyd quote is: "When you're playing, I'm working... When you're working... I'm working". Have you been doing anything differently this time?
Floyd Mayweather
(5:20 PM)
When I'm working, they sleeping.
Floyd Mayweather
(5:20 PM)
When I was running 8 miles last night at 3 a.m., what do you think my opponent was doing? I'll let you answer that question.
Nel Velasco (Odessa,Tx)
will 50cent be with you on the night of the fight and will he perform a song as you make your entrance??
Floyd Mayweather
(5:21 PM)
I have a special treat for the fans, come Sept. 19. I'm not going to let the cat out of the bag on this chat. you must tune in to see what I've got playing.
Matt (LA)
Other than yourself and Marquez who do you feel is your biggest threat?
Floyd Mayweather
(5:21 PM)
There are a lot of good fighters out there in boxing, but the only person that can beat me is myself and that will never happen.
derek guzman (brentwood,ca )
hey floyd how do you stay so confident? how many hours a day do you train? by the way floyd i believe you are the best pound for pound
Floyd Mayweather
(5:23 PM)
Confidence...a lot of people get cockiness mixed up with strong confidence and belief in self. I have a tremendous amount of belief in myself, because at the end of the day, I have to get in the ring and take all the risk. A lot of times people mix up my strong confidence in myself. Until someone can shut me up, I'm going to continue to have the confidence in myself that no one can beat me.
Tim (Pittsburgh,PA)
how was doing WWE raw again this close to a fight?
Floyd Mayweather
(5:24 PM)
It was a tremendous experience. Thanks to Leonard for putting it together. It was truly a great experience. I had a lot of fun. WWE has a tremendous vehicle when it comes to knowing how to market and promote. I'm just happy to be a part of their family. I'll continue to look to work with them in the future.
Brian (Sacramento, CA)
Money,Through your successful career, which fights stick out most to you?
Floyd Mayweather
(5:25 PM)
There are so many of them. Winning multiple titles in all of these different weight classes. They all have great meaning to me. The Gatti fight, the Corrales fight. The De La Hoya fight. There are a number of fights that stand out and have different meaning to it. I'm truly blessed and thankful to be in this position.
Mucks (Denver)
I read a article today by Oscar saying you can't defend a jab, and Marquez just has to keep a jab in your face. He claims he beat you for 7 rounds, what do you say about that? Obviously you're the man but a lot of folks like to think you've lost some quickness because you turned 30, like your Roy Jones Jr or something, ha.
Floyd Mayweather
(5:27 PM)
Well, look who's saying this. This is a guy just like the other 39 opponents that took an "L." How is he going to tell Marquez to beat me when he couldn't do it himself?
Floyd Mayweather
(5:28 PM)
It doesn't matter what Oscar says, he can't get in there and fight for Marquez. And Marquez has been around for a long time and he's a great technician. He knows how to fight and knows how to win. Come Sept. 19, he's stepping up and he's never seen what's about to happen to him.
Shannon (Las Vegas, NV)
Floyd, how do you think you would have fared against other fighters around your weight like Aaron Pryor, Sugar Ray Robinson, and Pernell Whitaker (to name a few)?
Floyd Mayweather
(5:28 PM)
You can't really compare, because those guys weren't in my era. They were all outstanding fighters and brought something to the game and have contributed to where boxing is at today.
Floyd Mayweather
(5:29 PM)
They were all great fighters and I have a tremendous amount of respect for them. But they weren't in my era.
Nick (Cleveland)
I know your always working but do you ever sleep? Between the training and the promoting, do you ever rest? If not should you change your nickname from "Money" to "Terminator"?
Floyd Mayweather
(5:30 PM)
No, not at all. Being my own boss and my own promotor, there's a tremendous amount of responsibility that comes with being the face of boxing and being in charge of a mega fight. So, with the training and the other responsibilities, it's a tremendous committment, but as usual, I give 100% when I'm doing my job.
Floyd Mayweather
(5:31 PM)
I just want to say to all the fans to tune in Sept. 19 to truly a great fight. My best performance to date.