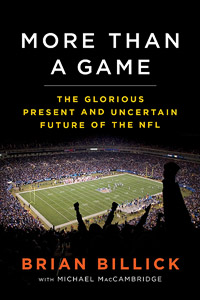 Welcome to SportsNation! On Tuesday, Sept. 8, former NFL head coach, and current game analyst on Fox, Brian Billick stops by to chat about the 2009 NFL season.
Billick coached the Baltimore Ravens for nine years (1999-2007), with an 80-64 record. While with the Ravens, he won two AFC North division titles and one Super Bowl (2000). Prior to his time with Baltimore, Billick was the offensive coordinator of the Minnesota Vikings. In 1998, he helped the team set several offensive records, including points in a season (556, which the 2007 Patriots broke).
Billick's new book "More Than a Game: The Glorious Present and Uncertain Future of the NFL" hits stores Tuesday.
Send your questions now and join Billick Tuesday at 1:15 p.m. ET!
More Special Guests: Previous chats | SportsNation
Buzzmaster
(1:08 PM)
Brian Billick will be here shortly to take your questions!
Buzzmaster
(1:17 PM)
Hey everyone, I just heard Brian is running a little late. He'll be here in about 10 minutes.
Buzzmaster
(1:24 PM)
Here comes coach!
Megan Brown (Auburn,OH)
Brian, Do you think that keeping the qb of the browns a secret was a smart idea?
Brian Billick
(1:26 PM)
I don't know if it was smart or not. In this instance, I'm not quite sure what it accomplishes. As an opposing coach, in preparing for a team, if the options were an athletic mobile QB and the other guy was a consistent, drop back type of guy, that would creat a difficulty in what you prepare for. But since both are traditional drop back QBs, I don't know if there was an advantage to be gained.
Henry (Buffalo)
Coach, where did the idea come for your book?
Brian Billick
(1:27 PM)
Michael MacCambridge, who authored, America's Game, approached me a year ago, to write a book that might provide some insight into what faces the leagues in the next year and a half. I enjoyed traveling the country talking to owners, coaches, players, league personnel and getting their views on such things as the impending CBA, trends on and off the field, including hiring coaches, the process of evaluating a QB.
Steve (Chicago_
Hey Coach...question for you. Have you seen your old player Tony Siragusa's TV show on the DIY Network called "Man Caves"? What do you think of his performance?
Brian Billick
(1:28 PM)
I've heard about it. Having been with Tony for a number of years and having seen his locker and the way he kept his room at training camp, I am not sure I would join Tony in another room.
Jason (Ellicott City, MD)
You do a really good job on tv broadcasts. Who are you paired up with this year?
Brian Billick
(1:29 PM)
I'm excited about joining Thom Brennaman for all 17 games this year. I enjoyed working with Thom, Dick Stockton and Brian Baldinger alternating games last year, but I'm looking forward to the continuity of working with the same guy all year long.
Joe (Boston, MA)
Opinion on the Richard Seymour to Oakland trade? I'm thinking Oakland may be able to buy a good 2010 if the year is un-salary capped, making a 1st round pick much less awesome.
Brian Billick
(1:30 PM)
Any time you let a veteran of Richard Seymour's stature leave your organization, you have to think long and hard, obivously the Patriots are comfortable with who they have in place of Richard Seymour and the value they have in the trade will offset the production they get in what he has left. I am surprised with the move and Seymour seems to hav ebeen a big part of that defense in New England.
Tim (Denver)
Coach, were you always interested in writing a book?
Brian Billick
(1:32 PM)
This is actually the fourth book I've written. I certainly enjoy the process of exploring and researching the different subject matter. This book was particularly enjoyable in the conversations it drew me into. I did not want this book to be the world according to Brian Billick. I wanted it to be about the different principles of the league that will determine the direction of this great game.
Erin (Pensacola, FL)
Coach Billick, which side of the Cowboys fence are you on? The side that has them crashing without T.O. or finding a new level now that he is gone?
Brian Billick
(1:33 PM)
I always come down on the side of talent. Cowboys have been and are now a very talented team. They certainly have the potential of a more unifed less distracting environment without him. But certainly a guy like Roy Williams will have to step into the void that a loss of the talent of TO creates.
Rob (Georgia)
Is there anything that you learned while writing the book?
Brian Billick
(1:34 PM)
I learned a great deal in writing the book. When you coach, you tend to have a very narrow view of the league. It's all about your team, your players, the opponents you're playing. By doing my games with Fox, the NFL Network and writing the book, it broadened my perspective of the game both on and off the field.
Matt (IN)
Coach Billick, I love your Coors spots. Are you content to write books and do TV work or do you still want to coach again?
Brian Billick
(1:35 PM)
Once a coach, always a coach. There is certainly things that I miss about being involved in a team. At this stage of my career, I present a certain skill set that if it can be matched up with the right team and organization, it would be fun to get back into. Right now, the league seems to be in a cycle of looking for younger, if not unproven, head coaches. It might take a while for us to cycle into another phase.
SteveFitz (Cicero, IL)
Ok coach, spill the beans. Who plays in Superbowl XLIV?
Brian Billick
(1:37 PM)
I've been in this league too long and have too much experience to fall into that trap. A couple of teams that I'm going to be interested in watching are the Chargers. They have long been a talented team. If for no other reason, it just seems like it should be their time. In the NFC, there are a bunch of solid teams, but each seems to have that one thing that would keep them from stamping them as guaranteed Super Bowl participants. Not withstanding Michael Vick, Philadelphia is an intriguing team that could very well make a run.
Sean (Philly)
Do you think that it is a coincidence that Randy Moss was a member of the two highest scoring teams in NFL history?
Brian Billick
(1:38 PM)
No. Randy Moss is one of the most unique talents I've ever been around. His ability to stretch the field and make something out of nothing, makes an opportunity for both offenses to utilize many of the other talents they had.
steve heindl (lakeport,ca)
Is Ray Lewis the best middle linebacker ever?
Brian Billick
(1:39 PM)
I'm certainly biased in my perspective, but I don't think there's any question in anybody's mind that Ray Lewis will be a guaranteed first round inductee to the Hall of Fame. As to whether he's the greatest LB of all time, I don't know if that question can ever be answered definitively, but he belongs at the top of the discussion.
J (Buffalo)
Did you ever want to fire a co-ordinator of some sort before the season? 3 coaches this year. What is a coach thinking about when that happens?
Brian Billick
(1:40 PM)
It's not something that happens over night. It's not a decision that you make in a rash, or hurried manner. It typically would be a combination of things that would lead you to believe a change was in order. I would agree that firing a co-ordinator before the seaosn, next to losing a starting QB might be one of the most difficult things for a team to overcome. At some point, we might hear the rest of the story that led to the dismissal of the three co-ordinators, but I must say, I can't recall this happening this early before.
Brian Billick
(1:41 PM)
I appreciate those taking the time to ask questions. Like them, I am looking forward to the start of what should be a very exciting season.