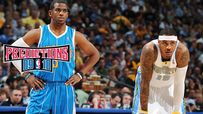 ESPN researcher Peter Newmann chats about the 2009-10 NBA predictions.
Welcome to SportsNation! On Thursday, ESPN researcher Pete Newmann stops by to chat about ESPN.com's predictions for the 2009-10 NBA season. Newmann is an NBA researcher in ESPN's Stats & Information group.
ESPN.com's ongoing NBA predictions started Aug. 24 with Rookie of the Year forecasts and continues Thursday with projected Eastern Conference standings.
Send your questions now and join Newmann Thursday at 3 p.m. ET!
More Special Guests: Previous chats | SportsNation
Pete Newmann
(2:57 PM)
Hey everyone...let's get going....
Adam (NY)
With the Hall of Fame around the corner, who do you think is the best player not in the Hall of Fame
Pete Newmann
(2:58 PM)
I think its Karl Malone....Scottie Pippen and Reggie Miller are close...all will be in the Hall of Fame in the next 2 years...
Terrance (Detroit,MI)
Everyone is saying that the Lakers are going to win the championship this year. Is there anyone in the west or east that you think will dethrone the champions this year?
Pete Newmann
(3:00 PM)
If the Celtics are healthy, they will give the Lakers a run for their money....Garnett, Pierce, Allen, Rondo is quite a start...
bob (boston)
how good is rajon rondo
Pete Newmann
(3:03 PM)
i am asked this question regularly and think there are at least 9 PGs that I'd rather have - paul, williams, harris, parker, rose, nash, arenas, kidd, billups...
Carlos (Long Beach)
Will the Ron Artest experiment be a success or failure?
Pete Newmann
(3:04 PM)
success...phil jackson had rodman in chicago and that worked out...so will this....
Jason (NJ)
I can see a huge season for the nuggets, with melo exploding. Am I far off?
Pete Newmann
(3:05 PM)
I think the explosion came last season. Now, they lost Kleiza and Jones...I think they'll slide a little this season. Melo and Billups can only do so much.
Victor (Texas)
How good will Greg Oden be? Will he be more dominant on the defensive end than Dwight currently is?
Pete Newmann
(3:07 PM)
Oden has the potential, but he hasn't stayed healthy....but, his potential is sky high...that said, Howard's defensive ability is higher.
Derrick (Toronto)
What is the ceiling for the Raptors this season if everything breaks right?
Pete Newmann
(3:08 PM)
the starting 5 is really good...if all goes right they could be the 5 seed in the east...
David (Sac)
Why does everyone think orlando will be 3rd in the east? they look stacked to destroy the rest of the east. do you think their run was a fluke?
Pete Newmann
(3:09 PM)
boston was down KG and Cle was the perfect matchup for them because of their athletic bigs...now KG is healthy and CLE added Parker and Moon...hence, ORL is 3rd.
Mark (PA)
Spurs-- picking up RJ
Pete Newmann
(3:10 PM)
Huge move...maybe the ultimate gamechanger in the West...shows guts by SA because RJ is owed a lot of money...And it keeps SA in the discussion of title contender.
Bob (Toronto)
How much is Chris Bosh worth?
Pete Newmann
(3:11 PM)
Not as much as he thinks...I do not think he would be worth a max contract.
Jameer Nelson (Orlando)
Would you rather not have me than Rondo?
Pete Newmann
(3:12 PM)
Nope...would rather have Rondo...
Pete (West Lafayette)
Any hope for the Pacers making the playoffs this year?
Pete Newmann
(3:13 PM)
Yes, the East isn't as strong at the bottom and IND has gotten incrementally better...and they have a stud in Granger.
Patrick (Athens,GA)
What are your thoughts on the Atlanta Hawks for 09-10 season?
Pete Newmann
(3:14 PM)
They should be the 4th best team in the East. The addition of Crawford provides great depth.
Felix (Latvia)
Do the Warriors have it in them to make the playoffs?
Pete Newmann
(3:15 PM)
The Warriors have major issues...the locker room is just one of them...Stephen Jackson...Don Nelson...can they all get along...I say no.
CavsFan (Cleveland)
You already mentioned that you think that the Celtics might be able to dethrone the Lakers But what do you think about the Cavs and Their chances???
Pete Newmann
(3:16 PM)
The Cavs hace a shot. I like the Parker and Moon additions to matchup with ORL's big wings. Shaq is a beast. LeBron is still LeBron. No reason they shouldnt make the ECF.
John (DC)
Pete, who is your pick to win the East, the West and the Finals?
Pete Newmann
(3:17 PM)
Celtics vs Lakers...Boston wins in 6 games.
Mark (PA)
Your opinion on Rubio's decision.
Pete Newmann
(3:18 PM)
I hope he comes over eventually. He's young and its his life so I accept his decision. For MIN's sake, I hope he comes over. He is one of the great talents not in the NBA.
Mike D'antoni (NYC)
Any chance I see the post season with these guys?
Pete Newmann
(3:19 PM)
Um, no....but it should be a fun season.
Vincent (DC)
Talk Wiz... aaand go!
Pete Newmann
(3:20 PM)
Love the additions of Miller and Foye...if Arenas is healthy, they will be really good. Talked to Flip and he loves his team.
Arri (North Carolina)
Can the Timberwolves win 25 or even 30 games this year?
Pete Newmann
(3:21 PM)
I think 25 is about right. Big Al and Love anchor a good front line. Flynn and the backcourt will have to prove themselves.
LeBron James (Akron)
Am I a winner?
Pete Newmann
(3:22 PM)
Yes, you just won the MVP.You'll win another MVP before an NBA title.
Jason (NYC)
Your thoughts on Bruce Bowen's retirement?
Pete Newmann
(3:23 PM)
He is one of the best 5 perimeter defenders of the last 10 years. What do you all think?
Mike (Mobile, Al)
do u see the Lakers Winning over 60 games this season with the addition of Ron Artest? Are the Lakers still the favorite in the west?
Pete Newmann
(3:23 PM)
Yes and Yes.
Joe Dumars (Det)
Can I be elected into the hall of fame twice/
Pete Newmann
(3:25 PM)
yes...you can be elected as a coach and a player...3 have done it so far - bill sharman, lenny wilkens and john wooden...you can also be elected as a contributor.
Matt (NYC)
The Miami Heat are short at PG and have expressed that any addition will come by subtraction. Your thoughts on the potential candidate?
Pete Newmann
(3:25 PM)
Two words....Allen Iverson.
JA (NJ)
do u think lebron will leave next year? how about d-wade or bosh?
Pete Newmann
(3:26 PM)
i think lebron and wade stay...bosh goes to ny or miami.
JA (NJ)
can the heat contend for the championship next year?
Pete Newmann
(3:27 PM)
no...not enough firepower to deal with CLE, BOS, ATL, ORL...you'll be a low seed IF you make the playoffs.
Andrew (OKC)
The Thunder have a pretty large dark horse bandwagon for the playoffs right now... but like the blazers were a couple years ago, i think they are still a few years and a couple pieces away.... thoughts?
Pete Newmann
(3:29 PM)
Spoke with Scott Brooks...he raves about Westbrook...Durant is a star. Give it a few years to gel...But that team is gonna be good.
Brett (Portland)
Stephen Curry - over/under 15ppg?
Pete Newmann
(3:30 PM)
over....that offense is perfect for him. depending on what happens with Jax, he could get a LOT of playing time.
Mike (Mobile, Al)
Do you think that Shaq will make a real impact in Cleveland?
Pete Newmann
(3:31 PM)
Not as big as others think. Ilgauskas and Varejao were a pretty good tandem on their own...
Justin (Los Angeles)
Who gets a 5th ring first? Kobe, Shaq, or Duncan?
Pete Newmann
(3:32 PM)
Kobe
robert (brooklyn)
What do you think of Dallas this year
Pete Newmann
(3:32 PM)
The Mavs could be a real sleeper. They made big changes, kept Kidd, brought in Marion...I like their moves.
Dan (Denver Co)
Can the Nuggets make it to the Final?
Pete Newmann
(3:33 PM)
the NBA Finals? No. The West Finals? Doubtful. Very doubtful. Not enough depth.
Vic (OH)
Christmas Day.......The King/Diesel or the Mamba/Ron-Ron?
Pete Newmann
(3:34 PM)
I'll take Kobe and Artest.
Kevin (Boston)
Do you think Celtics will be the best team in the NBA for the 09-10 season?
Pete Newmann
(3:35 PM)
In the regular season? No.Will they win the title? Yes.
Dave (SLC)
Lets look at this question in reverse: Which teams should target Carlos Boozer in trade?
Pete Newmann
(3:36 PM)
The Heat and Pistons would be two great fits. The Bulls could use him the most.
dan (columbus)
Over/Under 60 wins for the Cavaliers
Pete Newmann
(3:37 PM)
OVER....The Cavs won 66 last year...I think 62 is about right...
robbie (detroit)
rookie of the year candidates after blake griffin?
Pete Newmann
(3:37 PM)
watch out for Tyreke Evans...The Kings may be the worst team in the league and he'll get every chance to make a huge impact.
ryan (CA)
Whats the deal with Andrew Bynum? Going to get better, get worst or is who he is?
Pete Newmann
(3:39 PM)
Bynum is an enigma. If he's healthy, Odom sits. LAL is better with Odom on the court. If he's healthy, the Lakers might be worse off...
robbie (detroit)
how does boozer help the pistons? do they need another big that can't defend?
Pete Newmann
(3:39 PM)
Boozer's contract is up after the season and will allow Dumars to pursue a bigtime FA, like Bosh.
Gabriel (san antonio)
do you see dejuan blair cracking the spurs starting roster at some point this season and having duncan slide over to the 5 spot
Pete Newmann
(3:41 PM)
No. He is a rookie. He'll learn behind Duncan, not with him. Blair won't play very much early in the season, but should make a contribution as he adjusts to the NBA game.
jeff (la)
if the heat snag bosh next year, are they contenders?
Pete Newmann
(3:41 PM)
Absolutely.
chris (nyc)
Wouldn't boozer be a great fit in NJ?
Pete Newmann
(3:43 PM)
If NJ could shed contracts, yes. But UTAH won't just give him away and the Nets are dumping conttracts (see RJ and Vince). Boozer has 1 year left on his contract, so he could be the big prize at the trade deadline.
Kristaps Spuris (Latvia)
How do you feel about changes Pistons made this summer? Will they make PO?
Pete Newmann
(3:44 PM)
Gordon is bigtime scorer, but he plays the same position as Rip. If they can coexist, they should battle for the 6-8 seeds in the East.
Jeremy (Missouri City)
Do you believe that the Blazers could make it past the 1st round?
Pete Newmann
(3:45 PM)
Yes. They had no experience last season. Now they have talent and experience.
John (Da bronx)
The maverics have no real shooting guard. Do you think it would be wise to trade Howard for a true shooting guard? and if so who do you think will be a good fit for Dirks team ?
Pete Newmann
(3:45 PM)
Jason Terry is their shooting guard - even if he doesn't start. And he is pretty darn good.
George (NJ)
SO you think Odom should START and Bynum should be 6th man ?
Pete Newmann
(3:46 PM)
I think the Lakers best front line is Artest, Odom and Gasol...
RoBron (Croatia)
Do you think Cavs should have no matchup problems next season like they did against Orlando?
Pete Newmann
(3:47 PM)
correct. Adding Shaq, Parker and Moon should have taken care of those problems. Ferry did a nice job addressing the team's issues.
Mike (Mobile, Al)
Why do so many NBA fans dislike Kobe and the Lakers?
Pete Newmann
(3:49 PM)
Kobe has kind of become like A-Rod...A very polarizing figure that either you love or hate. And most fans cant stand that the Lakers are so good every year (also like the Yankees)
Lee Chen (Hsinchu, Taiwan)
Post season for the Bulls next year?
Gamblor (Los Angeles)
will Anthony Randolph make a big jump in stardom this year?
Pete Newmann
(3:51 PM)
I can see it...The wildcard is the coach. The Warriors had the most different starting lineups in the league last year...pick the best lineup and Randolph will shine.
Mike (New Rochelle NY)
Who would you rather have Brook Lopez or Blake Griffin?
Pete Newmann
(3:51 PM)
Blake Griffin.
Randy Foye (WAS)
Glad you like the idea of me and Mike in WAS..but who starts?
Pete Newmann
(3:52 PM)
Mike Miller. Arenas is ball dominant and Miller is not. Its a better fit.
Mario (Anaheim)
Who's the MVP this year..
Pete Newmann
(3:52 PM)
LeBron James.
Alex (NC)
With the trades that Orlando made and their losses and new acquisitions, do you think chemistry will play a factory for them this season?
Pete Newmann
(3:53 PM)
Yes. Fitting Vince is will determine how far this team goes. On paper, they are very good.
Jerome (LA)
Can Rose repeat his ROY performance?
Pete Newmann
(3:54 PM)
No doubt. He's the real deal.
Pete Newmann
(3:54 PM)
They got the best FA on the market in Turkoglu. So I'll give them an A.
John (Da bronx)
With the addition of Jefferson to the spurs. Do you think the Rockets or the Mavericks have a chance at the division title?
Pete Newmann
(3:56 PM)
Not any more. The Spurs are the best in the division by far.
Pete Newmann
(3:57 PM)
Thanks for all of the questions. Its been fun. We'll do it again soon.