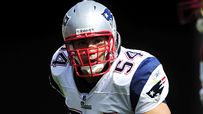 Bruschi won three Super Bowls with New England.
Welcome to SportsNation! On Monday, we're going to help launch ESPNBoston.com with a chat with a familiar face to Boston sports fans - former New England Patriot Tedy Bruschi.
Bruschi retired in August, after 13 seasons and three Super Bowl wins with the Patriots. He started 189 games with New England, the most for any LB in team history. For his career, he had over 1,100 tackles, 30.5 sacks and 12 INTs.
Shortly after his retirement, Bruschi joined ESPN's stable of NFL analysts. In addition to being a regular NFL anaylst on ESPNBoston.com, Bruschi will also appear on "NFL Live," "SportsCenter," ESPN Radio and other ESPN platforms. He will be at Gillette Stadium Monday night for the Patriots' season opener against the Buffalo Bills.
Send your questions now and join Bruschi Monday at 9:30 a.m. ET!
More Special Guests: Previous chats | SportsNation
Buzzmaster
(9:21 AM)
Tedy will be here in 10 minutes to take your NFL questions!
Tedy Bruschi
(9:30 AM)
Thank you for joining me for this chat this morning. I'm excited to be joining the ESPN team. I'm excited for the Monday night games. Let's talk some football.
Steven (NJ)
What was your favorite moment of your NFL career?
Tedy Bruschi
(9:31 AM)
This is the most difficult question I always get from fans. I would say after winning our third championship against the Eagles. Winning that Super Bowl justified everything we did to be in the discussion as one of the best teams in the history of the league.
Dan (Los Angeles)
Which team impressed you the most in week 1 of the NFL season?
Tedy Bruschi
(9:32 AM)
I would say the New York Jets, how comfortable Mark Sanchez looked. How physical and tough the defense played. The second team would be the New Orleans Saints. They haven't skipped a beat from the offensive production from last year and Drew Brees started on fire once again.
Willow Stewart (Maine)
Good Morning Tedy, Are you having FUN yet with your retirement?
Tedy Bruschi
(9:33 AM)
I'll always miss the game of football. It was a big part of my life, but having already been on ESPN and NFL Live, I'm pretty sure I'm going to still love being around the game, talking about the game, researching the game. And I'll have more time for my family and things like golf.
Aaron Broughton (Washington, D.C.)
Tedy Bruschi, have you considered any kind of coaching role with the Pats?
Tedy Bruschi
(9:34 AM)
It's not totally out of the picture. Football will always be a part of my life. I think I'd be a good coach, but ESPN came along rather quickly after I retired to try this TV thing, so I'm going to give it a shot.
Rick (Hartford)
Hey Tedy, how good to you think Jerod Mayo can be?
Tedy Bruschi
(9:36 AM)
I think he can be one of the premiere LBs in the league. I've seen how hard he works and the talent that he has. Along with having that, he has this desire to be great. With a combination of those things, the pro shop is going to have to stock up on 51 jerseys.
Rex (San Francisco, CA)
Will it be hard to watch the Patriots MNF game tonight and know that you won't be there ringing someone's bell or on the sidelines watching Tom Brady throw touchdowns?
Tedy Bruschi
(9:37 AM)
That's something I'm going to have to go through tonight. Am I anticipating it being difficult? Yes I do. But I am OK with my decision to retire. It was my time and the team needs to move on to younger leaders to carry the torch for the organization.
Uncle Mike (NYC)
Tedy, please tell that Kubiak will be able to get Matt Schaub to play like a true NFL QB! I know the Jets played well but that was just an embarassing performance.
Tedy Bruschi
(9:38 AM)
The Houston Texans looked uninspired to me. I think that was because of the early hits Schaub took in that game. They overloaded one side and the offensive line couldn't adapt to that. They were beating up on Schaub from the opening whistle and that got him rattled a little bit.
Chris (Rochester NH.)
Mr. Bruschi, thank you for all your time with New England we enjoyed watching you play. But now to football. How do you think the D-line is going to play without Richard?
Tedy Bruschi
(9:39 AM)
That's a big question that has to be answered this year. The absense of Seymour won't be felt early in the year. In September and October, the weather is still favorable to offenses playing outdoors. As the weather gets colder, that's when the defense will have to step up, because the good offenses slow down. That's when we'll have to disect this Seymour trade.
Daniel Mott (carrollton, GA)
what was your favorite super bowl win
Tedy Bruschi
(9:41 AM)
I gave my picks on NFL Live on Friday. New England Patriots versus the New York Giants. I think my reasons for picking the Patriots are obvious, but the Giants, without the Burress distractions this year, they can focus on what they need to do. They have some young WRs that can step in and fill the void. And when you have a RB that is close to 270, Brandon Jacobs is one of hte most physical backs in the league.
Jake D. (Charlotte)
Should I be worried?
Tedy Bruschi
(9:42 AM)
I don't know about being worried, but you got to get better. Whatever player holds the football in their hands, holds the fate of the entire organization. That football needs to be held like a prized possession. When you don't take care of it, you put the team on the line. That's what Jake Delhomme needs to do, take care of the ball better.
JRM (TN (Formerly South Boston))
Think the Jets will get to Brady as easily as they did Schaub?
Tedy Bruschi
(9:44 AM)
I think that will be the biggest obstacle for the PAtriots next week. Rex Ryan will bring complex blitzes to the game. The big question of that game will be can the offensive line pick up those blitzes. What we saw last week, we'll see different next week. It's not about what you saw, but anticipating what's next.
Greg (Amherst, MA)
The Pats lost Vrabel, yourself and now Seymour. Who will step into those roles this season to continue the hold down the d?
Tedy Bruschi
(9:45 AM)
I think for the defensive line, the leadership will come from Vince Wilfork from the LBs, Jerod Mayo and from the secondary, James Sanders. Every player eventually needs to take a leadership role in their career and I think these players are ready to do that.
Erich (New Hampshire)
Should fans be worried about the CBA situation for next year? Is a lockout a real possibility?
Tedy Bruschi
(9:46 AM)
I think a lockout is a possibility, but I would also like to think that the owners and union wouldn't take football away from the fans of America.
Eric (Boston)
In NFL locker rooms how often do you have DRAMA...did you have a problem with anyone that is currently with the PATs or in the past???
Tedy Bruschi
(9:48 AM)
There are always instances of players not getting along in the lockerroom. Over the course of the year, there are around 5 issues a year. From big issues that can be a distraction or little issues like disagreements on the practice field. You hope that those 5 instances aren't major issues and can be dealt with in the lockerroom without anyone finding out about it.
tom (rhode island)
tedy is it uncomfortable or gratifying when fans approach you when you are out with your kids or wife in public places?
Tedy Bruschi
(9:49 AM)
The fans of New England know whens a good time and whens a bad time. When I'm at a restaurant with my family and eating dinner, I think they respect my privacy. When I'm alone on the street, they come up to me and it's very gratifying. I think the fans know when it's a good time and when it's a bad time and they've given me my space.
Kyle (Boston)
Whos the most outspoken person in the patriots locker room on game day?
Tedy Bruschi
(9:51 AM)
In the past, it's been Junior Seau. He would always give us inspirational role on gamedays. That's a role that hasn't been defined this year. This is something that has to be determined with this team - who's going to be the vocal one in that young lockerroom.
Ryan (Raleigh, NC)
Who is better doing the TV thing, you or Rodney?
Tedy Bruschi
(9:52 AM)
I don't think I'm going to be as aggressive and Rodney. He's just going to be who he is and I who I am. Our personalities are different on the field and will be on camera. I just hope we give analysis that's accurate and deliberate in a way that everyone can understand and learn something.
Wes H. (Greenville, NC)
Tedy do you think Joey Galloway will be in sync with Brady?
Tedy Bruschi
(9:53 AM)
It's too early to tell right now. Definitely, they're going to be better two months down the road than they are now. It takes a little time to develop chemistry. Joey hasn't been out there for every snap. I think he'll help, but that chemistry will take time to develop. Over the course of the first month, you'll see leaps and bounds of improvement.
Patrick (Guelph, ON)
The predictions for tonight are mostly a Pats blowout; I think it will be closer, as the Pats have lots of new faces, and mistakes will be made. What do you think?
Tedy Bruschi
(9:55 AM)
I also think it's going to be a blowout. There are too many questions on Buffalo's side of the ball. They fired their OC less than two weeks ago. Marshawn Lynch is not playing tonight because of suspension. In terms of New England's side, they have some questions on defense, but they'll be up against a struggling offense whose first team hasn't scored a TD all preseason. On offense, the Patriots will be on all cylinders and could score 45 points.
Cynthia (Taunton, MA)
Why does it seem that the Offensive of every team is more insync than the defensive in September? Yet come December it's the Defense?
Tedy Bruschi
(9:57 AM)
I think offenses are playing outdoors in the snow, in the rain and cold weather, that effects the offense more than the defense in December. Early on in the year, the defenses don't know how the offenses will attack them. As the year goes on, they're able to watch more game film and say this team has tried this on us and later on in the year, they know what to look for.
Tedy Bruschi
(9:57 AM)
For this being a first chat, it was incredible. These were great questions. Better questions than I've had from reporters over the years. Looking forward to it next week. Come on back!