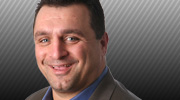 Welcome to ESPNChicago.com! Today Jurko will be online to talk to you about the Chicago Bears' loss to the Packers and the news that Brian Urlacher is out for the season.
Send your questions now and join Jurko Monday at 1pm CT!
More Jurko: Bio
ESPNChicago.com
(2:00 PM)
Hey everybody. Jurko's here so let's get rolling.
Andrew Blakemore (Columbia, MO)
I don't know about you, but I'm pretty pumped about seeing Lance in the middle. (Don't get me wrong, I'm going to miss seeing Urlacher out there everyday, though some may argue he's a little washed up) I've always wanted Lance in the middle with Brian roaming the outside spot. Lance seems to be more physical which is what you want in a middle LB while Urlacher always looked like a Sam or Will cause he could never shed blocks and had tremendous lateral speed.
Jurko
(2:01 PM)
Briggs in the middle is the best answer you can have. Big fan of Derrick Brooks, but it will take him at least 30 days to get into some semblance of football shape. Any of the other backers can play the outside position. Now you have to find young depth because of Pisa's injury.
girard (Chicago)
Jurko you see us now making any moves to get a veteran WR?
Jurko
(2:02 PM)
Cutler is trying to get used to these wide receivers. Bringing more new receivers in will make that transition tougher.
Chris (Chicago, IL)
Jurko, on the Bears' last drive when they settled for a field goal, what do you think about that 3rd and goal play call? We obviously were going to pass because we couldn't move the ball running, so why get in a power run formation, run a weak play-action boot, and only have one viable option at receiver (Olsen) run a route? --- I would have preferred a spread formation w/ Cutler in the shotgun. It would give the Bears more options (than one!) and pressure wouldn't be an issue b/c we are talking about 3-10 yard routes, a kind of bang-bang play. We all knew the Bears HAD to have a touchdown there. A lot of bad things happened last night, but I thought that play call was up at the top of the list of bonehead moves!
Jurko
(2:02 PM)
I agree. There needs to be much more creativity around the goal line, especially on 3rd down.
Phillip (Jebraail)
I dont understand why The Bears WR just stop running there routs like that? Besides Knox and Hester no one really show up.It really felt like Rex grossman all over again. I know its the first game. But with the people hurt on D. This might be a bad year. What do you think?
Jurko
(2:03 PM)
Somebody needs to come back to the ball. The rule of thumb when your QB is scrambling is break the way the QB is going and somebody has to come back to the line of scrimmage to help him.
Lucas (Lisle, Il)
Jurko, The 4-3 to 3-4 switch looked to be seamless in Green Bay, do you see good things with the Packers the rest of the season?
Jurko
(2:04 PM)
They played even front looks with 3-4 personnel. I think that confused the Bears. They had the whole preseason to prepare for the Bears. There will be no surpirses going into next week's opponent.
Brett (Addison, IL)
Jurko how did Orlando Pace and Frank Omiyale look to you? From the game it appeared Omiyale was abused quite a lot in the game and the fact that he's starting over Beekman may be a problem the rest of the season.
Jurko
(2:05 PM)
Omiyale was the worst player on the field yesterday -- three times as bad as Cutler. He's a leaner. It only takes one OL to break down and they all look bad. Yesterday Omiyale was terrible. He needs to be replaced with Beekman.
Yardbird (Aurora)
Good Kid, I can't believe how much complaining I'm hearing from Bears fans already. It was one game! Not time to give up on our quarterback for the next ten years, right?!?!
Jurko
(2:06 PM)
Cutler's a stud. He had a bad game yesterday, as did the offense. I've seen Marino throw six interceptions, Favre six, Brady four picks in one half... everybody has a bad game. this guy has the tools. Now he just has to become more comfortable with his receivers.
mj (west dundee)
so... is vasher going to be benched next week or will lovie give us his normal bs
Jurko
(2:07 PM)
I think they were trying to showcase Vasher to trade him if there were injuries around the league. Now I think the only thing you can do with him is cut him.
Bill (Dyer, IN)
Jurko, does Matt Forte look fat to you? Or was it a lack of running room that made him look a lot slower than last year?
Jurko
(2:07 PM)
Forte was victimized by Omiyale's crappiness. He will be much better next week.
Girard (Chicago, IL)
Jurko...what did you think of the Dline? I thought they looked more active
Jurko
(2:08 PM)
Wale's playing for a contract. I liked the activity of Abams, Harrison, Idonije. What you saw out of Tommie Harris last night is the best you will see of him the whole year. And that's not saying much.
Brian Dewey (Des Moines, IOwa)
you think his wrist injury really needs to side line a guy for a full season?
Jurko
(2:10 PM)
It's a serious injury. Linebacker has to use his hands to shed blockers. While the dislocation is happening, there's a ton of damage happening to the tendons and ligaments. He has to have surgery to repair all of that.
Adam (Schaumburg)
Jurk - Would (and should) the Bears consider moving Briggs to the middle if Brooks does not sign? Hunter could go to the string side and Roach to the weak.
Jurko
(2:10 PM)
Briggs to the middle is position A for the Bears. And then fit the best linebackers around Briggs.
mj (west dundee)
is the season a lost cause after the first week? now i think we will be lucky to win 8 games.
Jurko
(2:12 PM)
Of course not. This is a blip on the radar. Sometimes being embarrassed on national television is exactly what a team needs.
Girard (Chicago, IL)
Jurko whats your favorite food?
Jurko
(2:12 PM)
Steak and potatoes.
Evan (Aurora)
Isn't Brook's grey hair in a rocking chair these day , how old is he?
Jurko
(2:13 PM)
I agree. If you bring Brooks in here, I'll start getting concerned.
Jeff (Chicago, Illinois)
Everyone wants to put blame on Jay, yes the four interceptions were terrible but what can you expect from a guy who is being hurried almost every down and was not put in a position to succeed by his Offensiver coordinator. Jurko it's my opinion that Ron Turner had no clue what he was doing, why should we expect him to get any better with play calling?
Jurko
(2:14 PM)
Ron Turner is this year's Bob Babich. I think there were more even front defenses being played than the Bears anticipated. I think Cutler was checking out of a lot of run plays too. The cat and mouse game will continue between the defense and Jay Cutler on 8-man fronts for the rest of the year.
Dennis (Oswego)
I thought Hester looked more like a wide receiver than ever before, do u think there was improvement? And do u think we will see Hester continue to improve?
Jurko
(2:15 PM)
Hester looked solid. The quick screen and stiff arm on Woodson and send him deep. That's what he does best.
Girard (Chicago, IL)
Do you own a snuggie?
Jurko
(2:15 PM)
No. I'm too big.
Andrew (Aurora)
How many weeks till Cutler demands new/better receivers?
Jurko
(2:15 PM)
Eight weeks. Even if they do better he's going to want better wide receivers.
Alex (Richmond, VA)
Why didn't the Bears establish the run first?
Jurko
(2:16 PM)
The Packers showed too many 8-man front and had them checking out. And Omiyale is TERRIBLE.
John (The Chi)
with all the injuries last night...you think this could still be a playoff team?
Jurko
(2:17 PM)
Absolutely they're still a playoff team. Much better effort anticipated against Pittsburgh. The Steelers' running game is awful and Max Starks is horid, so Alex Brown should have the big game.
Larry ((Frankfort, IL))
Jurko, maybe I miss the old school days ans I do not know what Urlacher's surgery was like. But why couldn't they put a cast on it and let him play. I have seen countless players play in casts. Is it just that the injury is that bad that they can't risk it?
Jurko
(2:17 PM)
There's a lot of damage done in there and Briggs can fill the position.
Fred (Chicago)
Based on last night, what do the Bears need to do to get ready for the Steelers?
Jurko
(2:18 PM)
Beekman for Omiyale, Bowman for Vasher and split Olsen out as the far wide receiver closest to the boundary.
Bill (Dyer, IN)
Jurko, do you like Frank Omiyale?
Jurko
(2:19 PM)
He's a leaner. He doesn't drive anyone off the ball. He does the least amount of work to be just successful. It looks like the pro personnel guy won out in the decision to make Omiyale the starter.
Evan (Aurora)
what can they do about these receivers blowin routes??and he seem to favor his buddy from college even after he blew like 4 plays
Jurko
(2:20 PM)
Bennett needs to play with better balance. Not every pass is going to hit you perfectly in stride. See the ball and make an adjustment.
JJ (Bensenville)
Why did Lovie throw the challenge flag on the fake punt when it was SO clear the 12th man got off the field. Shouldn't the coaches upstairs see that on the monitor before he throws that flag?
Jurko
(2:21 PM)
Lovie didn't have a great day. On either challenge call advice from the booth should have told him to keep the flag in his pocket. He's a major reason why there were no timeouts at the end of the game.
Greg F. (Oak Lawn, Il )
Good Kid, were you able to identify Turner's gameplan yesterday? It seemed as if they had no idea what to do offensively.
Jurko
(2:22 PM)
The QB has the option to check out of plays. I thought there were more run plays called, but were checked to pass plays. In the second half they went to more of a counter and misdirection game, which opened up some holes for them.
Jeff (Chicago, Illinois)
Will Omiyale or Nate Vasher be replaced soon?
Jurko
(2:23 PM)
If the Bears want to run the ball, they need to admit that Omiyale was a mistake. Bench him and use this time to correct his flaws. The problem is his major flaw has to do with effort.
Dave (Warrenville, IL)
Jurk -- how much responsibility for those four turnovers should be assigned to the WR corps? Was there any fault on the WR's parts for not running or finishing routes (as Collinsworth blamed on Dez Clark during the broadcast)?
Jurko
(2:24 PM)
2.5 of the interceptions go to Cutler, the other 1.5 go to the wide receivers hanging him out to dry. Quite frankly, he could have had six INTs in that game.
Corey (Deerfield)
Only one catch by Olsen and it seemed that every ball went to Earl. Was Olsen being doubled every down or was Jay's scrambling causing for him to look in only one direction? I mean the Jay-Earl combo looked good but "good for you" (sound bite needed). Do you think passes to Forte and Olsen will be an emphasis on the Mu-Mu-less steelers?
Jurko
(2:26 PM)
Olsen and Clark both seemed out of sorts, whether it was an inability to get off the line of scrimmage, or because they were getting jammed, or weren't aware of the under technique that was being utilized against them. The under technique is when a guy follows you and runs underneath your route.
silvester (riverside, california)
were they double teaming olsen last night? he might have caught only one pass from what i saw after all the offseason hype.
Jurko
(2:26 PM)
Yes. 40% of the time he was being doubled.
Kyle (Chicago)
I think Rod Marinelli's impact was extremely evident last night. Ogunleye was dominant, Brown was great, and I actually saw Anderson in the backfield for the first time since 2007. However, near the end of the game, Grant and the Packers ran all over us. Is that attributable to Urlacher's and Tinoisamoa's injuries, or are Tommie Harris and Anthony Adams to blame?
Jurko
(2:28 PM)
The D-line looks better with Rod's influence. The Packers' running game was stymied for most of the night and in pressure situations sometimes D-linemen try to do too much and that gets them out of position.
Kyle (Chicago)
Also, please post and discuss the question I asked about benching Pace, moving Williams to LT, and starting Shaffer at RT.
Jurko
(2:29 PM)
Pace wasn't a problem last night. Omiyale! Omiyale! Omiyale! Omiyale! Omiyale! To quote Christian Bale, "What don't you get about it man?"
Chris (Chicago)
Safe to say we won't see Mannelly audible into a fake punt from his own 30 ever again? It did not cost the Bears the game, but that was criminally stupid.
Jurko
(2:30 PM)
He has to do it when the 12th guy is on there. And everybody has to know it's a possibility. He recognized it, but nobody else did, which means just snap the dang ball to the punter.
Sam (Wheaton, IL)
Was this a better than average night for the D-line because of Ogunleye on the rookie tackle, or can we expect strong play from them all season?
Jurko
(2:30 PM)
The D-line will play strong all season.
Jurko
(2:31 PM)
Thanks for all the great questions. I have to run to the studio for the show. If you're not near a radio, listen to The Afternoon Saloon live on ESPNChicago.com. Have a great week!
ESPNChicago.com
(2:32 PM)
Thanks all!