Chat with Jerricho Cotchery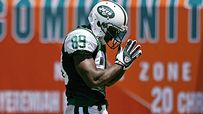 Cotchery has led the Jets in receiving the last two years.
Welcome to SportsNation! On Tuesday, New York Jets wide receiver Jerricho Cotchery stops by to chat about the 2009 NFL season.
Cotchery caught six passes for 90 yards in the Jets' Week 1 24-7 win over the Houston Texans. In his six seasons in the NFL, Cotchery has been a steady receiver for the Jets. He has led the team in receiving the last two seasons.
Cotchery, with the help of his wife Mercedes and his Cotchery Foundation, will host the second annual Luxury Tailgate Party with The Pros Oct. 19 from 7:30-10:30 p.m. ET at the ESPN Zone in New York City. The celebrity fundraising event will benefit local charities that help underprivileged children. For tickets to the event, go here.
Send your questions now and join Cotchery Tuesday at 1 p.m. ET!
More Special Guests: Previous chats | SportsNation
Buzzmaster
(12:59 PM)
Jets WR Jerricho Cotchery is here!
Steven (NJ)
Were you suprised with how well Sanchez played on Sunday?
Jerricho Cotchery
(1:00 PM)
No, I wasn't surprised at all. He's been doing it the entire offseason. He's been making a bunch of plays in practice and we expect him to do the same thing in the games.
Andy (New York City)
How intense was Rex Ryan's pre-game speech before the Houston game?
Jerricho Cotchery
(1:01 PM)
It was very intense. He's a great motivator. I can't say everything that he said, but he had us ready to play on Sunday.
Adam (NJ)
JCo! Good stuff on Sunday, when did you start your foundation and what made you do it?
Jerricho Cotchery
(1:02 PM)
I started my foundation two years ago, just from my experiences growing up as a kid. Wanting to have those resources that I needed to accomplish my goals in life. Being able to help kids in teh tri-state area. We have an event on Oct. 19 at the ESPN Zone in Manhattan. It will be called the Tailgate with The Pros.
Adam (Brooklyn)
How does Sanchez compare to the other QBs you've played with - accuracy, chemistry, arm strength, touch etc?
Jerricho Cotchery
(1:03 PM)
All of the guys that I've played with, the QBs have always been great leaders and they always prepare the way they need to. To see that come out of a rookie, that speaks a lot. The guys that I have played with have been veterans, so to see it from a rookie, he has a bright future.
Baumer (NYC)
Do you play fantasy football and if so, name some members of your team?
Jerricho Cotchery
(1:03 PM)
Yes, I haven't played it in a couple of years. It's a fun thing to be a part of.
Jake (Syracuse)
Jerricho, it was great to see all that hard work in Cortland pay off in that week 1 win over the Texans, hope to see you guys back next year. With the Patriots just squeeking by the Bills, do you think they will be even tougher to beat this week? Good luck, this win could go along way.
Jerricho Cotchery
(1:05 PM)
I don't want to slight Buffalo, they are a very good team. So I think it's more a credit to them as far as the game last night and how it went. But I definitely think they will be motivated to play us, because they always have been.
Matt (commack, NY)
what do you think of dustin keller?
Jerricho Cotchery
(1:05 PM)
I think he's doing a great job. He's a very fast guy to be a tight end. He has a bright future as well. We have a lot of guys that will be making plays for years to come with the Jets. I'm just glad he's on our team.
Brian (NY)
J-E-T-S JETS JETS JETS
Ben P (NYC)
Did you see more double team coverage on Sunday than you did last year?
Jerricho Cotchery
(1:06 PM)
No, I didn't this past Sunday. Houston was focusing on stopping the run. They did a pretty good job of doing that until the fourth quarter.
Jason (NY)
Hi Jerricho - huge Jets fan, great game on Sunday! Looks like you do some great stuff with your foundation. I'd love to come on October 19th - where can I get tickets and will any of your teammates be there?
Jerricho Cotchery
(1:06 PM)
Yes, we will have a bunch of guys attending the event. Everyone is welcome to come out. We're going to have a bunch of fun that night.
Tucker (Manhattan)
Did you watch the Pats game last night and were you surprised when they came back at the end? Any thoughts on how they look going into this weekend?
Jerricho Cotchery
(1:07 PM)
Yes, I watched the entire game. I was definitely surprised they were able to pull it out. With the amount of points they were behind and the time that was left, I didn't think they'd be able to do that, but they ended up winning the game.
Ron (Phillipsburg, NJ)
What has Rex Ryan brought to the defense? I can't remember a Jets defense getting as much pressure on the QB consistently as the Jets did Sunday.
Jerricho Cotchery
(1:08 PM)
The defense was awesome. They were on the field and off quickly. They were giving the offense a lot of chances to score TDs. We do that every week and we will have a lot of chances to win games.
Tim (NY)
Jerricho, how would you rate the Jets defense?
Jerricho Cotchery
(1:09 PM)
I give those guys a perfect 10. They didn't allow any points, the points on the scoreboard, the offense gave up. We kind of scored for both teams.
Dimitri (Fort Lee, NJ)
J-Co, big fan. How do you feel about this year's core of wide receivers?
Jerricho Cotchery
(1:09 PM)
I feel good about our guys. We have a lot of guys that can make plays for us in a variety of ways. I feel really good about our group.
Taylor (Pinson,AL)
Hey Jerricho, what is your best memory of playing in the NFL so far?
Jerricho Cotchery
(1:10 PM)
Scoring my first touchdown was pretty huge my first season.
Brandon Keslar (Florida)
Hey Cotch. Do you have a favorite pregame meal?
Jerricho Cotchery
(1:10 PM)
I have to have clam chowder. I've been doing that since college.
Travis (Seatte,)
Do most the guys on the team believe Sanchez can be the rookie qb that leads you to the playoffs, like ryan and flacco last year?
Jerricho Cotchery
(1:11 PM)
We are very confident in Mark. We know that he's a great leader and is leading the team in a great way right now. We feel that way about him.
Baumer (NYC)
Any big superstitions before a game? Aside from the chowder.
Jerricho Cotchery
(1:11 PM)
No, not at all. I just have to have my clam chowder. It's good. It's a good meal.
Adam (NY)
Big Jets fan and wanted to say thanks for Sunday. Was a little worried this off season but Sunday showed a lot of chemistry and a bright light at the end of the tunnel are you amped at how well you guys played or was it expected after this preseason.
Jerricho Cotchery
(1:13 PM)
We definitely were expecting it. We have a very talented team. We work hard to go out there and be able to pull out the wins. It's good to see that translate into success.
David (Spokane, WA)
Which running back can we expect to see more out of this year? It looked pretty even on Sunday...
Jerricho Cotchery
(1:13 PM)
You're probably going to get a taste out of all of the guys. Expect the entire arsenal.
Demond (St. Louis, MO)
Do you feel any added pressure to be a bigger threat in the absence of Coles
Jerricho Cotchery
(1:14 PM)
No, not at all.
Tyler (Arkansas)
Who is your favorite player in the league right now not wearing a NY jets jersey?
Jerricho Cotchery
(1:14 PM)
That's a good one. Ochocinco has always been one of my favorite guys.
MJ (Edison, NJ)
What is a typical weekday like during the season? Are you guys doing a 9-5 with film, practice and working out?
Jerricho Cotchery
(1:15 PM)
Yeah, we're more of 7-5, 7 days a week. We're off on Tuesdays. Other than that, it's 7-5.
Trevor (New York)
Ever had any aspirations to kick field goals like Ochocinco?
Jerricho Cotchery
(1:15 PM)
Yeah, I've been working on that a little bit.
Jerricho Cotchery
(1:16 PM)
I hope to see everybody on Oct. 19 at ESPN Zone Manhattan!
Buzzmaster
(1:16 PM)
Thanks for chatting Jerricho! And for those of you asking, his favorite clam chowder is New England.