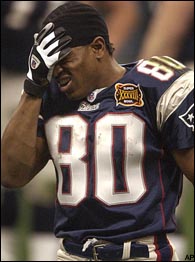 Troy Brown played 15 seasons with the Pats.
Welcome to SportsNation! On Tuesday, former New England Patriot wide receiver Troy Brown stops by to chat about the 2009 NFL season.
Brown played his entire 15-year NFL career with the Patriots. He retired as the Patriots' all-time leader in receptions (557) and second in yards (6,366). He also left the team as the all-time leading punt returner with 252 returns for 2,625 yards and 3 TDs.
This season, Brown is partnering with Tom Brady and smartwater on "smartwater zero sack give back" that benefits Boston Centers for Youth & Families. For each game that Brady goes un-sacked, the initiative contributes $5,000 to BCYF.
Send your questions now and join Brown Tuesday at 1:30 p.m. ET!
More Special Guests: Previous chats | SportsNation