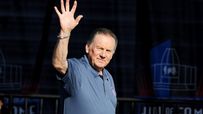 Dawson threw for over 28,000 yards in his career.
Welcome to SportsNation! On Tuesday, pro football hall of fame quarterback Len Dawson stops by to chat about the 2009 NFL season.
Dawson played 19 seasons in the AFL and NFL, 13 of them with the Kansas City Chiefs. He helped the Chiefs to a win in Super Bowl IV, while also winning the game's MVP award.
Diagnosed with prostate cancer in 1991, Dawson is working hard during National Prostate Cancer Awareness Month in September to share his story with men and encourage them to be proactive about their prostate health through The Depend Campaign to End Prostate Cancer.
Send your questions now and join Dawson Tuesday at 3 p.m. ET!
More Special Guests: Previous chats | SportsNation
Len Dawson
(3:08 PM)
Hello everybody, my name is Len Dawson, formerly QB of the Kansas City Chiefs, NFL Hall of Famer and Super Bowl IV MVP. But today I'm here to talk to you about prostate cancer. I'm a survivor, and I was lucky because I they caught it early enough before it got out of the prostate gland. My oldest brother waited until there were symptoms, and unfortunately he died from it. He did alright for about ten years, and when it comes back, it comes back very aggressively. Another example is AFL founder Lamar Hunt, who passed away a few years ago for the same reason. I tell people to talk to their doctor at about 40 years of age about screening, because it's beatable. I'm living proof. It affects 1 in 6 men, and I'm proud to be sending out the word, because men are very reluctant to go to doctors. I cam back from broadcasting a game for the Chiefs, and my wife told me that Senator Robert Dole had an operation to remove a cancerous gland due to a PSA about the procedure. I read the article he had, and found that men 50 or older could get free screening at a doctor's office, and I figured that I was too busy, My wife made an appointment, and she was right---I found out I did have a problem through the examination, and I'm one of the lucky ones, but then again, I'm the seventh son of a seventh son. The ideal thing is to get tested once a year. That's the message I'm trying to get across.
Bret (Oly, WA)
Thanks for your work to end prostate cancer. As a beer drinking BBQ cooking football fan, what are some food choices I can make to keep my prostate healthy?
Len Dawson
(3:09 PM)
They're studying that...they're wondering why other parts of the world have lower prostate instances than Americans. I do know if you eat healthy, it's good for all parts of your body.
Steven (NJ)
What was your favorite stadium to play in?
Len Dawson
(3:10 PM)
I always loved the stadiums we won in, but naturally, at home was really special. Old Municipal Stadium, I saw it grow until it became so loud that it was a big advantage. Then they moved us to Arrowhead, which they claim is the loudest stadium in the NFL. It's such an advantage. I remember when Jim Kelly came in for one game, they wanted to use a no-huddle, but they had to throw it out the window after one series. Kansas City is a great place to play, particularly if you are winning.
Shawn (Toronto)
Len, I know you work on all the Chiefs games, who do you think is the best QB on the Chiefs roster - Cassel, Croyle, or Thigpen? I think Croyle might be the best if they ever did something about that right side of the o-line.
Len Dawson
(3:11 PM)
That's where the problems lie, in the offensive line. They are not doing a good enough job protecting the QB. I put a clock on these guys when they played against Baltimore. If you give a QB three seconds, he'll make good decisions. Flacco had five or six seconds, while Croyle did not. But I think Cassel, as the leader of that football team, is the best QB they have. He is injured, but if they get that solved, he'll be the QB. They guaranteed him $23 million, so no matter what, he'll be the QB.
Craig G. (Fairfield, California)
Hey Len, where do you think Purdue ranks among all schools in producing professional quarterbacks?
Len Dawson
(3:13 PM)
I've heard other schools claim to be the cradle of QBs, but when you look at Purdue's record of putting QBs in the NFL, they have to be up there. Two of us are in there, and Drew Brees is on his way. I'm prejudiced though. USC has to be up there, as does Alabama.
Chris (Springfield MO)
What do you think the odds are that the chiefs win the AFC west this season? Any surprise standouts on the team so far?
Len Dawson
(3:14 PM)
When I look at the west, I don't see a dominant team. Denver, Oakland, and Kansas City all have their problems. They're rebuilding. San Diego got by Oakland, barely, and they have the best veterans, but none of them are standing out right now.
Wayne (Michigan)
What are your favourite movies that your former teammate Fred Williamson made? I'd go with Vigilante over M*A*S*H.
Len Dawson
(3:16 PM)
Fred the Hammer! Goodness gracious me. I've seen a couple of his, but I'll tell you what...he's an interesting individual and a heck of a football player. I can recall being in training camp, and Fred had been cut from the Canadian football league. He stopped by our camp, and told us he was going to Hollywood to be a movie star. We all laughed, but he got a part on a sitcom called "Julia". Then he started producing, writing, and acting on B-movies, and all of them made money, which is what Hollywood is all about. He's had a great career. He's a very bright individual, a graduate of Northwestern University. He was ahead of his time...he'd put padding on his forearm and hit receivers in the head (which is not legal today). He was a terrific player.
Mike (Ohio)
If you had to choose one QB playing today to take your team down the field at the end to win the Super Bowl, who would you pick?
Len Dawson
(3:17 PM)
If he'd be around, Johnny Unitas. I don't know if there's anybody better than Tom Brady. He displayed it last night in bringing the Patriots back...he's knowledgeable, bright, and accurate. Rivers did it as well last night, but Brady is the guy I'd select.
Len Dawson
(3:18 PM)
Prostate cancer awareness is very near and dear to my heart. I'm around because my wife was concerned enough about me to make an appointment for me.
Buzzmaster
(3:18 PM)
Thanks, Len!