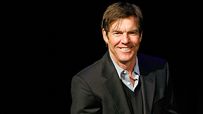 Dennis Quaid's new movie "Pandorum" hits theaters Sept. 25.
Welcome to SportsNation! On Wednesday, actor Dennis Quaid will stop by to chat about his new movie as well as his previous work as an athlete in such films as "The Rookie" and "Any Given Sunday."
Quaid has appeared in more than 50 movies and his latest project, "Pandorum," has the 55-year-old Hollywood veteran playing Lieutenant Payton in a science fiction thriller. Payton and a fellow crew member are adrift on an abandoned spacecraft and wake up with no memory of their mission and to find out they are not alone.
A lifetime sports fan, Quaid has appeared in several sports-related movies, playing former Tampa Bay Devil Rays pitcher Jim Morris in "The Rookie" and a aging veteran pro quarterback under the tutelage of Al Pacino in "Any Given Sunday." A native of Texas, Quaid attended the University of Houston and is a devout Texas Longhorns fan. He is also an accomplished musician and a scratch golfer.
Send your questions now and join Quaid on Wednesday at 12:30 p.m. ET!
More Special Guests: Previous chats | SportsNation