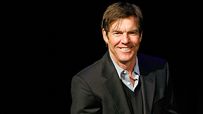 Dennis Quaid's new movie "Pandorum" hits theaters Sept. 25.
Welcome to SportsNation! On Wednesday, actor Dennis Quaid will stop by to chat about his new movie as well as his previous work as an athlete in such films as "The Rookie" and "Any Given Sunday."
Quaid has appeared in more than 50 movies and his latest project, "Pandorum," has the 55-year-old Hollywood veteran playing Lieutenant Payton in a science fiction thriller. Payton and a fellow crew member are adrift on an abandoned spacecraft and wake up with no memory of their mission and to find out they are not alone.
A lifetime sports fan, Quaid has appeared in several sports-related movies, playing former Tampa Bay Devil Rays pitcher Jim Morris in "The Rookie" and a aging veteran pro quarterback under the tutelage of Al Pacino in "Any Given Sunday." A native of Texas, Quaid attended the University of Houston and is a devout Texas Longhorns fan. He is also an accomplished musician and a scratch golfer.
Send your questions now and join Quaid on Wednesday at 12:30 p.m. ET!
More Special Guests: Previous chats | SportsNation
Buzzmaster
(12:26 PM)
Dennis Quaid should be here in a few minutes to take your questions. Keep sending them in!
Buzzmaster
(12:40 PM)
We're running a little behind schedule with Dennis, but hang in there, he's on his way.
Buzzmaster
(12:49 PM)
I think I hear Dennis coming now....Yes! That's him!
Ryan (Florida)
You have to be one of the hardest working men in Hollywood. You've been in movies for over 30 years now and produce quality films on a yearly basis. What keeps you motivated?
Dennis Quaid
(12:51 PM)
For one thing, I do a lot of movies, but I don't consider it work. It's fun to be able to do what you love doing best and get paid for it. And be able to do it for so many years. I'm actually having more fun now than when I started. I'm always learning still about acting or life. It's fun to play all different kinds of people and different kinds of situations. I'm interested in people. Different characters keep me motivated.
Tom (Denver)
You've done a few science fiction movies in your career, Innerspace immediately comes to mind. Now you've got Pandorum coming out. Do you like making sci-fi movies?
Dennis Quaid
(12:52 PM)
I think this is my fifth out of 80. What's that percentage? Less than 10 percent. What I like, actually is a good story. It doesn't matter what genre of movie that might be. If it's a good story is the enticement for me to make the film. When I read a script, it's the only time I get to be an audience member for the first time experience for that movie. That's basically how I make my decision.
SteveFitz (Cicero, IL)
Loved you performance in The Rookie, but everyone wants to know. What do you really hit on the radar gun?
Dennis Quaid
(12:53 PM)
On purpose, I never looked at the radar gun, because I didn't want to know, because I would be sorely disappointed. I just wanted to look like I could throw 98 MPH.
Dennis Quaid
(12:53 PM)
I didn't want to look like I threw like a girl.
Jason (Virginia)
How did you like making your new movie..What was your favorite part about it??
Dennis Quaid
(12:54 PM)
I liked being in Germany. It was an amazing story and bringing that to the screen and to life was what I most liked about it.
Dennis Quaid
(12:54 PM)
Making movies can be, sometimes, excruciating in that you film little bits and pieces at a time and it seems to go slow. There is a lot of waiting around.
Dennis Quaid
(12:54 PM)
But it beats working for a living.
Will (Boston)
How often do you get to see your brother? Do you ever get mistaken for him and have fans come up and talk to you about Uncle Eddy?
Dennis Quaid
(12:56 PM)
Uncle Eddy is one of my favorite film characters of all time, with some of my favorite lines such as "Merry Christmas, s*****s full." And, I don't know why they call it Hamburger Helper, it works just fine by itself.
Evan (Salt Lake City)
How do you prepare for a role like "Any Given Sunday?"
Dennis Quaid
(12:57 PM)
We actually had football camp for a month, doing 2 a days and things like that. Throwing the ball a lot. For Any Given Sunday, I went to 49ers training camp and got a lot of tips from Steve Young. Got to throw passes to Jerry Rice. It was sort of like a fantasy come true.
Timo (San Diego)
You are an actor, musician, athlete ... a true renaissance man. Any bitterness over Dos Equis not choosing you as the Most Interesting Man In The World?
Dennis Quaid
(12:58 PM)
I find you to be a very intelligent person. That's a very interesting question, because I've lost sleep over why they didn't choose me. But there's always next year.
david (sc) [via mobile]
Pandorum was filmed in Germany? Did you become a soccer fan? What part of German culture did you enjoy?
Dennis Quaid
(1:00 PM)
I've never been a big soccer fan, but when I was in Mexico, the World Cup was going on and I became very interested. Pandorum was my second movie that I shot in Germany. The other was Enemy Mine back in the 80s. What I find most interesting about Berlin is how drastically it has changed as a city. I've been there four or five times over the last 30 years and I've seen it go from a communist ghetto to then having the opportunity to be there when the Berlin Wall was coming down and actually wielding a sledge hammer to the wall myself. And now today, Berlin is now one of the most vibrant cities in the world.
Daniel (Wichita)
Which of your movies are you most surprised by the reaction it got from fans either positive or negative?
Dennis Quaid
(1:02 PM)
Well, Innerspace. When it came out it was not a hit. In fact it tanked the first weekend. But yet today, it's probably the most popular of all the movies that I've made. I think when it came out, it was not sold as a comedy, it was sold as a science fiction film. I think people were confused by that.
Matt (Texas)
Besides golf, what is your favorite hobbie?
Dennis Quaid
(1:03 PM)
Horses. I have like nine horses. Some in California, some in Montana.
Dennis Quaid
(1:03 PM)
I ride pretty much every day. Currently I'm into horses.
Matt (Texas)
Are you going down to Austin to see the Longhorns lose to Tech?
Dennis Quaid
(1:04 PM)
(laughs) That was then, this is now.
Tim (MA)
Favorite sports related role? favorite role in general?
Dennis Quaid
(1:06 PM)
My favorite sports related role would have to be The Rookie, because of the true story. In preparation for it, I got to go to Dodger Stadium once a week and pitch on the mound down there. Sort of like a boyhood fantasy. I like doing football movies, but wearing the pads, and taking the hits 14 hours a day, for months at a time, is a little wearing on the body.
Ericka (Alaska)
How would you compare the relationship between an athlete and a coach to an actor and a director?
Dennis Quaid
(1:07 PM)
Very similar. It was a coach's vision that guides the team. A coach's strategy that's played out on the field. And a director is pretty much the same job. He is the story teller. He is the one who decides how the movie is to be shot. You can't have a good movie without a good director and you can't have a good team without a good coach.
Josh Dawkins (Orlando)
Would you go to space in real life if given the chance?
Dennis Quaid
(1:08 PM)
In a heartbeat. I grew up in Houston in the 60s when the space program started and that replaced wanting to be a cowboy. I'm still available to take a flight at any time.
Matt (New York, NY)
Dennis - along with the other sports movies you're associated with, "Breaking Away" is one of my all-time favorites. My question is what is your most memorable (if not best) round on a great course we'd all be impressed by? A great shot, great story, whatever - I'm sure you've got tons. Thanks!
Dennis Quaid
(1:09 PM)
I shot 73 at St. Andrews, including birdieing No. 17. It was just a magical day in a magical place.
Rocky (Ill)
Were you close with Patrick Swayze...did you guys do any movies together? He seemed like a real nice fellow.
Dennis Quaid
(1:10 PM)
No. We're both from Houston, but we went to different schools. We certainly knew Patrick and saw him from time to time throughout the years. My heart goes out to his family. He fought the good fight and God bless him.
Dennis Quaid
(1:11 PM)
Thanks for typing in. Please try to make it out to see Pandorum, it opens Sept. 25, in a theater near you.