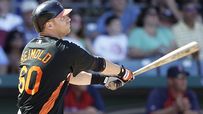 Nolan Reimold is a leading candidate for AL Rookie of the Year.
Welcome to SportsNation! On Wednesday, Baltimore Orioles rookie left fielder Nolan Reimold stops by to chat about his first season in the major leagues.
Reimold, 25, earned his call up from the minor leagues May 14 and has become an integral part of the Orioles lineup. The AL Rookie of the Year candidate is hitting .279 with 15 home runs and 45 RBI. Among rookies, he is first in the AL in home runs and second overall.
Send your questions now and join Reimold Wednesday at 3 p.m. ET!
More Special Guests: Previous chats | SportsNation
Nolan Reimold
(3:01 PM)
Happy to be here to chat with my fans. Let's get started!
Jason (Ellicott City, MD)
Who are the clubhouse leaders?
Nolan Reimold
(3:02 PM)
All the veterans. The guys who have been here for a while. They lead by example and we take their lead and learn from them.
Blake (Cleveland)
Who was your role model growing up?
Nolan Reimold
(3:03 PM)
My dad. He's always been there to support me. He taught me strong work ethic.
Tom (Cleveland)
Who is the toughest pitcher you faced?
Nolan Reimold
(3:04 PM)
I would have to say Felix Hernandez. I remember walking away from the game thinking "he's got some really good stuff."
Jarod (Frederick, MD)
Who do you dislike more, Red Sox or Yankee fans?
Nolan Reimold
(3:05 PM)
Humm ...that's a tough one. I would have to say both equally. When they come into Camden Yards, they get loud with their cheers and stuff. They are very loyal fans.
Austin (silver spring, MD)
Hey Nolan. What do you think you shots are at winning the ROY award?
Nolan Reimold
(3:06 PM)
I don't really think about it too much. I know my name has been mentioned and that's in honor in itself. There are a lot of good rookies out there. All I want to do is finish the year strong and we'll see what happens.
Andy ((Baltimore, MD))
Nolan, do you think the Orioles will be playoff contenders anytime soon? If so when?
Nolan Reimold
(3:07 PM)
I think that every year we will keep improving. We have a lot of talented young players who will get better with each game they play.
Mike (San Diego, CA)
Hey Nolan. I'm a big O's fan here on the west coast. How do you think the young pitchers you guys have will respond to their first big league off-season?
Nolan Reimold
(3:09 PM)
I think now that they have some starts under their best, they will know what they have to work on for next year. I think they will work hard in the offseason and will only improve for next season.
Bo (Baltimore, MD)
What was it like hitting your first ML homerun off Mariano Rivera at Yankee Stadium? Did you get the ball back?
Nolan Reimold
(3:11 PM)
Yes, I did get the ball back. I hit it to center field where there weren't any fans so the guys in the bullpen got it for me. I couldn't have hit it off a more respectable pitcher and to have it in Yankee Stadium was icing on top of the cake.
Steven (Nj)
This is a stupid question but were you named after Nolan Ryan?
Nolan Reimold
(3:11 PM)
No I wasn't. It's a family name on my moms side.
Ben Kluding (Sandusky, Ohio)
Nolan,What are your thoughts on your brother wearing a 1997 Shawn Kemp Cleveland Cavaliers jersey to a Baltimore Orioles game?
Nolan Reimold
(3:13 PM)
(laughing) It was pretty funny. He loved Kemp when he played for the Sonics and when he got traded to the Cavs it was a happy day for both of us because we have huge Cavs fans.
Steven (Nj)
What is your favorite moment of your career so far?
Nolan Reimold
(3:14 PM)
I would have to say the walk off homerun against Toronto. Seeing all my teammates waiting at the plate for me was awesome.
Jason (Ellicott City, MD)
Best Stadium besides the Yard?
Nolan Reimold
(3:15 PM)
I like the newer stadiums so I will have to go with Kansas City. The big screen in the outfield is pretty nice.
Anne (Washington, D.C.)
What are your favorite things to do outside of baseball?
Nolan Reimold
(3:16 PM)
During the season I'm pretty laid back. I'm in chill mood most of the time but in the offseason I like to get out and do a bunch of things.
Mike (Keene, NH)
What did you know about the orioles before you started playing for them?
Nolan Reimold
(3:18 PM)
I knew that they beat the Indians in the playoffs one year when I was rooting for the Indians back in the 90's. Other than that I knew about Cal Ripken and Chris Hoiles and their rich tradition in baseball.
Kyle (Fells Point)
What is your favorite bar in Baltimore?
Nolan Reimold
(3:20 PM)
I don't really go out too much during the season. Any recommendations?
Andrew (Rochester)
How's the ankle?
Nolan Reimold
(3:20 PM)
It's doing alright.
zack (maryland)
Do you know how Brad Bergesen is doing? Will he be ready to go next spring?
Nolan Reimold
(3:21 PM)
He's doing good, he's on his way home. He'll be ready for next year.
chris (hermitage)
nolan whats up bro its clarkie. How do you feel about comin into cleveland and playin in front of the hometown crowd?
Nolan Reimold
(3:22 PM)
I am excited to go that close to home. I'll have a lot of people from my hometown at the game. It's going to be a good feeling seeing all those people supporting me.
Nolan Reimold
(3:23 PM)
Thanks for joining the chat. Good questions from good people.