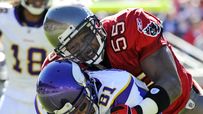 Brooks played 14 years in the NFL.
Welcome to SportsNation! On Thursday, former NFL linebacker Derrick Brooks stops by to chat about the 2009 NFL season.
Brooks was let go by the Tampa Bay Buccaneers after the 2008 season and ESPN hired him this week as an NFL analyst for "First Take." The former first round pick spent his entire career with the Bucs, earning 11 Pro Bowl selections, nine All-Pro nods, one defensive player of the year award (2002) and one Super Bowl ring (2002).
Brooks finished his career with 13.5 sacks, 25 INTs and 1,698 tackles, while playing in all 16 games every year of his career.
Send your questions now and join Brooks Thursday at 1 p.m. ET!
More Special Guests: Previous chats | SportsNation
Derrick Brooks
(1:00 PM)
Hello and welcome!
Steven (NJ)
Which one of your Pro Bowls was your favorite?
Derrick Brooks
(1:00 PM)
The first one! You never forget the first one. The second one was the one after we won the Super Bowl. Also the year I won MVP! Actually, that one probably should be first!
Brad Reinert (Tampa, FL)
I read once that Jon Gruden wanted you to succeed him as Head Coach in Tampa. He spoke very highly of you and your football IQ. If the opportunity were there, would you consider coming back to Tampa to coach?
Derrick Brooks
(1:01 PM)
I have considered the coaching profession as an option when I decide to retire. But it would be hard for me to do with a young family.
Zach Masek (St.Petersburg,FL)
Derrick you're one of the best Florida State Seminoles of all time, what do you think of all the hype that Tim Tebow and the Gators are getting?
Derrick Brooks
(1:03 PM)
I do like Tim Tebow as a player. I think they are a good football team. And until someone beats them, they are the defending national champion and hype comes with the territory. Hopefully my Seminoles can pull of a miracle late in December.
Kevin (Westchester,IL)
do you still want to play?
Derrick Brooks
(1:03 PM)
It's no secret. I do want to play and hopefully that will happen soon if that is the Lord's will. But for now, I will take advantage of being a NFL ESPN analyst.
Dan F. (Medina, Ohio)
Hello Mr. Brooks! I've always admired the way you played the game and you're one of my All-Time Favorites. On to my question for you............Do you think that it is essential for a team's playoff hopes to avoid starting the season with two consecutive losses?Thank you for answering, Mr. Brooks.
Derrick Brooks
(1:04 PM)
According to history a 0-2 start does not equal playoffs. But 0-2 teams have done it. I don't think it is essential but it's definitely to regain momentum at the start of a season.
Daniel (Tampa)
What are you going to miss most about the game?
Derrick Brooks
(1:05 PM)
I can't really say it's one thing. I just look forward to the chance to continue my career. To me it's not so much what I miss, it's about looking forward to the next opportunity.
Alex (CT)
Have you been contacted my any NFL teams as to your shape and interest in playing? If so do you anticipate any work outs in the near future?
Derrick Brooks
(1:06 PM)
I do anticipate doing some type of workout. That kind of determines what shape you are in. But I work out 3-4 days a week to stay in shape.
Rich (VA Beach)
Derrick...you 'da man! Best Buc ever! Sad to see you go. Question: Do you think the Bucs 'D will right the ship this year?
Derrick Brooks
(1:07 PM)
I really want them to do well. But at the same time they have to get used to playing a new defense. They are all personal friends of mine so I want them all to do well.
Jordan (Idaho)
I'm happy that you are NFL analyst for espn, but at the same time i think you can still play 73 talkels last season 1 interception 11 time probowler. I just found out that Leroy Hill is out 8 weeks with a groin injury maybe the seahawks will try to sign you. My question is how would you like to play in seattle?
Derrick Brooks
(1:08 PM)
Yes, I've talked to Gus Bradley on a regular basis. They resigned Lewis and so we'll just have to see what happens.
Scott (Chicago)
Do you wish you could've played for the '85 Bears?
Derrick Brooks
(1:09 PM)
With that LB crew, it would have been hard to find my way on the field!
Dan (DC)
Who's the best LB in the game right now that nobody talks about?
Derrick Brooks
(1:09 PM)
I like John Beason in Carolina. I Barrett Ruud in Tampa.
madmatt (bezerkeley)
Bring the pain to New England?
Derrick Brooks
(1:10 PM)
We will see!
George (MA)
Do you think you have it in you to play a full season as an every down LB?
Derrick Brooks
(1:10 PM)
Right now, I just want to find a role that is comprable for me and the team I go to. I will play whatever role they want me to play.
Mark Gomer (Pinellas County Florida)
Who was your favorite NFL team growing up?
Derrick Brooks
(1:11 PM)
No I did not.
frank (mass)
is baskett a good pick up for the colts
Derrick Brooks
(1:11 PM)
Personally, I was hoping they would give Marvin Harrison a call.
Scott (Chicago)
Bears?
Derrick Brooks
(1:12 PM)
We have our talks on hold for now.
CC (Atlanta)
Who's your pick to win the South -- ATL or N.O.?
Derrick Brooks
(1:13 PM)
I'm not making personal picks right now.
chase mann (adrian mi.)
are you nervouse about appearing on espn 2 "first take"
Derrick Brooks
(1:13 PM)
I wasn't nervous at all. It was a lot of fun.
Hotboymike23 (Louisiana)
The NFL has seen its fair share of great defensive players over the years. Who would you say inspired you the most during your career?
Derrick Brooks
(1:14 PM)
No one in particular really.
Matt (IN)
I'm a Colts fan, if you go to New England you'll be the enemy. My question is, what was it like playing for Tony D?
Derrick Brooks
(1:16 PM)
It was lovely. He embodied the meaning of a professional. He was such a hard worker and accountablity was a big word with him. Learning how to be accountable both on and off the field.
Bj Masters (Cocoa beach fl)
Your a shoe in for the hall of fame, How does that make you feel to be among great names?
Derrick Brooks
(1:18 PM)
It would be an incredible honor to be considered for that. That is God's will and I would enjoy it then. But I'm still building my resume.
Dave (LV)
Is Sapp really as crazy as he seems? Seems like a fun guy to be around.
Derrick Brooks
(1:20 PM)
He was a really fun teammate.
Mike (Ohio)
Did you have a "Welcome to the NFL, kid" moment?
Derrick Brooks
(1:21 PM)
The day I picked up my check! Haha. Just a joke. Actually my first day of practice I realized it wasn't college anymore. Everyone was bigger and stronger.
John (Missouri)
You should go to Denver. They need your help. What do you think?
Derrick Brooks
(1:22 PM)
I appreciate the kind words.
Todd (Indy)
I know Tony D is a big supporter of a 4-game preseason. Several players what it to be 2 or 3 games. What is your opinion on the preseason?
Derrick Brooks
(1:23 PM)
Fans don't like the preseason, huh? I'm not sure the Commissioner does either so you may see it shortened in the next couple years.
Shaun (Michigan)
I really appreciate the amount of mental preparation you put into playing the game. During the season, how much time would you spend studying film and searching for tendencies?
Derrick Brooks
(1:24 PM)
Film was a huge part of my preparation. You cannot underestimate the value of watching tape. Each guy is different but I do think watching film is an extremly important part of preparing for a game.
Derrick Brooks
(1:25 PM)
Thanks for the all the questions! I love all of you guys writing in to chat. It's been fun. I'll be on First Take again tomorrow at 10 ET. And I'm on Twitter at DBrooks55. Thanks!