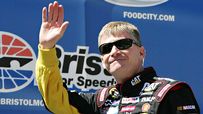 Burton has 21 wins at the Cup level.
Welcome to SportsNation! On Thursday, NASCAR driver Jeff Burton stops by to chat about the 2009 Chase for the Cup, which gets underway this weekend.
The Sprint Series heads to Loudon, N.H. and the New Hampshire Motor Speedway (Sunday, 2 p.m. ET, ABC) for the first race in the Chase to the Cup.
After three straight top-10 finishes in the point standings, Burton finished the pre-Chase season in 18th place. A 17-year NASCAR veteran, Burton also had four straight top-5 points finishes from 1997-2000. The driver of the No. 31 Caterpillar Chevrolet Impala SS car has won over $65 million in his career.
Send your questions now and join Burton Thursday at 3 p.m. ET!
More Special Guests: Previous chats | SportsNation
Buzzmaster
(2:55 PM)
Jeff Burton just finished his ESPNEWS hit and he should be here for his chat in just a few minutes. Keep sending in your questions!
Buzzmaster
(3:00 PM)
Jeff is here!
Joey T. (East Boston, MA)
Are you superstitious at all towards racing? Example, do you thinking changing colors on your car for the 2009 has effected your season?
Jeff Burton
(3:01 PM)
No. We just haven't done a good enough job. It's not because of the color of our car, I can guarantee you that.
Steve W (Richmond, VA)
Jeff-Huge fan and I'm sorry that you didn't make the chase year, but do you view this as an opportunity to work on some things testing-wise that you otherwise couldn't do with the current testing restrictions?Thanks and good luck 31 in '10!
Jeff Burton
(3:02 PM)
That's the only advantage to not being in the Chase. You can do things differently when you're not racing for points. The reason you're not in the Chase is because you were not good enough. We will without a doubt use it to try and be better.
J.P. (Virginia)
Mr. Burton, what is your favorite track coming up in the next 10 races? Of those tracks, where do you think you have the best chance of winning?
Jeff Burton
(3:03 PM)
Charlotte's probably the one that we've consistently been the most competitive on. We won there last year and we were good there in the spring. So probably Charlotte.
John (Darien, IL)
What adjustments philosophy-wise will be made to the team in preparation for 2010?
Jeff Burton
(3:04 PM)
We are re-inventing RCR. We made some major changes in our competition department getting ready for 2010. We have some very major changes that are underway now that we're going to fine tune. Yeah, we're changing a great deal.
Joey T. (East Boston, MA)
By Missing the Chase for the first time since 2005 ... are you going to be gambling on racing decisions a little more, or playing it safe as you would have normally made during the begin of the season?
Jeff Burton
(3:05 PM)
We're going to be in a position to gamble more. I'm not going to drive any different than I've been driving, because that's gotten me to this level. We have to be respectful to the guys in the Chase. We don't want to be involved in any incident with anyone in the Chase.
Richard (California)
Jeff, Do you think that the double file restarts and another dimension to the chase?
Jeff Burton
(3:06 PM)
Yeah, without a doubt. The restarts really mix the field up a great deal. It creates some more cautions because everyone is all bunched up. It's had a major impact on the races and I think it will have a major impact on the Chase.
Mike Joyner (Benson)
I noticed that Kevin Harvick has ran a lot better the last 2 weeks. Are you guys working on a strategy with the other 3 teams to make them all run as good as the 29 team?
Jeff Burton
(3:07 PM)
Yeah, Kevin has really run well. They've hit up on some stuff that's really helped them. We're all experiementing and trying different stuff. Lately, they've been the team that's better. Eariler in the year, the 33 was the best team then it was the 31 and now it looks like the 29 is the best team. We're all helping each other. We're certainly aware of what they're doing.
Abigail (Oregon)
What do you think is the biggest issue the 31 team needs to work on in order to be contenders for the Cup next year?
Jeff Burton
(3:08 PM)
The first thing is speed. We just weren't fast enough this year. We have to work where I can be in the gas longer so we can be more competitive. It really boils down to speed. I've been in more wrecks this year than any I remember. We've had a little bit of bad luck, but the main thing is we haven't been fast enough.
Jared (NC)
Hey Jeff, who's your favorite to win the chase?
Jeff Burton
(3:08 PM)
You can't look over Jimmie Johnson. Mark Martin has established himself on that team as a favorite as well. It wouldn't surprise me to see one of those two winning it all.
Nino (Clarkston, MI)
Obviously RCR had a down year, but looks like the organization as a whole is coming back. Do you feel like RCR is making strides to be a chase contender? By the way, after Martin wins his title, you will be the best to never have won a title.
Jeff Burton
(3:09 PM)
There's no doubt. There are a lot of things that are changing to put us in position to be better next year. I feel really confident that we are going to be better next year. I actually feel really excited about next year.
Bill S (High Point,NC)
What would you say was your most memeorable win? The one at Darlington with the torn up car was one of my favorites.
Jeff Burton
(3:11 PM)
That was a special win. Winning NH, leading all the laps, that was special. Winning in Martinsville after being ill for 3-4 weeks. That was big. They're all special and different in their own way. I wouldn't trade any of them. They've all been unique. I hate to name just one of them, because each one has a story behind it and meaning behind it. But that Darlington race was pretty exciting.
TG (PA)
Did you have difficulty adapting to the COT and did you like driving the old car better?
Jeff Burton
(3:12 PM)
I think everybody has struggled with it, learning how to drive it and learning what it's capable of and not capable of. I really don't view the thing as being worse or better than the old car. I really don't have a feeling driving wise. The only thing that matters is how it drives to your competition. That's all I care about. And this year, our car hasn't driven as well as the others. I just want ours to be as fast or faster than everyone elses.
Brandon (Rhode Island)
Hey Jeff i gotta say first of all you are such a class act and every driver should follow your lead when it comes to handling yourself even in tough situations,do you think you can win before the season is out? I hope you can and btw which track do you think you have the best chance at?
Jeff Burton
(3:14 PM)
Being brutally honest, we haven't shown the speed to do that. I believe we are making the adjustments to get that speed. We haven't shown that yet, but we can. we have some tracks coming up that I think we can do that. I'm not going to say that we are going to win a race before it's over, but I think we can. There are some changes going on at RCR and I'm very optimistic about it.
Brad (Virginia)
Do you think that Nascar should extend the chase to the top 12 drivers and drivers with a win.
Jeff Burton
(3:16 PM)
No, I don't. I don't think that Brad Keselowski for example deserves to be in the Chase. I don't think winning a race means that you should be in the Chase. You have to be careful what the rules are. Nothing against Brad, but they aren't a team that hasn't done everything to be in the Chase. Kyle Busch is a case study for if they should be in the Chase. Matt Kenseth won two races. You have to do what's necessary to be in the Chase. Even if a team has 8 wins, they shouldn't have had 8 35 place finishes. Our sport has rewarded high finishes, but they punish for low finishes. You have to do what you have to do to make it work.
Brandon (Rhode Island)
how did you lead all 300 laps at New Hampshire in 2000?? I gotta say that is the most amazing thing i have ever seen in Nascar,and yes it would be great to see you have another race like that
Jeff Burton
(3:17 PM)
We qualified second and took the lead before the first lap. We just had a dominant car. We had good pitstops all day. We did everything right. We were first every lap and Bobby Labonte was second every lap. It was just one of those days where it all fell into place.
Jeff Burton
(3:18 PM)
Thanks to everybody for logging in. I always like talking to the fans. I'm spending the entire day on ESPN. It's been a lot of fun. I'm looking forward to the next 10 races.