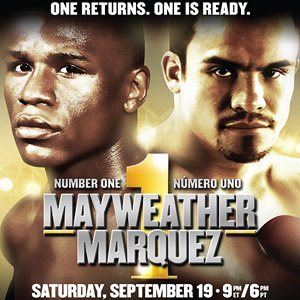 Welcome to SportsNation! On Friday, we'll go inside the boxing ring when legendary boxing writer Bert Sugar stops by to chat about Saturday's Floyd Mayweather and Juan Manuel Marquez bout.
Mayweather (39-0, 25 KOs) and Marquez (50-4-1, 37 KOs) square off at the MGM Grand in Las Vegas at 9 p.m. ET/6 p.m. PT live on HBO Pay-Per-View.
Sugar has written over 80 books and from 1979-83 he served as editor-in-chief of The Ring. Sugar also, according to his bio on HBO.com, founded Fight Game magazine in 1998. Sugar has also appeared in a few movies, including recently in "Rocky Balboa," the final chapter of Sylvester Stallone's Rocky boxing movies.
Send your questions now and join Sugar Friday at 12:30 p.m. ET!
More Bert Sugar: Chats | Search | Boxing index | SportsNation
Buzzmaster
(12:27 PM)
Bert is early! Let's get started!
Tim (Pittsburgh,PA)
Bert, do you think Marquez's counterpunching style will effect mayweather?
Bert Sugar
(12:28 PM)
I think that Marquez has many styles. You're concentrating on counterpunching, but you must remember that this is one of the smartest fighters today. He'll be moving at angles, pressure. I think it will all have an effect on the fight, period.
Albert (N. Providence, Ri)
Hey Bert, do you think a win for either fighter is a guaranteed matchup against Pacquaio?
Bert Sugar
(12:30 PM)
I think the answer is yes for Mayweather and I'm not sure for Marquez. The reason being is that Pacquiao doesn't want to fight Marquez again. His style is all wrong for Pacquiao and according to those at ring side, including yours truly, Marquez won both their fights. A win for Mayweather sets up what is now touted as the Super Bowl of welterweight matchups, a win by Marquez doesn't guarantee that he talks the place of Mayweather in that matchup, primarily because I don't Pacquiao wants any more of him.
bob (pa)
If mayweather wins this fight in convincing fashion, where do you put him on all-time p4p list? Top 10-20? What does he have to do to get in the top 10?
Bert Sugar
(12:31 PM)
A win by Mayweather in "convincing fashion" will ensure Mayweather's legacy. how high up will depend on his entire career, not just one fight. But it will surely show that he has finally beaten a quality opponent in his prime. Right now, I can't tell where it will rank him, but I want to see his entire career, before ranking his all-time greatness, although I don't see anyway I can insert him in the top 25. Sugar Ray Leonard is in the top 25 and no matter what he does, he's not better than Leonard.
Ben (Boston)
Mr. Sugar, Can Marquez win a decision or does Marquez have to score the KO to have a chance?-Ben
Bert Sugar
(12:33 PM)
Good question. Marquez has not been a beneficiary of close decisions in Vegas. However, this time around his promoter is Golden Boy and they ahve a special cachet in Vegas. They might give him the benefit of the doubt. But Vegas judges have their own way. Witness Trinidad-De La Hoya. I went to go talk to them after that fight, but tripped over their seeing eye dogs. Hopefully this time they are facing the right way.
Nick (Raleigh)
Do you think Floyd's almost 2 year layoff from the ring will show up in the early rounds Saturday?
Bert Sugar
(12:34 PM)
I think the rust factor is a major, major consideration. If you but saw the Patriots-Bills last Monday and saw how long it took Tom Brady, the Pats QB, to find a rhythm and a groove after only a one year layoff, then you can translate that to a 21-month period of inactivity for Mayweather.
Bert Sugar
(12:35 PM)
Mayweather's corner may be using Rustoleum between rounds for the first 3-4 rounds before Floyd finds his rhythm. That said, I think it will be a major factor in this fight.
Ray (Detroit)
With Shane Mosley, Antonio Margarito, Paul Williams, Joshua Clottey, and Miguel Cotto not on his resume...does this keep Floyd off the all-time great list
Bert Sugar
(12:37 PM)
There is some question about the credentials of Floyd in his first career (remember, this is not the 40th fight of his career, this is the first fight of his second career), against an over the hill De La Hoya, an overrated Hatton and a nowheresville Baldomir, Floyd built his reputation. There is a major major question about his resume in assessing his greatness.
Greg P (Staten Island,NY)
Bert, do you think the elite fighters from 50-75 years ago would still be as dominant if they were put into todays boxing world...excluding the heavy. div would weight classes allow these great fighters to still be great or would todays athlete and better training/competition be to much for them to overcome?
Bert Sugar
(12:39 PM)
As a generality, yesterdays fighters were better than today's not because of training, but because they fought more frequently and had more experience. Given that every era has one division that has special fighters, that division today is the welterweight division. This group today may well have been better than yesteryear's welterweight group. There have been eras when the welterweight division has been the premier of the era. That is so now. This division stands up to any.
Sean (Bronx, NY)
Marquez had trouble with Pacquiao's speed, do you think that will be the case with Floyd?
Bert Sugar
(12:40 PM)
I didn't see any trouble with Pacquiao's speed from Marquez in the 24 rounds they fought. Not only did he take some of those rounds, but he negated the speed. I think he can do it again.
Besim (Staten Island, New York)
Do you know of any other fighter who has consumed his own urine in preparation for a fight?
Bert Sugar
(12:42 PM)
Besim, I don't think this is a fad that's really going to catch on. I haven't heard about it before, but I understand is that in certain parts of Mexico that they believe it. The only thing that comes close is that one of the Alous put urine on his hands to get a better grip on the bat, or maybe that was to prevent anyone from stealing his bat. The only thing will be at the post fight urine test, Marquez will only ahve to spit in the cup.
Pat (new JErsey)
DO you think floyd is gonna come out and be the same old defensive floyd or will we see a new attacking floyd
Bert Sugar
(12:43 PM)
I think that Floyd is one of the best defensive fighters that I've seen since Pernell Whitaker. He'll never lose that ability, but I see the first couple of rounds of Floyd studying Marquez and trying to get into a flow of his fight plan and not attacking Marquez, just to figure him out, which he's already admitted he's going to do: study him. I think the rust factor is going to be a big consideration of how he comes out. He'll be a little unsure of himself and not come out blazing, but gazing.
Tim (DC)
How will Marquez neutralize Mayweather's size/strength advantage?
Bert Sugar
(12:45 PM)
Obviously, Tim, Marquez, having given up the advantage in reach, is going to have to fight inside, which is where he belongs anyway. His style is similar to that of Jose Luis Castillo, who gave Mayweather his toughest fight in their first fight, which is pressure, pressure and more pressure. He can not afford to fight the fight in the middle of hte ring, but must make Mayweather get back on the ropes. In the middle, it's Mayweather; on the ropes, it's Marquez.
Matt (Nashville)
Marquez is known to be a slow starter. Do you think that is what has hurt him in the past fight on scorecards? Do you think it could happen again Saturday?
Bert Sugar
(12:47 PM)
Anything can happen in this fight, which is why it's intriguing. However, I believe Marquez will come after Mayweather as much because Mayweather is a slow starter as well and because of ring rust. So I see a faster starter in Marquez than in previous fights.
Tim (Pittsburgh,PA)
Bert, do you compare this fight to Leanord/Doran?
Bert Sugar
(12:48 PM)
There are some vestiges of Leonard-Doran. But I really think back to Lamotta-Robinson. One man here is the bull. But whatever, there are contrasting styles and not, what I have read, both counterpunchers. That will make this a very intriguing fight.
Peter (DC)
Is this fight bigger then Hatton vs Mayweather for the sport of boxing?
Bert Sugar
(12:49 PM)
"Bigger" is an interesting way of labeling this fight. I don't know if it's bigger. I think in terms of its historical importance, it's more important, ergo bigger, because it will lead to one of the biggest fights in years. Everything is in the eye of the beholder. It will all come down to how the fight plays out.
matt (malta)
Paul Williams at 147. Do you see any fighter from any era having his way with him??
Bert Sugar
(12:51 PM)
Paul Williams can be had, as already indicated in the one fight he lost. Some of the greats could have handled him. Right now, he's the goods and has to be worked around. But he has to stay in one place so we can get a fight in that division. He is ranked in at least two different weight categories. So, who is he fighting? Who can I compare him to?
Tim (Pittsburgh,PA)
Bert, how do you see it playing out saturday night? Im counting on you for who to put my money on!!
Bert Sugar
(12:54 PM)
Tim, there are several scenarios, depending on 1) the element of ring rust; 2) Marquez's ability to pressure Mayweather; 3) Mayweather's defense and whether he still has what he had 21 months ago; 4) the size differential, but not the weight; 5) how Marquez AND Mayweather will deal with stamina in the closing rounds. By that last point, I mean Mayweather's last four or five fights have been against fighters whose stamina's slagged in the last four or five rounds. Marquez has never had a stamina problem. On the other side, will that 21 months of inactivity now play out in his diminished stamina in the closing rounds. I think that might very well play in the tale of the fight.
chrisdiggidy (oklahoma city, ok)
What's the atmosphere like there this weekend so far? I've heard that tickets are still available, does there seem to be a buzz around the MGM yet?
Bert Sugar
(12:56 PM)
The excitement, as the old cliche goes, is that it is buliding. Already there are several Latino bands on the premises, all chanting for Marquez. Mayweather does not seem to have a large contingency of fans, curiosity seekers and boxing fans, assuredly, but any and all excitement and fan support is here for Marquez. So, IF there is a fan advantage, it goes to Marquez heavily.
Brad (Va)
Bert, the big question is who do you think will win the fight?
Bert Sugar
(12:57 PM)
I think there's a heckuva chance for an upset here. Marquez is no tune up. This is one of the toughest fights Mayweather could have taken, even without the 21 month layoff. I see a very two sided fight that couuld go Marquez's way. If push comes to shove, in terms of a choice I have to make, I now have this fight in my mind's eye, I think Marquez could win a decision. That's why this makes for an intriguing and exciting fight.
Robin (Montreal, Canada)
Is a defensive fighter by definition a boring fighter?
Bert Sugar
(12:59 PM)
It depends on what you like. I got great kicks out of watching - and I'm this old - Willie Pepp and Pernell Whitaker. But to some fight fans who just like wham-bam-thank-you-ma'am fighter, it's boring. But then again a no-hitter or perfect game in baseball were boring because of the no home runs. A defensive fight can be exciting if that's what you appreciate. But unfortunately, judges don't appreciate it or understand it. They're just looking at punch count, and the compuBOX tally. There is no room in the compubox tally for defensive fighters.
Bert Sugar
(1:01 PM)
Those were some excellent questions. Seriously, I've enjoyed this. I hope you enjoy the fight on Saturday night. It's one heckuva fight on HBO PPV. For the first time in many a time, we have two great fights on the undercard, maybe three. Join me as I watch one of the most meaningful fights in a long time. Thank you again, guys. - Bert Sugar