The Morning Buzz: Wednesday, Sept. 23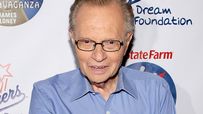 King is a member of both the Radio (1989) and Broadcasters' (1996) Hall of Fame.
Welcome to SportsNation! For Wednesday's Morning Buzz, we have an incredibly special guest joining us at 10:30 a.m. ET -- veteran news anchor Larry King talking about his more than 50 years in the business.
The Emmy Award-winning King began his news career in radio in Florida, going from a low-level staffer to on-air talent after a disc jockey quit. He eventually moved from radio to TV, with his CNN show "Larry King Live" starting in 1985. According to his CNN.com bio, King has interviewed more than 40,000 people in his career. He has also expanded beyond TV and radio host, lending his voice to the "Shrek" movies, as well as appearing in over 100 other TV shows and movies.
In his autobiography, "My Incredible Journey," King tells his story of going from the child of Jewish immigrants in New York to famous TV personality.
Start your day with The Morning Buzz at 10 a.m. ET and join Larry King at 10:30 a.m. ET!
Click here to go straight to King's chat
More From SportsNation: Chat Index | SportsNation | PollCenter | Previous special guests
Buzzmaster
(9:54 AM)
We'll get started with our Morning Buzz soon, I just had to come over here to the Digital Center to get set up for the Larry King chat. He'll be joining us at 10:30 a.m. ET!
Buzzmaster
(9:58 AM)
Gooooooooooood morning!
Buzzmaster
(9:59 AM)
Let's get things started a little early today. We've got a special guest in Larry King coming by at 10:30 a.m. ET, so it will be an interesting chat. Perhaps we'll go a little long as well. Who knows.
Rich (Douglas AK)
The Mouse: Umm, yeah Buzz, the Pop Tart you took off the tray without paying for... $1701.00 fine.
CAL (St. Paul, MN)
I haven't been here for the start in a long time, let's get this thing started Buzz!
Jordan (Peoria)
Wow Buzz...I would tell you to not get a big head, but since you are so fat your head is already huge.
Tom (West Bloomfield, MI)
Gnarles Barkley to start the MB for me today.
Rich (Douglas AK)
Walk-off Sac flys are really exciting. Almost as exciting as a Zoolander walk-off. Or maybe they are the same?
Bradley (North Carolina)
The yankees have 96 wins with 10 games remaining. they play 3 with boston, 3 with kansas city, and 3 with tampa, plus one with LA still. how many games will they end up winning this year?
Marc (Big D)
The Morning Buzz: Chatting Good in the Neighborhood
Rich (Douglas AK)
Larry King still won't be the oldest guy on the chat.
Dave (vt)
I am looking at the wrapper after polishing off my poptarts, the ingredients include, brown sugar, sugar, corn syrup, dextrose, and high fructose corn syrup. I can feel my teeth getting cavities.
Jerry Seinfeld (New York)
Larry, I was number 1!
Greg (Ellicott City)
Good morning Buzz. Early? Impressive...
Jordan (Peoria)
Question for you Bradley...If a train is leaving NY at 60 miles per hour and a train leaves Boston at 30 miles per hour, what is the square root of pie?
Buzzmaster
(10:02 AM)
Cherry.
Rich (Douglas AK)
I've been held out of the chat for days because I don't have Swine Flu and I don't have a D-1 chat game.
Marc (Big D)
Everyone mentions it when you are late, so it is only right that someone gives you kudos for being early. So, kudos.
J.B. (Dunmore, PA)
Clinton and Larry can reminisce about the good old days.
Tom (West Bloomfield, MI)
Buzz, I have to commend you. Remember my almost-falling-off-my-roof story from earlier in the week? You're the only person I've told that story to who hasn't laughed uproariously in my face.
Buzzmaster
(10:03 AM)
Oh, I was laughing on the inside.
J.B. (Dunmore, PA)
Good morning, Buzz Nation. Nice get in Larry King, Buzz.
Neal (Philly)
Morning Buzz. The Phils looked good in game 1, not so much in game 2.
Matt (IN)
Good morning all.
Buzzmaster
(10:03 AM)
We're doing the chat today from the Green Room in the Digital Center, where all of the TV guests hang out until they are needed for the shows. Skip Bayless, Jay Crawford and Jemelle Hill all just left to do First Take.
David (Ottawa)
Just got delivered a new chair...you know its a slow day at the office when that's the most exicting thing that's going to happen. I feel like I'm in an episode of The Office.
Neal (Philly)
Kudos to Buzz if he goes past 11
dave (israel) [via mobile]
Please, please, no one talk about MB FFL today!
Jordan (Peoria)
Buzz laughing on the inside translates to the outside pretty quickly...Then it takes a long time for the outside to stop jiggling
Clinton (Indianapolis)
Good morning, Matt. Condolences.
bradley (north carolina)
the square root of pie? seriously? i asked about the yankees not math here buddy.
Buzzmaster
(10:04 AM)
Yankees math IS pie math.
Robert Henson (Washington Redskins)
This chat is filled with a bunch of dimwits who work 9-5 at McDonalds.
Rich (Douglas AK)
Charles Barkley has a better chance at leading USC to victory this weekend than Gnarls Barkley.
Neal (Philly)
Poor Henson no longer tweets.
Clinton (Indianapolis)
bradley, go outside, and listen very carefully. That sound you'll hear is the joke flying over your head.
tom* (parkville, md)
If a westbound train leaves Los Angeles going 85 miles per hour, how long will it take for all the passengers to drown?
Internet Whiner Guy (Cyberspace)
Larry King? What does he have to do with sports?!?!? He probably won't answer my comments either!
J.B. (Dunmore, PA)
How many forms of ID did you need to produce before they'd let you into the Green Room, Buzz?
Buzzmaster
(10:05 AM)
I just waddled right in.
Neal (Philly)
Most of this chat looks like they eat at McDonald's from 9-5.
Clinton (Indianapolis)
If someone asks a sports question about something that only the asker cares about, is it only a matter of time until he gets mocked mercilessly?
David (Ottawa)
You tell Skip Bayless that David says he stinks.
Matt (IN)
Thank you Clinton and all who responded over at Facebook. Much appreciated.
Suits (Bristol)
Who said Buzz could leave his cage?
bradley (north carolina)
buzz, what do you mean the yankees math is pie math?
J.B. (Dunmore, PA)
Say what you want about Larry King, but for my money he's better than any of the other yackity yacks on news TV shows.
Nigel Tufnel (Studio)
This chat goes to 11.
Clay (Charlotte)
Buzz, I had a cherry poptart this morning on my way to work, almost caused me to wreck while I was unwrapping it...I blame you, wait, no I blame Rastall.
Ben (Madison, WI)
Good news Buzz. Everyone survived the fire drill we just had.
Jordan (Peoria)
Apple fritter or chocolate long john? Someone brought donuts into the office and I feel like Brian because I cant decide...Buzz you dont count because you would eat the whole box but which should I go with?
Buzzmaster
(10:09 AM)
Chocolate. Chocolate always trumps apple.
J.B. (Dunmore, PA)
Chocolate > Apple > Jelly filled > Powdered > Plain.
CAL (St. Paul, MN)
Go with the long johns, apple fritters are for chumps.
Buzzmaster
(10:10 AM)
Larry just entered the Green Room and is having his breakfast before we get to the chat in about 20 minutes.
Christian (High Point, NC)
Chat Fail for Jordan. It's not that Brian can't decide, it's that he'd take both. And while I normally agree with Buzz, September-October apple trumps everything.
Buzzmaster
(10:11 AM)
That is a small exception.
Neal (Philly)
What is Larry eating?
Buzzmaster
(10:11 AM)
Looks like a croissant or doughnut. They won't let me get close enough to find out.
Tom (West Bloomfield, MI)
Apple fritters are the best. Don't listen to the rest of these guys, Jordan.
Clay (Charlotte)
For my birthday last week my grandmother made me one of her famous chocolate cakes...moist chocolate cake, but instead of icing, it has a layer of fudge...awesomesauce.
Robert (Huntville, Al)
I got a toaster recently. I then proceed to buy Toaster Strudels to see if they are as good as I remember. They are good, not great...but good...
Bill (Miami)
How many yankees does it take to win a world series. About 256 million dollars worth!
Ben (Madison, WI)
Accidentally cough on the box and take all the doughnuts.
Clinton (Indianapolis)
I vote chocolate as well, mainly because I'm just not a fan of apples.
Tom (West Bloomfield, MI)
Is Larry surrounded by security guards or something? Or is he just in a tight space that Buzz can't fit in, because, you know, Buzz is fat.
Rich (Douglas AK)
you have a grandmother.... lucky.
chaz (sa tx)
apple> chocolate only when it is made in apples foster.
Jordan (Peoria)
The whole point is Brian cant decide anything, which is why he will take both Christian!
Larry King (Bristol)
Why is that man over there wearing Zubaz pants?
Jesse (Ohio)
Buzz imma let you finish, but apple has one of the best fritters of all time.
Larry King (green room)
Quit bugging me, fat guy. I said 10:30, I meant 10:30.
J.B. (Dunmore, PA)
Buzz IS a donut.
J.B. (Dunmore, PA)
Honey crisp apples are awesome this time of year but don't buy them at a grocery store. Go to the farmers' market or right to the orchard if you can.
Clay (Charlotte)
I do, actually I've been really lucky. I met 8 out of 9 of my greatgrandparents and I'm 25 and all of my grandparents are still alive. It really is a blessing.
Buzzmaster
(10:15 AM)
That's pretty interesting. I don't know if I've ever talked to someone who could say that.
Jordan (Peoria)
Chocolate won and it was delicious!
CAL (St. Paul, MN)
Buzz, did you offer Larry a poptart? Don't be cheap either, offer him a frosted one.
Buzzmaster
(10:15 AM)
I think at this point in his career, Larry could buy out the majority owner of Kellogg's.
Brian (Madison, WI)
What's wrong with taking both?
CAL (St. Paul, MN)
How could Jordan ask for advice on donuts and exclude Buzz? That would be like not asking Tiger Woods for advice on your golf swing.
Buzzmaster
(10:17 AM)
Larry's favorite football team is the Dolphins.
Jordan (Peoria)
Buzz's advice on donuts: take the whole box
Marc (Charlotte)
Buzz, how about the ONB before Larry arrives.
Buzzmaster
(10:18 AM)
Sure, we can try to get it out of the way. Let's do it...
Roger Goodell (NFl Headquarters)
Plax can play when he gets out of jail. Accidently firing a gun in a club crowded with hundreds of people is not so bad. He feels sorry. "But that Vick smirk deserved some extra time off.
Bob (NC)
Michele Beadle is stunningly pretty. Can she replace you as the host of the morning buzz? Please?
Eric (Joliet, IL)
Johnny Lightning will be rookie of the year! Go Bears!!
ONB (This Chat)
I'm magically delicious!
Jessica Simpson (Hollywood)
Everyone knows that you should never start Michael Jordan as the designated Hitter on your Fantasy League!
Kanye West (Hollywood)
Hey ONB, Ima let you finish but yesterday's chat had the best ONB ever!
Huge HD Screen (Dallas)
Ouch! Stop kicking balls at me.
dante lacoste (baton rouge)
saints rocks!!!!!!!!!!!!!!!!!!!!!!!!!!!!!!!!!!!!!!!!
adam beauchamp (New York State)
i will like to know where was williams the $45 million man for the dallas cowboy. i didnt see him against the giants. i believe that jerry jones did a big mistake went he decided to trade for roy williams and let TO go. we are not winning the division or a playoff.
Zach Rastall (Marinette, WI)
Why doesn't anybody like me?
Youth of the nation (USA)
OMG this chat is wierd, G2G, LOL! :)
Buzzmaster
(10:19 AM)
And that's it....
Clay (Charlotte)
Buzz, don't listen to Bob. We want you for TMB...mainly because this isn't a video chat.
J.B. (Dunmore, PA)
Have they offered him part ownership in the team, Buzz? They asked every other celebrity.
Buzzmaster
(10:20 AM)
Good question. We should ask him.
CAL (St. Paul, MN)
Good call on the ONB before Larry gets here, we don't want him to think we are a bunch of freaks or something.
Marc (Big D)
That was just...weird.
Rich Rodriguez (Ann Arbor)
People with lives > Chocolate > Apple > ONB posters
Nate (Madison)
Think we could have gone without the ONB today.
Buzzmaster
(10:21 AM)
Usually we can. But I figure if I have to read them all, you guys should get a sample too.
Clinton (Indianapolis)
No, Roger, Vick gets a little extra time off for lying to you.
Neal (Philly)
Facebook suggested I friend Rich Rodriguez. I ignored the suggestion.
J.B. (Dunmore, PA)
Buzz wore his XXXXXXXL suspenders today in honor of Larry. You know, because Buzz is a donut.
Clinton (Indianapolis)
Yes or No: Kanye West jokes have jumped the shark?
Louis (Fredericton, NB)
Maybe Bob should chat in the MB with a picture of Michelle on his screen... ok that's creepy
Buzzmaster
(10:21 AM)
Wow. That's fred (omaha) creepy.
Lane Kiffin (Rocky Top)
I'm just going to wait until I'm dissapointed in my performance in this chat and then blame it on the flu.
Clay (Charlotte)
Lane, UF players have the swine flu not yours. If you would spend less time at the gas station you would know that.
Jason (Ellicott City, MD)
TMB has stunk recently. Yeah I said it.
RJ (Boston)
West jokes have definitely jumped the shark... onto the next embarassing celebrity gaff.
Rich (Douglas AK)
Larry, Larry, LARRY, L A R R Y.
Buzzmaster
(10:24 AM)
5 minutes until Larry.
Ralph Friedgen (College Park)
I might have lost 100 lbs but my team still sucks.
Ed Hochuli (Chat Ref)
Grayson, that's a 5 yard penalty for insulting TMB. Repeat 1st down.
CDC (via mobile)
That's illegal procedure against Clay for calling it the swine flu. It is H1N1.
Don (San Francisco)
I hope Larry asks us questions for a change of pace.
Rich (Douglas AK)
We could start cracking Patriots jokes I guess.
Paul (Minn.)
I see Larry is going to be a guest today. When do curly and moe arrive.
Buzzmaster
(10:26 AM)
Awwww, come on. We've got Mr. Larry King coming on here. We have to raise our game higher than that.
Jesse (Ohio)
Buzz next time could you keep the guest host a secret until 5 minutes before the start of the chat like Mangini did with the browns qb situation?
Marc (Charlotte)
Buzz, what kind of questions is Larry expecting?
Buzzmaster
(10:26 AM)
I told him we like to discuss food. So, I think he's ready for anything.
CAL (St. Paul, MN)
Being from Minnesota, I must apologize for Paul's lame joke.....Sorry guys.
J.B. (Dunmore, PA)
Will Larry announce where we are from before answering our questions?
Buzzmaster
(10:27 AM)
That's funny.
Matt (IN)
Wow, that was a turribull joke.
Matt (via Albany) [via mobile]
We're letting Grason whine with no responce?What is this chat coming to?*
Larry David (Curb)
I am a pretty, pretty, pretty good guest. Why am I not booked?
Clay (Charlotte)
Way to go Buzz, just lower his expectations.
Buzzmaster
(10:27 AM)
I figured I had to give him some sort of heads up.
Clay (Charlotte)
Hey if you do a good job Buzz, maybe he'll hire you as a call screener.
Rich (Douglas AK)
point JB!
JB (TX)
Why is Larry there? Is he selling a book or something?
Buzzmaster
(10:29 AM)
He's actually here to do ESPN's Newsmaker Luncheon. Every once in a while someone comes to campus to speak to ESPN employees. He's just doing the shows while he's here.
Rich (Douglas AK)
Start the slow clap.
Greg (Ellicott City)
I think he lowered his expectations as soon as he saw you Buzz.
Buzzmaster
(10:29 AM)
RJ (Boston)
Larry King!How do you do it man? Long time in the ever changing industry and you keep up... what's your secret elixir of youth?
Larry King
(10:31 AM)
I really don't know. I've always been me. A long time ago, a great broadcaster Arthur Godfrey told me that the only secret in this business is that there is no secret. I do what I do. I love what I do and apparently, that comes through to people. They know that I'm enjoying it. I think that translates well to the viewer.
Michael Kelly (Houston, TX)
Do most the big names who appear on your show jump at the chance or sometimes do you have to really work super hard to convince them to come on? Who was the last person that you had to work hard at?
Larry King
(10:32 AM)
Most of the times it's not a hard get. I don't book my show, we have producers that do it. Depending on the situation, sometimes it's near impossible. Like right now, we're trying to see if we can get a prison interview with Bernie Madoff. That's not going to be easy. But most of the time, guests are receptive.
Tim (South Bend)
Is there anything left to learn as an interviewer or do you think you kind of have it down pat by this point?
Larry King
(10:32 AM)
good question, Tim. And the true answer is, there is always something to learn. The day I think that I know it all or that I've heard everything is when I Would quit. I still know that I don't know. And that's what keeps me going.
Dave (RI)
Larry.. Who are some of your favorite teams?
Larry King
(10:33 AM)
My favorite baseball team is the Dodgers. I was born in Brooklyn and they've always been a part of me. I now have two young boys and I live in Benverly Hills and we have season tickets. My favorite football team is the Dolphins. I used to do color on the Dolphin radio network. Even though I left Miami some 32 years ago, I Still root for them and for the University of Miami Hurricanes as well.
Larry King
(10:34 AM)
My favorite basketball team is Washington. I lived in Washington for 20 years and switched my allegiance with the Knicks, who I grew up with to the Wizards and saw the then Bullets win the NBA championship the first year I lived there. In hockey I root for the Washington Capitals.
Red (Anchorage)
It seems everytime someone fills in for you on your show, the discussion starts up about who might replace you someday. Does that bother you?
Larry King
(10:36 AM)
No. IT's fully understandable. I am 75 years old, even though I don't feel 75 years old. I watch my health. I know that nothing is forever. It's always hard for someone to replace someone when that person has been in that spot for such a long time. I always mention the name of Ryan Seacrest. I Think he's a very talented generalist and could probably fit the bill some day. Although I don't have any plans to hang it up.
Chad (Las Vegas)
What is the one interview that you never got that you wish you had?
Larry King
(10:37 AM)
Yeah. Fidel Castro. And we're still trying. Any pope. I think we've gotten everybody else that I've ever wanted. I know the producers would like Prince Charles, but royalty is not my favorite cup of tea.
CAL (St. Paul, MN)
Larry, what can we expect when we read your new book?
Larry King
(10:37 AM)
You can expect a lot of laughs. And a very truthful warts and all layout of where this journey has taken me. If I do say so myself, I think it's a terrific read.
Greg (Ellicott City)
Who would be your top 5 people to interview right now?
Larry King
(10:39 AM)
My number one would be Bernie Madoff, if you could get him to do an interview from prison and to tell how he pulled it off. I'd like to interview Ghaddafi and I'd like to interview Chavez and who knows, that might happen this week while I'm in New York with the annual opening of the U.N. I'd love to interview Osama Bin Laden. If you know where he is, let me know.
Thomas (Gainsville)
If you interviewed yourself, what would you ask yourself?
Larry King
(10:40 AM)
If you weren't a broadcaster, what would you have liked to have been? And frankly, it would be tough to answer, because all I ever wanted to be was a broadcaster. I'd probably say criminal defense lawyer, but I never went to college. IT would stump me.
Don (San Francisco)
Do you like sports in general the way it is today, or do you long for the earlier times?
Larry King
(10:42 AM)
I don't live in the past. I love sports. Sure there are things that I Would change, but basically baseball is still baseball. A genius concept. Athletic chess. Football is still football. I would change overtime in the NFL but little else. I think basketball got better with the 24 second rule and the 3-point shot.
Larry King
(10:42 AM)
Hockey took out the red line, making it better. I love sports now and I loved it then.
Jayson P. (home)
what do you think of the job we're doing interviewing you?
Larry King
(10:43 AM)
I think these questions are terrific. I think this is an obviously alert audience, if that's what you call chatters. Chat however, is a British term. But I think so far, so good.
Timo (San Diego)
Is Obama doing too many interviews?
Larry King
(10:45 AM)
Probably yes. Over exposure never works. But he's always good and he's a great communicator. He sincerely wants to improve a basically woeful health structure in this country. Sometimes you can sell something too hard. You can not doubt his sincerity, but I'm almost expecting him to show up on Jon and Kate Plus 8.
Charles (Chicago)
Do you have a favorite food?
Larry King
(10:47 AM)
Before my heart attack 22 years ago, it was lamb chops with plenty of fat along with mashed potatos with plenty of butter with coffee and sweet cream to follow, with apple pie a la mode. Now, my favorite food is multigrain Cheerios with 2 percent milk and blueberries. Breakfast is my favorite meal.
J.B. (Dunmore, PA)
What do your kids think about your profession?
Larry King
(10:49 AM)
They like it a lot. I think they're proud of their father. I think they appreciate that a lot of life is lucky and they're lucky to grow up in Southern California. To have access to many, many sports. Some great schools, a lot of good friends. They're raised without predjudice and a competitive nature as well. I think they like it when they recognize their father. I Think it makes them proud.
Larry King
(10:49 AM)
However, when I deny them a playdate on the day when they have a lot of homework, I think they wouldn't care if I was homeless.
Christian (High Point, NC)
Why the suspenders? Has a producer ever told you to dump them for a belt?
Larry King
(10:50 AM)
No producer has ever told me to dump them. My ex-wife Sharon suggested it after my heart sugery when I had lost quite a bit of weight. I used to wear half sweaters and she said, why not try suspenders? So I tried it one night and 3 or 4 viewers left messages that I looked good and that's all I needed to hear. The rest is history.
feivel (philly) [via mobile]
What was your favorite interview of all time and why?
Larry King
(10:52 AM)
That's so hard to say. I think I've done 50,000 now in 52 years. Ranking way up there would be Frank Sinatra, Martin Luther King, Jr., Malcolm X. In the world of sports, Tiger Woods, Muhammed Ali, Michael Jordan, Jackie Robinson. It's so hard to pick out a favorite when you've done that many. Bill Clinton, who was on the other night is always, repeat always, a great guest. No matter what your politics.
tom* (parkville, md)
Do you have a preference between radio and television?
Larry King
(10:53 AM)
Not really. My first love was radio, it's where I started. It's still the theater of the mind. What I liked about radio was I had more time with the guest and more time to explore the history of the guest. Television is more kinetic and you're dealing with much more with immediate news stories.
Buzzmaster
(10:54 AM)
Hang on...Larry's taking a phone call.
Larry King
(10:58 AM)
This was a lot of fun. I've only done one or two "chats" in the past for CNN. I really dig it here at ESPN. This is a very impressive layout. If you are ever near Bristol, CT, you should absolutely drop by for a tour. I'm surprised at the expanse of it all and how well run it is. I would gather that this would be a great place to work...if you can find Bristol.
Buzzmaster
(10:59 AM)
Thanks Larry!
Buzzmaster
(10:59 AM)
He was great. He's still got his suspenders on even today. With his jeans and killer shoes. I think they might have been old school Chucks.
Clay (Charlotte)
Larry King= Class act, one of the all time greats
Robbi (Clinton, Ky.)
I feel privileged to be in a chat with Larry King. This has been great. Thank you Larry.
Internet Whiner Guy (Cyberspace)
See Buzz! I told you! Meanies!!!!
Chad (Las Vegas)
You would think Clinton would have run into Larry in his lifetime.
Buzzmaster
(11:00 AM)
I'm surprised out of the 50,000 people Larry's interviewed that Clinton isn't one of them.
Rich Rodriguez (Ann Arbor)
Talk show hosts who don't answer questions from Rich Rod need to get lives.
Neal (Philly)
If we can find Bristol? We'll get sucked into Buzz's gravitational field as soon as we hit Boston.
Christian (High Point, NC)
Thanks Larry, great chat.
Clinton (Indianapolis)
Well done, Larry and Buzz! Lunch: Sandwich, chips, and a soda.
Tom (West Bloomfield, MI)
Larry did a fine job answering questions.
JB (TX)
Fact: Larry did interview Clinton 30 yrs ago when he officially became the oldest man in the world.
Clay (Charlotte)
Lunch: Would love some lamb chops, but it's probably going to be a burger.
Mike Golic (ESPN)
POTROAST!!!
Christian (High Point, NC)
Are we going to keep chatting, or is it time to wrap up?
Buzzmaster
(11:02 AM)
In honor of the special day, we'll keep going for a few more minutes.
Nate (Madison)
Lunch: Something small, leaving early today so I can hit the gym up before heading to THEE Miller Park.
CAL (St. Paul, MN)
Larry was awesome, nice job Buzz!
J.B. (Dunmore, PA)
LUNCH: Grilled chicken wrap with Frank's hot sauce and a Diet Sierra Mist. Have a great day, MBers and catch you again Friday (meeting out of the office tomorrow).
Christian (High Point, NC)
Lunch: Pepperoni Pizza lean pocket
Clay (Charlotte)
Really didn't expect Larry's comment about Obama and Jon and Kate...pretty funny.
Buzzmaster
(11:03 AM)
He asked what the name of the show was. He knew the couple but wasn't sure of the exact name of the show.
Kanye (Goosed up)
Listen, Larry's chat was allright, but Beyonce's chat was the best ever.
Brian (Madison, WI)
Lunch: Work pot luck so I'm going to stuff myself.
Jordan (Peoria)
Lunch: Pizza hut buffet
Jim Tressel (Columbus)
People that complain about not getting posted have got to be some of the most unhappy people in the world. I mean, they're already miserable.
Louis (Fredericton, NB)
Lunch: quizno's Have a good day MBers
Dallas (Hartsdale)
Happy ESPN Larry King Day!
tom* (parkville, md)
Lunch = oliveloaf sandwich, mini-carrots, thumb-sized pickles.
Tom (West Loop)
Lunch: whatever I can buy for less than five dollars.
Greg (Ellicott City)
Lunch: Wendys
Greg (Ellicott City)
Stay fat Buzz.
Clay (Charlotte)
Tom, do you have Cookout in West Loop? I would go with a cookout tray for 3.99.
Jason (Ellicott City)
Lunch: Wendys
Chad (Las Vegas)
Lunch yesterday was Dragon Noodle Cafe at Monte Carlo...Not so good. Today I think I will just go BLT Burger in Mirage. If you're ever in Vegas it is the best burger in town.
Clinton (Indianapolis)
I had one of those yesterday, J.B. Free lunch with the CFO is nice though. Buzz, the steak was so good even YOU couldn't turn it down.
CAL (St. Paul, MN)
Leftover homemade pizza for lunch today and a coke.
Nate (Madison)
To get a laugh, I tried to ask what his favorite drink was.
Buzzmaster
(11:05 AM)
Sorry, I didn't see it.
Bob (Lowell)
Buzz, was Larry doing his own typing because I think he misspelled Arthur Godfrey? (Godfree)
Buzzmaster
(11:06 AM)
That's my bad. And I fixed it. Larry was drinking his coffee and I volunteered to type for him. That's my mistake.
Clay (Charlotte)
Buzz, don't apologize, it's a sign of weakness.
Nate (Madison)
That's fine....I'm assuming you got a ridiculous amount of ?'s
Clinton (Indianapolis)
I asked him what he was having for lunch, but I think it was right at the time of the phone call.
Buzzmaster
(11:07 AM)
I saw a couple of lunch questions, but it was around the time of the call and he had to run right after. Plus, I don't know if he knows what he's having for lunch, because he'll be at the ESPN Luncheon.
One up guy (Anywhere)
I was the guy who called him on the phone during the chat
Chad (Las Vegas)
Quick everybody copy that last Buzz statement. He admitted he was wrong. Takes a BIG man to do that Buzz.
Conspiracy Theory Guy (Parent's Basement)
Buzz was typing? Hmmmm, begs the question....was Larry even there?
tom* (parkville, md)
Has Matt Damon ever been on Larry King? You two may have something to talk about tonight.
Rickey Henderson (Hall of Fame)
Rickey wouldn't have missed any questions, because Rickey is the greatest of all-time.
Buzzmaster
(11:08 AM)
All right. I Think we'll wrap things up there. I need to vacated the Green Room. Thanks for stopping by everyone. We'll be back again tomorrow. Until then, stay classy SportsNation!
Larry King (via mobile)
Thank God my friend remembered to call me. I didn't think I was ever going to get away from the fat guy and his lame chatters.
Dallas (Hartsdale)
Maybe Larry'll interview you next, Buzz
Bob (Lowell)
I started eating Cheerios for breakfast every day after my heart attack too. Except for weekends when I still do the bacon and eggs thing.
Clinton (Indianapolis)
Take care everybody, and stay classy!
CAL (St. Paul, MN)
Have a good one Buzz.
tom* (parkville, md)
Thanks, Buzz.