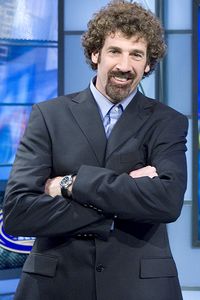 Welcome to SportsNation! On Monday, NASCAR Now's Boris Said will drop by to take your questions on all the latest motorsports news.
Said broke into NASCAR racing as a fill-in on road course events, and he quickly established a stellar reputation. He has given advice to more than 25 NASCAR Sprint Cup drivers, including Dale Earnhardt Jr., Carl Edwards, Kasey Kahne and Kevin Harvick, as well as team owners, most notably Jack Roush and Ray Evernham who've asked for help in training their young drivers in the art of road racing.
Send your questions for Said now and join him on Monday at 1:30 p.m. ET!
More NASCAR: NASCAR index
Buzzmaster
(1:20 PM)
Boris will be here at 1:30 p.m. ET to take your questions!
Buzzmaster
(1:27 PM)
Boris is here!
Will (Denver)
And just like that, some of the big names in contention for a title have fallen in the standings after one race. Yet, Jimmie Johnson is still right there. Do you think he overtakes Mark Martin?
Boris Said
(1:28 PM)
Yes, I still think he's going to win the championship again.
Brian Pendley (Buford, GA)
Boris, you have raced with "the kid" Mark Martin. Drivers rant and rave on what a great god given talent he has. What do can you see from inside a race car or team that us fans watching on TV cant see that takes him from normal to one of the best?
Boris Said
(1:30 PM)
That's a good question...I guess what sets him apart and what gives him so much respect is the way he drives. There are guys who are fast, but Mark Martin is one of the cleanest drivers out there. If you catch him and you're faster, he usually lets you by if it's at the beginning of the race. He always tries to be clean.
RAY GORDON REID (HIGHLAND SPRINGS VA 23075)
QUESTION TO BORRIS SAID AT 1.45PM HI BORRIS WHO DO YOUHAVE FOR DOVER SUUNDAY
Boris Said
(1:30 PM)
Whew...I really think Mark Martin could win at Dover too. He's won there before. I'm going with Mark Martin.
Sergio (Boca Raton FL)
Do tou think JPM actually has a chance to end up top 3 in the chase???
Boris Said
(1:31 PM)
Absolutely. I think JPM and Denny Hamlin are the two that could challenge one of the Hendrick cars.
Ed (Matus)
Do you agree that Montoya is beginning to show us he's the best all aroud driver of this era, Like Mario was in his? ... But now there is much stiffer competition!
Boris Said
(1:32 PM)
I absolutely agree. He's won in Formula One, he's won in the IRL, he's won in the 24 hour race. He's one of the most versatile racers of this day as well as one of the best.
Glenn (Raleigh)
Boris, do you think there should be a road race in the chase? Seems unfair to not include one.
Boris Said
(1:32 PM)
Yes. I think they have almost every other discipline in the Chase. I think a road race would add a lot to it.
John (IL)
At the press conference with Mark Martin, one of the reporters asked a question about "feet"? Mark said it was nothing. What were they talking about?
Boris Said
(1:33 PM)
No, I actually don't. I didn't see that.
Jason (Vermont)
I was at the race yesterday and I have to say, Pablo had a fast car, but he was racing a little too hard at times. I think that Mark drove an outstanding race and deserved the win. I don't feel that Pablo should be complaining about the way Mark drove the last lap. Anyone would of done that. How do you feel?
Boris Said
(1:34 PM)
I think JPM drove really aggressive. I think that he showed a lot of respect for Mark Martin. You can see that he raced Mark Martin a lot less aggressively than he raced Jeff Burton, for example. I don't see any issue with the way he raced. I think it was exciting.
Chris (NC)
What are Stewart's chances now in the Chase after that mistake yesterday that probably costed him a top 5 finish?
Boris Said
(1:35 PM)
I think his chances are still good. He recovered for a top 15 and was competitive all day long until that happened. I think he still has a chance as any to win.
becka (virgina)
what caused reed's car to be totaled
Boris Said
(1:35 PM)
There just must have been enough damage so that they couldn't get it out on the track.
Eric (Raleigh)
Is Gordon already done in the Chase? They looked terrible in the second half of the race? Is that a team that can come back from being 100 points down?
Boris Said
(1:36 PM)
I think so. Nine races is a lot of races left. Jeff Gordon raced well, but he said the tires weren't to his liking. I wouldn't count him out just yet. Nine races is a long way to go.
Glenn (Raleigh)
Do you have a feel for Dodge's long term commitment to the sport?
Boris Said
(1:37 PM)
I have no idea. I would think as long as Dodge is in business that they would not to be involved in NASCAR.
Tom Moschiano (Upstate NY )
Boris, Now knowing that Mark has signed on untill 2011, if he should not have a strong finish in the chase or a good season next year do you think he will change his mind and try to opt out of the contract?
Boris Said
(1:38 PM)
I don't see any reason why he would. He knew what he was doing when he signed the contract. But if something happened and he decided he wanted to retire, I'm sure it would be easy to find someone to fill that seat.
Babuk Ghuman (Detroit, Michigan)
How coincidental was Kasey Kahne's Engine problem after they just annouced they were laying off 40 people in their Engine Shop?
Boris Said
(1:39 PM)
You never know. I guess my personal opinion is that I would never have told that we were laying people off until the season was over. But there could be something to that, who knows.
Jon (Clemson, SC)
Do you think having an international figure like JPM will have an impact on the sports appeal to an international fan base?
Boris Said
(1:40 PM)
Absolutely. He brings with him a lot of Formula One fans and the Hispanic community that might not have watched the sport before.
Chad (GA)
Do you think JR is starting to turn things around he was doing good tile reutimann took him out.
Boris Said
(1:41 PM)
Yeah. I think he has got to be feeling a lot more confident. He looked like a top 5 contender at the end, but we didn't get to see it. But he has to be feeling more confident.
Bill S (High Point,NC)
Since he didn't make the chase, are you surprised that there was as little said about Kyle Busch as there was? He did come away with 5th place.
Boris Said
(1:42 PM)
No, I wasn't surprised. He wasn't really running in the top 5 until the end. But right now until the end of the year, the focus will be on the Chase guys and the championship.
Bill S (High Point,NC)
Does NASCAR look to be better or worse next year because of the economy?
Boris Said
(1:43 PM)
Well, I guess I hope that more importantly that the economy turns around for all of America. And unless the economy improves the fields might get a little tougher for NASCAR. They might shrink a little bit.
Craig G. (Fairfield, California)
Hey Boris, I love the trucks series and you won the only race I saw in person in Sonoma a few years ago. I was mad when Infineon didn't bring the race back. Why isn't the trucks series more popular?
Boris Said
(1:44 PM)
I think it's getting more popular. I think the ratings are better and the attendance is better. They always seem to have exciting races. I like the truck series. I think it's growing.
Jared (NC)
Do you believe that Carl Edwards will win a race before the season is over?
Boris Said
(1:44 PM)
Yes.
Justin (North carolina)
Do you think Mark Martin has hard feelings toward Roush Racing. He likes to keep saying this is the best year of his career, the most fun he has ever had, the best team he has worked with, and so on... What do you think?
Boris Said
(1:45 PM)
I don't think he has any hard feelings toward Roush. Right now Hendrick has some of the best teams and they're dominating NASCAR. I think he's just happy to have a second lease on life.
Jared (Meadville (PA))
I think that 43 cars is just too many anymore. Its ashame when you have 5 guys starting a race and then parking in 10-20 laps. Do you think that Nascar should decrease the amount of cars starting to maybe 35-38?
Boris Said
(1:46 PM)
No. I do not. I think it's always been 43 for a long time. It's been that number. As the economy gets better, the start and park guys get weeded out. What's the difference if 5 guys stop after a few laps. I think it's a good number.
Pete Laatz (Milwaukee, WI)
How awesome would it be to have JPM win the championship and not win a race? Dare to dream.
Boris Said
(1:47 PM)
That would be interesting. But as good as he's running, I think whoever wins the championship will have some race wins under his belt.
John (IL)
Was there a big difference in the equipment of Rousch and Hendrick when Mark Martin and Jeff Gordon were competing in the 90's? If Mark had been with Hendrick and Jeff with Rousch, would Mark have 84 wins and Jeff 40?
Boris Said
(1:48 PM)
Boy, that's a good question. I really think that Hendrick had the dominant equipment. But it's hard to take away from Jeff Gordon, because I think he's one of the best there ever was. But I think Mark would have a championship or two.
Boris Said
(1:48 PM)
Thanks for the questions!