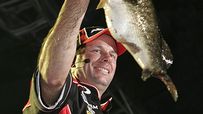 Kevin Van Dam won his fifth Angler of the Year award.
Welcome to SportsNation! On Wednesday, we have a special chat when newly crowned Angler of the Year Kevin VanDam stops by to chat about his fifth career title.
VanDam won the title after winning the season's final event in Montgomery, Ala. by catching 10 bass in two days, totaling 30 pounds, 6 ounces. Then, Skeet Reese, who entered the season's final event in first place, finished sixth, giving VanDam enough points to sneak past Reese in the final points standings.
VanDam, a Kalamazoo, Mich. native, has been fishing professionally since 1990 and is one of the most decorated anglers in history. He won the B.A.S.S. Angler of the Year award during his first year on the pro circuit in 1992. He also earned the Outdoor Sportsman of the Year by ESPN (2002) and received his first ESPY trophy.
Send your questions now and join VanDam at 3:30 p.m. ET!
More Special Guests: Previous chats | SportsNation
Buzzmaster
(3:25 PM)
Kevin's here now, so let's get started!
will (wyoming)
What's the biggest fish you ever caught?
Kevin VanDam
(3:26 PM)
Biggest bass is 12 pounds.
Mike (KC)
What's the trick to fishing a scum frog? I love watching guys like Rojas kill'em with the frog, but every time I use one I get hits but rarely hook up. Congrats on AOTY!
Kevin VanDam
(3:26 PM)
I throw it out on a braided line. It helps it cast better and you just don't miss many fish.
Mike (KC)
What is the best knot for tying on? Does the type of line matter?
Kevin VanDam
(3:27 PM)
I tie a palomar knot for all kinds of line.
steve (md)
what kind of line do you use?
Kevin VanDam
(3:28 PM)
I use Bass Pro Shops XPS, flouro carbon, mostly. I use some braid and mono also.
Ryan (Denver)
Whether fishing for leisure or in a competition, what's teh best piece of advice?
Kevin VanDam
(3:30 PM)
I try to be really observant of the weather and water conditions throughout the day to help me get a handle on what patterns might be fading or developing.
jon (washington)
what's your favorite part of the coutnry to fish?
Kevin VanDam
(3:30 PM)
I love to fish in Northern Michigan for smallmouth bass.
Tim (Toronto)
How much pressure did you feel to make sure you came in first in that last event?
Kevin VanDam
(3:31 PM)
Only the pressure I put on myself. I knew it was the only shot I had to win. After the practice that I had, I truly believed that I could.
Aaron (Florida)
Was it weird to know that even if you did win the last event, you still needed help from the rest of the field to secure the championshiop?
Kevin VanDam
(3:32 PM)
This was the first time in my career that this was the case. So, yeah it really did feel weird.
Henry (Buffalo)
How does this title compare to your others?
Kevin VanDam
(3:33 PM)
This one means the most to me because of the new postseason format and the extra pressure that went along with the points readjustment. These guys are the best anglers in the world and I knew I would have to have four solid days to win.
Brad (Gadsden,Alabama)
Kevin, Who is your favorite sports team?
Kevin VanDam
(3:34 PM)
My favorite sports team would be the Detroit Tigers, Red Wings and not the Lions.
Mike (KC)
What did you do while you were making your way to the professional fishing ranks, and how long did it take you?
Kevin VanDam
(3:35 PM)
I was selling boats and tackle at my brother's sporting goods store in Kalamazoo, MI. I started fishing the tour and had success right from the start, so I had to give up my day job.
Kevin (Indiana)
Did you wake up that Morning before the tournament beleiving that you really had a shot at the title knowing what had to happen to win it all?
Kevin VanDam
(3:36 PM)
I knew my only chance was to win. After that, it was totally up to Skeet. I just wanted to do my part.
Earl (Princeton, WV)
Congrats on your 5th AOY title Kevin. If you could pick one lure to fish flooded timber in off-colored water what would it be?
Kevin VanDam
(3:37 PM)
Strike King Spinner bait with Colorado blades.
Conor (Texas)
Are you able to just head out on a boat with some friends and kick back and fish? Or is fishing always competitive?
Kevin VanDam
(3:38 PM)
I don't get to do that very often, but when I do, it seems there's always something on the line.
Kevin (Denver)
how excited were you when you heard you won?
Kevin VanDam
(3:39 PM)
There was a flood of emotion and I was in a state of shock. I thought Skeet had enough weight to finish high enough to beat me. After the initial shock, I was just overwhelmed.
Kevin (Toronto)
Where do you see pro angling in the future?
Kevin VanDam
(3:41 PM)
Every year the anglers get better and better and the field overall is more competitive. With technology and information as readily available as it is, it's going to be harder and harder to consistently win. I see the future of the sport as very bright.
Kevin (Indiana)
What things can you control when fishing in a competition? You can't make the fish bite. How can you catch so much?
Kevin VanDam
(3:42 PM)
I only worry about the variables that I can control. Examples, sharp hooks, new line, the rest of my equipment. The variables you can't control you just have to give your best shot at making the right decisions.
Josh (Houston)
Who is your best friend on the Elite Series?
Kevin VanDam
(3:43 PM)
I room with Davey Hite and Scott Rook but I spend so much time with a lot of these guys that I am good friends with most. These guys are kind of like a second family and we watch out for each other.
Kevin VanDam
(3:44 PM)
This is one of the great things about our sport that you don't see in other sports. Not many Bears and Packers players are going out for dinner after the game.
Kevin (Indiana)
Do you have a team that helps you every weekend or is it pretty much just you who prepares?
Kevin VanDam
(3:45 PM)
From a fishing standpoint, it's just me. But we do have service crews that help us if we have any equipment troubles to get us back on the water as fast as possible.
Greg (New York)
What is your favorite body of water to fish on? Anything on the schedule for 2010 Elites that you are looking forward to?
Kevin VanDam
(3:46 PM)
If I had to pick one lake, it would be Lake St. Clair in Detroit, Michigan. It's the best smallmouth lake through the whole season of the year that I've fished. I'm definitely looking forward to Kentucky Lake.
Greg (New York)
Do you ever do any saltwater fishing?
Kevin VanDam
(3:47 PM)
I love all kinds of fishing, but I've only saltwater fished eight or 10 times and never caught anything really giant. But I will someday.
Kevin (Indiana)
Do you use your own boat and haul it to every comp. or is it supplied through a sponsor as well as all your supplies?
Kevin VanDam
(3:48 PM)
I have my own boat and drive it to every tournament with my Toyota Tundra myself. It is my office and I like to know it inside and out and take care of all of the maintenance. That helps me if I have any issues during the competition.
Mike (Boston)
Have you ever caught crabs? In New England, of course.
Kevin VanDam
(3:48 PM)
Not here, but other places. I love to eat them.
Kevin VanDam
(3:50 PM)
I appreciate all the fans and their support. It was a long tough season and I'm glad to have a little bit of time off to spend with my family. Thanks and we'll see you on the water.