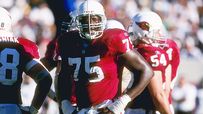 Brown spent 18 years in the NFL.
Welcome to SportsNation! On Thursday, ESPN2 "First Take" NFL analyst Lomas Brown stops by to chat about the NFL season.
Brown spent 18 years in the NFL, playing for the Detroit Lions, Arizona Cardinals, Cleveland Browns, New York Giants and Tampa Bay Buccanneers, with whom he won a Super Bowl championship following the 2002 season. He played collegiately for Florida.
Send your questions now and join Brown Thursday at 2 p.m. ET!
More Special Guests: Previous chats | SportsNation
Buzzmaster
(1:52 PM)
Lomas is here early, so we'll get started in a couple of minutes!
Buzzmaster
(1:54 PM)
Let's get started!
dan (wash)
you played in Detroit, how much do you feel for those fans right now?
Lomas Brown
(1:55 PM)
Oh man. I feel awful for them. By being an ex player especially an ex Detroit Lion, we're out there in the public, we feel their pain. And there is a lot of pain out there in Detroit right now.
James (Corona, CA)
Hey Lomas, thanks for taking the time! What was it like blocking for Barry Sanders? What was he like as a teammate?
Lomas Brown
(1:56 PM)
Probably one of the greatest teammates I ever played with becaues of how humble the guy was. Never blamed you for anything. It was tough blocking for him. The play could call for Barry to run to the right and you'd look around he would be running to the left. He was one of hte most exciting guys that I ever witnessed in the game of football. Unreal.
kevin (florida)
do you think the patriots will be back to their old selves this weekenD?
Lomas Brown
(1:58 PM)
I think so. I think again, Tom Brady is still trying to shake off a lot of hte rust from missing the year. He has a lot of weapons missing in Wes Welker. They know what they need to do to keep on track. I expect these guys to get back on track after the disheartening loss to the Jets.
Cody (NC)
Whats up Lobo. Great stuff on First take. What do you think about my panthers right now?
Lomas Brown
(2:01 PM)
Great question. I love the makeup of the team. I'm just not sold on Jake Delhomme. He needs a great rushing effort from the RBs, because he is more of a guy that thrives off of playaction passes, but you can not just turn the ball over as much as he has. I love John Fox and the makeup of the team, just not sold on Jake.
greg (denver)
which game are you looking forward to this weekend the most?
Lomas Brown
(2:02 PM)
I think it's the Jets-Titans. I want to see if the Jets and Mark Sanchez, sorry who they're calling Fran-chez, against the Titans and see if they're for real. Both defenses will be real good. That's the game I'm most looking forward to this week.
will (boston)
what do you think of Cutler's performance so far?
Lomas Brown
(2:03 PM)
I think Jay has been pretty good. The first game wasn't very good at all. He bounced back. He'll only get beter. As the running game for Chicago will get better with Forte, Jay's numbers will go up. I attribute the rough game last week to a guy who is new in the system and who is looking to impress the fans.
steve (texas)
how do you like doing to TV stuff now that you're out of the league?
Lomas Brown
(2:03 PM)
I love the TV stuff. Hey steve! It's a lot better than getting pounded. It's a lot easier than getting pounded. I am loving it here in Bristol.
steve (lakeport,ca)
You being one of the best tackles of your time, can you name 5 of the best young tackles in today's game?
Lomas Brown
(2:06 PM)
I like Marcus McNeil in San Diego. Jordan Gross in Carolina. Big Jake Long in Miami. Joe Thomas in Cleveland. Those four right there.
Mike (Ohio)
OK Lomas. Your team is down 4 with 2 minutes left in the Super Bowl and you've got to go 80 yards. What QB would you want to lead your team to the win?
Lomas Brown
(2:07 PM)
Great question my good man. I have to go with Peyton Manning. I love his composure. that's a guy you can never count out. It's a guy that is like having a coach on the field. I like the tangibles that he brings to the game.
Vic (Colorado Springs)
Lomas, How long do you think the NY Giants can go undefeated? They look pretty good on O and their D ofcourse is as always very good.
Lomas Brown
(2:09 PM)
I would say Week 7 with Arizona. I would see them being a problem for the Giants with the high octave offense and being able to spread the field with Larry Fitzgerald and Boldin. I also think that the Arizona defense is underrated. I think they have a better defense then they get credit for having. I could see Arizona being the first loss for the Giants in Week 7.
Dakota (Colorado)
Whos Defensive secondary is better, Raiders or Broncos?
Lomas Brown
(2:34 PM)
I like the Raiders secondary. Michael Huff is getting better. He's getting better with with 3 INTs early on. And Nnamdi Asomugha is probably the best CB in football right now, taking the place of Champ Bailey. Plus, I like him in the Dick Sporting Goods commercials.
Mike (Ohio)
How did it feel to finally be a part of a SB winner?
Lomas Brown
(2:35 PM)
Oh, great. It felt great, especially after losing the Super Bowl in 2000. I didn't think I would make it back. To win the Super Bowl in my last year is probably my best highlight of my career. There's nothing better than winning a Super Bowl and nothing worse than losing one.
Jeremy (Mansfield,OH)
Lomas is Barry Sanders the best running back ever? And why does he never get brought up as one of the best?
Lomas Brown
(2:35 PM)
That's a great qeustion. If you look at his body of work, in the 10 years that he played. The guy is third all time rusher and could have easily been the all-time rusher and chose to walk away from the game. I don't think his name is brought up because he was never on a good team. He has one playoff victory in his career. Because of that, he isn't brought up. But to me, look at the highlight tape, he's the best I've ever seen.
Tim worcester, ma [via mobile]
After last season wouldn't the pats o-line atleast try to protect Brady better so maybe he can shake some rust off? Because at this point the pats don't look too good right!
Lomas Brown
(2:35 PM)
That's a great point. I agree 100%. I felt that New England's OL was getting a little long in the tooth and weren't as good as advertised. So far this year, they've struggled in the run game and in protecting Tom Brady. Each year you have to evaluate the parts of your team and that New England should have upgraded the OL through free agency or the draft. They are falling off. It's not the same OL that led them to 16-0 regular season.
Vic (Colorado Springs)
Lomas, The Giants have looked really good to me these first two weeks. Do you see anyone in the NFC Eats beating them? McNabb is hurt, the Redskins donot look like contenders, and Romo well he is Romo, I can see them going undefeated for a while.
Lomas Brown
(2:36 PM)
I clearly think that New York is the cream of the crop in that division right there. Dallas and Philly a close second. I would say the only one close is Philadelphia. Donovan McNabb and those guys are injured right now. If they can get them all healthy, they can probably be the only threat to the Giants in that division.
Mike (Ohio)
Who would you say was the toughest player for you to block?
Lomas Brown
(2:36 PM)
There are three. Richard Dent, Chris Doleman and Lawrence Taylor. Dent and Doleman, because they were in my division and I faced them twice a year. LT, this guy revolutionized the LB position. Those would be the three best that I played against.
Craig G. (Fairfield, California)
Hey Lomas, love ya on First Take with Ray. Who is the most overrated "unit" right now? The Patriots offense, someone else?
Lomas Brown
(2:36 PM)
I would probably have to say the Pittsburgh Steelers' OL. These guys haven't been blocking well. Pittsburgh is known for smashmouth football. Running the ball, running the ball. They haven't been able to do that the first couple of weeks. The OL is shaky. They just haven't been blocking well as a unit. You can even go back to the Super Bowl when their coach Mike Tomlin said they weren't blocking that well. So, right now, I would say Pittsburgh.
Jeremy (Mansfield,OH)
Lions or Skins?
Lomas Brown
(2:36 PM)
Oh, Lions! I finally found a team that I think they can beat. But after watching Washington's performance last Sunday, I think there's a good chance of beating those guys. That might be the only win this year.
Dakota (Colorado)
Will the Broncos D, which has been spectacular, hold up against that tough 8 game stretch? If so, then will they have a chance to make a decent record out of that stretch?
Lomas Brown
(2:37 PM)
Dakota, I'm very shocked with Denver starting off 2-0. I wouldn't have thought that at the beginning of the season. I don't know with the Brandon Marshall situation, that can be an issue. I like what Josh McDaniels is doing, but I just don't know about the team. I don't see the Broncos finishing with a winning record this season.
Lomas Brown
(2:37 PM)
I'm glad I got fans out there in cyberspace. Keep up with Lomas!
Buzzmaster
(2:37 PM)
Thanks for chatting Lomas!