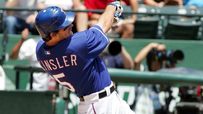 Kinsler has a career-high 31 HRs.
Welcome to SportsNation! On Monday, we're going to help launch ESPNDallas.com with a chat with Texas Rangers' second baseman Ian Kinsler.
Kinsler, 27, has quickly developed into one of the best second basemen in Major League Baseball. He burst on to the scene in his rookie year in 2006, hitting .286 with 14 HRs and 55 RBI. In 2007, he became a member of the 20-20 club; in 2008, he was named to the AL All-Star team; and in 2009, he went into the 30-30 club.
This season, Kinsler is hitting .250 with 31 HRs, 85 RBI and 30 SBs, leading all MLB second basemen in stolen bases, while second in home runs. Kinsler has helped the Rangers to an 85-70 record with seven games left, giving Texas a chance at its best record in 11 years.
Send your questions now and join Kinsler Monday at 6 p.m. ET/5 p.m. CT!
More Special Guests: Previous chats | SportsNation
Buzzmaster
(5:52 PM)
Texas Rangers 2B Ian Kinsler should be here soon to take your questions!
Buzzmaster
(6:00 PM)
Ian is here!
Josue Lopez (DALLAS)
Who were some players you looked up to growing up?
Ian Kinsler
(6:02 PM)
Players that I looked up to, I was a Mets fan, so I watched a lot of them. Cal Ripken Jr. was a guy I loved watching play the game. I liked Dave Stewart, pitcher from Oakland. I'm not sure why a pitcher, but I liked the presence on the mound.
Zack N (New York)
Is it hard to stay focused for every game with a 162 game schedule?
Ian Kinsler
(6:03 PM)
Not really. I think we play probably about 190 games, including spring training and our off season really isn't that long. We normally take three weeks off and then everyone gets back into their routine of getting into shape. It's a year round thing for us. I think sometimes you lose focus, but it's something that you can correct pretty easily. You play every day, so you get used to it.
josh (st george )
not really a baseball question but have u had a chance to go and see the new cowboy stadium
Ian Kinsler
(6:03 PM)
No, I haven't been inside yet, but I've seen it, being right next to the Ballpark. But I'm hoping to get over there in the offseason.
Dan B. (New York, NY)
Do you think that second base has become the new shortstop? Guys like yourself, Cano, Hill, and Pedroia are putting up numbers offensively and playing defensively like Jeter, Tejada, A-Rod, and Nomar did in the late 90's.
Ian Kinsler
(6:04 PM)
Yeah, that's what it seems like. There's just a ton of competition at 2B. It seems like everywhere you go there's a guy that will make an impact on the competition. It's fun to be in there and keeping up with the rest of the guys.
Carroll (Frisco, TX)
Ian, you along with the rest of the Rangers have really gotten these Dallas fans believing in this ball club again. What do you see most important for winning in the future with this team?
Ian Kinsler
(6:05 PM)
I think just keep the players we have and the chemistry we have in the clubhouse is important. Obviously, whoever takes over as owner is importnat. With Nolan Ryan being president and talking about becoming owner or part owner is important. We're going in the right direction as an organization right now.
Jeremy M. (Montreal, QC)
After a 30/30 season for you, maybe even 35/35 if you finish strong, do you have your sights set on being the 5th player to attain the 40/40 club?
Ian Kinsler
(6:07 PM)
Honestly, I didn't really think about 30/30. I had questions about it in spring training when reporters asked me about it. But it's kinda just my style of play that allows me to accomplish that. I like to steal bases and when I'm hitting I like to provide a spark in any way possible. I don't think 40/40 is out of reach, but it's really difficult to accomplish that. 30/30 is hard and 10 more in each is difficult.
Kevin (Bourbonnais, Il)
What has change in the locker room compaired to last year?????
Ian Kinsler
(6:07 PM)
Yeah, I think that we're a lot tighter than we were last year. Last year we felt like we had good chemistry, but this year it's another level. Everyone gets along great and we don't have any issues in the clubhouse.
Mike Grandlin (Houston, TX)
Ian, considering how well the team performed this year, what will you and your teammates do over the off-season to try to make that final push into the postseason?
Ian Kinsler
(6:09 PM)
I think we're definitely going to discuss that when the season's over whenever it ends. As a team, talk about how hard we need to work to make it to the next level. If you want to be one of those teams, you have to prepare for it. Going into this season, I think everyone understands that.
Steven (NJ)
Other than baseball, What is your favorite sport?
Ian Kinsler
(6:09 PM)
Well, I played soccer in high school. That was my other sport. I enjoyed playing it, but I'm going to have to say that football is the other sport that I enjoy to watch. I basically will watch golf, tennis, soccer, whatever kind of sport is on, I'll watch it.
Chris (Texas)
Ian, Why is that the Boston Red Sox hate you so much?
Ian Kinsler
(6:10 PM)
I didn't know that they did.
StoneRanger (Waco/Dallas, TX)
Which experience was the greatest for you this year? Hitting for the cycle, the triple play in Detroit, or reaching the 30/30 mark?
Ian Kinsler
(6:11 PM)
I don't know. I would probably just say the winning part of it. Those things are all personal accomplishments and they're cool and you can look back on them at the end of the season, but probably the winning this year has probably been the biggest upside for me. It makes the season go by really fast. I can't believe we only have 7 games left.
Elle (Dallas)
Thanks for such a fun season! When key players such as Young and Hamilton go down, how do you keep focus and not panic?
Ian Kinsler
(6:12 PM)
You really have no choice. It's part of the game. Guys get hurt and you have to fill in as best as you can and try to fill in for what you'll be lacking. It happens to every team, not just the Rangers. It's just something that as a baseball player you just get used to.
Bobby E (Knoxville)
Have you made your way to see a Stars game yet?
Ian Kinsler
(6:13 PM)
Yeah, I love watching hockey. I love going to the American Airlines arena. I'm going to try to go to more this offseason. Last year I only go to 4-5 of them. This year, I'm going to go to as many as I can.
Madison (Plano)
Do you think Elvis should win rookie of the year?
Ian Kinsler
(6:13 PM)
Yes.
Jared (Tulsa, OK)
Ian, how does it feel to have the level of success you're enjoying so early in your career?
Ian Kinsler
(6:14 PM)
It's fun. While you're playing the game, you try not to think about it. You try to get better and better each year. I've got Mike Young to talk to who's 8-9 years in. When you have a guy like that it's easy to ask qeustions and learn by what he's already gone through and it helps you.
Steven (NJ)
Who is the funniest guy on the team?
Ian Kinsler
(6:15 PM)
We play pranks. They're not drawn out pranks where you're thinking about it for a couple of days. I don't know if you'd call it pranks or just slapping each other on the back of the head. Stupid kid games. Eddie Guardado, he's the fire starter.
Ian Kinsler
(6:15 PM)
Thanks for coming online and taking the time to ask questions.