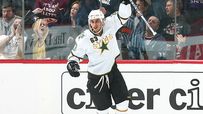 Center Mike Ribeiro and the Dallas Stars start the season Saturday.
Welcome to ESPNDallas.com! On Friday, we have Dallas Stars center Mike Ribeiro stopping by to chat about the 2009 NHL season.
Ribeiro and the Stars begin their season Saturday when they host Nashville. The Montreal native scored 78 points last season, his ninth in the league and third with Dallas. His 56 assists were a career high and his 22 goals were the second-best output of his career.
Send your questions now and join Ribeiro Friday at 2 p.m. ET/1 p.m. CT!
More Special Guests: Previous chats | SportsNation
SprungOnSports (Long Island)
Can you state your case for the Stars this season? Why will you guys compete for the playoffs in the west?
Mike Ribeiro
(2:00 PM)
Having the change of coach and GM and having our healthy guys back and leaders back with help our situation.When you have new management, it's a new start for every player. You have to re-prove yourself. When you miss the playoffs, you want to get back into it. We'll have all the pieces of the puzzle in place to do it. Our focus will be much better.
Shannon (Denton)
Mike, I have heard Brenden Morrow say in the past that you slow the play down for him, and, I've noticed how you do that very effectively. Does this new "up tempo" system with Crawford change that for you?
Mike Ribeiro
(2:02 PM)
You have to adjust yourself to it for sure. And it's taken some time.It depends on my reads and making the plays I want to play. It depends on what the other team gives you. If I have to slow down, I will. If I have to speed it up, I will.He(Crawford) wants us to go the net, drive the net and get a high tempo game going. I have to work with it and manage as the game goes.
Richard McBain (North Little Rock, AR)
It seems like this is one of the youngest Stars teams in years. As one of the top players on the team and a player with many years of NHL experience under his belt now, has it been strange for you that you are looked upon to be more of a leader on this team and mentor to some of the younger players?
Mike Ribeiro
(2:03 PM)
I've been in this league for a few years now. I've looked up to leaders and we still have older leaders like Mo, Turco, Richards and Morrow.But I have to realize that I'm a big part of the team and I have to work and keep being a leader. You know kids are looking at you and by giving good examples, I can do that. I'm aware of it and trying to get better at it. I'm sure as the season goes and the years go, I'll have a bigger role.I'm not a big talker, but it's going to be important on the ice for me to set a good example.
Dustin (Dallas)
Hey Mike. I've gotta say that you are turning into my favorite Star to watch on the ice. You're goal in the shootout against Colorado was a thing of beauty. How did you decide to go with that shot?
Mike Ribeiro
(2:05 PM)
(the between the legs shot)It was a game that didn't mean anything for a playoff spot, so it was something I was practicing a lot and decided to do. I was quite lucky to get it.I won't do it again. It's touchy. It's important to win games and it's a tough move to do. We were out of the playoffs, so the pressure was off. It was more for show than anything else. During the season, when you're trying to make the playoffs, those points are important. You have to score and not be too fancy.
Steven (Nj)
Do you have any pregame rituals?
Mike Ribeiro
(2:06 PM)
We play a soccer game before the games in the hallway. But as for rituals, I'm not really a guy that does that. I just go with the flow. I think about the game the night before and what I have to do and not do. When the game comes, I just play and the game is easier like that for me.A lot of players will tape sticks differently and stuff, I just go there and enjoy myself and prepare.
Steven (Nj)
What is your favorite moment of your NHL career so far?
Mike Ribeiro
(2:08 PM)
Have to say a few things. Playing for Montreal and growing up there, being my favorite team, to score my first goal in the NHL against Toronto, a big rival was one of the biggest ones.I went to the All-Star game. I went to the conference finals two years ago with the Dallas Stars. To be so close, to be six games away, that's the closest I've been and I'm anxious to get back to that position and hopefully get over it and win the Cup.
Steven (Nj)
Who were your favorite players growing up?
Mike Ribeiro
(2:09 PM)
I had a few. Everyone loved Gretzky. A lot of people tried to compare as a young player, going behind the net and making plays.Mario Lemieux, being a French guy from Montreal, he was a bigger guy. I loved him because he was from my hometown. Mats Naslund was a small player and I liked him with the Canadiens.
David (Grapevine)
Thanks for your time Mike. I've heard Crawford will have you guys playing with a bit of a faster tempo. Is the team still going to be effective defensively with the new pace?
Mike Ribeiro
(2:10 PM)
It's important to be solid defensively. That's almost the name of the game in any game. Defense wins championships.It will still be our main focus even if you play at a fast pace. It always comes down to the goaltender too. Marty has to be our best player every night. I don't think it will change anything defensively. We just have to play better than we did last year.
Ryan (NY)
Mike - other than Dallas, which city would you say has the best fans?
Mike Ribeiro
(2:12 PM)
Philly fans are pretty into it. There are a lot of teams with good fans.Chicago last year, they had a good team and there was a different feel. Montreal is always something fun. Toronto too.
Katherine (DC)
What kind of workout regimen did you keep during the off season?
Mike Ribeiro
(2:13 PM)
I wasn't really a guy who trained a lot in previous years. I actually stayed here longer this year knowing that with new management you had to prove yourself and knowing it was harder.I had to prepare myself better. I stayed here and trained with JJ (team strength coach). Lots of leg work and cardio to build strength. I don't like to be too buffed up in the upper body, so it was more leg strength and cardio.A lot of guys hit the gym this year. I feel better. It's a habit to get into your routine of days and working out. You feel better and stronger. I didn't add weight, but I feel stronger.
Shannon (Denton)
I always look forward to your shootouts. Are you working on any new moves for us?
Mike Ribeiro
(2:15 PM)
It all depends on what the goalie gives you. What I've done last year, they are going to expect some different moves. It's going to be important for me to keep them on their toes and off guard and not let them know what I'm going to do.I want to shoot a little bit more than last year, but it depends on what he gives me. We'll see when the season starts.
will (austin)
Hey mike, big fan of you and glad that hockey season is underway. Tell me a bit about your first camp under marc crawford
Mike Ribeiro
(2:16 PM)
Intense. We did a lot of good work. A lot of learning of a different system and learning how to play in a high speed game. There was plenty of discipline about work ethic. I think guys responded pretty well. But a lot harder than the previous years.
Brian (PA)
Mike, do you play any of the NHL video games? If so, how do you think you are portrayed as a digital player?
Mike Ribeiro
(2:18 PM)
I play a lot with my 8-year-old and 4-year-old boys. They like to try to make me score.I do play a lot with them. It's a good way for the young kids to learn the game and the rules. I made my children learn about the game by playing it.It's pretty cool (to play yourself). It's kind of strange, but the kids see your picture when you score and they get excited.
Josep (Minnesota)
What do you think of Jamie Benn being the RW on your line? I had read that you prefer to center left handed, or natural right wingers.
Mike Ribeiro
(2:19 PM)
With the skills that Benn has, I don't mind at all. I've played with a lot of players in my career that are left and right. In a perfect world, a left wing and right wing is how it would be. But those guys are so good, they can play on any side and even center.If you want to play in the NHL, you should try to be versatile. A lot of left-handed players like to play on the right. I'm excited to play with Benn. He showed a lot in training camp. He has a lot of skills and a good shot too. We'll get used to each other. I'm sure as the year goes along, we'll feel each other out better and produce.
pull the goalie (Dallas, TX)
Mike, you are one of my favorite players to watch. The energy you bring to the ice really seems to spark the entire team. With all of that said, what is the overall "feel" in the locker room regarding how this season will be better than last season?
Mike Ribeiro
(2:21 PM)
We need to have a better start than last season. In the room, we know each other and have been with each other for a while. Last year was a hard year for everyone.But we have some young players that came out of it and had good seasons. Some young defenseman learned a lot. Sometimes the second year is tougher than the first and you have a great third year.Guys are anxious. Brenden Morrow didn't play for a full year. Guys are hungry to start the season and have a better start and a good start to the season.
pull the goalie (Dallas, TX)
can you take us through a typical game day, from when you wake up in the morning, until after the game?
Mike Ribeiro
(2:24 PM)
Get up and go to Starbucks and get a coffee. Just a regular coffee. Then, drive to rink and get a bagel, get something to eat. I stretch for a little bit, have a morning skate and have lunch after that around 12:30 or 1 p.m.I then take a short nap. I don't like to sleep too much. I'll just sleep for an hour. Get ready and put my suit on. Grab another coffee before the game. I guess coffee is part of the routine.Then get ready for the game. I tape my sticks and get my game face on. I look at the line they'll match up against us and go out there and have fun.After the game, we have workouts to flush the system and I like to wait a bit before eating (an hour) and get my rest.
Carole (Carrollton)
I've watched several practices this season and as you mentioned they are much different than last season. I know Crawford is pushing you guys very hard, but with the intense practices and preseason schedule do you think there should be more off days or time to rest the legs?
Mike Ribeiro
(2:25 PM)
I'm sure they'll give us, especially with the tighter schedule because of the Olympics, they'll give us breaks.It comes down to winning. It's always easier to have breaks when you're winning. They manage that pretty good with the travel schedule.We don't worry about that too much. Once you're out for a few days, your feet hurt when you put on the skates anyway.
Travis (Robinson)
were u supised that u dindit make the playoffs last year?
Mike Ribeiro
(2:26 PM)
More disappointed than surprised. There were a lot of things that happened. We had a bad start and injuries to key players. Special teams weren't as good as we hoped or wanted. It was more disappointment. You always want to make the playoffs regardless of excuses. This year guys are really more focused and prepared to start the season.
Doug (Long Island)
As long a long time Stars fan, I grew accustomed to the defensive system that Hitchcock started. Besides the D-men stepping up offensively, what changes has Crawford asked the forwards to do?
Mike Ribeiro
(2:27 PM)
To keep your feet moving and to drive the net. He wants to simplify the game by crashing the net and throwing pucks at the net.I don't want to give away how we're going to play, but it's creating offense by throwing the pucks at the net and crashing for rebounds. But he still wants you to read and react and play with your instincts.
Derek (Dallas)
Mike, What were your feelings when you returned to Montreal for the first time last season?
Mike Ribeiro
(2:29 PM)
This year will be the first time I return. I played twice against them here and won one and lost one.It's been four years, so it's been a long time. My family will be there and friends and I'm anxious to see how the fans react. Since I've left, there is maybe one player left, so they had a lot of change. I know Bob is still there. I'm anxious. Going back home, it will be nice to play there and hopefully win a game.
Mike Ribeiro
(2:29 PM)
Thanks for all of the good questions. I hope to see many of you tomorrow night or on the road somewhere. Thanks again.
THIS WEEK'S CHATS (All Times CT)