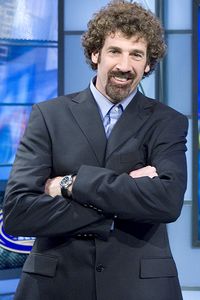 Welcome to SportsNation! On Monday, NASCAR Now's Boris Said will drop by to take your questions on all the latest motorsports news.
Said broke into NASCAR racing as a fill-in on road course events, and he quickly established a stellar reputation. He has given advice to more than 25 NASCAR Sprint Cup drivers, including Dale Earnhardt Jr., Carl Edwards, Kasey Kahne and Kevin Harvick, as well as team owners, most notably Jack Roush and Ray Evernham who've asked for help in training their young drivers in the art of road racing.
Send your questions for Said now and join him on Monday at 1:30 p.m. ET!
More NASCAR: NASCAR index
Buzzmaster
(1:25 PM)
Boris Said will be here in minutes!
Will (Washing)
How important was it for JJ to finish second with Tony winning?
Boris Said
(1:31 PM)
It was important for Gordon because he got off to a slow start in the Chase. To get back into it, he needed to get a good finish. I think it was a good boost for him.
Steve (NJ)
The top four are pretty titght. Is it safe to say that the Chase winner comes out of one of those guys?
Boris Said
(1:31 PM)
In my opinion, a Hendrick car is going to win the Chase, but you never know what happens with Talladega looming.
Dan (Denver)
What's up with Brian Vickers? He hasn't performed well in the Chase.
Boris Said
(1:32 PM)
No, and I'm sure they're wondering the same thing. Up until the Chase started, the previous five races, he scored more points than anybody. They're probably just looking to rebound. He's definitely out of the championship race right now.
Braxton (WV)
Boris, how will being the only driver to finish in the top 5 at all three Chase races so far help Juan Montoya's chances for the championship?
Boris Said
(1:33 PM)
I think his chances are good. He's basically fighting Hendrick dominance. He has done exactly what he said he was going to do. He said during the season he was going to race for points and during the Chase he has turned it up. He's one of the top guys out there.
Fred (al) [via mobile]
So Boris, how do you think Brad did sunday..... and do you think will see him run a 4th penske cup car later in the year
Boris Said
(1:34 PM)
I don't know if he'll run a Penske car this year. I thought he looked awesome. Other than being in the pit during the yellow flag, he was a top 5 car. I'm sure Penske is licking their chops for him next year.
Osscar (Las Vegas)
I hate the chase, it has cheapen the value of the win, cause what seems to matter is points & has changed the way drivers
Boris Said
(1:36 PM)
I completely disagree with you Osscar. I think the Chase has made it so exciting. If it weren't for the Chase, Tony Stewart would have this thing locked up already. Once the drivers get into the Chase, then they start looking for wins. And if it weren't for the Chase, you wouldn't see Mark Martin have any shot at the title.
Adam (Miami)
Does JPM and his team have what it takes to win the chase or at least sustain the top 3 finish?
Boris Said
(1:37 PM)
I think he has a shot at it, yeah, but I just think JJ and Mark Martin are going to be tough to beat. JJ I think hasn't gotten the credit he deserves as a three-time champion and that he'll be the one to beat this year.
Tyler (Arkansas)
With nascar looking at the 5 and 48 car last week and now again this week, could we see some small penalty coming soon from nascar in order to tightin the chase back up? I hope not but things like this always seem to happen to mark that keep him from winning a championship.
Boris Said
(1:38 PM)
I don't think so. They'll only get a penalty if they were illegal and they weren't. They were just right to the limit of the rules. A team like that is too smart to go over the limit. They just went right to it. So, no, I don't think you'll see any penalties.
Marcus (VA)
Hey Boris, Knowing Dale Jr on a personal level...How do you think his recent luck, on top of the overall season performance is affecting how he drives the race car? do you think he giving it his all the whole race?
Boris Said
(1:39 PM)
I don't really think it's changed the way he drives. He had terrible luck, but this last week showed there's promise there. He just had some bad luck in the pit stop. Sooner or later, his luck will turn around.
Mark (Lex Vegas, KY)
Do you think NASCAR is getting what they hoped for from JPM (diversity in fanbase, global appeal) when he started 3 years ago?
Boris Said
(1:40 PM)
I can't speak for everybody else, but for me as a fan, I think he's brought a lot to the sport. He gives great interviews, he's funny, he drives well and he fasts. He has a lot of experience, with the open wheel cars. He's truly one of the best drivers in the world.
John (Illinois)
Why has Mark Martin won more races this year than he has for the last 10 years? Has his driving style changed, or is it just because he's with a better team? It seems that the competition now is much tougher than when he was in his "prime".
Boris Said
(1:40 PM)
I think mainly because he's with the best team in racing right now.
Adam (Houston)
Why is everyone surprised by JPM? Has he not excelled in CART, F1 or win INDY 500 on first try? What makes his current form in NASCAR so improbable? Or does NASCAR think they are special?
Boris Said
(1:42 PM)
You also forgot winning the 24 hours of Daytona in his first try. I think it's just because of the past history of drivers going from open wheel to the stock cars, which are heavier. He's been the best to ever make the switch. And I think he's going to be one of the NASCAR stars of the future.
Scott (NC)
Do you think Dale Jr. will win a race this year
Boris Said
(1:42 PM)
It's entirely possible after the way he ran this past weekend. He's coming to some of his favorite tracks. I would pick him to win Talladega.
Bill S. (High Point, NC)
Have you got any deals set up to run races next year in Cup?
Boris Said
(1:43 PM)
Yeah, we're working hard right now to try and find sponsorship to run some more races. Hoping that maybe we might be able to run a full season. But we're trying real hard right now.
Sid (Atlanta)
do drivers typically work w/nutritionists? Tony Gonzales (NFL) credits his w/rejuvenating his career so I was wondering if this has gone to NASCAR yet - I know lots (probably most now) work w/trainers but are they still doing the steak & potatoes thing or are they secretly eating healthy but keep it secret for "image" (not to mention sponsors)?
Boris Said
(1:44 PM)
Yeah, there are a lot of NASCAR guys that work with trainers and nutritionists. Some do and some don't. I wouldn't think Tony Stewart does, but I'm sure Carl Edwards does.
BB (Mpls)
Boris, Did JG show you enough yesterday to put him in the mix or is he just not strong enough to make up the points he is behind as well as the number of guys he is chasing?
Boris Said
(1:45 PM)
No, he's definitely in the title hunt. There are still 7 races left, which is a lot of racing. The only reason he's behind is the pit stop and track placement in the first two races. I think he's definitley in the mix of it.
Chad Aden (Cleburne, TX)
Do you ever see another road course like Riverside being built anytime soon?
Boris Said
(1:46 PM)
I wish we would. I raced at one of the last races at Riverside in 1988. That was a fantastic road course. If I had my way, I'd build one today.
Todd (Ga)
What do you think of Nascar telling Brad K to not race the chase cars so aggressively?
Boris Said
(1:47 PM)
I think that was just a warning like they told Hendrick to make sure their bodies are on right. THey just wanted to make sure someone not in the Chase didn't effect the outcome. I think it will calm down a little. Brad will have his day.
Phil (Lousiville,KY)
Boris, if you were in Brad K's position yesterday and NASCAR told you not to be racing with the boys for the chance of a BooBoo, would you have listened to them? And is that not called racing?
Boris Said
(1:48 PM)
Yeah, I would heed to it. With 7 races to go, the guys that have run all year long, the guys with a chance to win it, you have to race them with a little more respect than the others. It's not giving up. You just have to do a little more give than take.
Bill S (High Point, NC )
We are getting close to the announcement of who will be in the first class to enter the HOF. Who do you think will make it? I think it will be R. Petty, Earnhardt, France, Waltrip, and Pearson.
Boris Said
(1:49 PM)
Drivers? I think for sure we have to see Petty, Yarborough, Earnhardt. If I voted right now, I put in JJ and Jeff Gordon. There are a bunch. But the first three that come to mind are Petty, Earnhardt Sr. and Yarborough.
Hector (Calgary, AB)
Kansas' race showed the importance of pit's strategy. What drove teams to decide to change 2 tires Vs. 4 tires. Seems this decision impacted JJ & JPM's race results.
Boris Said
(1:50 PM)
Yeah, well JJ took 2 tires. I think what impacted his race results is that Kasey Kahne had a good pit. It helped Tony Stewart with track position. It's one of those tough calls that crew chiefs had to make.
Phil (Louisville, KY)
Jeff Gordon should run a retro paint style for the rest of the chase! That would be killer!
Boris Said
(1:52 PM)
Thanks for the questions!