Chat with Adrian Peterson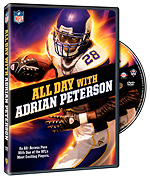 Welcome to SportsNation! On Tuesday, Minnesota Vikings running back Adrian Peterson will be by to chat about the 2009 NFL season.
Through the season's first four games, Peterson is second in the league with 412 yards rushing, while his five rushing TDs lead the league. Just in his third year in the league, Peterson is one of the most feared backs in the NFL.
Fans can get an inside look at Peterson on and off the field in his new DVD "All Day with Adrian Peterson," which hits stores Tuesday. Also, be sure to check out Peterson in ESPN The Magazine's Body Issue.
Send your questions now and join Peterson Tuesday at 12:15 p.m. ET!
More Special Guests: Previous chats | SportsNation
Roger (Blacksburg, Va)
Hey Adrian,I was wondering who you get along with the most on the Vikings? Who do you hang out the most with?
Adrian Peterson
(12:21 PM)
Marcus Walker, a friend of mine from Texas who I played with at Oklahoma, and Sidney Rice.
Brandon Keslar (Florida)
Hey AP, Did you have a favorite athlete as a kid?
Adrian Peterson
(12:22 PM)
Yes, Deion Sanders. Prime Time!
SteveFitz (Cicero, IL)
What is the toughest defense you ahve faced and which NFL defender do you think hits the hardest?
Adrian Peterson
(12:22 PM)
San Francisco's the toughest defense that I've faced, and I'd say that I hit the hardest, because I'm always trying to deliver a blow.
Jason (Ellicott City, MD)
Tell us about the DVD.
Adrian Peterson
(12:24 PM)
With the DVD, you get a nice inside look at my first two seasons. It gives you an opportunity to see the inside of how we do things at the Vikings facility. People can grasp how this is a business and a job. It covers on-field activities and off-the field ones as well. It gives you an inside look at my life as an NFL player and my career.
Al (Wausau, WI)
Adrian, keep up the great work with the Vikings! What do you feel may be the greatest challenge for the Vikings in Sunday's game against the Ravens?
Adrian Peterson
(12:25 PM)
Just coming into the game knowing it's going to be physical, that we'll have to fight the whole time. We'll be going against a top-5 defense and it'll be a real test for us. We'll have to be patient and resilient, but I think we'll come out with a win.
Steiny (NYC)
Who do you think has been the most impressive rookie on the Vikings thus far in the season?
Adrian Peterson
(12:25 PM)
Hands-down, Percy Harvin.
Michael (Tuscaloosa, Al)
How many points do you think your Sooners are going to win by at the Red River Shoot Out on Saturday?
Adrian Peterson
(12:25 PM)
Fourteen. No pressure!
Shayne - NY [via mobile]
Adrian... What gets you pumped up before and during games? Thanks!
Adrian Peterson
(12:26 PM)
Just playing the game itself. I've been doing this since I was seven, and when it's time to suit up and take the field, that does it for me.
dan (denver)
Adrian...how different was it doing that photo shoot for ESPN The Magazine?
Adrian Peterson
(12:27 PM)
Different in a way, but I've done shots similar to that. I guess it's different in that I had more than my top off, but it was a lot of fun.
Chris (Bella Vista, Arkansas)
How does that old man's leadership in the huddle translate into the incredible play from the Vikings so far this season?
Adrian Peterson
(12:28 PM)
He's been around for a long time, and we feed off his energy. Everything sounds so simple with him. He gets us pumped up. You can really see it around the huddle. It gives us an extra spark, and we trust that he will get the job done.
Tim (Bloomington, MN)
Are you really as fast as Percy Harvin? On his kickoff against San Francisco, it looked like nobody could have run with him.
Adrian Peterson
(12:28 PM)
That's what it looks like, huh? Yes, I am. Stay tuned!
mari (OK)
sat the big game...willl you be there?
Adrian Peterson
(12:29 PM)
Unfortunately I won't be able to make it because I have to take care of business with our game. Boomer Sooner!
Random (Dude)
DO u have yourself on your fantasy team?
Adrian Peterson
(12:29 PM)
Nope.
Adrian Peterson
(12:29 PM)
Frank Gore.
Adrian Peterson
(12:30 PM)
Also Matt Forte.
Nick (Cincy)
All Day, what is your focus just before the snap on a play you know you're getting the rock?
Adrian Peterson
(12:31 PM)
Just a pre-snap read of the defensive front. I'm just looking up front, finding my shade, seeing what technique the defense is using...if it's a pass play, just scanning the perimeter, checking out if the defense is back, motioning, or switching.
Michael (Tuscaloosa, Al)
Which level of football did you find to be the most fun? High school? College? or the pros?
Adrian Peterson
(12:31 PM)
College.
Adrian Peterson
(12:32 PM)
College was an amazing experience...the atmosphere of the games, coming fresh out of high school--it's the first time being away from your family and there's nothing like it.
Rudy (Albuquerque, NM)
Yo Peterson, when did you start wearing the number 28 and why?
Adrian Peterson
(12:32 PM)
I started in high school. And as for why, they didn't have No. 29. That's the real number I wanted. I guess God had a plan for me wearing No. 28.
Joe (Philly)
AP whats your favorite excercises to do in the weightroom or gym to get you ready to rush the ball?
Adrian Peterson
(12:33 PM)
Squats. They keep my legs right and fresh.
Adrian Peterson
(12:34 PM)
Thanks for having me. Make sure you check out the All Day With Adrian Peterson DVD profiling my first two seasons, all-access with me in the facility, at home, and during games. It comes out October 13th at your local Best Buy!