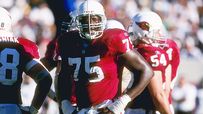 Brown spent 18 years in the NFL.
Welcome to SportsNation! On Thursday, ESPN2 "First Take" NFL analyst Lomas Brown stops by to chat about the NFL season.
Brown spent 18 years in the NFL, playing for the Detroit Lions, Arizona Cardinals, Cleveland Browns, New York Giants and Tampa Bay Buccanneers, with whom he won a Super Bowl championship following the 2002 season. He played collegiately for Florida.
Send your questions now and join Brown Thursday at 1:30 p.m. ET!
More Special Guests: Previous chats | SportsNation
Buzzmaster
(1:15 PM)
Lomas will be here at 1:30 to take your NFL questions!
Buzzmaster
(1:30 PM)
Lomas is here!
Robert (Maine)
Tom Brady hasn't really looke dlike himself yet...do you think he's still not 100%?
Lomas Brown
(1:31 PM)
I think that could be the case. It takes a while to come off an injury like that. The other thing htat concerns me is the number of times that New England has had him dropping back to pass. I think it's been 196 times in 4 games. That's a lot to drop back on, especially coming off of injury.
Kelly (Texas)
Which team is in the most trouble right now?
Lomas Brown
(1:33 PM)
I'm going to look at the Tennessee Titans. Not because they're not a good team, they have such a big target on their backs for how they did last year, going 13-3. Any team that plays them, even though they're 0-4 right now, they're going to come at them. I would say they're in the biggest trouble, especially starting off 0-4 and being a playoff team last year.
Mike (Ohio)
Lo, big game for the Gators this weekend. Do they pass the LSU test?
Lomas Brown
(1:34 PM)
Mike, I'm realy nervous. I'm really, really nervous. Death Valley, LSU's stadium is a tough, tough place to play in. Brantley is a young fella. This is a tough test. I don't know if we're going to pass this one. It's our toughest test to date.
Donnie (Indy)
Who would you choose as the MVP after the first 4 weeks?
Lomas Brown
(1:36 PM)
Easily Peyton Manning. to me, that's a no-brainer. He's just been phenomenal this year. Four straight of 300 yards. Spreading the ball around to different receivers. It's almost like having a coach on the field with you. He's easily my MVP right now.
Tyler (Miami)
Michael Crabtree just signed....how do you think his teammates will treat him, especially since he's a rookie holding out for more money and now joining the team 4 weeks in?
Lomas Brown
(1:38 PM)
He's going to have to come in and earn his stripes. He's going to have to earn the trust of this teammates, their respect. There are a lot of things this guy is going to have to do to make up for that. If he comes in with the right attitude, I don't think it will be long before his teammates embrace him. But if he doesn't come in with the right attitude, he's going to have a long rocky road this year.
kyle (washington)
Do you think the Bears running game is back or was last week's performance just becuase they were playing hte Lions?
Lomas Brown
(1:39 PM)
I think a lot of it had to do with the Lions. I'm not really sold on the Bears offensive line right now. Forte is a very good running back, but right now the line isn't where they want it to be at. There are a lot of older players with Orlando Pace on the line. The running game is kind of lagging behind.
evan (boston)
Big Fella....everyone made so much out of the Vikings-Packers game..but I dont get it. Maybe it's just me, but Favre waffled on coming back, the Packers moved on and Favre moved on to another team. What's the big deal?
Lomas Brown
(1:41 PM)
Great question. I think it's just the anticipation. The anticipation of Brett Favre playing against the Packers. The whole hoopla around him and Aaron Rodgers saga. A lot of people, especially in Wisconsin really wanted to see if this guy still had it or not. I think it was moreso curiosity of Brett Favre versus his old team.
Frank (LA)
The Bears certainly look a ton better than they did during Week 1...do you see the NFC North as a battle with them and the Vikings?
Lomas Brown
(1:42 PM)
Yes, I do. I really do. Right now, I would say the Vikings are No. 1 and the Bears have to be 1a. I think it comes down to those two teams in the division. Both have capable QBs, pretty solid running games. I think Minnesota and their defense, I would give them the edge right now.
ben (florida)
Lomas, how great is it that the Lions finally got a win?
Lomas Brown
(1:43 PM)
Ben, with what's been going on with the state and the city, it was very uplifting for us. The only thing that could have been better than the Lions getting a victory is the Detroit Tigers getting the victory over the Twins the other night. But we needed a boost in the arm and the Lions gave it to us at the right time.
Craig G. (Fairfield, California)
Hey Lomas, thanks for the chat. What young defensive players have impressed you most? Pat Willis and Brian Cushing have looked tremendous.
Lomas Brown
(1:44 PM)
Yes. Yes. I agree with you on those two. I also like Darelle Revis the CB with the Jets. I also like David Harris, the LB with the Jets. I like Percy Harvin, what he's been doing for the Vikings, both on the offensive side but also the special teams side.
Aaron (FLA)
Lomas, which surprise 4-0 defense do you take in the long haul, Broncos or Saints?
Lomas Brown
(1:45 PM)
I'll take the Saints. I just like their makeup. Darren Sharper who's leading the league in INTs, two for TDs. Will Smith at one DE, Scott Fajita at MLB. The Saints defense is very underrated and it's very good. That should help Drew Brees and that offense having a defense like that.
Kevin (OH)
braylon edwards trade... good move for both teams?
Lomas Brown
(1:46 PM)
I think it was a better move for the Jets. It's hard to replace a guy of that talent in Cleveland, but I think it was a better move for the chemistry for the Browns. If you have a player who doesn't want to be there, he can start to become a cancer. I think it worked out better for the Jets for where it takes them now, but it will work out better for the Browns in the long run because of the chemistry.
Blake (Abilene, TX)
Lomas, Whats your opinion on the knock that lineman coming out of the college ranks or the spread offenses do not know how to run block? How does that effect them in the NFL?
Lomas Brown
(1:48 PM)
Great question! It does effect the guys in the NFL simply because in the NFL you can't be one-dimensional. You have to be able to run the ball and pass the ball in the NFL. If you have a lineman who just knows how to pass block, it will effect him negatively in the running game and vice versa.
Michael (Kentucky)
Can the Bengals make the playoffs?
Lomas Brown
(1:50 PM)
I do. I really do. I like this team. I watched them during Hard Knocks on HBO. I think they have a lot of good young talent. Carson Palmer is healthy again. Chad Ochocinco seems to be happy again in Cincinnati. The re-birth of Cedric Benson has helped.
Kyle (St. Pete)
So how long do you think it takes for the Bucs to call and beg Derrick Brooks to come back
Lomas Brown
(1:51 PM)
Eh, Kyle, they should have been on the phone calling Derrick Brooks back. That's one of the moves I didn't understand. How do you let a future Hall of Famer go? I know Brooks is a great guy and a great player and he wants to be in Tampa. If it was money, they could have worked something out.
Evan (PGH)
Lomas, after Rashard Mendenhall's stellar performance against San Diego, it looks like there may be a running back controversy in PGH. If you're Mike Tomlin, who gets the start when Willie Parker is healthy?
Lomas Brown
(1:52 PM)
You know what, I'm giving it to Mendenall on one condition if he can hold on to that ball. He has the explosiveness and the power to run between the tackles, but his downfall is letting go of the ball. I'm going with Mendenhall.
jojo (does it matter?)
18 years in the NFL! How can you even walk anymore?
Lomas Brown
(1:52 PM)
Very gingerly. Very gingerly. After 18 years, it takes me a little time to warm up the old bones. But once they get warmed up, I can move pretty good.
Chizzie (Thornton, Co)
Lomas, hows it going? I have one big question for you. Whats your thoughts on the Colts D-line? I think they're coming along great. I mean besides Freeney and Mathis.Foster is beast in there.
Lomas Brown
(1:54 PM)
I like the Colts makeup on the DL. Again the biggest problem is keeping those guys healthy. Freeney has missed a game. The thing is to make sure they can keep them healthy. If they can, they have one of the top DLs in the NFL.
Lomas Brown
(1:54 PM)
Thanks for chatting with the Big Fella. I'm going to make you all honorary Big Fellas for chatting with the Big Guy.