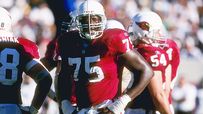 Brown spent 18 years in the NFL.
Welcome to SportsNation! On Thursday, ESPN2 "First Take" NFL analyst Lomas Brown stops by to chat about the NFL season.
Brown spent 18 years in the NFL, playing for the Detroit Lions, Arizona Cardinals, Cleveland Browns, New York Giants and Tampa Bay Buccanneers, with whom he won a Super Bowl championship following the 2002 season. He played collegiately for Florida.
Send your questions now and join Brown Thursday at 1:45 p.m. ET!
More Special Guests: Previous chats | SportsNation
Buzzmaster
(1:39 PM)
Lomas will be here shortly!
Jerry (VA)
How much of a chance do you give the Lions against the Packers this weekend?
Lomas Brown
(1:43 PM)
Not much. I don't think they've won up there since '93, if I'm not mistaken. The game is in Green Bay and they really need this game to stay in the divisional race. I think the Lions will make it a good game, but in the end I see Green Bay pulling it out. Homefield advantage and just having a better team.
STeve (Fl)
Lomas, did you watch the LSU-Florida game Saturday? What did you think of Tebow?
Lomas Brown
(1:44 PM)
You could tell that the playbook was limited. They really didn't want to put him in the situation where he would get himself hurt again. They did what they had to do to win the game, but I wasn't very impressed with what they did offensively, but a win is a win. Especially in the SEC.
joey (Camilla, ga)
Does the Falcons win at the 49ers, say more about Atlanta or San francisco?
Lomas Brown
(1:46 PM)
I think that says more about Atlanta. I don't think a couple of years ago Atlanta wins a game like that out on the West Coast. Atlanta is a very solid team on both sides of the ball. They're excelling more on offense with Matt Ryan, White. They're a very good team that other teams are going to have to deal with.
Denny (Boston)
Lomas, how much help does Junior Seau give the Patriots?
Lomas Brown
(1:47 PM)
Right now, I think Junior will help them more in the lockerroom than on the field. What he can do is head off any potential set backs the team may have. I think he keeps the chemistry great. I don't know what he has left in the tank, but if you can get a few plays out of Junior Seau, an all-pro, a future hall of famer, that can only help your team. But I just think he'll be more of an impact in the lockerroom.
Thom (Texas)
Which NFL coach do you think is on the hottest seat?
Lomas Brown
(1:49 PM)
I'm going with Jim Zorn. Washington just hasn't been a very good team, especially on the offensive side of the ball and that's where you would think the biggest improvement would be, working with offenses and quarterbacks. But Jason Campbell just isn't progressing like you would think he would.
Henry (Detroit)
Big Fella, you're with Derrick Brooks on First Take...what's his deal? Will he be back in the league this year? How does Junior Seau get signed before Derrick?
Lomas Brown
(1:50 PM)
That's the same question I asked, my good man. I don't understand it. It must be something we don't know going on behind the scenes. To have an 11-time Pro Bowler who's in great shape on the First Take set with me, I don't know. I think the Patriots can get more productivity with Derrick Brooks on the field than with Junior Seau on the field.
Walt (KY)
Have you been impressed with Jay Cutler's play so far?
Lomas Brown
(1:51 PM)
Not really. I kind of expected more so far. I think Jay Cutler is still a good QB, but I'm looking for him to burden more of the offense on his shoulders and really take this offense to another level. There are a lot of expectations put on Jay when that trade happened. I'm still waiting to see the Jay Cutler we saw out in Denver.
joey (Camilla, ga)
Falcons are 3-1 next 3 games are Chicago, Dallas and New Orleans. What should we expect the record to be after 7 games?
Lomas Brown
(1:54 PM)
I look for them to be 5-2. I think Chicago is a winnable game. I also think that Dallas is a winnable game for them. I think New Orleans would be the toughest game, because it's an interdivisional game. These teams know each other so well from playing each other. I could possibly see Atlanta being 5-2.
Clay (Charlotte)
What do you think of the Panthers this year? Lousy play on defense, it's becoming more and more clear the Delhomme can not lead this football team, 1st last year in rushing and they can't get it done, no 1st round pick next year...when does it get any better?
Lomas Brown
(1:56 PM)
I think that is a direct reflection of the offensive coordinator being cut loose during training camp. Change is hard. Football players, we're creatures of habit. Any time your routine is thrown off it seems to have a snowball effect on the rest of the team. Losing their offensive coordinator early, I don't think they ever recovered. Their defense has been a major disappointment, especially with the re-signing of Julius Peppers.
Ryan (Dallas)
do you think we'll see any coaches fired midseason, so they can get a jump on hiring one of the big name coaching free agents?
Lomas Brown
(1:57 PM)
I think it's hard when you do that, because 9 out of 10 times you normally replace that guy with someone from within. Teams that want to replace someone from outside the organization, they might want to wait until the season's over. Teams want to change not just the makeup but the direction the team is going. So teams will often wait until the offseason to make coaching changes.
Will (Washington)
Lomas, which is harder to block for, a mobile QB or a pocket passer?
Lomas Brown
(1:58 PM)
Actually, a mobile QB is. Yeah, he can get out of trouble if he has to, but when you have a mobile QB, he has tendencies to move around in the pocket or drifting one way or another in the pocket and this causes problems for the OL. You expect him to be in a certain position and when he's not, it causes problems. Plus, he has the tendency to run first throw second.
georgeann320 (beaufort south carolina)
hi lomas what do you think the jets need to do to get better
Lomas Brown
(1:59 PM)
They have to get back to the basics. From listening to Rex Ryan, his team needs to get back to fundamentals. Staying in the gaps. Defeating the person in front of you. Wrapping up tackles. Covering guys. No missed assignments. All of those things are things you work on in training camp.
Paul (Chicago)
I think one of the more intriguing matchups this weekend is the Bears-Falcons...what do you think about that matchup?
Lomas Brown
(2:01 PM)
That's my game to watch. You're right. I think it's a very intriguing game. The Bears are a team that's trying to get their identity. They're trying to keep pace with Minnesota in the NFC North. Then you have the Falcons who are in the same position in the NFC South, trying to keep up with the Saints. I think both of these teams are physical teams. I think it comes down to a big special teams play. I give Chicago the advantage on special teams. This is my game of the week.
bryan moore (fayetteville arkansas)
what do you think of Jay Cutler on the field and do you see any weakness on the o line?
Lomas Brown
(2:03 PM)
I think he's been doing pretty good. For Chicago, their mentality should be run first, pass second. Their line seems to be set up for run blocking rather than pass blocking. What that will allow Jay Cutler to do is incorporate playaction, screens. For Chicago, especially how limited they are on the OL, they should establish the run and let Jay work off of the run.
Matt (Chicago)
Is hasselbeck back? Do the off season reciever signings make that much of a difference?
Lomas Brown
(2:06 PM)
I think it should. TJ Houshmanzadeh hasn't stepped up to become the No. 1 WR as of yet, but I think with the addition of a healthy Matt Hasselbeck and with Nate Burelson having a great year, this will help not only TJ, but it should help Julius Jones and that run game. When you have a healthy QB like Hasselbeck, it should help the receivers and the running game.
Mike (Charlotte, NC)
Lomas two games this weekend that in my mind are toss ups, who do you like in the Chiefs/Redskins and the Panthers/Bucs games?
Lomas Brown
(2:08 PM)
I'm going to go with the Redskins. I just think the Redskins with Portis and Santana Moss and Cooley have more weapons. I like the Panthers. On paper, they are the better team. They're a team that has something to prove after putting up a great season last year, I just don't think this team has fallen that far back. I like Carolina.
RAY GORDON REID ( JACSON MISSISSIPPI 39201)
QUESTION TO LOMAS BROWN AT 2.40PM HI LOMAS BROWN WHDOYOU HAVE SUNDAY GIANTS OR SAINTS
Lomas Brown
(2:09 PM)
I'm going with the G-Men. I just think the New York Giants have the ingredients for a Super Bowl team. They run the ball well. They stop the run well. They get pressure on the opposing QB and they protect their QB. That's what you have to be able to do.
joey (Camilla, ga)
Im obviously a Falcons fan. I would put them ranked 4th or 5th in the NFC. Who is the team to beat at this point in the conference?
Lomas Brown
(2:11 PM)
The obvious answer is the Giants. I like the Saints and I also like the Minnesota Vikings. All of these teams have good QBs. All of them have very good defenses. That's what it takes in the NFL.
greg (boston)
what's the best game you ever played in?
Lomas Brown
(2:12 PM)
Besides the Super Bowl, which is the obvious one, the best is the 1991 playoff game against the Cowboys in the Silverdome. With 80,000 fans packed in there, I had never heard the dome louder. It was an emotional day and I just remember us going out and beating the triplets - Aikman, Smith, Irvin. That was a great day not just for me, but in Lions history.
Jeremy (Utica, NY)
Lomas, as a former o-lineman, how impressed are you with the way the Phins O-Line mauls opponents?
Lomas Brown
(2:13 PM)
I'm very impressed. They do a good job of getting on blocks and staying on blocks. They are one team that can successfully run that Wildcat offense. It seems that the offensive coaches for the Dolphins put their players, not just their OL, in the best position to succeed. That's what Miami does best, running the ball, and that's what it seems the coaches have them do - run the ball either out of the wildcat or the regular formations.
Lomas Brown
(2:14 PM)
Great chatting with you guys. Remember, if you need the low down, come to LoBrown.