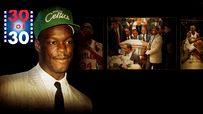 Tribble was a friend of Len Bias.
Welcome to SportsNation! On Tuesday, we'll have Brian Tribble, friend and classmate of Len Bias stopping by to talk about "Without Bias" that is part of ESPN's 30 for 30 project, commemorating ESPN's 30th anniversary. The film debuts Tuesday night (8 p.m. ET, ESPN).
30 for 30 is an unprecedented documentary series featuring 30 films from some of today's finest storytellers, detailing the events that transformed the sports landscape from 1979 to 2009. "Without Bias" tries to answer the questions left by Len Bias' death. How good could he have been in the pro ranks? Was Bias a one-time user or was there a pattern of recreational use that led to his fatal last night? Up-and-coming director Kirk Fraser utilizes dozens of interviews with Bias' closest teammates, friends and family in an effort to determine exactly what happened on that fateful night.
Tribble was with Bias the night of June 19, 1986 when Bias died of a cocaine-induced heart attack, just two days after being drafted by the Boston Celtices. Tribble has never spoken publicly about the tragedy until "Without Bias."
Send your questions now and join Tribble Tuesday at noon ET!
More Special Guests: Previous chats | SportsNation | 30 for 30 | Without Bias