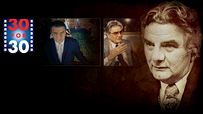 Irv Cross worked with Jimmy The Greek on CBS.
Welcome to SportsNation! On Tuesday, we'll have Irv Cross, former co-worker of Jimmy "The Greek" Snyder stopping by to talk about "The Legend of Jimmy The Greek" that is part of ESPN's 30 for 30 project, commemorating ESPN's 30th anniversary. The film debuts Tuesday night (8 p.m. ET, ESPN).
30 for 30 is an unprecedented documentary series featuring 30 films from some of today's finest storytellers, detailing the events that transformed the sports landscape from 1979 to 2009. "The NFL Today" on CBS was one of the preeminent sports programs on television in the early 1980s. There was no personality on the show more popular than Jimmy "The Greek" Snyder. Peabody Award-winning filmmaker Fritz Mitchell, who broke in as an intern on "The NFL Today," will examine Snyder's impact on the growth of sports gambling, while also taking a fresh look at The Greek's tragic downfall.
Cross joined CBS' NFL team in 1971, when he became the first African-American to work full-tim as a sports analyst on national TV. Cross was the co-anchor for "The NFL Today" when it started in 1975 and he and Snyder worked together from 1979-87.
Send your questions now and join Cross Tuesday at 3 p.m. ET!
More Special Guests: Previous chats | SportsNation | 30 for 30 | Jimmy The Greek