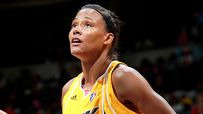 While 2010 was Jones' her first year in the WNBA, she was originally drafted No. 33 overall by the Phoenix Mercury in 2003, never playing for the team.
Welcome to SportsNation! On Tuesday, former Olympian, and current member of the WNBA's Tulsa Shock, Marion Jones stops by to chat about her career change from the track to the court, her new book "On the Right Track" and being the subject of the ESPN 30 for 30 film "Marion Jones: Press Pause" (Tuesday, 8 p.m. ET, ESPN).
Jones' book and ESPN's 30 for 30 film examine her rise, fall and redemption. Few athletes have reached such heights and depths as Marion Jones. Her highs came from being a extraordinarily decorated Olympic athlete, while her lows arrived during imprisonment for lying to authorities during a steroid investigation. But in her new life as a free woman, her redemption comes from helping to change the lives of others, including her own, as she became a member of the WNBA's Tulsa Shock.
Send your questions now and join Jones Tuesday at 1 p.m. ET!
More Special Guests: Previous chats | SportsNation
Buzzmaster
(12:59 PM)
Marion will be here in a few minutes to chat!
Nicole (Dallas tx)
Was your first year hard in the WNBA?
Marion Jones
(1:02 PM)
It was definitely a humbling experience for me in my rookie season, as a 34 year old. It was also a challenge because I really had to fit a certain role. For most of this season it was to be as loud and supportive from the bench. It was more towards the end of the season that I was able to contribute more on the court. I initially realized my dream of playing professional women's basketball and learned first hand how athletic, competitive, highly skilled the other ladies were. It forced me to work that much harder than what I possibly thought in the beginning.
Stephanie Nicholas (Ashland Oregon)
I am so happy to see you back in a competitive sport. I was wondering how long it took you to get your body back into shape after being released from prison?
Marion Jones
(1:06 PM)
That wasn't an issue, because I was probably in the best shape of my life when I was released. I had so much time to work out and focus on that. The hard part was after I became pregnant with my third child in 2009. It was a challenge but that has always been the easy part for me. Genetically, I'm blessed that my body bounces back from pregnancy. Anyone that has kids knows that it's a lot of work to run around with them every day. The pounding on the court, which is something I hadn't experienced in 13 years made it more challenging on my joints. My body wasn't used to that kind of training. THe first few months, my joints were sore. Probably by January of 2010, I had gotten into a rhythm of training. It wasn't a problem. Then I found as the season progressed and trying to fit into Nolan's system and the travel, I actually lost weight. I found that wasn't a good thing, if you're under the basket and into position, you get bumped to the side. I told my teammates that I hoped to put on some mass to get a more solid foundation when I'm under the basket.
Dave (Boston)
How long did it take you to write the book?
Marion Jones
(1:06 PM)
It's taken probably over 2 years. I started the book when I was in prison. When I was released, I did some more work on it.
Andy (Minnesota)
Are you heading anywhere overseas to play this winter?
Marion Jones
(1:08 PM)
I'm still in the process of figuring it out. There has been an offer from overseas. But I'm so busy right now with promoting the book and the documentary that will air tonight. And some forget that I'm a mom to three kids. I do know that I need to play more and get that experience under my belt. If I don't go overseas, I hope to do that somewhere here in the states in a competitive environment. It's hard for me, because if I go overseas, I'm not going to leave my kids for 5-6 months until the next season starts. I would want to make sure that my family would be taken care of. I would have a lot of things to consider if I were to go overseas to play.
victor (Monroe,la)
marion good afernoon p,m Looking forward to watching the epidsoe on 30 for 30.my question is this Don;t you think it;s time everyone got off your back about drugs for once?
Marion Jones
(1:11 PM)
I'm excited to hear peoples' opinions of the documentary. It was an interesting experience for me in that John Singleton and ESPN approached me over a year ago. I was hesitant at first. I didn't want to be the focus of an hour long film on my life. Once John shared with me his vision, I went along with it. I've seen a screening and it was difficult to see. I've been through some hard times in my life. But in the end, people will see that the journey isn't over. Unlike some of the other 30 for 30's that I've seen, at the end, and the credits rolled, that's it. The story is over. But if John had just put "..." at the end, it would have been appropriate. There is more still to come. I think it might stir up some emotions with everyone.
Marion Jones
(1:13 PM)
I disappointed some people. I understand that I made some bad decisions. I hope some people realize that if I had just stopped being in the spotlight and disappeared, that would have been one thing. But I have made a committment to helping people live a better life. If people are just stuck on what I did in the past, they're not looking at the bigger picture. They have to somehow give credit to the fact that I have turned my life around. My decision to play professional basketball is a realization of my dreams, but it's also to prove a point and to show people that I'm 35 and have three kids but I can still get out there and do this. I hope people see that I was someone that made a mistake and I didn't just end my life there. I've made my decision to move on and fight for what's right and try to do the right thing.
Suzanne (Albuquerque)
When I saw Wilma Rudolph win the 100 meters in the 1960 Olympics I was inspired. What track events that you've seen have inspired you?
Marion Jones
(1:15 PM)
I'm orginally from Los Angeles. I was born in L.A. I was 9 years old when the 1984 Olympics came. My stepfather took my brother to the Olympic parade and I remember standing on the side of the street and cheering. The torch came through and the athletes. Then a couple of days later watching the Games like everyone else. Really being in awe of the athletes and their ability to rise to the occasion and the pressure. That was the first time that I really felt that was what I wanted to do and be an athlete and feel that sensation that they felt when they crossed the finish line. It was 1984 when I decided that I wanted to be an athlete.
Dave (LV)
Marion, what do you say to those who think you only admitted doing wrong when you were clearly caught?
Marion Jones
(1:17 PM)
There are going to be critics or people who will never forgive and will continue to criticize. I don't spend any time focusing on them. I know what I'm doing now is for the right reasons. I know going out and speaking to young people it's for the right reasons. I don't get anything out of that. People think I'm doing it for financial gains. That's not true. I'm doing it to right the wrongs. But if people don't see that, I don't think about it. I'm trying to help people. I'm trying to be a mom, a wife, making good contributions to the community I live in. I've said what I needed to say about certain situations. I paid a heavy penalty for what I did. I spent 6 months in prision. I don't spend a lot of time thinking about the negative side to what people say. I'm trying to make positive contributions.
Lori Goldman (Denver, CO)
How do you balance being a professional athlete and a mom?
Marion Jones
(1:20 PM)
It's definitely a challenge being a professional working mom. I tell people that it is the ultimate sacrifice to persue your dream and have to leave your kids and family to persue your dream. I've been blessed with an amazing husband who has committed himself to allowing me to persue this dream. By doing that I'm a living example to my kids. They will be able to see that mom didn't give up, even if there were people out there that might have not wanted her to, she didn't give up. It's definitely the most difficult job in the world, being a mom. Travelling and being away from them, it's tough. Thank goodness for technology so that I can see them and stay in touch. I like to be prepared, so I'll get dinners ready before I leave, lunches made, clothes taken out. Dealing with the critics and having to answer tough questions, I say that's the hard part. Having to wipe tears and give hugs at the airport, that's the tough part.
Marion Jones
(1:21 PM)
I would like to say thanks for chatting and submitting questions. I hope people are inspired by my story and will continue to follow me and the league.