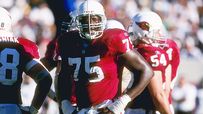 Brown spent 18 years in the NFL.
Welcome to SportsNation! On Thursday, ESPN2 "First Take" NFL analyst Lomas Brown stops by to chat about the NFL season.
Brown spent 18 years in the NFL, playing for the Detroit Lions, Arizona Cardinals, Cleveland Browns, New York Giants and Tampa Bay Buccanneers, with whom he won a Super Bowl championship following the 2002 season. He played collegiately for Florida.
Send your questions now and join Brown Thursday at 1:45 p.m. ET!
More Special Guests: Previous chats | SportsNation
Buzzmaster
(1:33 PM)
Lomas Brown will be here at 1:45 p.m. ET/10:45 a.m. PT to take your questions!
Buzzmaster
(1:39 PM)
Lomas just showed up...looks like he brought Derrick Brooks with him. It will be a two-for-one deal today. We'll be chatting with the two of them!
Tim (Boston)
Do you think this trip to Europe will have any negative effects on the Patriots later in the season?
Lomas Brown
(1:43 PM)
I do. Traveling, period. Especially out of the conuntry. Ball players like things to be the same. From Day 1. Change, makes it difficult. Whether they'll have some problems later in the season, I don't know.
Greg (Dallas)
Lomas, the last time we saw an offense like the Saints, it was the PAtriots a couple of years ago and they lost in the Super Bowl...do you think th eSaints have the defense to go with their offense to be a Super Bowl contender?
Lomas Brown
(1:44 PM)
Right now, I would say yeah. The Saints on defense, blitz more than any other team in the league now. They're ranked No. 9 on defense and No. 1 in turnovers too. I think the defense is taking a significant jump compared to last year.
Matt (IN)
I'm here for the low down from Lo Brown. Big fella, what did you think of Fisher wearing the Manning jersey? I thought it was hilarious.
Lomas Brown
(1:45 PM)
I didn't have a problem with it. Why is it being made out that this guy doesn't care or is immune to what's happening to his team is ridiculous. It was for a good cause and he was helping to honor Coach Dungy. I think they're blowing it out of proportion. But hey that's how it is between winning and losing. I just think it's ridiculous.
Kyle (VA)
Lomas, the Bears could easily be 5-0 as they are 3-2. Their two losses were terrible games that they played. What do you think? are they as bad as they have been in their losses or as good as they have been in their wins?
Lomas Brown
(1:46 PM)
They're not as bad as they've been in their losses. You're still trying to break in their QB. He's still probably trying to get his footing. What's really hurt them is their running game. I think they've just been averaging just under 3 yards per carry. A good running game is a great compliment. As the run game improves, the Bears should improve.
Ryan (San Diego)
Big Lo, Which offense do you think is better, the 09 Saints or the 07 Pats?
Lomas Brown
(1:48 PM)
Wow. I'm going to go with the '09 Saints. I think they have more explosive weapons. Their WR position, they look to have 3-4 legit receivers. Marques Colston and the other guys. They have a pretty good TE in Jeremy Shockey and Pierre Thomas and Reggie Bush in the backfield, and, of course, the guy that's running the whole thing in Drew Brees. That offense can score in bunches.
Tim (Washington)
which winless team is the worst?
Lomas Brown
(1:50 PM)
Wow...I'm going with Tampa. Because of the turnover they had this year. Not only are you talking about a rookie coach, but you lost a guy like Derrick Brooks who was with that defense for a long time. You have a whole new coaching staff there. Any time you have turnover like that, it will take some time to get in sync. Plus I don't think their talent level is up to the other teams.
Luke (Aurora, CO.)
Do you think Elvis Dumervil has a good chance of winning Defensive Player Of The Year, if he keeps up his production? He's on pace to break Michael Strahan's single-season sacks record.
Lomas Brown
(1:51 PM)
I think so. He is playing lights out right now. The guy is a force at the DE position. The thing I like about him is he seems to have a motor on him. He's consistent in getting to the RB or QB. That what makes a good defensive player, having that motor and intensity. I think he's on his way.
Carlos (Monte Cristo)
Lomas, I believe Tom Brady to be a system QB and is a bum, do you agree?
Lomas Brown
(1:52 PM)
Woah...Carlos. Come on, man. He's played under two different offensive coordinators and is coming off of major knee sugery. He's won 3 Super Bowls. I don't know if we're talking about the same guy.
Derrick Brooks
(1:52 PM)
Are we talking about Tom Brady your neighbor or the QB?
bill (washington)
Big Fella...do you think the Falcons won that game on Sunday night or the Bears lost it? They had multiple opportunities to take the lead and totally blew them.
Lomas Brown
(1:53 PM)
I don't know. I think Atlanta won that game. They came out and played hard. Matty Ryan or Matty Ice, he is on top of his game. Atlanta's defense is better than I thought they were. You really don't think about their defense, but they're not bad. They are consistent in the offense, defense and special teams.
John (Jacksonville)
I would like to offically start the rumor that Bill Cower will be the next Jacksonville Jag head coach. I belive like many others no othe coach can save this franchise and keep it in Jax. The media here is preping us for them to go to LA as soon as next season. Mr Cower can save our city. Please come here Bill
Lomas Brown
(1:56 PM)
The only job that I heard that coach Cowher is interested in is the Carolina Panthers job. I don't see a stadium getting built out in LA any time soon. It's a shame that there isn't a team in the second biggest media market.
Ed Hochuli (Chat Ref)
That's a personal foul for unnecessary roughness against Carlos. It is one thing to be biased, it is yet another to be delusional. That's 15 yards and it remains 1st down.
Dan (Denver)
Which undefeated team would you say is playing the best right now?
Lomas Brown
(1:57 PM)
To me, I have to go with Denver. Nobody expected Denver to be playing as well as they're playing. They're playing very well on both sides of the ball. Kyle Orton is playing well, doing what he's expected to do. Managing the game. When you have a defense that's playing as well as these guys are playing now, it makes up for a lot of the mistakes that you make on offense. It's got to be the Denver Broncos.
Kyler Bradshaw (KY)
If you wished for one team to win the Superbowl this year, who would you wish for?
Lomas Brown
(1:58 PM)
Detroit. I wish for Detroit. Everything that's going on in the state of Michigan with the economy, if any state needs the morale boost is the state of Michigan. We went 0-19. We haven't won a playoff game since 1991. Before that it was 1957.
Lomas Brown
(1:59 PM)
I appreciate my visitors of my online chat and my guys from Chicago, the Windy City, my neighbors. Make sure you come back next week for the LoDown from LoBrown.