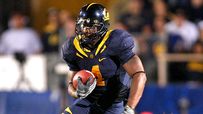 Best is averaging over 6 yards per carry this season.
Welcome to SportsNation! On Wednesday, California running back Jahvid Best stops by the 'Nation to chat about the college football season.
Best ran for 159 yards and two TDs on just 13 carries in Cal's 49-17 win over Washington State this past weekend.
Best leads Cal (5-2) in rushing with 775 yards and 11 TDs, ranking 14th and 6th in the country, respectively. Best has rushed for over 100 yards in all five of Cal's wins this year. His 93-yard touchdown run in Cal's 45-26 win over UCLA two weeks ago was the third longest rush in the country this season.
Send your questions now and join Best Wednesday at 3:30 p.m. ET!
More Special Guests: Previous chats | SportsNation
Buzzmaster
(3:40 PM)
Jahvid Best got delayed with a team workout but should be here shorty!
Buzzmaster
(3:53 PM)
We've got Jahvid!
Kevin (San Francisco)
Jahvid, do you miss running track? What do you think your 100m time would be right now?
Jahvid Best
(3:54 PM)
Yeah, I miss it a lot. Growing up, it was a sport that I thought would be the main sport throughout my life. I have no idea what my time would be right now, but I think it would be faster than my high school time, which was 10.3.
Bud (San Francisco)
How's your foot doing? Do you think you are as fast as you were last year?
Jahvid Best
(3:55 PM)
My foot is doing good. There was a lot of rehab put into it. I'm doing great. Everything's fine. I'm definitely as fast as I was before.
Russ (South Bay)
What's your major and what do you plan to do when you no longer play football?
Jahvid Best
(3:55 PM)
My major is legal studies. Ever since I was little, I wanted to be a cop. So when football is over, I think I'll go into some sort of legal enforcement.
Pete (Berkeley)
Jahvid, are you good buds with any of the ex-Bears in the NFL?
Jahvid Best
(3:56 PM)
Yeah. Actually, I still talk to DeSean, Justin. I talked to Marshawn Lynch a couple of times. I've talked to a bunch of the guys that have moved on in life and done a bunch of things.
Don (Houston)
How has "bulking up" this off-season helped you do you think?
Jahvid Best
(3:57 PM)
It helped me in a number of ways. It helped me take the load that the RB takes every game. It's made me a stronger RB and helped me run with a little more force.
Ralph B. (Saline, MI)
Jahvid,What's the one thing that people underestimate the most about your skills?
Jahvid Best
(3:58 PM)
I think my ability to come out of the backfield, playing almost like a receiver. I feel that I can do it well, but don't do it a lot, so I think people underestimate me.
Tyler (San Diego)
What determines whether you come back to Cal next year?
Jahvid Best
(3:59 PM)
Honestly, I have put zero thought into it. I've focused on this season and trying to get as many wins as possible. At the end of the season, I'll sit down with my family and coaches and talk about it. But right now, I have no idea.
Steven (Nj)
What is your favorite away stadium to play in?
Jahvid Best
(3:59 PM)
Ooooooh...I think playing in the Rose Bowl. That's probably my other favorite one. If you end up Pac-10 champions, that's where you play.
Leo (Manchester)
Jahvid, do you have any pregame rituals? Any superstitions?
Jahvid Best
(4:00 PM)
No, I don't think I have any superstitions. I just listen to my music before the games and think about the gameplan. The only superstition I do have is I have to talk to my friends and family before the game.
Spazzy Mcgee (Oakland, CA)
Jahvid, what made you want to go to Cal?
Jahvid Best
(4:01 PM)
It was a number of things. I fell in love with the coaching staff when I came for my visit. And I'm a big family guy, so having my family being able to come to my games was big. With my family in the Bay Area, that factored in a lot.
Taylor (San Francisco)
What is the toughest defense you have faced? Why were they so tough?
Jahvid Best
(4:01 PM)
USC. They had a lot of athletes on their defense, they're active, physical and well coached.
Mike (Walnut Creek)
Jahvid, who are some of the biggest jokers on the team this year?
Jahvid Best
(4:02 PM)
Jeremy Ross, he's one of the biggest jokers. Also Devin Bishop. Those are the main two guys right there.
Sam (East Bay)
Are you looking forward to running over ASU's defense this week?
Jahvid Best
(4:02 PM)
Yeah. They have one of the best defenses in the Pac-10 this year, so it should be an interesting game.
Mitch (Cincy)
Jahvid, whos your favorite teamate and why?
Jahvid Best
(4:03 PM)
My favorite NFL team is the Oakland Raiders. I'm a hometown boy.
Donny (Oakland)
What's your favorite place to eat around campus
Jahvid Best
(4:04 PM)
Hmmm. I would have to go with two: Sufficient Grounds and the burrito place La Burrito.
Jim (Huntington Beach)
Jahvid, who was your favorite cal player of all time to watch ?
Jahvid Best
(4:05 PM)
Will Ta'ufo'ou, our fullback from last year. He's one of the most underrated players I've ever seen. I can't remember the last time he messed up. He never messes up and is always assignement perfect. The work ethic he had rubbed off on me and made me want to work hard every day.
Michael (San Diego)
Do you ever feel the pressure from over 50 years worth of alumni who have not seen Cal go to the Rose Bowl? How do you manage that pressure?
Jahvid Best
(4:06 PM)
Well, it's kind of hard to feel pressure, because you have so many other things to worry about. We're just trying to play the best we can. We don't feel the pressure, just trying to play the best we can.
Jeremy (O-Side, CA)
One piece of advice to Freshman Matt Barkley before he makes the trip to Autzen this Saturday. What is it?
Jahvid Best
(4:07 PM)
Just be ready. That's the biggest thing. The place is loud. There's a lot of excitement there. Just play the game between the lines and everything else will be all right.
Johnny Ringo (Berkeley)
How do you stay so humble?
Jahvid Best
(4:08 PM)
That mostly comes from my parents. They raised me to never have a big head. Nobody treats me any different than anyone else. That helps me.
Jinsoo (Seoul, Korea)
So honestly, who is really faster? you or desean?
Jahvid Best
(4:08 PM)
I just saw his run the other day and he's looking pretty fast. I always thought I was faster, but I don't know. We'll have to get together one day and settle it.
Jahvid Best
(4:09 PM)
Thanks for the support. It's much appreciated.