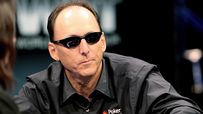 Welcome to SportsNation! On Monday, professional poker player Kevin Schaffel stops by to chat about the upcoming final table of the 2009 World Series of Poker (Nov. 10, 9 p.m. ET, ESPN).
Schaffel, a Florida native, is a father of two and has been playing poker seriously for over five years. He has made over $600,000 in his career playing poker. At 51, Schaffel sits sixth going into the final table, with 12,390,000 in chips.
Send your questions now and join Schaffel Monday at 3 p.m. ET!
More Special Guests: Previous chats | SportsNation
Buzzmaster
(2:59 PM)
Kevin is here!
danny (delaware)
are you happy with your table draw?
Kevin Schaffel
(3:00 PM)
I'm actually happy to be anywhere at the final table. You can put me in any seat you want. Yes, I'm happy that Phil Ivey is on my right and Darwin is across from me. But I have two big stacks to my left also. There's no easy seat. I'm comfortable with mine.
paul (maryland)
what advice would you give to a player who's just starting out in the game?
Kevin Schaffel
(3:01 PM)
For cash games, I would say, don't play over your head. Play what's comfortable for you until you build up a good bankroll until you get to a higher game. Read a lot and talk to other players. That's where you'll get better faster.
Kevin Schaffel
(3:03 PM)
As far as tournaments go, pretty much the same thing, start with smaller buy-in tournaments and see how successful you are with those. Always go back at the end of the day and re-think the hands, both the ones you've won and lost, and analyize it on your own or with others. It's one of hte most helpful things I ever did, from a recent tournament, was to discuss certain hands with well known players and get their opinions on it. It doesn't mean that you did things right or wrong, it's just getting their opinion, there's more than one way to play.
Kevin Schaffel
(3:03 PM)
And good luck.
kyle (va)
when during the tournament did you start to think you could make it all the way to the final table?
Kevin Schaffel
(3:04 PM)
I would say when you start to get down to around 100 people, the room gets really empty and the tables are further and further apart. You know you're getting close. Even though you're so far away at that time, but you're only two days away from getting to the final table. That's probably when I Started thinking about it.
dan (denver)
what have you been doing in the time off?
Kevin Schaffel
(3:05 PM)
Well, I went to play in two tournaments, the World Poker Tour in LA, where I came in second and the EPT in London where I came in 19th. I have taken a couple of side trips to play cash games and taken a couple of golf vacations and play a lot of golf when I'm back home.
will (houston)
do you think the extended break is good or bad?
Kevin Schaffel
(3:07 PM)
I think it's good for the main reason being that my family and friends can join me for this, what might be a once in a lifetime occasion. This wouldn't be possible if we went right to the final table the next day. Not for the reasons that most people would think, such as reviewing tapes or watching how other people play or trying to get coaching. I think you can overanalyze things and overprepare, even. I like the long break. I wish it were a month and earlier, maybe a 2 month break, but I'd rather have a 3.5 month break than none at all.
paul (Wash)
have you watched?
Kevin Schaffel
(3:09 PM)
Yes, I've watched all the shows, multiple times. I'm still waiting to see me. I've only been shown one hand and we're down to the final 27. All my friends keep asking me when I'm going to be on and are you sure you played in this year's event. I keep telling them, next Tuesday, next Tuesday, next Tuesday, hoping that they'll find some hands to show me on. But that's OK, because it's that many less hands that they can figure my game out with.
terry (CT)
Most poker players I've talked to say their advice is to get a mentor or someone you can talk about the game with...do you agree? Also, if that's the best piece of advice, what's the second best piece of advice?
Kevin Schaffel
(3:11 PM)
I don't think there's even a close second piece of advice. I agree 100%. It's not just the young kids, but everybody should be talking to each other if they want to continue to learn. It's one of the things that I miss by living in Florida and playing on a regular basis, is that I don't have the chance to talk about hands on a regular basis with people that I respect in the game. Only when I get to California or Vegas do I get the opportunity.
Kevin Schaffel
(3:12 PM)
But, that mentor should have a similar style to yours, because if you're a tight player, you're not going to incorporate a real loose player's strategy. It should be somebody that you respect their game and their style.
tim (chicago)
will you go into the final table aggressive?>
Kevin Schaffel
(3:13 PM)
I think everybody is going to see how everyone else is going to play early on and things will evolve naturally as they do at any table at any given moment in the tournament. There is a lot of ebbs and flows in every game, as I'm sure there will be in this one. I'm prepared to play as aggressively or passively as is required at any given time. I have no set schedule.
paul (boston)
How much before the final table will you just start focusing on poker?
Kevin Schaffel
(3:15 PM)
I've been thinking about it since the day I made the final table and I haven't stopped thinking about it. It's just an on-going process and I will be ready to play when they say shuffle up and deal. Or, maybe they'll say Schaffel up and deal.
tom (boston)
what's the most you've won in one sitting?
Kevin Schaffel
(3:16 PM)
In the $20,000 range.
fred (alabama)
it seems that everyone keeps talking about Phil Ivey...are you worried about having a successful pro like that at the table?
Kevin Schaffel
(3:17 PM)
Obviously, everybody is aware that Phil is at the table, being the best player in the world. But you can't be afraid of him, if you feel like you have the best hand or if he doesn't have the best hand, you have to be ready to play poker. But if I were to be heads up against anybody at the end of this tournament, I hope it would be Phil Ivey. If I'm going to win, I want it to be against the best.
Stan (Montana)
Do you think the fact that you're older and have more life experience might give you an advantage, or instead leave you less hungry than other, younger players?
Kevin Schaffel
(3:19 PM)
It might give me a little advantage from a patience standpoint, but some of the young kids, including Joe Cada, who's only 21, has seen more hands in a lifetime on the computer than I have in mine. It might even out a little bit. While I may have not seen as many hands, I have seen a lot of other things that will help me. I don't see it as a disadvantage being the oldest player at the table. I don't feel old and I can play as long as it takes to get it down to two people. Stamina will not be a problem.
Jeremy (New Jersey)
How do you get along with the other November Niners?
Kevin Schaffel
(3:21 PM)
Well, Steve Begleiter and I developed a nice friendship on Day 3, where we met in a coffee shop, having played in cash games earlier in the week. We started meeting for breakfast every day until we met in the final table. This continued in the WPT in LA where we met every day for lunch. I've kept in touch by phone and texting and e-mail for the last few months. I only recently met Eric and Joe in London and spent a few hours with them. But other than that, I have really not met or spoken to the other players that much.
Todd (Detroit, Michigan)
If there is one hand you could avoid getting dealt at the final table, what would it be?
Kevin Schaffel
(3:24 PM)
I haven't had a lot of success with pocket queens in the past. My son keeps telling me when I see them, just throw them away, but I haven't been able to do that. I may give up a tell when I see them, because I might just start laughing. It's probably the hand that I would love to see, but hate to see the most.
tim (Kansas)
is poker more luck of the draw or do you really need skill to play
Kevin Schaffel
(3:26 PM)
In cash games, I would say it's probably 80% skill and 20% luck. For sure, the better players are going to win the money over the course of the year or more. In tournament, which are only 1-2 weeks or less, the luck could be as high as 40%, 60% skill. Again, the better players are going to survive the majority of the time. But in any short term event, the luck could override skill in a short period.
dave
do you play online?
Kevin Schaffel
(3:28 PM)
I do, at PokerStars. I play a little bit of everything. No Limit and I also like Omaha, Hi and Hi Low and occasional tournament.
Jared (Baltimore)
Do you have any specific targets at the final table? Do you feel there is one or two that is weaker than the rest?
Kevin Schaffel
(3:29 PM)
Obviously you always want to go after the smaller chip counts, but they can also wake up with a hand, so you're not going to go crazy just because they have a shorter stack. But conversely, I'm not going to go crazy and not go after the larger stacks. I need to get chips somehow. I'm just going to keep playing the way I've been playing and hope that that stars are aligned that weekend for me.
Hank (CT)
What advice do you have for playing the short stack in a tournament
Kevin Schaffel
(3:30 PM)
Pick the best spot you can to get it all in and cross your fingers and toes and hope it holds up.
Ted (FL)
I'll ask you the age old question - would you rather win the Main Event and fade into obscurity, never winning another event or having any success, or not win but end up having a successful poker career for many years?
Kevin Schaffel
(3:32 PM)
I don't like those two options, but I'll answer as best I can. Obviously everyone wants to win, that's why we play, but if it meant never being able to play again, I would probably take a second place finish with the possibility of winning again in the future. For me, it's all about the competition and if I couldn't play again, that would not be good.
Kevin Schaffel
(3:32 PM)
I can never get too many well wishers or people rooting for me. For those of you who are, I appreciate it. We'll see how good your well wishes are in two weeks.