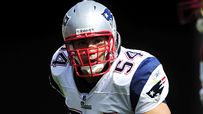 Bruschi won three Super Bowls with New England.
Welcome to SportsNation! On Wednesday, we're going to chat with former New England Patriot Tedy Bruschi.
Bruschi retired in August, after 13 seasons and three Super Bowl wins with the Patriots. He started 189 games with New England, the most for any LB in team history. For his career, he had over 1,100 tackles, 30.5 sacks and 12 INTs.
Shortly after his retirement, Bruschi joined ESPN's stable of NFL analysts. In addition to being a regular NFL anaylst on ESPNBoston.com, Bruschi will also appear on "NFL Live," "SportsCenter," ESPN Radio and other ESPN platforms.
Send your questions now and join Bruschi Wednesday at noon ET!
More ESPNBoston.com: Index | Patriots Blog | AFC East Blog | NFL index
Buzzmaster
(12:01 PM)
We've got Tedy!
Tedy Bruschi
(12:02 PM)
Hey Pats fans, it's me, I'm back. The Pats have a bye week this week. That doesn't mean we still can't talk football.
Michael (GA)
So past two games Pats offense has been for the most part dominant, (completely in the titans game). Now they have a bye week, so is it safe to say Brady 07' is back now and big numbers are ahead for pretty much rest of season or was that just because of the low caliber teams?
Tedy Bruschi
(12:03 PM)
Let's not get too excited about Tom just yet. You're right about the caliber of competition they've been playing. After the bye week, they start playing some real competition.
bmaddy (Ri)
Hello Tedy,Honored to be able to ask you questions. This is about Brandon Merriweather. He has a heck of a game against Tampa, and it is easy to see that he is developing into a ball hawk. The problem is that his tackling ability seems to be an issue. With his skill sets, would it be possible to play him as a hybrid corner/safety?
Tedy Bruschi
(12:04 PM)
I don't think so. I think you hope that he still continues to develop from his strong safety position. He's a young player and hasn't maximized his potential yet. Tackling still is an issue, but he's shown many more positives than negatives.
Patsfan31781 (RI)
Hey Tedy,Do you think Aiken/Tate tandem could be an answer to the patriots 3rd receiver problem?
Tedy Bruschi
(12:05 PM)
It can be. Aiken has gotten better from earlier contests. Tate is a wild card right now. Let's monitor his development and see if he can play ball first.
dan dallas
who is the PAts biggest competition in the EASt?
Tedy Bruschi
(12:06 PM)
That's a good question Dan. I'm going to go with the Jets. Even though the Jets have lost three games and the Pats are sitting in first place, right now, they are the only AFC East team that has beaten the PAtriots. They feel like they have the formula. See if they can duplicate that the next time they play.
Mat M. (Salem, NH)
Tedy! I miss you! Looking ahed at the Patriots schedule, how do you see the Patriots finishing in terms of record and which games do you see as potential tests/losses?
Tedy Bruschi
(12:08 PM)
The biggest game is going to be versus the Dolphins coming up. The Patriots defense showed they had problems with the Broncos version of the Wildcat offense. In Miami, they are going up against the best Wildcat offense in the NFL. The Dolphins are a real physical tough team. I think this will be a real test for the Pats.
Tedy Bruschi
(12:08 PM)
Record wise? I think the Patriots feel they have to win 12 games to get into the playoffs. Last year they won 11 and it wasn't enough. I think they can do that. So, I guess I'm saying 12-4.
Dillon (Tucson)
Hey Tedy you coming to Tucson for Homecoming?
Tedy Bruschi
(12:09 PM)
I won't be there for homecoming, but I'm hoping to get out there for the Oregon game.
Tedy Bruschi
(12:09 PM)
Is Oregon the homecoming game?
todd (jersey shore)
hey ted - how do you see the patriots doing against the saints in a couple of weeks?
Tedy Bruschi
(12:10 PM)
Good question. The Saints are the best team in football right now. For New England to win that game, they're going to have to be firing on all cylinders and right now, they're not.
Henry Buffalo
How does the '09 Saints compare to the '07 Pats O?
Tedy Bruschi
(12:11 PM)
I think the Saints offense are a little less flashy. The '07 Pats were all about throwing the ball. The Saints running game is much more physical and productive than the Patriots running game was in '07. I really like Mike Bell and Pierre Thomas as a running back tandem.
Kevin Christensen (Pasadena, TX)
The Pats are okay but they are definiently not as good as the 07 team, or for that matter any of the superbowl teams. They just don't have that "it" factor to take em' over the edge. What do you think?
Tedy Bruschi
(12:12 PM)
They can't be considered one of the best teams in the NFL yet, Kevin, they've already lost 2 games. You have the Colts undefeated along with the Broncos in the AFC. To be considered among the elite teams, they'll have to string together four, five or six victories in a row.
Tedy Bruschi
(12:13 PM)
A defining game against the Colts is in a few weeks. Stay tuned.
Spencer (Denver)
Tedy, in your opinion who has the best D this year?
Tedy Bruschi
(12:14 PM)
Right now, it's the Denver Broncos. Surprising answer, isn't it? Considering how awful they were last year. New coordinator Mike Nolan is the assistant of the year.
mari (OK)
tedy, do you think the pats fall off the run too quickly? i would think despite some runs for loss or no gain it would benefite brady if they stuck with the run ..end of game maroney would bull thru lines..and receivers would open up even more for an ever improving brady
Tedy Bruschi
(12:15 PM)
Hi Mari, I absolutely agree with what you just said. There is one problem with it, their main running back Laurence Maroney is struggling. They really miss Fred Taylor and Morris.
Mike Donovan (Boston, MA)
Patriots vs Colts. Best NEW rivalry in sports?
Tedy Bruschi
(12:15 PM)
I think so. You always have the Yankees and Red Sox, but football wise, it doesn't get any better when Peyton Manning and Tom Brady are on the field at the same time.
Tedy Bruschi
(12:16 PM)
Try to catch the NFL's greatest games series, the 2006 AFC championship game, Colts-Pats. Great piece. It defines the rivalry. It gave me chills.
Keith (Clemson, SC )
Tedy, I noticed that we have started to blitz more and have been playing more man-man with our corners do you think that trend will continue?
Tedy Bruschi
(12:17 PM)
That's a great observation. It will continue. In tight situations, man to man coverage is what wins football games. You can't play off in a zone in a crucial situation. Third and five or less, look for the Patriots to always be in man coverage.
carlos medina (Lawrenceville Georgia)
how you see the chances of the new york jets and the atlanta falcons making it to the playoffs
Tedy Bruschi
(12:18 PM)
Right now, those are two bubble teams. I like the Falcons chances better. More proven at the QB position.
Spencer (Denver)
What team is headed for a monster second half of the season?
Tedy Bruschi
(12:19 PM)
Keep your eye on the Dallas Cowboys. They just had a huge win against a good Atlanta Falcons team. They were clearly dominant. Dallas is just the type of team who needs a victory like this to gain momentum. They can parlay that into four or five in a row.
TEDDIE VIRAY (BERGENFIELD NEW JERSEY)
Mr. Tedy big game this week is the return of Brett Favre in the Green Bay do you think he will get booed or an ovation ? Mr. Bruschi I hope want time I will meet you Sir Mr. Defense Minister of football.
Tedy Bruschi
(12:21 PM)
If I was a Packer fan, I would boo him. I want my team to win and bottom line is he doesn't play for my team any more. I love him for what he did for us in the past, but the Packers need a victory.
todd (jersey shore)
do you think fisher should play vince because the owner wants it or should fisher do what he feels is right?
Tedy Bruschi
(12:21 PM)
You're talking about your boss here. I think he should absolutely play Vince Young. Yes, because the owner suggested it and yes, because it's the right thing to do.
Jesse (Philadelphia)
Hey Tedy. How do you think the Pats will prepare for the wild-cat offense when they meet the Dolphins? Last year it killed us. I'm sure Bill has something planned for it now that he's seen it enough
Tedy Bruschi
(12:23 PM)
I think they will have two adjustments to it. 1) an adjustment off of their base defense and make sure every gap is controlled. 2) blitz it. The Miami Dolphins will be dissecting the Denver Broncos film. The Patriots played passively against the Denver version all game. There will have to be an adjustment. When I was playing for the Patriots, the players wanted to attack that Wildcat offense more aggressively.
Dave (Dallas)
First, What happened to the Titans? Was that just a total give up in the snow or did the Pats just play one of the best quarters of football ever (or both)?Second, do you think Atlanta is closer to the team that the Pats faced or the Cowboys?
Tedy Bruschi
(12:24 PM)
Spectacular performance by the Pats, coupled with the Titans giving up. Those two things equal blow out every time.
Alan (Boston)
Do you feel sorry for Matt Cassel over there in Kansas City?
Tedy Bruschi
(12:25 PM)
No. It was inevitable that the Chiefs would start like this. They are rebuilding. In NFL terms, rebuilding equals one or two years of pain.
Brian (Enfield)
Tedy, when you played on the pats, how much input into game plannign did YOU have? Was it all Belichick and his staff, and you just followed? Or did they ask you/get your input as to what you thought would work as well?
Tedy Bruschi
(12:26 PM)
We were absolutely leaned on as veterans. Our input was valued and many times we were the ones coming up with adjustments.
Paul (Bozeman, Mt)
In three years JaMarcus Russell will be...... A) a Pro Bowl QB B) a serviceable NFL starter C) nothing more than a backup D) out of football and replace Ryan Leaf as the biggest bust in NFL history
Tedy Bruschi
(12:27 PM)
I see JaMarcus Russell and I compare him to Akili Smith, the former first round pick from Oregon. He played a handful of years and was out of the league. Unless Russell has a fast improvement, he is going down the same path.
todd (jersey shore)
the afc seems stronger than the nfc this year . what do you attribute this to?
Tedy Bruschi
(12:29 PM)
That's a tough question. I also agree that the AFC is more dominant. Let's start with the QB position. The AFC has championship proven QBs: Brady, Manning, Roethlisberger.
Spencer (Denver)
Who is you D MVP?
Tedy Bruschi
(12:30 PM)
That's an easy one. I love Darren Sharper. Not only is he the best free safety in the NFL, he is an offensive threat on defense. He changes scoreboards. When he gets his hands on the ball, watch out. Three TD returns already this year and another one was called back on a roughing the passer penalty on Jonathan Vilma. He may be the reason the Saints go all the way this year.
Tedy Bruschi
(12:32 PM)
I love chatting with you guys. Your questions are terrific. Have a good week everyone. I'll see you next time. Props to my chat technician Jeremy. He's da bomb.