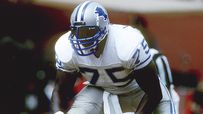 Brown spent 18 years in the NFL.
Welcome to SportsNation! On Thursday, ESPN2 "First Take" NFL analyst Lomas Brown stops by to chat about the NFL season.
Brown spent 18 years in the NFL, playing for the Detroit Lions, Arizona Cardinals, Cleveland Browns, New York Giants and Tampa Bay Buccanneers, with whom he won a Super Bowl championship following the 2002 season. He played collegiately for Florida.
Send your questions now and join Brown Thursday at 1:30 p.m. ET!
More Special Guests: Previous chats | SportsNation
Buzzmaster
(1:28 PM)
Lomas is here!
Tom (Seattle)
Which organization was worse - the Bucs of the 80s (or whenever it was when they could barely win a game) or the Raiders of today?
Lomas Brown
(1:30 PM)
Great question. I'm going with the Raiders of today. Simply because Tampa Bay was an expansion team. We all know expansion teams have tendencies of coming in a struggling. You look at the Raiders, an established team that has the moniker "Committment to Excellence." Believe me, they haven't been excellent since the Super Bowl in '02. I would say they're the worse team.
Anthony (Douglas, MA)
Lomas, can people just stop hating on the Pats! 70% of America prefers Manniong to Brady! Brady is 7-3 against Manning. The guy is great and keeps his mouth shut, people are just jealous of the Pats and that's that. What do you think?
Lomas Brown
(1:31 PM)
I agree 100 percent with you. Any time you're a team that wins and wins as much as New England, of course you're going to see the haters out there. Everyone wants to see the big man fall. Tom Brady is one of the best QBs and will go down as one of the best to ever play. Same with Peyton Manning. But when you're on top, you have everyone shooting at you all the time.
Jay (PA)
Lomas Brown U R DA MAN!!!!!!!!!!!!!! lol no question here just wanted to let u know u r hilarious and do a GREAT job on ESPN.love watching you on football friday and espnews.KEEP UP THE GOOD WORK
Lomas Brown
(1:32 PM)
Thanks man. That's cool.
Dennis (snowy Denver, Colorado)
Which defensive player from the Broncos has impressed you the most this year-Dumervil, Bailey, or Dawkins?
Lomas Brown
(1:34 PM)
Wow. I'm going to say Dawkins because he is, sort of, the new guy on the block. He has brought so much to the table with the defense. They were one of the worst defenses over the last few years. With the addition of Dawkins, they're one of the top defenses. Just his addition in the backfield of the secondary, it's made a big change in that defense. It's almost like having a defensive coordinator out on the field with you.
TheShive (C-Bus)
Hi, Mr. Brown, who is going to win the big game between the Bengals and Steelers? And why? Thanks!
Lomas Brown
(1:35 PM)
Right now, I'm going with the Cincinnati Bengals. As long as they can run the ball effectively with Cedric Benson. And the defense holds up and keeps playing the way they've been playing, I expect Cincinnati to win that ball game and be 5-0 in division play.
kyle (va)
the bears have been exposed the last few weeks...do you think they'll start improving or is what we see what we're going to get from them?
Lomas Brown
(1:36 PM)
Well, I think what we see is what we're going to get. The Bears just committ too many turnovers to be a very good team. I think their defense has slacked off this year, even though they lost Urlacher. A lot was expected from Jay Cutler. I just don't think he's produced so far, along with the offensive line being terrible. They're not very good this year. That's a recipe for disaster right there.
mike (pa)
Lomas,what do you make of Houston not having Steve Slaton in for Ryan Moats?? Kubiak must be going crazy, I thought your best players should be on the field. Maybe the bye week will give him time to realize what he did.
Lomas Brown
(1:38 PM)
I agree, but when your best player/running back is putting the ball on the ground, it's hard to keep them in the game and trust them in crucial situations. I think Gary Kubiak and the Texans were doing the best what they thought for the team, which was playing Ryan Moats a little bit more than Steve Slaton. But there's no doubt that Steve Slaton is a very exciting young RB. In the NFL you can't turn the ball over.
Kevin (OH)
Lomas, what do you see happening in cleveland's coach/gm spots this offseason?
Lomas Brown
(1:39 PM)
I just don't see anything good coming out of that situation. It seems like there's a revolt against Eric Mangini in Cleveland. It doesn't seem like the players want to play for the guy. The GM took the hit for him. The new GM they bring in has to be an Eric Mangini guy or else I don't see him being there much longer.
andew (columbus, oh)
are the bengals contenders or pretenders? How far can they go in the playoffs?
Lomas Brown
(1:41 PM)
They are CONtenders. Just looking at their schedule, even if they falter down the line, they should still be able to get into the playoffs. They have a weak schedule left. They have Oakland, Cleveland, Detroit, KC. Even if they lose a couple, they have 4 or 5 winnable games.
Mark p (new york)
are the steelers gonna make the playoffs and how far will they get??
Lomas Brown
(1:42 PM)
Yeah, I think they get in the playoffs. They have a pretty weak schedule. With Pittsburgh, even if they falter, they should be able to get in. I think they're a team that can make some noise in the playoffs. They need to get back to the basics and Pittsburgh football - pounding the football and defense.
DJ (Chicago)
As a Bears fan, how much time will be left in the game when i finally turn it off because of disappointment?
Lomas Brown
(1:43 PM)
Well DJ, I hope you get past the second quarter. I will be watching the same game you're watching. Hopefully we will have a very good entertaining game. Both of the teams are struggling right now. Vernon Davis added some fuel to the fire by his comments. Hopefully we'll see a very good, competitive game.
dale (St. Louis)
If you were Sam Bradford, what would you do? HE injured his shoulder twice and is now going off to the draft.
Lomas Brown
(1:45 PM)
I would come out. I would have the surgery right now and my whole focus would be on getting my shoulder ready for the combines or my private workouts. Right now, his mindset has to be pro football at the professional level. He did all he could do in college. Physically it didn't work out because of the injuries, but he gave us a glimpse of what he could do.
Brian (DC)
Lomas! I know you're retired, but the Redskins could really use you in the trenches, interested? Who do you see as the Head Coach/QB next season?
Lomas Brown
(1:46 PM)
Hey, if they have a position for a 46-year old that could get them 10-15 plays a game, tell Dan Snyder to give me the ball.
Kevin (OH)
Does cleveland score a touchdown on monday night vs the ravens?
Lomas Brown
(1:47 PM)
Yeah, I think it might be a special teams TD, but I think they get on the board. Baltimore's defense isn't the same one we've seen in the past. They've given up big plays and haven't put the pressure they have on the QB.
Dan (denver)
What's the best game of the weekend?
Lomas Brown
(1:48 PM)
Wow...let me see. I'm going to go with the Colts and Pats. This is a QB driven league and you have two of the best facing off against each other. I'll be interested in that game. A close second is the Pittsburgh-Cincinnati game. I want to see how far the Bengals have come.
Craig G. (Fairfield, California)
Hey Lomas, love ya on First Take. Do you think tonight's game will define Lovie Smith's future as head coach of the Bears?
Lomas Brown
(1:49 PM)
I would hope not, because getting a new QB, losing your star LB. They've had some tough injuries and bringing in some new guys into the fold. I hope that doesn't define Lovie. This is a good coach, they're just having a tough year.
Dustin (Orlando)
Question, what do you think about the bucs being an estimated 35-40 million dollars under salary cap? Maybe the Glazers are holding this team back with a tight wallet.
Lomas Brown
(1:50 PM)
I heard they're under the cap with the Bucs, but they can't afford the soccer team that the Glazers bought. They must have a plan. They must be going out into the free agency market and spending big. All the turnover in players and coaches. They must have a grand scheme in mind and have the intentions to be a big player in the free agent market, by being that far under the cap.
Chad (Las Vegas)
Quick. What is the first word that comes into your head when I say........Skip Bayless?
Lomas Brown
(1:50 PM)
Delusional.
Lomas Brown
(1:50 PM)
That's a good word.
bill (cincinnati )
should the steelers focus more on cedric or carson to try to pull off a win
Lomas Brown
(1:52 PM)
I think shut down Cedric Benson. He's the one that creates opportunites for Carson Palmer to get the ball down field. Any time you have a RB that's running effectively like Cedric Benson, it's going to open up the playaction pass, open up the screens and draws for Palmer. The more success you have running the ball, the more success you have passing the ball.
Chad (Las Vegas)
Be careful of what you wish for Lomas. Dan Snyder is one crazy dude. He might just call you.
Lomas Brown
(1:52 PM)
I'm ready. I couldn't do no worse than what they have in there. I'm ready. Dan seems to like spending money too, in unconventional ways. So I could be one of those unconventional ways.
Guy (Jacksonville)
Any idea on how to fix the Browns?
Lomas Brown
(1:53 PM)
That's a great question. First, I would get me a football person in as my GM. And secondly, I would probably go about weeding out all my players that don't want to be there and concentrate on bringing in guys that fit my personality, which is tough, hard-nosed and committed.
mike (pa)
Before the season started everyone was raving about the Giants having the best front 7 in the NFL, Call it bias (Cowboys fan) but I think Dallas now has the best front 7, who you got? gotta thank wade for bringing in brooking what a pick up, and it helps to have dware and ratliff.
Lomas Brown
(1:55 PM)
I agree. The Giants have taken a significant step backwards. I agree they aren't the same team. They don't get pressure on the opposing QBs like they did in the past. And their OL isn't playing as well as they have in the past, as the way Eli's getting hit or sacked over these last few games. It seems like the Giants have lost their identity. They were a tough, smash nose team, but they don't seem to have the same desire as in years past.
matt (bristol)
are the 49ers playoff bound?
Lomas Brown
(1:56 PM)
Whew...Matt, I just don't see it this year. I think the Arizona Cardinals will come out of that division on top. It seems to be a lot of other teams that are playing better than the 49ers right now. I think the 49ers have the potential to be a very good team, but it rests on the shoulders of Alex Smith. He didn't have a good game last week, throwing 3 INTs. For this team to win, he can't turn the ball over that way.