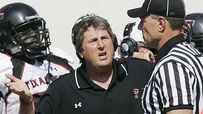 Texas Tech has had a winning record every year under Leach since he took over in 2000.
Welcome to SportsNation! On Monday, Texas Tech football head coach Mike Leach stops by to chat about the season.
Entering Week 9, Leach and the Red Raiders sit 6-3 overall and 3-2 in the Big 12. Tech's 42-21 win over Kansas Saturday made Texas Tech bowl eligible for every year during Leach's 10 years with the school. The team has a 82-42 overall record under Leach, who was an offensive coordinator at Oklahoma prior to taking over as the head coach at Texas Tech.
Aside from his offensive genius, Leach is also known for his fascination with pirates.
Send your questions now and join Leach Monday at 2:45 p.m. ET!
More Special Guests: Previous chats | SportsNation
Buzzmaster
(2:44 PM)
Coach Leach will be here in a couple of minutes. He's just finishing up a conversation with Mike Ditka.
Buzzmaster
(2:46 PM)
Here's coach!
Donnie (Midland, TX)
Has recruiting better talent gotten easier now from when you first arrived at Texas Tech?
Mike Leach
(2:47 PM)
Definitely, because when I first got to Tech, they were in the middle of academic probation. We were really in the hole. A lot of the success of our players and coaching staff have led to us getting better recruits.
Mike (Dallas, TX)
Coach, would you say your coaching style is more similar to the overpowering Blackbeard or the intelligent and tricky Howell Davis?
Mike Leach
(2:48 PM)
I like Blackbeard a lot. The one I had to kind of identify with more is Bartholemew Roberts. He was a real sharp guy. One of them that they overlook sometimes because he accomplished so many other great things is Sir Francis Drake.
Cory Belz (Ft. Worth, Texas)
Have you talked to Michael Crabtree since he left Texas Tech? Guns Up!!!!
Mike Leach
(2:48 PM)
Not a lot. We get texts back and forth. Michael's not a big phone guy. We hear through the grapevine from one another. The coaches in San Francisco are excited for him. I think he'll do well there and already is.
Jacob (Lubbock)
Mike do you see yourself as an underdog anymore, or do you feel that your team can win every game no matter who they play?
Mike Leach
(2:49 PM)
I've always felt we could win every game we play. I think we can beat anyone. From there, we just do the best we can.
Eric (Notre Dame, IN)
Coach,I'm a 2L at Notre Dame Law School. Like you, I don't think I want to practice law. Any advice for someone looking to make the law school-to-coaching football career transition?
Mike Leach
(2:50 PM)
You can always go back to law. Try to get a graduate assistant position, which are had to come by. If you can't get one of those, get a graduate degree in coaching.
john (woodland hills ca)
Hey coach what offense besides Texas Tech do you enjoy watching?
Mike Leach
(2:52 PM)
Good question. The most recent one is the New Orleans Saints.
Clay (Dallas, TX)
Did you like the Pirates of the Caribbean movie series?
Mike Leach
(2:52 PM)
Yes. I liked the first one the best. I did like it. It's difficult to make a good pirate movie, it seems because there are so many bad ones.
Birddog (Ft. Worth)
Looking toward OSU, OU & Baylor, what are you working on to prep for those final games?
Mike Leach
(2:53 PM)
Really, fundamentals. They're all three really good teams. We just need to be the best in the basics in fundamentals. We need to be teh best in our scheme and doing what we do.
John (Lubbock)
Coach Leach: Texas Tech has three quarterbacks, Potts, Sheffield, and Doege that have each shown promise. How do you decide on a weekly basis which quarterback will start? Also, what would you say factored into your decision to run Doege the first half, and Potts the second half of the Kansas game this past weekend?
Mike Leach
(2:54 PM)
Lately, it's kind of tricky. We'll look at practice. At some point, one of these guys will believe me when I tell them how easy it is and take control of the team and hang on to it for a while.
Ruvin (Philadelphia, PA)
Coach, who's the best team in the country right now in your opinion?
Mike Leach
(2:55 PM)
I think that's difficult to say. I guess I feel that Texas is, because they're in our conference and we know a lot about the teams they've played.
James Rowland (Abilene, Texas)
You've had great success recruiting out of the old 4-5A District - Abilene, Midland, Odessa and San Angelo. What's the outlook for this area of the state to continue to supply Tech with quality players?
Mike Leach
(2:56 PM)
I think they will continue to. It's difficult to say. Teey're all working hard to develop players and some will come play for Tech.
Patrick (Dallas)
I think the best game of the year so far was Tech vs Houston. Are you hoping for a rematch? What did you learn from that game?
Mike Leach
(2:57 PM)
Well, there will be a rematch next year. We just identified some things that we could improve on, particularly on defense. You have to prepare the same for every game. We wish them the best against everybody but us.
LT (Austin)
How does Tech put to bed being dismissed as a "system"? More rushing...better defense?
Mike Leach
(2:58 PM)
We don't care. We don't care. We go out and do the best we can. If being one of the best offensive teams in the nation, maybe they should go see someone else. That goes along with being frontrunners and maybe they aren't real Texas Tech fans.
Tim Scott (Barrington, RI, United States)
Growing up, what football player/coach did you admire the most?
Mike Leach
(2:58 PM)
Football player, Bart Starr. Coach, Billy Martin.
Noel ((Lubbock, TX))
In your honest opinion, what is the best intangible a college qb can possess?
Mike Leach
(2:59 PM)
The ability to lead and move the team.
Travis (Houston, TX)
If you could change one thing about this TTU team or season, what would it be?
Mike Leach
(2:59 PM)
Yeah, victories over Texas, Houston and A+M.
Tony Athersmith (England)
how would adjust your system if you coached in the NFL?
Mike Leach
(3:00 PM)
I wouldn't really adjust the system. I would try to draft players around our scheme.
Tmac (Houston, TX)
Is it more complicated for a QB to run your offense, or a NFL one?
Mike Leach
(3:01 PM)
It depends on the situation and the person and what they're trying to accomplish on offense.
Gregg (Round Rock, Tx)
Congratulations on now being tied with Spike Dykes for most wins at Tech! I appreciated your comments and respect you gave to coach Dykes.Wanted to ask your thoughts on non-conference games. Schedule tough, historically successful teams or lesser known and potentially easier games? Conceeding that no opponent is "easy"
Mike Leach
(3:02 PM)
I don't have much to do with scheduling. It seems that lately we've scheduled non conference teams that end up in bowls. The objective in non conference games is to schedule teams that help you develop your team.
Ted (Lubbock)
What did you think about the curtain that Texas installed between their sideline and the Oklahoma State fans on Saturday? It kept the OSU fans from banging those paddles all day.
Mike Leach
(3:02 PM)
Good idea.
JP (Houston)
Would you ever consider wearing an eye patch during a game?
Mike Leach
(3:03 PM)
No, but I did during a picture once. I don't want to do anything that's distracting during a game.
Mike (lubbock)
If you could choose any QB from the last 10 years to run your offense, who would you want?
Mike Leach
(3:04 PM)
For me, the ones that have always come to mind are Jim McMahon and Dan Marino.
Donnie (Midland, TX)
Do you feel you had something to do with taking the Big 12's old running style offense to the spread style we see today?
Mike Leach
(3:05 PM)
Difficult for me to say. I suspect I've had an impact.
Mitchel (Houston, TX)
What is your biggest pet peeve as a coach?
Mike Leach
(3:05 PM)
Distractions and a lack of focus. Underachievement.
Zach (Dallas, TX)
How does it feel to be tied for the winningest coach in Texas Tech history? With a long devoted rise to head coaching status, did you feel your first stop would be "the one"? Congratz Coach!
Mike Leach
(3:06 PM)
Humbled because I'm in company that I really admire.
Phil (Denton)
hey coach I saw the youtube where you did the local weather report, has it rained mud in lubbock lately? Would like to do more weather reports?
Mike Leach
(3:07 PM)
Actually, it did, not too long ago.I haven't been asked back lately. So, I think they're still recovering from the effects of the last one.
Mike Leach
(3:08 PM)
Red Raider fans are the best. Have kids and convert others.