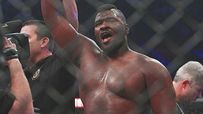 Brett Rogers joins Jon Anik's chat Wednesday.
Welcome to SportsNation! On Wednesday, Jon Anik, host of ESPN.com's MMA Live, will stop by to take your questions. He'll also be joined by heavyweight fighter Brett Rogers, who faces Fedor Emelianenko Saturday.
A new episode of MMA Live, which debuted on ESPN.com and ESPN Mobile TV in May of 2008, airs every Thursday at 3 p.m. ET. MMA Live can also be seen whenever it fits your schedule. Just head to the MMA Live video hub on ESPN.com.
Anik started at ESPN in February of 2006 working for ESPN Radio, before moving over to the digital media platforms early in 2007. An avid MMA advocate and fan, Anik also serves as the play-by-play voice for the Bellator Fighting Championships.
Send your questions now and join Anik Wednesday at 1 p.m. ET!
More Jon Anik: MMA Live | MMA index | Chats
Jon Anik
(12:55 PM)
What is good? Great to be back with you fine folks for another chat here at espn.com. Just wrapped up an interview with Brett Rogers that will air tomorrow on MMA Live. And Brett will be joining me for the first part of the chat today, so get in your questions for 'The Grim' now! I will let you know when he arrives. Let's vent...
TJ (Chicago)
Do you think the hometown boy has a good shot on Saturday?
Jon Anik
(12:56 PM)
I definitely think Rogers has more than a puncher's chance. And I don't say that because he is gonna be sitting next to me in five minutes! His whole approach seems sound, and he is in a great place mentally with just three days to go before showtime.
Uncle Sam (Tax Department)
Who was the highest earning fighter in UFC last year??
Jon Anik
(12:57 PM)
I have to think, over the calendar year, it was Rnady Couture. Not exactly sure about some of the residual income. Brock Lesnar also had a good year financially. He's only fought once in 2009, however.
Brian (Milwaukee, WI)
Is Brett Rogers as big as Brock?
Jon Anik
(12:58 PM)
No, he's not as big as Brock. But he shakes a much harder hand, if that's worth anything. Rogers is an ox.
Crabman (MD)
Any chance we can get Mel Kiper over here to talk MMA prospects?
Jon Anik
(12:58 PM)
Wouldn't that be nice? I wonder if Kiper realizes how many NFL players either train in MMA or cross over into MMA after their careers are over.
Logan (Chicago, IL)
Jon, silly question here, but what if a fighter has to, eh....use the facilities during a fight? I know it sounds dumb, but after cutting all that water weight before a fight and pounding liquids to put it back on, I would think this would be more of an issue, but it never is. Any insight?
Jon Anik
(12:59 PM)
You only get one minute in-between rounds. Can't think of an instance where any fighter has been allowed to leave the cage while a fight is going on.
Jon Anik
(12:59 PM)
Alright, Brett Rogers is here! Fire away.
Brian (Milwaukee, WI)
Brett Rogers...shouldn't you be training?
Brett Rogers
(1:00 PM)
What makes you think I'm not? I'll get a workout in today before heading back to Chicago.
tyler (Iowa) [via mobile]
kimbo vs. houston who wins and what does it mean for the long term
Brett Rogers
(1:01 PM)
Houston. Kimbo will never get any props from me.
Sammy (Chicago)
Jon-going to the fight and a HUGE Fedor fan, but am worried about this one. How much will the cage affect Fedor?
Brett Rogers
(1:02 PM)
It's gonna effect him a lot, especially because he can't stick his butt out through the ropes and hang onto the cage. If he hangs onto the cage, John McCarthy will be on him.
Sammy (Chicago)
Grim-did you ever have any encounters with Arlovski before your fight both being Chicago guys?
Brett Rogers
(1:03 PM)
No.
Nick (North Carolina)
Brett, would you fight Brock, or Shane Carwin?
Brett Rogers
(1:03 PM)
Yes. I would love to have a fight with Brock Lesnar. You could bill it as the battle of 'Northern Stars'.
SHONEY (MAINE)
BRETT -- I'M ONE OF THE FEW THAT THINKS YOU ARE GOING TO PULL THE UPSET. GOOD LUCK !!
Brett Rogers
(1:04 PM)
Thanks man.
GM (Milwaukee)
Brett good luck Saturday from a fellow Chicagoan. What do you think of Kimbo Slice now as mixed martial artist?
Brett Rogers
(1:04 PM)
Still a street fighter to me. He hasn't evolved.
Charlie (Philly)
Do you think that the winner of Fedor/Rogers will face off with the Silva/Werdum winner or will we actually get to see Overeem defend the belt next?
Brett Rogers
(1:05 PM)
We will fight whoever Strikeforce puts in front of us. Can't get anywhere if you fight nobodies. I want to fight the best of the best.
Jay K. (Vancouver BC)
Brett, what's on the victory deep dish pizza?
Brett Rogers
(1:06 PM)
Do they make a soul food pizza? I don't even know how to answer that. There will definitely be some soul food intake after the fight. Greens, ribs, you name it.
Brian (Milwaukee, WI)
Who do you think are the top 5 heavyweights in the world?
Brett Rogers
(1:07 PM)
Me, of course. Fedor, Antonio Silva, Cain Velasquez, and Shane Carwin.
Fenn (L.A.)
Grim, are you going to be able to keep it on the feet, like Arlovski did? If you land like he did against Fedor, it won't see the 2nd round
Brett Rogers
(1:07 PM)
You got that right.
Jerry (Texas)
Brett. are you going to try to keep the fight standing or take Fedor down and battle it on the ground, whats your strategy?
Brett Rogers
(1:08 PM)
I'm going take him down and submit him!
Juan (Miami, Fl)
Brett, did you see Fight Camp 360 on Showtime?
Brett Rogers
(1:08 PM)
I haven't seen it yet, but I will watch it after the fight. I don't want to hear what they have to say until the fight is over.
Lance (Florida)
Do you think your fight should be for an interim belt since nobody thinks Overeem will fight in the US again?
Brett Rogers
(1:09 PM)
Hard to say. I wish it was a title fight. This is for the No. 1 spot in the world---the jewelry is secondary. As long as I keep winning, the rest will take care of itself.
Sal (Chicago)
With Roger?s size do you see Fedor being aggressive the way he was with Sylvia or do you see him waiting to counter the way he was with Arvloski?
Brett Rogers
(1:10 PM)
He's gonna wait to counter...and get caught, just like Arlovski. It's hard to counter a punch that knocks you out...
Kevin (Middletown, Oh)
I know every fighter stays focused for the fight and all that jazz, but have you thought about possibly being known as "the man who ended the empire"?
Brett Rogers
(1:11 PM)
Yeah, absolutely. I've been dreaming about this for some time.
Kevin (Middletown, Oh)
You didnt list Brock Lesnar in your top five, why not?
Brett Rogers
(1:11 PM)
He only has five fights, and he's lost one of them. In my mind, he's still just a wrestler. WWE. I would knock his a** out, too.
Snacks (Bellmore, NY)
Why do you think there are more fighters pulling out of fights in training camps or is it actually that we just hear about them more because there is more coverage now of fights before they are officially announced?
Brett Rogers
(1:12 PM)
The sport is just more popular and people follow it more closely. I also think the testing is stricter.
Juan (Miami, Fl)
Brett, do you feel any pressure coming in to the fight?
Brett Rogers
(1:14 PM)
I would say yes because nothing is definite at the next level. He is the No. 1 fighter and I feel the pressure to knock him out, or just win. Anytime you fight there is pressure. If you don't feel nerves or pressure before a fight, you haven't been there. I try to get the nerves out of the way before fight night.
Hayden (Logan, Utah)
What do you like to do to celebrate a victory?
Brett Rogers
(1:14 PM)
Eating and, of course, going out with my family and friends and having a drink or two. Or three.
SteveFitz (Cicero, IL)
Brett, love the attitude. Looking forward to seeing you whoop up on Fedor Chicago Style. Go get'em champ!!!
Brett Rogers
(1:14 PM)
Thanks for the support!
Kevin (Middletown, Oh)
If you win on Saturday what will be the bigger story, the fall of Fedor or the rise of The Grimm? And will you then be temped to jump ship to face "the best" competition?
Brett Rogers
(1:15 PM)
It's gonna be both. The fall of Fedor and the rise of Rogers. Right now, I think the best competition is in Strikeforce and DREAM. And when I get the title, I'll have control and they'll be coming to fight me.
Erik (Austin, TX)
Brett, how much weight do you normally cut to make 265 and how is that process going for you so far?
Brett Rogers
(1:16 PM)
Anywhere from 20-25 pounds from the beginning of training camp. I'll probably be 275 on fight night and get back up to 285 quickly. Right now, weight cut is going just fine, according to plan.
Leo (Boston MA)
I thought Arlovski show a blueprint on how to out-box Fedor up untill the flying knee, plus you have more power and a better chin. Good Luck on Sat!
Brett Rogers
(1:17 PM)
Thanks. Looking forward to the fight. Hopefully I can give you a great show.
Jeff (Long Island)
How far before the fight do you began to cut weight?
Brett Rogers
(1:18 PM)
We start tapering down at the beginning of the 8-week camp. We trim the final 10 pounds/water weight in the final week.
Jason (Owoss, MI)
Brett - do you think would be a harder to beat: Fedor or Brock?
Brett Rogers
(1:18 PM)
Fedor b/c he's more well-rounded and far more experienced.
Brian (Should be working)
Are you the best striker in MMA, if not who is?
Brett Rogers
(1:19 PM)
I think I'm the best. I've finished all 10 of my opponents. Not sure how many other guys can say that. You'll see my power this weekend.
Hayden (Logan, Utah)
Who is your favorite fighter to watch besides yourself?
Brett Rogers
(1:20 PM)
Anderson Silva.
Scott (Northern Kentucky)
Brett what are your picks on the rest of the night, Shields-Miller, Mousasi-Sokoudjou, Werdum-Silva?
Brett Rogers
(1:20 PM)
I'm gonna be sharing a locker room with some of those guys, so I don't think I should be predicting their fights. The card is stacked, though.
Jeff (Long Island)
Huge Luck for Sat bro! You made a fan out of me. Thanks for the visit
Brett Rogers
(1:21 PM)
Thanks, Jeff. Looking forward to Saturday night.
Jay K. (Vancouver BC)
Have you been training with smaller, faster fighters in this camp to adjust to Fedor's speed?
Brett Rogers
(1:21 PM)
Yes. Emmanuel Newton came from L.A. and has helped us out a lot.
Brian (Milwaukee, WI)
It seems that with guys like you, Brock and Carwin, the modern heavyweight is cutting down to 265, then weighing around 275 to 285 on fight night, do you think that guys like Fedor and Werdum, who fight at around 230 need their own weight class?
Brett Rogers
(1:22 PM)
Yes they do. I'm sick of people comparing me to the lighter end of heavyweights.
Lance (Florida)
Main Event and you don't get your own locker room? Thats messed up.
Brett Rogers
(1:22 PM)
Hahahahahaha.
Kevin (Middletown, Oh)
No love for Kimbo is not a secret, but would you still want to fight him even though his career may be on it last leg?
Brett Rogers
(1:23 PM)
Money talks. Easy money. Free check.
Love Sauce (Phoenix AZ)
Hey Brett, Ill be celebratin some of that good stuff (greens ribs chitlins(dont hate on chitlins,you know they good)if you win Saturday man, dont forget bob and weeve and have a good fight!
Brett Rogers
(1:23 PM)
Thanks!
Jason (Owosso, MI)
what music will you be coming out to?
Brett Rogers
(1:24 PM)
Grim Situation by Ikkabod. It's a special track they created for me.
Brian (Greensboro, NC)
Other than size and punching power, what advantages do you feel you have over Fedor?
Brett Rogers
(1:24 PM)
Hunger and the desire to win and succeed.
Jason (Ellicott City, MD)
Jon Anik said that Fedor is one of the hardest hitters. Your thoughts?
Brett Rogers
(1:25 PM)
I'm about to choke that little guy out.
Trevor (Florida)
brett- has the ufc approached you about fighting for them after you ko'd arlovski?
Brett Rogers
(1:26 PM)
That's contrack talk. Can't answer any contract questions in the public...as much as Anik would like to break a story.
Hayden (Logan, Utah)
do you go out to hurt someone, or to get the W?
Brett Rogers
(1:27 PM)
I go out to hurt. But it kind of goes hand-in-hand. Sort of hard to beat someone without hurting them. And that wouldn't be very interesting for the fans.
Brett Rogers
(1:28 PM)
Alright, guys. Gotta get back to some ESPN TV stuff. Thanks for all the questions and support. Tune in Saturday night on CBS. You won't be let down. Also, check out knockoutdogfighting.org. Anik's got you the rest of the way...
Jon Anik
(1:29 PM)
Alright, ladies. Brett is gone, so you're stuck with me until 2ET.
Trevor (Florida)
Anik, give us your prediction for the entire televised card
Jon Anik
(1:30 PM)
I will not be offering up a prediction on Fedor-Rogers until tomorrow on MMA Live. Rogers ain't that far away. I do like Jake Shields to find a way, but I still don't see him as a middleweight. Also think Mousasi will get a tougher fight than anticipated from Sokoudjou, but he'll still finish him off in the second round.
Matt (NYC)
Let's not forget about Fri. Who ya got, Evangelista or Gurgel?
Jon Anik
(1:31 PM)
Really looking forward to that main event on Friday night. I think it'll be Gurgel by TKO. Stamp it.
Juan (Miami, Fl)
Jon, will you go more in depth look on the Strikeforce for this Saturday on MMA Live?
Jon Anik
(1:31 PM)
Absolutely. We will lead the show with our Strikeforce preview.
Brian (Should be working)
Anik vs FMAC....who takes it?
Jon Anik
(1:31 PM)
I would destroy McNeil, with all due respect. Huge cardio edge in this corner.
Erik (Austin, TX)
Do I need to even ask who you like between Santiago and Khalidov?
Jon Anik
(1:32 PM)
Hahahaha. No, you don't. A huge night and opportunity for Mamed Khalidov. He won't let it slip away. Khalidov by unanimous decision.
Jason (Owosso, MI)
Podcast update?
Jon Anik
(1:33 PM)
Still in the works, Jason. Sometimes things don't move as quickly as we would like.
alex Westrich (ohio)
did my question work?
Jon Anik
(1:33 PM)
Yes. Now ask something I can answer!
Tyler (North Carolina)
If Anthony Johnson misses weight for his next fight, what do you see happening? A forced move to middleweight? I can't imagine Dana being very happy.
Jon Anik
(1:34 PM)
Quite frankly, I was a bit surprised, given what happened at UFC 104, that the UFC didn't step in and force him to move up to 185. I think UFC 106 will be his last opportunity to make weight and, if he fails to do so, the UFC could very well force his hand.
Juan (Miami, Fl)
Jon, in your opinion, what are some key elements for Strikeforce to have a successful night on prime time network tv?
Jon Anik
(1:35 PM)
I would've liked to have seen more promotion in the weeks and months leading up to the fight. Showtime did a nice job with Fight Camp 360 and it's great that Brett Rogers is at ESPN today. I just think it's a bit too little, too late. As for the actual show, I have no doubt that it will deliver. Hopefully, Strikeforce can get back on CBS soon to build upon that momentum, which I expect will be significant.
Matt (NYC)
How about Big Foot vs. Werdum and JT$ vs. Rockhold? Lots of good matchups from Strikeforce this weekend!
Jon Anik
(1:37 PM)
Love JT money. Also like Big Foot to beat Werdum. I think Silva brings a ton to the table and have never been a huge Fabricio guy.
Leo (Boston MA)
This may seem like a dumb question but what is better for the long term success of Strikeforce, Fedor the domminate champion winning or Rogers the all american underdog pulling the upset?
Jon Anik
(1:39 PM)
It's hard to say. Some insist that a Fedor loss would be disastrous to Strikeforce. And, while I think it's better for the promotion if he wins, I don't see it as a major detour should be lose. I think Rogers is a guy you can build around, and he's still undefeated. It would also be interesting to see how Fedor responds to a potential loss.
Frank Mir (California)
Do you think St. Pierre will ever move out of his weight class and fight Anderson Silva?
Jon Anik
(1:39 PM)
Not anytime soon. GSP wants to cement his status as the best welterweight of all time, a distinction currently held by Matt Hughes. A mega-fight with Silva is a long shot at this point.
Matt (Fort Collins)
With Fedor being widely regarded as #1 PFP, does he have any wriggle room with that claim to fame? In other words, if he loses to any of these Strikeforce guys, does that automatically drop him down the list?
Jon Anik
(1:41 PM)
We saw Miguel Torres lose to Brian Bowles and he was dropped from nearly every P4P list immediately thereafter. I think a loss to Brett Rogers would drop Emelianenko down, but not out of the Top 10. A lot of it will depend on the exact result. If he gets knocked out early, he'll take an appreciable hit in the rankings.
Charlie (Philly)
Rogers would be more marketable to the casual US fan than Fedor is.
Jon Anik
(1:42 PM)
Let's also remember that this mainstream attention is very new to Brett Rogers, and he will only get better in terms of dealing with the media, self-promotion, etc. I still think Fedor's marketability is almost 100% predicated upon the enigma factor. People don't know a lot about him, and I think that creates a mystique.
Jay K. (Vancouver BC)
Fedor is 33 now. How many years does he have left as the elite HW? Big Nog seems to be teetering on the brink and he's 33 as well.
Jon Anik
(1:44 PM)
I think we will see Fedor lose at some point in the next three years. Everyone loses in MMA, and given the sport's evolution, Fedor will eventually have an off night or meet his match. It could even happen this weekend. It's amazing how much more respect Shane Carwin has among the hardcore fans than Brett Rogers does. I understand Carwin is a UFC fighter and has the wrestling credentials, but Brett Rogers is one of the most underrated fighters out there. He didn't get nearly as much credit for the Arlovski win as Arlovksi got blame.
Brian (Greensboro, NC)
Fedor's marketability is also predicated on being the (almost) consensus #1 hw in the world.
Jon Anik
(1:44 PM)
Of course, even if the casual fans have no idea who he is.
Frank Mir (California)
I'd break Brett Rogers arm!! I see too many flaws in his game. Anyway, who do you feel has a better chance of winning BJ Penn or Diego Sanchez?
Jon Anik
(1:46 PM)
We still don't know enough about Rogers' ground game. He hasn't been forced to go to it, or even thwart many takedowns. It'll be interesting to see how he responds to the challenge, but I know he's put in the work. As for the Penn-Sanchez clash, it's a tremendous fight. Just not sure Diego has the power to really threaten B.J. Penn. Wouldn't be surprised if it went the whole 25.
Jason (Ellicott City, MD)
You say everyone loses in MMA....well not if Dana White has anything to say about (Ufc 104).
Jon Anik
(1:47 PM)
Your contributions to this chat are well-documented, even if you remain the consummate conspiracy theorist.
Brian (Should be working)
Now that Brett is gone...what do you think of his top 5 HW's?
Jon Anik
(1:48 PM)
Obviously he hasn't seen enough of Brock Lesnar to be convinced that he's an elite MMA fighter. And you can only expect him to support some of the Strikeforce guys. Have no problem with loyalty, even if I may not agree with his list.
Jason (Owosso, MI)
Fedor could just retire on top of the mountain.
Jon Anik
(1:49 PM)
...just like Joe Calzaghe did. He was willing to fight the old legends, Bernard Hopkins and Roy Jones Jr., but wanted no piece of Chad Dawson.
Brian (Should be working)
In the red corner...Jon "THE DIPLOMAT" ANNNNNNNNNIIIIIIKKKKK
Miguel Torres (hopefully on mma live tomorrow)
People who watch me and Kenflo on mma for dummies know more bjj than Rogers. You should have called him out on that choke.
Jon Anik
(1:51 PM)
You ain't coming to Bristol, tomorrow. You're probably traveling with Cotto's entourage to Vegas or something. Anyway, who has better submission defense, Lesnar or Rogers? Most would answer Brock, but we haven't seen Rogers on the ground. It's easy to say he's got nothing on the ground when we haven't seen him down there. The man I saw today didn't seem concerned at all, should things hit the canvas. We shall see.
Chris (Chicago)
With all the injuries forcing the UFC to juggle who is fighting when, could you see them adding another weight class solely to have more main event options to fill out their aggressive scheduling?
Jon Anik
(1:52 PM)
I just don't see it, Chris. The UFC is very easy to follow and understand right now, with five weight classes and five champions. Not sure the UFC will ever feel the need to add divisions, and thereby pay more champions.
Juan (Miami, Fl)
Jon, did you tell Brett about the MMA Live chat curse????
Jon Anik
(1:52 PM)
Not sure what you're talking about. Hahaha.
SWIFTboy (Ottawa)
Between Strikeforce and the two UFC's in the next 3 weekends, which fight are you most looking forward to? I just have this feeling Nog. vs Cane will be epic.
Jon Anik
(1:54 PM)
That's a good call on your part. I am intrigued by both Couture-Vera and Hardy-Swick at UFC 105. Obviously, after hanging with the Grim today, that fight is of great interest. But No. 1 on my list is Tito's return to the UFC. I am leading a minority that remains convinced Ortiz can make another run at UFC gol. I'm confident he'll prove me right on 11/21.
Marc (Malden, MA)
I know UFC 105 is on Spike, but without the Lesnar-Carwin fight, shouldn't UFC 106 also be on Spike?
Jon Anik
(1:55 PM)
I think Tito Ortiz's presence alone can generate 400,000 PPV buys.
Jason (Ellicott City, MD)
Can you tell me why Arianny isn't someone you are following on twitter or at least on your main page?
Jon Anik
(1:56 PM)
Oh rest assured, I am following Arianny on Twitter...her every move, actually. Hahaha. A better question is, why isn't she following the host of MMA Live on Twitter? Messed up.
RJ (Boston)
Is rampage really-really-really "done fighting"? Has there been a real in depth interview with him to find why the change of heart came so soon... or, am I just way way way behind the times right now?
Jon Anik
(1:57 PM)
I think Rampage will eventually return to the UFC. The money will be too good to pass up.
Trevor (Florida)
When is Tom Lawlor being invited to Bristol?
Jon Anik
(1:58 PM)
We'd certainly have to invoke that 7-second delay. Tom is a character, and would definitely be a nice addition to the show.
Ken (Pittsburgh)
Do you think the guests at my grandparents 60th Anniversary party are going to enjoy watching Strikeforce's CBS debut?
Jon Anik
(1:59 PM)
Well, if you are there educating them on our great sport, they'll be addicted soon enough.
Brian (Milwaukee, WI)
So Kenny's won't be on till after 107, Rashad will have to go into intense training soon, are we gonna have McNeil and Bonnar for like 2 straight months?
Jon Anik
(2:00 PM)
Still to be determined. Stephan Bonnar is back from Italy (got married) and will be in the house tomorrow. I think you'll see Rashad a few more times before his fight, and Miguel Torres isn't fighting until 2010, so hopefully he'll make some time for us.
Jason (Ellicott City, MD)
Is Kenny going to be nervous at UFC 107 with BJ Penn just a few doors away?
Jon Anik
(2:01 PM)
Dude you are relentless. Kenny's as mentally tough as it gets, and he's facing a virtual must-win at UFC 107. Only thing on his mind will be Guida's hair. I mean Guida.
Josh (Tampa)
Do you feel Fedor was scared of the competition in the UFC and that is why he didn't sign?
Jon Anik
(2:02 PM)
I think there were a lot of factors that led to Fedor signing with Strikeforce and not the UFC. I wouldn't say he was scared of the UFC competition. But I do think it will be easier for Fedor to cut his teeth in the 'cage', so to speak, by taking on Strikeforce's elite.
mark (denver)
hendo or rampage who comes back first?
Jon Anik
(2:03 PM)
Good question. Hendo. Wouldn't be shocked to see Rampage try to milk the retirement thing as long as he can. Just don't know if any acting gigs will come along after 'The A-Team'. Page has mouths to feed, ya know.
mark (denver)
man its about time this regular got some love been like two weeks
Jon Anik
(2:04 PM)
Huge volume in the chat room today, Mark. There's your love. Re-send your question and I'll try to pluck it out.
Jason (Owosso, MI)
I was clay guida for halloween.
Jon Anik
(2:04 PM)
Awesome.
Ken (Pittsburgh)
Bellator should come to Pittsburgh. 5,000 came to a local show this past summer, first MMA promotion in this town. Bellator would produce good numbers.
Jon Anik
(2:04 PM)
I will pass the message along to our C.E.O., Bjorn Rebney. What's the venue?
Mike C. (Portland, Or.)
We NEED MMA Live on one of the networks. Tell me you guys are working on finding some compromising photographs of the programming directors up there and that you'll be on my TV soon!
Jon Anik
(2:05 PM)
Hahahaha. I can tell you that a petition is circulating online to get MMA Live to TV. Not sure if that'll do the job, but sign it! I am confident we will get there in due time.
Brian (Should be working)
I went as Jon Anik for Halloween and the girls were all over me!!
Jon Anik
(2:05 PM)
Obviously. My identical twin is the better looking guy.
SWIFTboy (Ottawa)
When this chat gets so big you can't keep up, can I be your assistant?
Jon Anik
(2:06 PM)
I can only dream of a day someone types the answers for me, SWIFTboy. I'm thinking if I moved the chat to my day off, we could go for 5 hours. Just not sure my digits would hold up.
Tyler (North Carolina)
Who do you consider the most explosive athlete in MMA?
Jon Anik
(2:07 PM)
Georges St. Pierre. Not necessarily based upon what I've seen in his fights, but rather the inside dirt I hear from Kenny Florian about his training, his work ethic, and his overall approach. I have no doubt GSP could be an NFL cornerback.
Bill Simmons (LA)
5 hours...lol...rook
Jon Anik
(2:08 PM)
Hahahahaha
Chris (Danville, Ca)
If you had the opportunity to be Shane Carwin's right hand for one day, who would you knock out?
Jon Anik
(2:09 PM)
What a great submission. Gotta be careful not to offend anyone here. Without much time to think about it, I'll say Nick Green. The Red Sox shortstop really drew my ire this season.
Kevin "Concrete" Asplund (mpls mn)
Brett still here?
Jon Anik
(2:09 PM)
Brett is gone, making the rounds at ESPN. He will be on SportsNation on ESPN2 at 4 ET. Michelle Beadle will bring out the best in him.
Dustin Wardle (UT)
When do we see GSP again and the Machida/Rua Rematch and Silva/Belfort?
Jon Anik
(2:11 PM)
We're looking at early 2010 for GSP. As for the other two fights, injuries are holding things up right now, so it could be several months into the new year. It's all fluid right now, but I think GSP will surface before the other two champions do.
Jason (Owosso, MI)
Will Marcus Jones win tonight on TUF?
Jon Anik
(2:11 PM)
There's no other option, yes. I'm just curious how he'll get it done. Marcus Jones will be here tomorrow to talk about his fight.
Johnny (Minneapolis)
Who would you have in a fight, Brock or Rogers?
Jon Anik
(2:12 PM)
Well, I would agree with Rogers that we still don't know as much as we think we do about Lesnar's stand-up. That said, I will give his chin the benefit of the doubt. I'd favor Brock, but I would love to answer this question next week after seeing how Brett holds up against a fighter with a vastly superior ground game.
Phil (NYC)
Who do you think the UFC will match up with Kimbo in Jan.?
Jon Anik
(2:13 PM)
Reports are he will fight Houston Alexander in December at a catch weight of 215 lbs. 0% chance the fight hits the ground.
Brian (Milwaukee, WI)
The show looked good last week, what are all those people in the background actually doing?
Jon Anik
(2:14 PM)
Yeah man, I love doing the show out of Studio S. That is just one of the many ESPN newsrooms behind us. People are just doing their jobs.
Brian (Umass)
No way GSP could cover a Randy Moss or Larry Fitz. He can skate and fight better than Georges Laraque sign him up for the nhl
Jon Anik
(2:15 PM)
I wouldn't put it past him. Of course, GSP didn't grow up playing football. But athletically, he's got all the tools, and the toughness.
Tony (Atwater, Ca)
So if Brett Rogers beats Fedor will he then be consisdered the #1 heavyweight in the world?
Jon Anik
(2:15 PM)
He will certainly be in the discussion. And, should he actually knock Fedor out, you'd have to consider him strongly for that distinction.
Greg (Ellicott City)
GSP would be a slot receiver.
Spencer (Washington D.C)
Jon.. Your answer should be Bob Arum to who you want to punch in the face with Shane Carwins fist.
Jon Anik
(2:16 PM)
Arum's recent comments were frustrating for sure. But I have many enemies bigger than him. The man has done a lot for boxing, and there's a respect there. He just should pipe down on all things MMA, b/c his ignorance really comes out.
Evan (SLC)
How did you first get into what you are doing now? I am an aspiring journalist and find boxing/mma interesting and something I would love to cover.
Jon Anik
(2:17 PM)
I hosted a boxing radio show out of Boston for four years and was splitting time between Boston and Bristol for two years when MMA Live came to fruition. Part of it was right place, right time. Best advice I can give is to always be ready, b/c you never know when an opportunity will knock.
BT (Atlanta)
What do you think of Brock showing up at a Vikings game?
Jon Anik
(2:18 PM)
Good for him. I know some would like to see Lesnar do more in the public eye to promote MMA and the UFC. But he is who he is.
Andrew (Newfoundland)
Buy/Sell: Strikeforce beats Exlite XC's ratings on CBS
Jon Anik
(2:19 PM)
Sell. Kimbo Slice is a transcendent figure and was the primary reason EliteXC did such a bloated number.
The Scooch (NYC)
Jon, any news as far as new cities and venues that Bellator will be visiting next year? Would like to see it live if they are close to my area.
Jon Anik
(2:20 PM)
From what I've read, Mohegan Sun (CT), the Seminole Hard Rock (Hollywood, FL) and Monroe, Louisiana will all be in the mix once again, as well as other venues and cities. Will let you know as soon as I do.
Jason (Owosso, MI)
No, Jon - I think BT wanted to know your thoughts on the *sick* Brock @ the game.
Jon Anik
(2:21 PM)
Far be it from me to question just how sick Lesnar is and whether or not he could've gone on with the fight. Clearly, Lesnar is battling something, and I don't blame him for not wanting to defend the title if he can't put in a full camp. I want to see Lesnar-Carwin when they are both as close to 100 percent as possible.
Brandon (Albany)
So i just read up on this Bob Arum guy and I defintely think you should chose him instead of Nick Greene
Sal (Chicago)
Jon, maybe you can answer this...what's the fascination with Heavyweights in both boxing and MMA? Why do the size of fighters matter? If there's not a KO it's usually boring. Give me Penn-Sanchez all day over Brock vs Carwin
Jon Anik
(2:23 PM)
Good question, Sal. We've seen recently on The Ultimate Fighter what happens when average heavyweights who aren't training full-time go at it. Brendan Schaub is one exception, but a lot of those guys just gas b/c their bodies aren't ready for two hard rounds. The little guys deliver more consistently in MMA, but it's only natural that people want to see the behemoths bang away.
Johnny (Minneapolis)
Love the chat, Jon, Finally able to get in on one of these. When will we see Sean Sherk back in the cage?
Jon Anik
(2:24 PM)
Thanks, Johnny. Good to have you. I think Sean Sherk's best days are firmly behind him, but he'll resurface in 2010.
Jason (Ellicott City, MD)
Hendo vs Rampage UFC 109: Bitter as Hell
Jon Anik
(2:24 PM)
I like the sound of that a lot.
Evan (SLC)
I heard Randy Couture offering to train Ricky Hatton in MMA. How would Hatton, a former kick boxer, fair in the octagon?
Jon Anik
(2:24 PM)
He's not even an elite boxer. Don't think that transition would end well for the Hitman.
Phil (NYC)
Jon, would you take Joe Rogans job if you had to fight him for it?
Jon Anik
(2:25 PM)
I couldn't do Joe Rogan's job, nor could I beat him in a fight.
Marc (Malden, MA)
Because whether you're watching boxing, MMA or a Rocky movie, you get chills when the ring announcer says "heavyweight champion of the world."
Jon Anik
(2:25 PM)
That's what I was getting it. 25 years ago, there was no bigger title in all of sports than 'Heavyweight Champion of the World'.
Jason (Ellicott City, MD)
Are you excited that the Yankees will win another World Series and not the Red Sox? I'm an Orioles fan btw.
Jon Anik
(2:26 PM)
Never fun as a Red Sox fan when New York wins a world championship. But since I graduated college in 2001, there have been six championship parades in Boston, Massachusetts. And the Red Sox are responsible for two of them. You won't hear me complaining.
Scott (Northern Kentucky)
I think this has been the worst TUF yet. I had no idea at the time that Kimbo-Nelson fight would be the best fight yet. I really do not see even a fringe contender coming out of this season. There is still time left, but the last couple of fights have been toughman competitions.
Jon Anik
(2:27 PM)
No argument here. I think the Rampage-Rashad dynamic is must-see TV, but the fights have been pretty dreadful.
Mike C. (Portland, Or.)
The chills then disappear when you realize the next two words spoken were once "Tim Sylvia".
Jon Anik
(2:27 PM)
Hahahahaha.
Tony (Atwater, Ca)
When is Bellator going to come back on? Is it still on espn?
Jon Anik
(2:29 PM)
Tony, Bellator announced a new TV deal last week with Fox Sports Net and NBC. Go to Sherdog or bellator.com for details. First show for Season 2 is April 8th, 2010.
Boyd (Nashville) [via mobile]
JA, long time chat reader... When does the UFC come back to Nashville? We put on a great turnout and would love to have them back.
Jon Anik
(2:30 PM)
Thanks, Boyd. Not sure on a return date for Nashville, but the turnout certainly begs for a return. The Nashville fight fans did all they could to show the UFC they appreciate MMA.
Antoine Hood (Havelock,Nc)
If Rogers wins, will you sport a mohawk in his honor?
Jon Anik
(2:30 PM)
If the MMA Live producers sign off on it, absolutely. Send your suggestion to mmalive@espn.com.
Sammy (chicago)
jon who you got cotto or pacman?
Jon Anik
(2:31 PM)
I'm actually picking Cotto +210 in an upset. Pacquiao has had to deal with a lot of variables during this training camp and I think it might have impacted the thoroughness of his preparation.
Tyler (North Carolina)
You need to talk Rashad into joining chat sometime.
Jon Anik
(2:32 PM)
Will do, Tyler. He's usually on a plane to Bristol when I chat, so it's tough. But will try to hook it up at some point.
Brian (Umass)
Been to every parade besides one (football game in 2004). Waiting for the Florian parade with you and Zahabi on the duck boat with him.
Jon Anik
(2:32 PM)
Amen brotha.
Jason (Ellicott City, MD)
If you want to lose money, back Anik's picks. Trust me (UFC 104).
Jon Anik
(2:33 PM)
Hahahahaha. That was a particularly rough night. But I blame you guys for making me pick every fight. See, MMA Live lets me off easy.
Jason (Owosso, MI)
What does +210 mean?
Jon Anik
(2:33 PM)
It means that Cotto is about a 2-to-1 underdog in the fight. Translation: If you lay down $100.00 on Cotto to win, it will pay you $210.00.
Evan (SLC)
I might be wrong here, but why does it seem as if Vegas always gets the mega cards? The UFC is starting to change that, but a lot of the title fights are in L.V. I would use Penn v. Sanchez as an example of reaching out to other towns, but Penn has said he won't fight in Vegas anymore, so that doesn't really count.
Jon Anik
(2:34 PM)
Las Vegas is the fight capital of the world and it's also the UFC's homebase. It's far easier for a promotion to run a show out of its own backyard than to travel with a huge production team, trucks, etc. I agree with Zuffa's methodology and actually refer that the big cards are in Vegas.
Mike C. (Portland, Or.)
If Chris Berman can pick as many games wrong as he has in the last 30 years and keep his job, then Jon is more than safe.
Vinod (NYC)
Pumped for Fedor-Rogers, but will also be watching Dawson-Johnson 2. Who you got there, JA?
Jon Anik
(2:36 PM)
Shhhhh, don't tell anyone. I will be in the building in Hartford, CT Saturday night for Dawson-Johnson II. Was trying to get my fat a** to Chicago for Fedor-Rogers, but couldn't pull it off, so the DVR takes over. I think Dawson wins another close one.
Scott (Oregon)
Jon you do really think BJ will never fight in Las Vegas again? I feel like that's about as likely as Rampage staying retired.
Jon Anik
(2:37 PM)
B.J. Penn will eventually fight in Las Vegas again, against his mother's wishes. You know he'd prefer Vegas than, say, Germany.
Mike C. (Portland, Or.)
Jon, who is the Bert Sugar of MMA journalists?
Jon Anik
(2:37 PM)
Wow. Bert Sugar is a dear friend whom I've interviewed about 50 times. He is an irreplacable legend and doesn't have an equal in the MMA world.
jarric (kansas)
thinkin about paying an extra 10 bucks a month for HDNET just so I can watch Dream fights. Is it worth it?
Jon Anik
(2:38 PM)
Absolutely, Jarric. You also get Sengoku as well as other regional shows. Worth every penny, and $120./year ain't bad at all. It's the equivalent of two UFC PPVs.
Jason (Ellicott City, MD)
It's almost time for you to cop out of the chat and claim you have to work on MMA Live.
Jon Anik
(2:39 PM)
You're right. I gotta move the chat to Mondays, when I'm off.
Marc (Malden, MA)
Even with the lack of skills, what makes this season of TUF almost unwatchable is these guys have zero conditioning. With the exception of Kimbo-Nelson, every fighter has gassed before the end of round 1.
Jon Anik
(2:40 PM)
Part of that is scientific. Because they are naturally bigger men, they gas more quickly. Cain Velasquez is in the minority---a heavyweight with a ridiculous motor. Also, a lot of the TUF heavyweights don't link up with a major camp until after the show. They then will make great strides with their conditioning.
Jose (Lennox, CA)
You said Miguel Torres might be traveling with Coot's entourage. Where is that connection? How did they hook up?
Jon Anik
(2:40 PM)
Don't know much more, other than that Torres sparred with Cotto during his training camp. They hadn't met before then.
Mike C. (Portland, Or.)
No disrespect towards Bert was meant at all. I just kinda wanted to know who you felt is the most respected MMA journalist in the business, since Bert Sugar is the mark by which all boxing journalists are compared, even if they all fall short.
Jon Anik
(2:43 PM)
No disrespect taken. It's just that Bert has been around boxing twice or three times as long as any MMA journalist has been covering our sport. My man Kevin Iole is one of my favorites on the MMA beat. Great access, information and delivery, and he's got the respect of the whole industry. I've also learned a ton from Franklin McNeil.
Brian (Umass)
So basically everybody but James McSweeney has an excuse being the smallest guy on the show. training with Greg Jackson and still barely making it two rounds
Jon Anik
(2:43 PM)
Fair enough.
Spencer (Washington D.C)
Cain, Shane or Brock? Which one has the best chance to beat Fedor (after Fedor beats Rogers, easily)
Jon Anik
(2:43 PM)
Lesnar.
Jose (Lennox, CA)
What did you think of Rodger's not so sublte statement that fighters are pulling out of fights more due to stricter testing?
Jon Anik
(2:43 PM)
Brett Rogers is not at all afraid to speak his mind. Obviously, Rogers is clean and has nothing to worry about.
Ken (Pittsburgh)
Who is the Jon Anik of boxing analysts? I'm going with Max Kellerman.
Jon Anik
(2:44 PM)
I appreciate being mentioned in the same sentence. Kellerman does a great job---dynamic personality.
Sal (Chicago)
More important aspect of MMA, defending the takedown, or being able to take someone down?
Jon Anik
(2:45 PM)
They sort of go hand in hand. I think the ability to thwart a takedown is huge. If a good wrestler can take you down with ease, that will be the story of the fight.
Johnny (Minneapolis)
Hey Jon, How often are you able to make it out to the different camps and what is their perception of the media watching them train for specific fighters. Do they attempt to hide any special tactics they have for a specific opponent or do you guys choose not to divulge that insider info given in your reports.
Jon Anik
(2:47 PM)
My camp observations, unfortunately, are limited to conversations with fighters and trainers, both in Bristol and on the road at Bellator events. Right now, I am only on the MMA beat two days/week, in addition to my other ESPN Digital Media responsiblities. Hopefully, I'll be a full-time MMA guy one day and can make those trips.
Jose (Lennox, CA)
Do you agree with Rodger's statement? Also, I liked the fact that he isn't afraid to speak his mind. Gonna make him popular with reporters.
Jon Anik
(2:48 PM)
Well, the drug-testing in the states is random, so it's more difficult for a fighter to cheat and get away with it. I do think it's a huge problem overseas.
Bill (Iowa)
Do you think that ever since Brock acted the way he did after winning, that ESPN will ever cover MMA and or UFC on one of there networks?
Jon Anik
(2:49 PM)
ESPN's decision to get into the MMA game won't be inexorably linked to Brock's outburst after UFC 100. It was a forgettable display by Lesnar, but really just raw emotion that spilled over. I don't think it's that big a deal. I think more disconcerting for ESPN would be a canvas covered in blood before a main event starts.
Evan (SLC)
Which Brandon Vera will be see at UFC 105? I think he's back to being "The Truth" and has a shot at taking out Randy.
Jon Anik
(2:50 PM)
I think he will find his range early against Couture and has a great chance in the fight. I think Vera finally realizes what it takes to be elite, and won't be shocked to see him in a title fight in 2010.
Evan (SLC)
When is it time for Couture to retire? I hope we don't see the same thing we did when Ali faced Holmes (a legend past his prime).
Jon Anik
(2:51 PM)
Mentally, Randy is still sharp as ever. Physically, he's in phenomenal shape, but I do think he has slowed down. I think Vera is a tough match-up in terms of speed for Randy.
Jason (Owosso, MI)
When you getting married?
Jon Anik
(2:51 PM)
Hahaha. TBD. Gotta get engaged first, I'm told.
Big Marcus (Las Vegas)
What's my excuse? I'm a dang pro athlete!
Jon Anik
(2:52 PM)
You haven't lost yet!
Jason (Owosso, MI)
How can I get your autograph?
Jon Anik
(2:54 PM)
You don't want my autograph. Just forge it kid.
Jon Anik
(2:54 PM)
Alright, heads. Thanks for hanging around for the extra hour today, and thanks for getting those questions in for Brett Rogers earlier. Be sure to check out my interview with Brett tomorrow on MMA Live. If we didn't get to your question, mmalive@espn.com or hit me up on Twitter (Jon_Anik). Enjoy the Strikeforce show on CBS Saturday night! Until next week, be well and be safe. -JA