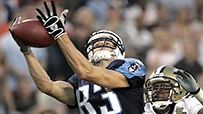 In 2004, Bennett had 1,247 receiving yards and 11 TDs.
Welcome to SportsNation! On Monday, First Take NFL analyst Drew Bennett will stop by to chat about this past weekend's games.
Bennett, who went undrafted in 2001, played eight seasons in the NFL before having his career cut short by injuries. He spent the first six years of his career with the Tennessee Titans and played the last two with the St. Louis Rams. He had signed on with the Baltimore Ravens in July 2009, however a knee injury caused him to retire shortly after signing his contract. For his career, he caught 307 passes for 4,412 yards and 28 TDs.
Bennett appear every Monday on ESPN2's First Take from 10 a.m. to noon ET.
Send your questions now and join Bennett Monday at noon ET!
More Special Guests: Previous chats | SportsNation
Kevin (Orinda, CA)
How good do you think Crabtree will end up being? He looked pretty impressive yesterday against the Colts. Do you see the Niners making the playoffs? Also thank you for dunking on me at Oakwood.
Drew Bennett
(12:00 PM)
I think Crabtree is going to be the real deal. I talked to Trent Dilfer yesterday, and he said he worked out with him and was one of the best receivers he'd ever thrown to. I think the tandem of Alex Smith being healthy and Crabtree being there now will eventually lift the Niners to the playoffs, but not this year.
Wes (Dallas)
Were the Broncos finally exposed by the Ravens or did they just run into a good team and a good defense?
Drew Bennett
(12:02 PM)
I think that Baltimore is very underrated. They're two plays away from being 6-1. I do think that the Broncos are going to have trouble playing from behind because of the offensive style of Orton and McDaniels. Let's hope this is not a blueprint for other teams to copy and take advantage of the Broncos' defense in the second half.
Sam (Boston)
It seems people are giving Vince Young a lot of credit for getting the Titans their first win, however, it's not like they won because of him. I think their running game had way more to do with the win than Young. What do you think?
Drew Bennett
(12:03 PM)
I agree. The running game won this football game, but with a RB like Chris Johnson, you need a game manager, not a Peyton Manning. The Titans' defense is healthier again, and I think in combination with Vince making plays with his legs, they should win some more football.
Chad (Las Vegas)
ATL has NO shot tonight in the Dome. 1) Saints are home. Top 3 toughest places to play in the NFL when they are good. 2) ATL's losses have come to teams that can pass the ball well. 3) ATL has injuries in their secondary that will kill them.
Drew Bennett
(12:04 PM)
The Falcons don't have the pass rush that the Dolphins did last week. That seems to be the only way to slow down this Brees offense.
Ryan (Delaware`)
How hard is it watching the games from the sidelines this season?
Drew Bennett
(12:05 PM)
It's a lot tougher than I thought it would be, but it's nice that I have this job with ESPN to still stay involved with a different level.
Paul (Jacksonville)
Can you believe the Philly fans bag on McNabb from time to time? There are plenty of teams that would love to have him on their team!
Drew Bennett
(12:06 PM)
Now that I've played in St. Louis, I would take an interactive, interested fan any day rather than people not in the seats. McNabb loves the attention he gets and knows that when he plays well, he'll be rewarded in proportion to the amount of criticism he gets.
Carlos (Atlanta)
Drew, you were a bum, where was all this knowledge when you were playing; could have played longer?
Drew Bennett
(12:07 PM)
I think I could have played longer had my knees held up! This knowledge has always been there, I just needed the ball more, ha ha.
J.B. (Dunmore, PA)
Mr. Bennett: Last season Brett Favre broke down as the season progressed and so did the Jets. Do you think having the BYE week right in the middle of the Vikings' schedule may keep such a collapse from happening this season?
Drew Bennett
(12:08 PM)
I think that will definitely help, but I also think that Childress' pitch count for Favre in practice, and Adrian Peterson being able to take a lot of the load will prevent him from wearing down and having a similar injury to what he did last year.
Jim (Boston)
Are the Colts far and away the best team in the league?
Drew Bennett
(12:08 PM)
I think they're far and away the best team in the AFC, but you can't count the Saints out yet, especially after San Francisco gave Indy a scare at home.
will (RI)
Do players like a hands-on owner or one who just lets them be?
Drew Bennett
(12:10 PM)
It all depends on if you're winning. Getting attention from owners during a winning streak is great because of the extra benefits they might hand you or allow you, but on the flipside, you don't want him or her walking around the locker room after a bad game on your part.
Pete (NC)
Are the Panthers the biggest Jekyll/Hyde team in the NFL?
Drew Bennett
(12:11 PM)
I wouldn't give them that much credit, but their team definitely depends on Jake Delhomme not turning the ball over, which is a constant theme this year.
Matt (Philadelphia)
Drew, the Steelers are in the middle of a 3-game stretch where their opponent will have played the Ravens the week before. As a former player, how beneficial is that to get a team off of such a physical game?
Drew Bennett
(12:12 PM)
As the season gets longer, it makes a bigger difference if your opponent has played a physical game, especially on a Monday or Sunday night the week before. Right now is probably the time of the season when these types of physical games start to take their toll.
Tom (Chicago)
Do you tihnk the Vikings are for real? Other than against the PAckers their wins have been close games that could have gone either way.
Drew Bennett
(12:13 PM)
In the NFL, a good team has to all be a lucky team. I do think the Vikings snuck away with two games, especially the Baltimore missed field goal, but they had also beaten a good Packers team twice and seemed to be as well-balanced as anyone in the NFL.
Clyde (South Padre Island, Tx)
Drew, big fan of you when you played, solid route runner and hands. How would grade Miles Austin at this stage of the season?
Drew Bennett
(12:15 PM)
Obviously Miles Austin has been outstanding, and I think that the Cowboys getting away from relying on Roy Williams has allowed him to take center stage. I think he has all the tools and it'll be important to see how he plays now that defenses will gameplan for him. In the next few weeks, if he still has big numbers, then he deserves to be talked about with the top receivers in the NFL.
Mark (Charlotte)
Why are there so many really bad teams?
Drew Bennett
(12:17 PM)
I think that's the toughest question out there. You look at the teams that are bad, Carolina and Tennessee were really good last year, so it doesn't seem like there's a good correlation from year to year with every team that's struggling. Last week a boring week in football, with so many blowout wins.
tommy (boston)
DREW WHO DO YOU LIKE IN THE PATS COLTS GAME.
Drew Bennett
(12:19 PM)
I like the Colts. Peyton is the kind of QB that will come off a tight game with an average team and really put together a precise and aggressive gameplan. I don't think the Patriots' secondary match up well with Clark, Wayne and Garcon.
Josh (NJ)
Drew, Why cant the jets beat miami? they are the better team right?
Drew Bennett
(12:20 PM)
After Miami's first win against the Jets, I still thought the Jets were the better team, but I have changed my opinion watching this last game and think that Jason Taylor and Joey Porter are just starting to play their best football. Henne is more mature than his age, and Ronnie Brown and Ricky Williams could be arguably the best tandem in the NFL.
Chad (Las Vegas)
Are the Bengals flying in under the radar? I think they are a really good team and Palmer is back from all of those injuries. Can they make a serious AFC run?
Drew Bennett
(12:22 PM)
I love the Bengals. You have a healthy Carson Palmer and some previous misfits in Cedric Benson and Chris Henry that have re-dedicated themselves and a very mature group of receivers around them. The defense is putting Carson Palmer in good spots, and the special teams are not making any blatant mistakes. I think they definitely have a chance in the postseason in the AFC.
mark (scranton)
Drew, How do you measure the influence of Brett Favre on the young players on the Vikings.? Sidney Rice was considered a bust, Favre gets there and he'll be going to a pro bowl.Percy Harvin has to be the favorite for offensive Rookie of the year.
Drew Bennett
(12:24 PM)
Sidney Rice worked as hard as anybody this offseason, so this is not just Brett Favre showing up, but I'm sure there's a confidence level in the offensive huddle that was not there with Frerotte and Jackson last season. A guy like Harvin that had some character questions is put in a perfect situation playing for a guy like Brett Favre, who will make sure he's where he's supposed to be when he's supposed to be there, and he's held accountable.
Kevin Christensen (Houston, TX)
Do you think the Texans are finally playoff bound?
Drew Bennett
(12:28 PM)
Because the Texans have the Colts in their division, it doesn't look good. They are probably one of the most improved teams from last year and from the beginning of the season. They face the Colts twice in the next four weeks. Watch out.
Ray (NOLA)
Who is your MVP so far ?
Drew Bennett
(12:29 PM)
Peyton Manning, no question. There's not a player in the NFL that refuses to let his team lose more than Peyton Manning. Defenses have thrown everything at him, and he can game-manage any situation.
Drew Bennett
(12:29 PM)
Thanks for all the questions. I look forward to next week.