Chat with Nebraska's Ndamukong Suh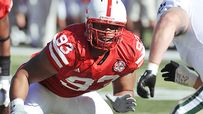 Suh is No. 1 on Mel Kiper's Top 25
Big Board
.
Welcome to SportsNation! On Tuesday, Nebraska's Ndamukong Suh stops by to chat about the 2009 college football season.
Suh continued his strong season when he had three tackles for loss and one sack in Nebraska's (5-3) 20-10 win over Baylor on Saturday. Suh leads Nebraska in tackles for loss (13), pass break ups (7) and quarterback hurries (14) and his five sacks - giving him 17 for his career - is second.
Suh's superior play this season has gotten the attention of everyone watching. He sits as the No. 1 player on Mel Kiper's Big Board and No. 3 on Scouts Inc.'s Top 32. He even sits in first place in the fan's vote for the Heisman.
Send your questions now and join Suh Tuesday at 12:10 p.m. ET!
More Special Guests: Previous chats | SportsNation
Suh4Heisman (Sidney, NE)
Any thoughts about playing a little offense? You'd make one heck of a fullback and I've seen you catch the ball so maybe tight end?
Ndamukong Suh
(12:09 PM)
I don't know. I really haven't thought about it this year and I haven't been approached by any of our coordinators. My approach right now is to play hard on defense and help this team continue to win.
Nathan (Orange, TX)
How do you feel you guys line up against what many consider a pretty amazing Oklahoma offensive line?
Ndamukong Suh
(12:10 PM)
They are a great team, but as a defensive unit, we're very well put-together. We understand what needs to be done, and as long as we don't hurt ourselves with mistakes, we'll be fine.
knapplc (Lincoln, NE)
How easy was the decision to come back for the 2009 season?
Ndamukong Suh
(12:11 PM)
Football-wise, definitely easy for me. I was with these coaches for only about six months because I didn't go through spring ball, and I learned so much from them. Academically, it was easy because I wanted to make sure I could graduate this December and have that in my back pocket. I contemplated leaving seriously, but I weighed the pros and cons of staying, and the pros outweighed the cons.
Nick (Denver, Colorado / Superior, Nebraska)
In your opinion, do you think the Heisman vote is a bit superficial towards QB's and Running Backs, and do you agree with the technicalities, prejudice, and politics that come with Heisman votes for defensive players?
Ndamukong Suh
(12:13 PM)
I really don't have a set opinion on the Heisman. Obviously, all the players up for it are great athletes and players and help their teams, so they're all deserving players. I do think that more defensive players should be up there, not just because I'm one myself, but the saying is that defense weighs championships. If you can't stop an offense, you won't win. I think they should have more recognition, but I don't have a problem with it and I can see why more offensive guys are up in the limelight. You have stats that are out there and easy to find---rushing yards, TDs, completion rating, and the like.
Neal (Portland, OR)
Knowing your college career will end soon and with all the hype over how high you could go in the NFL draft, how hard is it keep yourself from thinking beyond the season?
Ndamukong Suh
(12:14 PM)
It's not hard at all. If I don't take care of business here in Nebraska, none of those things will come true in the back end. I have to go out to practice, pass all my classes, and take care of business on and off the field. I have to show my talent week in and week out. You have to be on point and take it to a new level every week. You're playing better talent each week, as teams get better and better as they progress. It's easy to focus on the task at hand ... if you don't, they other stuff won't be there.
Carl (Omaha, NE)
Who is your favorite NFL team?
Ndamukong Suh
(12:15 PM)
I really don't have one, but the team I definitely root for is the Colts. One of my best friends loves them from back home, and my friend Cody Glenn is playing for them.
Brogan (Kearney, NE)
How do you feel the Nebraska football program has shaped you as an individual, and how do you feel you and the current team has shaped the outlook of the program into the future?
Ndamukong Suh
(12:17 PM)
The Nebraska football program has shaped me into a mature and responsible man. Everything here I've encountered, especially a tough 2007 season, helped in that. We've worked on restoring order this season, getting this program back to where it was once, as one of the most dominant programs in the country. I think we're definitely on the right path.
David (Lincoln)
Do you have a certain type of music that gets you pumped up before the games?
Ndamukong Suh
(12:18 PM)
I go through kind of my own little ritual of listening to music. I listen to R&B on the way to the stadium, and I turn to more hip-hop and rap as I see the stadium. I keep it that way out on the field, focusing in on the game and turning out anything else.
Andrew (Austin, TX)
You have had a couple of personal fouls this year, most of them questionable, does that change your approach when you are tackling the QB?
Ndamukong Suh
(12:19 PM)
Not at all. We're taught to tackle in a hard and physical manner, because if you don't, the opposing player has leeway to get out of your tackle and get yards after the hit. I'll be cautious when it comes to a QB who is ready to throw the ball, but it doesn't slow my aggression down. I know when to pull off and not to pull off. You become hesitant and make mistakes if you don't do that. You're right; there have been some calls that could have gone either way, but you take it with a grain of salt and keep moving forward.
Filipi (Memorial Stadium Drive)
What is your favorite part of living in Lincoln?
Ndamukong Suh
(12:21 PM)
Everything's close. You can get to South or North Lincoln within 15 or 20 minutes. I'm used to a big city where you have to drive a good ways to get places. It's definitely nice to have everything close by. You have a good college feel here. It's one of the main reasons I came here. There aren't a lot of distractions. Say, for instance, you're down in Miami, you could go to South Beach, things like that.
George Appodopolis (Easton)
Do you have a nickname on the team?
Ndamukong Suh
(12:22 PM)
I do, but the majority of the time, everyone calls me "Suh". When I played fullback, my formation name was "Ducky". There are variations, but it depends on who's talking to me at that point on my team.
Ryan Fellows (Castle Rock, CO)
What is your favorite moment thus far as a Husker?
Ndamukong Suh
(12:23 PM)
I've had a lot. Most recently, taking care of that win in Missouri. I had never won there since I've been there, and it was a big win, especially in how we pulled it out towards the end.
Ndamukong Suh
(12:24 PM)
Thanks very much for the questions! I hope we can do this again sometime.