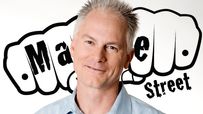 Welcome to SportsNation! On Tuesday, ESPN's Kenny Mayne stops by to chat about season three of his web series "Mayne Street."
In the series, Mayne plays himself in a fictionalized version of life at the center of sports television.
Do you want to be Kenny's friend? Check out his profile page! Also be sure to check out the Mayne Street group page!
Send your questions now and join Mayne Tuesday at 4 p.m. ET!
More Special Guests: Previous chats | SportsNation
Kenny Mayne
(3:59 PM)
Hello
Kenny Mayne
(3:59 PM)
A minute early...like all good tackle football players.
Kenny Mayne
(4:03 PM)
I'm in WA DC, Dulles. On way to Breeders' Cup. Best two days of year other than holidays w family. In UA fancy room. Just sent out a twitter to denounce United for cheating customers at check in. You answer "confirm" again and again..then they stick an "accept" to buy stupid double miles or something.. Lame. Get off it, United.
nathan (pa)
kenny who do you have in the breeders cup and also what do you think of what brandon spikes did and how long should he be suspended in your opinion?
Kenny Mayne
(4:05 PM)
I am in deep study and not giving out any picks at this hour. I do think Richard's Kid has a shot. Rip Van Winkle (who will draw money just for name) is very good. Zenyatta, if she goes will take money...She is great but I will bet against...and I say that even though I will be asking Mr. Moss (owner) a favor.
Kenny Mayne
(4:06 PM)
We pause until people smarter than I tell me if I am doing this right.
Kenny Mayne
(4:07 PM)
I am told I am doing this correctly. What a great country.
Kenny Mayne
(4:07 PM)
Headed to Seattle after B.C. for return of Kim IL Zong, our beloved fake Seahawk. Part 8: The Journey.
Steven (Nj)
Who was your best interview ever with?
Kenny Mayne
(4:09 PM)
Not even close. Stevie Wonder. Three times. First time I laid my mic on his keys and it made a big Gooooooooaaahhhhhhhh sound. He just turned down the volume. Next time I got him to say "I can't be at the All Star game in Detroit. I have a high ankle sprain." Third time...at Detroit for SEA v PIT Super Bowl. We should have won.
Steven (Nj)
What is your favorite sport to cover?
Kenny Mayne
(4:11 PM)
Tackle football, horse racing. Played and still love football...grew up south of Seattle going to a track called Longacres. It was our Santa Anita. Boeing bought it and destroyed it. We lose a lot of stuff up there. Pilots became Brewers..which begat Mariners.. NBA didn't do anything to stop move of Sonics. Let's take a title winning team from one of the best cities in America and move it. Great plan, Mr Stern.
Steven (Nj)
Can you sign my copy of your book?
Kenny Mayne
(4:12 PM)
Yes. If you see me. Will you be at B.C. or in Seattle or North Dakota in next week? Otherwise, ship it...ESPN book website is www.kennymaynehaswrittenabook.com
Jared (Washington, DC)
Hey, love the series. Just wondering why certain parts are edited out after an episode has already been posted? I noticed in the Bill Simmons there was a couple really funny lines taken out that were in the original. Thanks, keep up the good work.
Kenny Mayne
(4:13 PM)
The first run last Tues was episode A...then, yes, a sanitized version was put up. We are owned by the Walt Disney Company. Compared w most of what is on ESPN networks we get away w murder..so I am not going to the Hague on that one.
Kenny Mayne
(4:14 PM)
Today's ep, as some of you know...features young Jimmy Kimmel. Good guy. And funny. Next week: Ben Stiller.
vince (alabama)
how do you think alabama will play out the rest of the season....one more think do you think mark ingram can win the heisman..thanks
Kenny Mayne
(4:15 PM)
I love but watch little college football. Highlights..once in a blue moon...a big game..I have daughters...Saturdays are for family.."Kids..I've been gone all week. Let's gather around the set and watch VA Tech @ Clemson." I think alabama will fulfill its commitment to play all the games on its schedule. Paging Rece Davis.
Joe (Austin)
Hey Kenny, love your stuff. Wish you were on SC more often. Anyway, have you ever been anywhere in the Caribbean? Trying to decide between Bahamas, Jamaica, or do you have any other options?
Kenny Mayne
(4:19 PM)
I've been to Caymans, Turks, Bermuda...but Hawaii is still my fav of those kind of places...nothing against those mentioned. Seek to go to Jamaica to shoot w Bolt and have him teach Suzy to run faster to catch Tom Brady next time. Neil from St L...did I rip anyone off there? SC..not in contract.
Casey (Lake Mary, FL)
Do you only steal ideas from the tv show the League or are you planning on doing this with many shows a week after they air?
Kenny Mayne
(4:20 PM)
As mentioned...we didn't rip off anyone. Never heard of that show until recently. Did their episode on trading a human vis a vis a fantasy deal air in June or July or Aug? Maybe my guys Josh and Todd broke into their computer system. That's probably it.
Kenny Mayne
(4:21 PM)
A testy .com chat, no? So the questioners know...I usually go the other way...If anyone has put out something even borderline similar...I just kill the idea. It's not impossible that in a world of 6.5 billion people...two could have the same thought anyway. But no and hell no we did not rip off FX.
Steven (Nj)
What is your favorite Sports Center commercial you were in?
Kenny Mayne
(4:24 PM)
I have several....the first one firstly....In that they played it that I was all full of myself for getting to SC... "You're good on TV, Bob Ley. Now where is the catered food?"I liked staring at clouds, eating pop tarts and the 'round the world....The one about Griffey was fun as well.I have been kicked out of those spots as I am not on SC.
Matt (NY)
Want to come and be the QB coach for the giants? We could use some humor right now.
Kenny Mayne
(4:24 PM)
Giants are not funny right now, correct. They will get it together...but right now it is MINN and N.O. on top of that conf.
Steven (Nj)
What is the best part about playing yourself in a fictional world?
Kenny Mayne
(4:25 PM)
It is easy work?
Kyle (VA)
What is your favorite episode of Mayne Street so far?
Kenny Mayne
(4:26 PM)
My fav so far is the one the censors did not allow us to air.2nd is Stiller..which comes next Tuesday.All of them from this batch are good, I think..esp the ones where we ripped off other TV shows.
Rajesh (Atlanta)
Was there ever a funny circumstance that came up while filming the show where you guys were like this is too funny not to incorporate into the episode?
Kenny Mayne
(4:27 PM)
Many....as mentioned...we edited one and it was not allowed.. Maybe the Ocho will play it.
Jason (Dallas)
Are you amazed your still on ESPN's payroll?
Kenny Mayne
(4:27 PM)
I think it is ridiculous, yes. But I didn't win a lotery. If you have a better tape, send it.
Evan (SLC)
Who's house did you film the Sports Guy ep at?
Kenny Mayne
(4:28 PM)
Someone who charged us a bunch of money. It was out in La Canada, CA
Patt (Hiawassee ,GA)
Why isn't anyone paying attention to Christian Ponder, QB at FSU
Kenny Mayne
(4:28 PM)
In my case...it's because he is not entered in the Breeders' Cup.
Kenny Mayne
(4:29 PM)
Did Ponder ever write a great episode? Maybe we could rip him off as well.
Kenny Mayne
(4:32 PM)
While anyone is still out there... Breeders' Cup is on ESPN this FRI and SAT....Best animals from around the world will gather at Santa Anita, a lovely spot. One of my fav tracks in the country.Wish they....and all others....had just found a method to make dirt safer... Aren't there smart people who could have done that? The way it is now...we have several types of artificial surfaces....makes it very difficult to compare when looking at past performances.. That said, SA has a nice sandwich carving station in the clubhouse. Not as good as Longacres...but good...plus you've got the scenery...San Gabriels in the background. All we had was a volcano.
Kenny Mayne
(4:34 PM)
Breeders' is spelled that way...stead Breeder's.The latter would mean ONE Breeder. We're going w many...possessive. Their cup.
Mita (El Paso)
are you following Dancing with the Stars? who do you think will win?
Kenny Mayne
(4:35 PM)
I have yet to watch a full ep this season. Too busy watching FX so as to rip them off.Tomorrow I shoot a Dance Center...at which point I will pretend to have watched each and every.
John (Toronto)
I can't be the only one who thinks Bill Simmons looks like Ed Helms right?
Kenny Mayne
(4:35 PM)
Bill is lording over this chat. Bill..what do you think?
Hank (Arlington TX)
What is your opinion on propane
Kenny Mayne
(4:39 PM)
We use propane for our kitchen stove and outdoor grill. I always think the world is going to explode. At the same time those propane people have been doing it for years ...I think we are going to survive. Did FX do an ep on propane?
Kenny Mayne
(4:40 PM)
sorry for delay low # bars here
Kenny Mayne (ESPN)
Why am i so awesome?
Kenny Mayne
(4:41 PM)
The Q speaks to the fact anyone can write anything here. Falsify i.d.s...reminds me of the internet.
Sean (Kent)
Kenny, Love Mayne street! is Sarah single?
Kenny Mayne
(4:42 PM)
In our series Sarah is single, yes..
chris (springfield vermont)
are you an idiot
Kenny Mayne
(4:43 PM)
In some respects, yes.
Robbie (Indianapolis)
Kenny, any idea on when Jon Glaser's Delocated will be on for a second season? Funny, funny man.
Kenny Mayne
(4:43 PM)
Love Jon. Google Delocated for those of you who aren't aware of his series.
Chad (Kent, Wa)
Kenny, Being from Seattle how do you deal with the east coast bias? can you talk about the Seahawks and Mariners more?
Kenny Mayne
(4:46 PM)
I don't know if there is a true east coast bias...I mean, we do give the Lakers a certain amount of coverage...likewise Dallas...Green Bay and now Minn.... But I have noted what you speak of....that some of the west gets left out. If the M's were better...they'd be getting huge attention. Is anyone moving them to Oklahoma too?
Bobby (wichita, ks)
Whats up, Kenny! Are you going to be doing anymore Mayne streets? And how can I get a signed copy of your book?
Kenny Mayne
(4:46 PM)
Mayne St is one for four more Tuesdays w plans to shoot more eps in DEC.
Justin K. (New Hampshire)
Kenny, are the Phillies going to win the world series?
Kenny Mayne
(4:47 PM)
They just need to get by the Yankees...then they have a great shot.
Scott Gary (Eugene Oregon)
Hey Kenny as a student at the university of oregon i would like to know your opinion on the ducks, and as a proud resident of Las Vegas can I get a shout out for the 702!
Kenny Mayne
(4:49 PM)
Very impressive.... I have it in for them though...that's where I broke my leg in 1980...last play of game... Oregon 33- UNLV 9?Still hurts. Find me the guy who did it...He played left end or OLB
J.B. (Dunmore, PA)
You've come up with some of the most unusual and entertaining home run calls I've ever heard. Which are some of your favorite creations?
Kenny Mayne
(4:52 PM)
He hit it over some fencing that was set up prior to the game. For Hispanic players.. Hoommmmmmmmerrrrrrrrrrrrrrrrrrunnnnnnnnnnn.And...(from an original standup bit by my late friend Warren Thomas who used it w regard to getting one's student loan) I am King of the Diamond. Let there be an abundant clubhouse feast. Bring me the finest meats and cheeses in all the land. All the land.
Kenny Mayne
(4:54 PM)
We've come together as a sports nation. I have to do radio and then catch my plane. Don't drink and drive. Don't let Starbucks add a shot when you just want the three shots in the middle cup to be placed into a smaller cup. B.C., ESPN. FRI & SAT. Check local listing. Mayne Street every Tues until there are no more. Thanks.,k