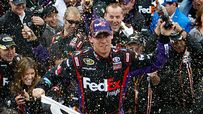 Denny Hamlin has seven career victories.
Welcome to SportsNation! On Thursday, ESPNDallas.com has NASCAR driver Denny Hamlin stopping by to chat about this weekend's race. The Sprint Cup series heads to Texas Motor Speedway for the Dickies 500 on Sunday (3:15 p.m. ET, ABC).
Riding in the No. 11 FedEx car for Joe Gibbs Racing, Hamlin sits in 11th place in the Chase, while setting career highs in several areas in 2009. He has won three races this season, the best total in his four full seasons in the Cup series. With three races left, he has already tied for a career-high 12 top-5 finishes.
Send your questions now and join Hamlin Thursday at 2:20 p.m. CT/3:20 p.m. ET!
More Special Guests: Previous chats | SportsNation
Richard Durrett
(3:23 PM)
Denny should be here shortly to answer your questions.
Hunter Dawson (Lynchburg, Va)
Hey Denny, Do you think Nascar should change the 10 races every year to make it a even playing field
Denny Hamlin
(3:29 PM)
I like the way where it's formatted to where they are reset, but I wish we were on the old points. Maybe a road race and some maybe not 6 or 7 of the 1.5-mile ovals. Maybe mix it up more.
Marc (Waldorf, MD)
Denny - Belated congratulations to you for your win at Martinsville. Question? The dismissal of Steve Addington as crew chief for 18 car was shocking and I personally couldn't have predicted it not even 6 months ago. How is the relationship between you and Mike Ford? What does Mike do either on race day or in the shop that benefits you most while you're in the car?
Denny Hamlin
(3:30 PM)
What he does at the race shop is most important. He's innovative and leads Joe Gibbs Racing, whether it's R&D or with the team. What he does for me that's so important is at the shop, not so much at the track. He's very important.
Justin (Northern Virginia)
As Redskins' fan where do you stand on Jim Zorn and Jason Campbell situations?
Denny Hamlin
(3:31 PM)
I'm a pretty big fan of Jim Zorn. The QB situation is that Jason has been good at times and bad at times. He never seems to show that star trait that you see from four or five quarterbacks that are in the league. It's hard to say if he'll show that. Some guys like Ryan and Flacco show it right away. You might either have it or you don't.
Walt (Florida)
Hello Denny. What is the toughest thing you have to contend with racing at Texas?
Denny Hamlin
(3:32 PM)
Truthfully, it's the wind. It's a big factor in how our cars handle because it's fast. There always seems to be big headwind off Turn 2 and it makes the car the push. You have to adjust the setup. You'll sacrifice a little bit in Turn 4 to make the car better in Turn 2.
Rita Jean Johnson (San Jose, California)
Will you consider driving more truck races??
Denny Hamlin
(3:33 PM)
I'd like to. I took this year somewhat off in that aspect. I didn't run very many Nationwide races and one truck race. I'd like to run a truck race at a bigger track. I ran won in Atlanta and liked it.
Andy (NC)
What is your contract status with JGR? Please tell me you are staying with Coach Gibbs.
Denny Hamlin
(3:33 PM)
I'm with them for a long, long time. That's about all I can say about it.
Amanda (Maine)
Out of your seven career wins so far in your career, which one is the most special and why?
Denny Hamlin
(3:34 PM)
For me, probably the win at Richmond. That was because I had been so close there. The shootout is a close second. It's a non-points race, but it was a big coming out win for me in 2006. Richmond was the most gratifying because of all the close calls.
Brad (Gadsden,Alabama)
Do you have any pre-race rituals?
Denny Hamlin
(3:35 PM)
Not really. I like to eat at certain times each week. Not any crazy superstitions. I try to eat right after the driver's meeting, but 90 minutes before the race. Gives you time to digest and let the stomach settle.
Vicki (Indiana)
Denny~You've done really well on intermediate tracks this year and your car package is a lot better too. Do you think that your car could be a dominate one on Sunday? You finished 12 in the spring - is this race going to be better for you since you're not racing for a championship and you can push yourself more? Congratulations on the win at Martinsville! I was soooo glad you won and beat Jimmie in the process!! You are the best!
Denny Hamlin
(3:36 PM)
Definitely. We've been very strong and we've gotten a lot stronger since we've been here the last time. I expect to come here and run well and it's been a good track for me. We've run pretty well, but haven't had the finishes. This is one of the races I feel like we can win.
Jake (Irving, Texas)
Does Joe Gibbs Racing have an "open book" policy on sharing all information like Henrick claims to have?
Denny Hamlin
(3:37 PM)
Yes, they do. One of the advantages Hendrick has is they all are able to run similar setups. We have certain feels each of us like and they are not always the same. To be better, we need to get more on the same page, especially on race weekends.
Nathan (Tyler, Texas)
Is your Dad your spotter?
Denny Hamlin
(3:38 PM)
He has not spotted for me in probably 10 to 12 years. He did it my first year I drove racecars in 1997, but ever since then, he brings too much of the Dad part and not the working relationship.
Jack (Brooklyn, NY)
What are your thoughts on the possibility of Danica Patrick running some NW races next year?
Denny Hamlin
(3:39 PM)
It will be interesting to see for sure. She's obviously had some success in the IndyCar Series. The NASCAR series is going to be quite a bit harder for her to adapt too because they drive differently. But a good driver can adapt. If she has it, she'll adapt. Hopefully, everyone will give her time to succeed and not rush her.
Nathan (Tyler, Texas)
Do you hang out with Kyle away from the track and who are your best friends in Nascar?
Denny Hamlin
(3:39 PM)
A little bit with Kyle. A litte bit with Tony Stewart and Jeff Gordon. Outside the racetrack, I probably hang with Michael Waltrip the most.
Sean (Chicago)
Hi Denny - Have you ever considered starting your own team in either the trucks or nationwide series?
Denny Hamlin
(3:40 PM)
In the distant future, I'd like to. But I'd like to win a championship first. If I ventured off into too many other projects, it would take away from that.
ben (nc)
as a fan i've loved the double file restarts, but how have you and the other drivers liked it thus far?
Denny Hamlin
(3:41 PM)
I think it's been the single best thing NASCAR has done in probably 5 years as far as a rule change in the race. They listened to the fans about the shootout-style restarts. I think it's helped our sport. It gives you a second chance sometimes at the end of the race. I'm in favor of it.
john beckwith (kansas city)
given the choice would you stay with the COT or go back to the other car?
Denny Hamlin
(3:42 PM)
I'm 50-50 on it. I'd probably stick with the car, but I'd change it to be a little more like the old car. I like it's bigger, but I wish we had more travel in the front end to get more grip and take downforce away to slow it down. The slower we go, the better side-by-side racing we'll see.
Sean (Chicago)
Hi Denny - Which of the last three tracks do you see yourself having the best chance to win at?
Denny Hamlin
(3:43 PM)
Truthfully, Homestead. That's a track I've run well at since my career started. We've finished third a few times and been in contention. Last year, it was a fuel mile race. A lot of people are going to think Phoenix because it's similar to Richmond. But I think Homestead.
Walt (Florida)
I have seen your brother in some races. Is he older than you and would you like to see him in one of the major series full-time?
Denny Hamlin
(3:43 PM)
I don't have a brother that races. Similar last name, but no relation.
Ingrid (Texas)
What's your favorite vehicle to drive when you're not racing?
Denny Hamlin
(3:44 PM)
Pretty much, Lexus 460. It's the most comfortable car I've driven.
Greg (Richmond, VA)
I will be doing the Racing School at RIR. What is the best piece of advice you can give to someone who has never driven a race car?
Denny Hamlin
(3:45 PM)
I would say don't jerk the wheel. That's the best advice I can give. People are gripping the wheel really tight, just loosen up your grip.
Butch (Bowie)
Denny, Now that the pressure of the chase is over what are some of your goals headed into next year?
Denny Hamlin
(3:46 PM)
I expect to win the championship as strong as we've been the last half of the season. I expected us to be a contender this year, but three DNFs won't do that. Our performance on track has been very close to Jimmie's and I think next year we're going to set ourselves up to be a championship favorite. We want to win some more Chase races next year and if we do, that will be a successful year.
Bill S (High Point, NC)
Would you like to see some type of dirt race added to the All Star Weeks events?
Denny Hamlin
(3:47 PM)
I'd like to see us do something like what Tony had for the Prelude at the Charlotte track for All-Star weekend.
Hunter (Lynchburg, Va)
What do you think of the new nationwide car
Denny Hamlin
(3:47 PM)
I think it's a step in the right direction. That series has come a long way. The cars look good. They took a little more time to develop that car than they did the COT. I think it's a step in the right direction for that series.
john beckwith (kansas city)
how can one team dominate for 4 straight years and no one is really close in surpassing the 48 team anytime soon. Are they that good or is the field that bad?
Denny Hamlin
(3:49 PM)
I would argue a little bit of both. I think they are so good at not making mistakes, they force other guys to make mistakes. They put the pressure on you. They are up front every week. Guys are looking to beat the 48 and they overdrive or use too much of their equipment up.
Denny Hamlin
(3:49 PM)
Thanks for all the questions. I hope to see you at the track this weekend.