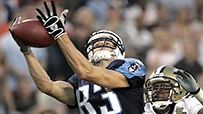 In 2004, Bennett had 1,247 receiving yards and 11 TDs.
Welcome to SportsNation! On Monday, First Take NFL analyst Drew Bennett will stop by to chat about this past weekend's games.
Bennett, who went undrafted in 2001, played eight seasons in the NFL before having his career cut short by injuries. He spent the first six years of his career with the Tennessee Titans and played the last two with the St. Louis Rams. He had signed on with the Baltimore Ravens in July 2009, however a knee injury caused him to retire shortly after signing his contract. For his career, he caught 307 passes for 4,412 yards and 28 TDs.
Bennett appears every Monday on ESPN2's First Take from 10 a.m. to noon ET.
Send your questions now and join Bennett Monday at noon ET!
More Special Guests: Previous chats | SportsNation
Drew Bennett
(11:59 AM)
What's going on? Let's get into it.
Ryan (Pittsburgh)
Drew, do you see the Steeler's injuries on defense playing a major role in this game tonight? I am confident in Keyaron Fox filling in for Lawrence Timmons, but with Clark, Smith, and Smith's main backup Kirschke also down I can't help but worry a little.
Drew Bennett
(12:01 PM)
Definitely. Orton and Marshall have a good enough relationship to exploit any newcomers on the defensive side of the ball. The real question will be whether the pass rush can fluster Orton enough to become a poor game manager.
Jason (Atlanta)
Drew, just wanted to say that you destroyed my fantasy season singlehandedly a few years back when you had your monster game near the end of the year. It still stings.
Drew Bennett
(12:01 PM)
I appreciate the post, because usually I hear about how I ruined everyone's fantasy team by being on it.
Alexander Fritz Stillings (Portland, ME)
Philadelphia's Wide Receiving crew shows signs of becoming an elite crew in the league for years to come, with Maclin, Jackson & Celek leading the way, are there any other teams that have a young crew whom you believe people should watch out for in the near future?
Drew Bennett
(12:02 PM)
I don't see any other teams with the level of athleticism at receiver like the Eagles. With that said, the Eagles need to quit relying on the big play to make or break their game and have these young guys get a little more comfortable running intermediate routes. Maclin and Desean Jackson definitely have the potential to be the game's most dangerous tandem.
Zach (Springfield,OR)
drew do the jets still have playoff hopes do you think?
Drew Bennett
(12:04 PM)
At 4-4, with the way New England is coming on now, I don't think it looks very good for the Jets. Losing Jenkins and Sanchez struggling the way he has, I think it's time to look to next year.
Randy (St. Paul)
Can the Vikings start resting Favre now for the playoff run?
Drew Bennett
(12:05 PM)
Absolutely not. It's way too early to start thinking about that. They should keep winning games now so he gets a week off and a first round bye going into the playoffs.
Matt (IN)
Since I'm a Colts fan, I had to hate you by proxy when you played for the Titans. You're a pretty good guy now, though. My question is, what was it like playing with McNair?
Drew Bennett
(12:06 PM)
Steve McNair was hands-down the most enjoyable person I played with both on and off the field. He had just a pure understanding of offense that was unparalleled with other people I've played with.
Tony Narducci (Minnesota)
are you predicting vikes saints in the nfc championship?
Drew Bennett
(12:06 PM)
I think that's a pretty safe bet. Watch out for the Cowboys.
Armann (Denver)
how do you feel with the way the broncos are playing right now and do you think they pull out with winning a trophy??
Drew Bennett
(12:07 PM)
I think they need to develop Orton into a little bit more of an aggressor role. We learned last week that he can't play from behind with too much success. He needs to be able to strike a little quicker this far into the season. If the defense keeps playing the same way, they have a chance. Tonight will be a good test.
Stan (CA)
What's up with the Bears? They have progressively gotten worse this season.
Drew Bennett
(12:09 PM)
I think their offensive line is the root of the problem. Cutler is a talented player and when he's protected, his passer rating has been over 100. The defense has struggled with changing the linebackers around after the injury to Urlacher. The special teams lacks the explosive play that they had in the past.
Paul (Baltimore, MD)
Drew, what happened with you not coming to Baltimore this year?
Drew Bennett
(12:10 PM)
I ended up having my knees swell up after workout, and I realized my health had deteriorated to the point where I had to think about a new career.
chauncey (teaneck)
Who will win the NFC east?
Drew Bennett
(12:11 PM)
I think the Cowboys made a strong case for it last night. If Tony Romo can avoid his typical crash in December, they should win it without a problem.
Craig Patterson (San Francisco)
Hey Drew - I'm a Miramonte HS alum with a question about the Niners. Who should start at QB against the Bears and what are the keys to ending the losing streak?
Drew Bennett
(12:13 PM)
Go Mats! Stick with Alex Smith, no question. They drafted him for a reason and should give him more than four games to develop, especially for a young receiver like Crabtree. I think they need to lean on Gore more and take the pressure off Smith in order to win a game.
Ray (NOLA)
OK Drew do you think the Saints WRs' is on the same level as the Eagles with athleticism, speed, and a guy that can go up and get it?
Drew Bennett
(12:13 PM)
I feel big-play capabilities are different, but as a group, I don't think anyone can compete with the New Orleans receivers 1-4.
Kevin (OH)
Holmgren to browns, good move for Cleveland? If it happens, do you see Mangini coaching next year?
Drew Bennett
(12:15 PM)
No chance Mangini gets a head job next year. Maybe coordinator, or more likely a position coach if he does coach. I don't think Holmgren takes over for the Browns. He's in a position where he can take over a team with more potential in the near future.
Mike (Ohio)
What's the weirdest thing you ever saw happen during a game?
Drew Bennett
(12:16 PM)
I had a guy in college ask me where his Camaro was parked because he got knocked so silly. NFL-wise, I saw Bill Romanowski try and steal a guy's shoe during a game after he tackled him.
Jeff (Charleston, SC)
Hey Drew. Did you catch any of that Falcons/Skins game? What do you make of Curtis Lofton MLB for the Falcons. He is the NFL leader for tackles and in his second year is a monster. He deserves to go to the Pro-Bowl right?
Drew Bennett
(12:17 PM)
I love Curtis Lofton in the middle for that team. It's hard to come in after a guy like Brooking and get the fans on your side. He's done a very good job of that. He will truly be considered one of the best when his team starts winning the bigger games (New England, Dallas) but he's still young.
Isaac (Colorado)
What's your opinion on OchoCinco's "bribe"?
Drew Bennett
(12:17 PM)
I love the entertainment value that Ochocinco brings to games, and I don't think it's a big deal. I think it's funny.
Justin (Denver)
Hi Drew. Since you have an inside opinion, can you tell us the biggest different between good, and great QB's?
Drew Bennett
(12:19 PM)
As cliche as it is, great QBs force the players around them to win a football game and refuse to lose. Good QBs put up good stats and do well for their team. When I played with Steve McNair, there was never a doubt he was going to win a game in the end or that the ball would be right on time when it mattered. I think the best in the game at this is Peyton Manning.
AJ Kohn (Baltimore)
Do you think the 4-4 ravens have a good chance of making the playoffs? Also, what number reciver do you think you would have been on the depth chart with the Ravens?
Drew Bennett
(12:20 PM)
I think the Ravens are the best 4-4 team in football. The way they've lost three of their last four points to their still being a quality football team, and with their display against Denver, I think they'll win enough to get into the playoffs.
David (Athens, GA)
Hey Drew, what are your thoughts on the DeAngelo Hall/Falcons sideline skirmish?
Drew Bennett
(12:21 PM)
I loved seeing Mike Smith get in the mix. DeAngelo Hall has always been a guy that stirs things up, and to see your head coach confront a guy like that is very motivating for a player.
Guy (Jacksonville)
Whats your take on Tim Tebow in the NFL, how do you think he will do?
Drew Bennett
(12:22 PM)
This is the ultimate question. I don't see Tebow being an every-down QB, but he's a good enough athlete and big enough guy that he will make an impact for a team. Maybe as a Wildcat component, maybe as a second-string QB.
JARED (NEW YORK )
Hey Drew should i be putting my 49ers season in panic mode right now or when they get their next loss.
Drew Bennett
(12:23 PM)
If they lose to a struggling Bears team, it's time to throw in the white towel. They do have young talent on this team, and I think Alex Smith is better than he's shown right now.
Nate (East Lansing)
Ant ideas on why LenDale is not having a good year?
Drew Bennett
(12:24 PM)
I think he has one of the most talented running backs in front of him that finishes off touchdown runs. He no longer gets as many chances on first- and second-and-goal TD gimmes. The Titans are also struggling as a whole, which magnifies his lack of carries.
Jeff (Charleston, SC)
Seeing how Michael "The Burner" Turner has been running these past 2 weeks. Is it scheming by Mike Mularkey or is it just Turner realizing he is one of the best in the league? Also, can you believe how that guy moves for how big he is? He is so fun to watch.
Drew Bennett
(12:27 PM)
You couldn't pay me a million dollars to try to tackle Michael Turner. I think the offensive line was more in sync now than they were at the beginning of the season. They need to put together a complete game with Turner running the ball well and their defense not giving up as many points. They still need to win the big games.
jerry (orlando)
who do you think will win tonight and why?
Drew Bennett
(12:28 PM)
I think Denver surprises some people. The Steelers are coming off a good streak, but two of those wins were against Detroit and Cleveland. They are obviously playing without Clark and I think Denver responds well to the way they got handled last week. 21-17, Denver.
Clay (Charlotte)
Drew, what's your thoughts on the Chiefs parting ways with LJ today? Is it just LJ being frustrated by his own poor play that started the disturbance?
Drew Bennett
(12:29 PM)
Larry Johnson has been a distraction there for a while. Problems are always magnified when you are losing and not playing well. Rather than deal with a player struggling on the field that is such a major distraction, I agree with getting rid of him.
Drew Bennett
(12:30 PM)
Thanks again for the questions. See you next week!