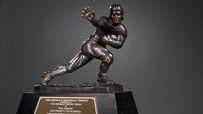 Welcome to SportsNation! On Friday, ESPN Stats & Information's Ryan McCrystal stops by to take questions on his Heisman Predictor.
Currently, the predictor has Tim Tebow in first (126.0 points), followed by Mark Ingram (125.5) and Colt McCoy (122.5). McCrystal's system has correctly picked the last six Heisman winners.
Send your questions now and join McCrystal Friday at 4 p.m. ET!
More Heisman: Heisman Predictor | Heisman Watch
Ryan McCrystal
(3:59 PM)
Hey everyone, thanks for joining me today. If you're not familiar with the Heisman Predictor, check it out in the link provided at the top of the page. The current top three are Tebow, Ingram, McCoy... but remember, thats only a reflection of what has happened to this point in time. A lot can still change. Now lets get to some questions...
David N. (Atlanta, GA)
How many people get invited to NYC next month? Who do you see getting the plane tickets as of now?
Ryan McCrystal
(4:03 PM)
The number of invites won't be decided until all the ballots are added up. Usually the top three to five will attend the ceremony. This year I expect four and maybe five players to be invited. I think Ingram, Tebow and McCoy are essentially locked in. Toby Gerhart also has a very good chance. And C.J. Spiller is on the fringe. Winning the ACC title would go a long way towards solidifying his place in the top five.
Sam (DC)
Ryan, If Stanford wins the Pac-10 do Toby Gerhart's chances increase dramatically?
Ryan McCrystal
(4:07 PM)
Absolutely. Gerhart has a strong case already, but leading Stanford to the Rose Bowl would certainly earn him a trip to New York. The formula awards 5 points for earning a BCS bid (10 pts for the championship game). Those bonus points would solidify his place in the top five, and could potentially allow him to climb into the top three.
Blake (Abilene, TX)
Ryan, How much of in impact will Colt McCoy breaking the NCAA wins recored have on the Heisman race?
Ryan McCrystal
(4:11 PM)
Technically it shouldn't matter, but that doesn't mean voters won't take it into consideration. In a year like this where no one is putting up eye popping numbers, its very possible that some will give their first-place votes to McCoy as a "lifetime achievement" award, so to speak. Remember, McCoy received 266 first-place votes last year. So there are 266 voters out there that feel he got snubbed in 2008. Its likely that many of them will vote for McCoy again.
Adam (Shreveport, La)
Ryan, if Tebow throws for two TD's and runs for two TD's for the duration of the season, will he be invited to NY and win a second Heisman?
Ryan McCrystal
(4:14 PM)
He'll be invited, but I don't think he'll win. He very well may be the best football player in the nation, but his stats have fallen well short of expectations. If he hadn't already won the award, it may be a different story. However, I expect most voters will feel that he's already had his time in the spotlight, and give their first-place votes to McCoy, Ingram, Gerhart or Spiller.
Dave (Austin)
How do you account for regional siphoning off of votes -- i.e. Tebow vs. Imgram in the South ultimately hurting each other?
Ryan McCrystal
(4:18 PM)
The regional vote really doesn't impact the Heisman race in a negative way as some would lead you to believe. The number of votes are spread evenly around the country. Its true that Tebow will do better in the South than the Far West. And Spiller will do better in the Mid-Atlantic than the South West. But in the end it all evens out. Personally, I don't think the regional votes tallies should even be released. They're irrelevant.
Ted (Seattle)
If his wins technically shouldn't matter, why is Tebow number 1 on your list? A lot of his consideration is based off reputation, because it clearly not his stats or championship contention that put him ahead of Colt.
Ryan McCrystal
(4:22 PM)
Career wins shouldn't matter. But the fact that he is the leader of an undefeated team certainly factors into the equation. And about his stats... true, they aren't great compared to last year. But he's still having a very good season. When people want to vote for defensive players they always bring up the "best football player" arguement, and want to throw stats out the window. Well, why can't that argument apply to Tebow? If you were to start a college team from scratch, wouldn't Tebow be at or near the top of your wish list for quarterback?
Nick (Albuquerque)
Can anyone other than the Top 3 get to #1 in the Heisman Predictor?
Ryan McCrystal
(4:25 PM)
It would be very, very difficult, but its possible. I think the only one with a chance is Toby Gerhart. For that to happen, Alabama, Florida and Texas would all need to lose at least one game AND Stanford would need to win the Pac-10. The odds of all that happening are astronomically small.
Kellen (Boise)
Do I have a realistic shot at winning the Heisman?
Ryan McCrystal
(4:26 PM)
Sorry Kellen, not this year. However, the numbers you're putting up this season have put you on the map. You'll be one of the top returning quarterbacks in 2010 and should be among the preseason favorites.
Rodney (Madison)
Does John Clay have a chance at making some noise in the voting? I do not expect him to win or anything, but his numbers aren't much worse than Gerhart's. Is there a possibility of finishing in the Top Eight?
Ryan McCrystal
(4:31 PM)
Clay is having a very nice season but he isn't a contender. For a running back to enter the discussion he needs to either play for an elite team (Ingram), put up impressive numbers on the national stage (Gerhart), or consistently make highlight reel plays (Spiller).
Chris (Idaho)
Ryan, What do you think of the chances for Kellen Moore to be invited to NY? His passing efficiency is the best in the country. Regardless of the strength of schedule he is already on the top ballots of many columnists: Pat Forde, Bruce Feldman... Your thoughts?
Ryan McCrystal
(4:38 PM)
Moore has an outside shot to earn an invite, but I think its doubtful. Some national columnists are on his bandwagon, but with over 800 voters they won't make much of an impact. Sadly, most voters aren't as knowledgable as the likes of Forde and Feldman. Boise State hasn't played a meaninful game since Week 1, which means hardly any of the voters have seen him play. Most voters stick to the guys that play in the national spotlight week after week.
HAM (Ohio)
What would your heisman ballot look like if you had one?
Ryan McCrystal
(4:42 PM)
If the season ended today my ballot would look like this: Gerhart, Ingram, McCoy. But a lot can still change.
Case Keenum (Houston)
Ryan, where is the love for me? I'm re-creating Andre Ware 20 years later, on a better team! Why are nobody's on undefeated teams getting my love? Colt McCoy has everything around him that makes him great. I'd already be a College Hall of Famer if I had a receiver like Jordan Shipley!
Ryan McCrystal
(4:44 PM)
Heisman candidates don't lose to UTEP and UCF. Sorry, Case.
Seth (Denver)
First 3 names that come to mind when thinking of 2010 Heisman hopefuls?
Ryan McCrystal
(4:47 PM)
Mark Ingram, Jimmy Clausen (if he returns) and Kellen Moore.
Derek (AL)
Just because somebody is on a bad team shouldn't take them out of Heisman consideration. Tebow lost 4 games when he won it.
Ryan McCrystal
(4:51 PM)
If you have overwhelming stats you can overcome playing on a mediocre team. But for a non-BCS player to win the award he needs to go undefeated, or at least only lose to respectable teams. Additionally, Keenum plays in a pass-happy offense and in a conference where defense is optional. His stats are inflated, and voters are very much aware of that. He's having a great season, but he isn't a contender.
Terrelle (Columbus, OH)
No Heisman love for me in 2010? Oh yeah, Jim Tressel aka Mr. Conservative is my coach. Nevermind.
Ryan McCrystal
(4:55 PM)
How bout looking in the miror before blaming your coach. You've thrown 9 interceptions this year, Terrelle, and cost your team a win at Purdue. But remember why you chose Ohio State? Because Tressel has proven he can develop quarterbacks into winners. Don't forget about what Troy Smith did in his third year as a starter in Tressel's offense...
Dave (Austin)
What's worth more in your model -- yards, TDs, "highlight reel" plays, team wins?
Ryan McCrystal
(4:57 PM)
Its a fairly even balance. A lot goes in to the determining a Heisman winner. The key to winning is having a balanced resume - play for a winning team, post good TD numbers, play well in big games, etc.
Conway (Tuscaloosa, AL)
What will it take from Mark Ingram to win the Heisman this year? Is it his to lose or does he benefit from the lack of standout performers?
Ryan McCrystal
(4:59 PM)
That's the easiest question yet. Win the SEC Title and its his. Colt McCoy would likely finish a close second in that situation, but I would expect Ingram to bring home Alabama's first Heisman.
Ryan McCrystal
(5:00 PM)
Well thats all for today. Thanks for stopping by. Be sure to check out next week's article on the Heisman Predictor on Tuesday afternoon.