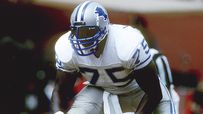 Brown spent 18 years in the NFL.
Welcome to SportsNation! On Thursday, ESPN2 "First Take" NFL analyst Lomas Brown stops by to chat about the NFL season.
Brown spent 18 years in the NFL, playing for the Detroit Lions, Arizona Cardinals, Cleveland Browns, New York Giants and Tampa Bay Buccanneers, with whom he won a Super Bowl championship following the 2002 season. He played collegiately for Florida.
Send your questions now and join Brown Thursday at 2 p.m. ET!
More Special Guests: Previous chats | SportsNation
Buzzmaster
(2:02 PM)
Lomas is here!
Steve (NJ)
With Dick Jauron being shown the door, do you think we'll see more teams firing their coach?
Lomas Brown
(2:03 PM)
I really don't like that move. I didn't like that move firing him right now. When you fire a guy and hire from within, you're basically running the same stuff from the guy you just fired. I don't think you'll see any more coaches fired during the season. I just don't like it. The same philosophy is still there.
Adam (Chicago)
I know you are a former Lion and this might hurt to say, but isn't it about time the Lions lose their Thanksgiving Day game?
Lomas Brown
(2:05 PM)
Well, you know what. I was a big advocate for Thanksgiving. We seem to have cared about the Thanksgiving Day game. It wouldn't hurt me to see the Lions lose it. People deserve to watch good football. Thanksgiving is such a tradition, I would like to see good football. The Lions haven't given that to us in the last 7-8 years.
Dave (Denver)
What did you think of Brady Quinn's block Monday night? Worth a penalty?
Lomas Brown
(2:07 PM)
Absolutely. The league goes out of their way to protect QBs, because this is a QB-driven league. But you also have other stars in this league that aren't QBs. Safety is such a big concern in the NFL that everyone should be protected. I thought that was a very very bad move on Brady Quinn's part. He should have been fined. He probably should have been fined more.
Craig G. (Fairfield, California)
Hey Lomas, who ya got tonight?
Lomas Brown
(2:08 PM)
I'm going to go with Miami. Jake Delhomme is just two up and down for me, even though he's been playing pretty good the last two weeks. I like the way Miami controls the time of possession by running the ball. And by that, they'll keep the Carolina offense on the sidelines. Close game, but I like the Dolphins.
Dave (Boston)
Lomas, everyone else is talking about the Belichick move...what's your take? What would you have done?
Lomas Brown
(2:10 PM)
Personally, I would have made Peyton drive the field. I know the Patriots defense hadn't been playing well that game, but you have to go with the odds. The better odds were for coach Belichick to punt the ball and play defense. That's one of the fundamental rules of football, punt and play defense. I would have made him drive the length the field.
Kyle (VA)
Do you agree with Tedy Bruschi in that the defense should be insulted and that Bill Belichick has no confidence in them and that's why he went for it?
Lomas Brown
(2:12 PM)
Absolutely. It was the reason why he didn't go for it. You have to look at how the defense was playing earlier in the game. It shows a lack of confidence in the defense. To me, it was too crucial to do something like that. If it were early in the third quarter or in the first half, maybe, but it was in the last two minutes of the game. The defense should be insulted, but they should be ready to take it out on the Jets.
David (New York)
What's with everyone getting on Rex Ryan for crying after the game? What did you think of that?
Lomas Brown
(2:14 PM)
Your team takes the lead of your coach. Your team is a makeup of your coach. To me, yeah, it's all right to show your emotions, but the 18 years I played, through in college and high school, I never saw my coach cry. My opinion is, I don't know. It's strange to me. It's strange. I've never been in the situation where the coach cried.
steve (lakeport,ca)
What's your take on the Raiders benching JeMarcus?
Lomas Brown
(2:15 PM)
I think it's time. I think JaMarcus had plenty of time to prove what kind of QB he's going to be in this league. For Tom Cable to show his veterans that they're trying to win, I think this move had to be made. Now, whether it works out with Bruce Gradkowski, only time will tell, but I do think it was time for him to make this move.
Dan (WA)
Do you think the Bills have what it takes to land Mike Shannahan?
Lomas Brown
(2:18 PM)
Well, only time will tell. I know the one thing is that Mr. Ralph Wilson will have to open up the purse to Shannahan and relinquish some of the football decision making. He's a great coach. He was my offensive coordinator at Florida. If they want that team turned around, they're going to have to let him do his thing. It's really up to Ralph Wilson as to what he wants to do.
Greg (PA)
Lomas, how much fun was it playing on Thanksgiving all those years?
Lomas Brown
(2:22 PM)
Awesome. There's nothing like waking on Thanksgiving Day and being the first team to play. Just the tradition, having the parade early that morning. Then playing the game and after being able to sit down and have Thanksgiving dinner. The other good thing was it was kind of like a little bye week. It's something that I cherish the most over my career is playing in the Thanksgiving Day game.
Alan (NJ)
Do you think the g-men will get into the playoffs and if so which spot? Go Giants!!!
Lomas Brown
(2:23 PM)
It's going to be tough, but over these next couple of weeks, they can get themselves on track. After starting 5-0, they've lost 4 straight. They seem to be getting healthier. THey have what a lot of teams want to have - a good offensive line and defensive line. If you have those, you can win some games in a row. I fully expect the Giants to get into the playoffs.
Anthony (Shreveport, LA)
Do you think the Saints have a legitimant chance of making it to the Super Bowl?
Lomas Brown
(2:24 PM)
Yes. Yes I do. The Saints have a very good offense. We know they can put up points and put them up fast. But the impressive thing to me is their defense. Any time you have a good defense, you'll be in a great position to win games. So, yes.
Chad (Las Vegas)
Lomas, you had to want to chow down on one of those Turkey Legs that they were handing out on those Thanksgiving games.
Lomas Brown
(2:25 PM)
Chad, I never got an opportunity to get one of those Turkey legs from John Madden. That's my biggest disappointment of playing in 11...11!...Thanksgiving Day games that I never had the chance to chow down on one of those legs.
Richard (West Virgina)
Are people getting to high on the Bengals i mean 7-3 are impressive but they did look that impressive against Houston and they haven't beaten the steelers with a healthy polomaulu
Lomas Brown
(2:27 PM)
But, you can't deny a team that's 5-0 in their division and they've swept the Super Bowl champions, even though Polomalu wasn't there, you play with the cards that are dealt you. I don't think people are too high on them at all. They're a team that others will have to contend with.
J.B. (Dunmore, PA)
Better chance of happening this season: Browns score 10 TDs on offense or Saints score 15 TDs on defense?
Lomas Brown
(2:28 PM)
I'm going to probably say the Saints. I've been watching Cleveland and they are a bad team. They have no continuity on offense. They're just a bad, bad team that seems to be in a lot of turmoil. I could see the Saints, with the pressure that they put on QBs and how they cause turnovers.
joe (Charlotte nc)
Lomas Do you think the Panthers can make the playoff?
Lomas Brown
(2:30 PM)
That's going to be tough. The Panthers, they've won a couple of games in a row, but everything hinges on Jake Delhomme. You just don't know what you're going to get from him from one week to the next. Until they get that situation rectified at QB, I don't think they'll get in this year. It will be tough. Especially after the slow start.
Kyle (Chicago)
Have you ever eaten fried turkey and if so, is it all that it is cracked up to be? I'm dying to try some.
Lomas Brown
(2:31 PM)
Yes it is my good man. If you haven't tried fried turkey, then you haven't tried turkey. Mouth-watering. Crunchy. Succulent. Fried turkey is the way to go.
Lomas Brown
(2:33 PM)
I'm on Twitter. You can tweet me. When you get a chance, check out First Take, every Thursday and Friday.