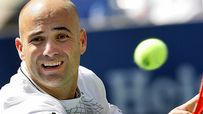 In 1998, after re-dedicating himself to tennis, Agassi rose from No. 122 to No. 6 in the world.
Welcome to SportsNation! On Friday, former tennis star Andre Agassi stops by to chat about his sport, as well as his new book, in which he reveals that he took crystal meth during his career, as well as wore a wig.
Agassi released his autobiography "Open" at the end of October. The book chronicles Agassi's life in tennis after turning pro at 16. He also revealed that purposely lost the 1996 Australian Open final.
Over his 20-year career as a pro, Agassi reached 15 Grand Slam finals, winning eight and completing the career Grand Slam, something only Rod Laver and Roger Federer have also done. Agassi also won the gold in the 1996 Olympics, making him the only player to achieve a career golden slam. He won over 800 matches, including 60 titles.
Send your questions now and join Agassi Friday at noon ET!
More Special Guests: Previous chats | SportsNation
Buzzmaster
(11:59 AM)
Hey everyone. We're going to be getting Andre for his chat in just a couple of minutes! Get those questions in!
Buzzmaster
(12:02 PM)
We've got Andre!
Ryan B. (Fairfield, CT)
In your new book, you admit to hating tennis for a bulk of your career. What would you say to fans that supported and idolized you during a time in your career when you didn't care whether you won or lost?
Andre Agassi
(12:04 PM)
There were many times when I didn't care about myself. This has been a journey for me and quite a process to reconcile my contradictions. There were many days when I did love it. I think I felt that my eyes would betray me out there. I always wore my heart on my sleeve. This book, while not the ideal perception of me, it is the real me. I think that journey can help others.
Andrew (Maine)
When were you the happiest in your life?
Andre Agassi
(12:04 PM)
I would say every day it's growing. I fight for peace every day and I win most of the days. At this point, I feel the happiest.
Stephen (Westport, CT)
I'm kind of interested in your book but it sort of has the feeling of a movie trailer that gives away the whole movie. Why should I still read the book?
Andre Agassi
(12:06 PM)
There's been a lot that's sensationalized in it. It's a story about forgiveness of your parents, forgiveness of yourself. It's about taking ownership of your life. I think this book will give you the tools and inspiration to take ownership. This book is about waking up in a life that you don't want and making it to tomorrow. It's about waking up in a marriage and allowing yourself to love. There are layers to this where it leaves me highly anticipating what others are taking from it that I can even learn from.
David (Chicago)
Andre, when did you tell Steffi about your drug use and some of the other things you admitted in the book? Did she know prior to you writing the book? How did she react?
Andre Agassi
(12:07 PM)
Yes, I told her in the fall of 1999, in the process of falling in love with her. Her reaction was a great sadness to how someone must feel to make those decisions. She understood in the process of this book and my desire to tell the story and use it as a tool for others to better their lives. She knows its an atonement of sorts.
Kim Gennaro (Weston,Florida)
Do you feel that the Agassi foundation has given you a venue to make up for the lost opportunities during your childhood?
Andre Agassi
(12:08 PM)
I've always felt a lack of formal education in my life resulted in a lack of choices. I believe in education and its power as a result of it in my life. But it's also a form of atonement as well. Very few people get a second chance in life and when I got mine, I promised to give everything I could to my foundation and to education, which I continue to do.
Ryan B. (Westchester, NY)
If you were at such a bad place in your life that you turned to crystal meth, why should we believe that you wouldn't turn to performance enhancing drugs to get back to the top of the game?
Andre Agassi
(12:09 PM)
Crystal meth was a way of hurting myself, it wasn't a way of cheating others. I was in a place where I didn't like myself and it was a form of affliction. My route back to the top was earned because of the place I was starting from. There's a huge difference from the desire to cheat others and to hurt yourself.
Matthew Rindt (El Paso, Texas)
Did you truly feel relieved when you actually wrote your confession on paper?
Andre Agassi
(12:10 PM)
I felt relieved to have the opportunity to share my story in its entirety. The process wasn't liberating, the process was hard, because I had a distinct goal and objective. I had a story and the ability to communicate that story in a powerful way. I do feel relief every time I hear someone affected by my book and what I've chosen to share.
Maricarmen (San Juan, PR)
Looking back at your relationship with your Dad, is there anything positive? and if so, how do you think it will influence you on being a father to your kids?
Andre Agassi
(12:12 PM)
My father has some amazing characteristics that I try to emulate. He's fiercely loyal. He's very generous. He's very disciplined. He was always harder on himself than his kids, which shows how hard he was on himself. My first job as a father is trying to define success for my child and for myself as a parent. For my son or daughter to have peace of heart, to me, is success as a parent. They can learn empathy, the ability to see through other people's eyes. I would consider that a success.
David (New York)
Your father kept you in tennis when you were young and then it was the academy as a teenager, but you turned to drugs as an escape when you were 27. If you hated your life and tennis so much, why not quit tennis when you were 24 or 25?
Andre Agassi
(12:14 PM)
I considered it many times. I found myself many times scared and not knowing what to do. I found myself not knowing myself very well. This is a look back and reconciling what I felt. The emotions aren't always clear when you're away from the forest. There are a lot of mixed feelings and quitting on something was never a part of my DNA. I always pushed myself and pushed myself.
Andre Agassi
(12:14 PM)
But had I quit at 24, I think you would have saw me disappear and come to terms with myself because I had the time. But then I think you would have seen me do what many athletes do and that's come back.
Dave (Denver)
How did you feel about the comments made by Martina Navratilova and other tennis greats? Did you expect that?
Andre Agassi
(12:16 PM)
Some comments were surprising to me. I understand the shock and disappointment, but I would have thought that at times a response was more important than a reaction. I spent my life trying to respond instead of react and failed many times. I have and do like Martina. The only thing I hope that everything gets put in context into the body of work, which is my life.
Dave (LV)
Does it matter at all that you couldn't have beaten your wife on the court even at your very best? Steffi rocked. Best of luck Andre.
Andre Agassi
(12:16 PM)
In more ways than you realize.
Ralph (New York )
I have not yet finished the book so I'm not sure if this is covered but what is your relationship with your dad today?
Andre Agassi
(12:17 PM)
It's reconciled. We see him every weekend, take the kids over. We communicate effectionately. We hug each other now. I've come to understand him.
tyler silver (portland oregon)
any advice to a fellow father and tennis player about how to create interest in the sport with your children?
Andre Agassi
(12:18 PM)
Introduce him to it. Give him options. Let them determine what they're connected to. And then nurture it. The choice has to be theirs. They have to feel that connection. Enjoying the game at a very young game is the best chance you have of them choosing it themselves. Keep it fun.
Andre Agassi
(12:19 PM)
I've poured the last three years of my life and thousands of hours into telling my story with the hope and belief that millions of people I never meet will be influenced and inspired by it.
Buzzmaster
(12:19 PM)
Thanks for chatting Andre!