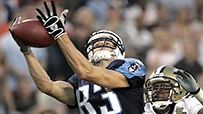 In 2004, Bennett had 1,247 receiving yards and 11 TDs.
Welcome to SportsNation! On Monday, First Take NFL analyst Drew Bennett will stop by to chat about this past weekend's games.
Bennett, who went undrafted in 2001, played eight seasons in the NFL before having his career cut short by injuries. He spent the first six years of his career with the Tennessee Titans and played the last two with the St. Louis Rams. He had signed on with the Baltimore Ravens in July 2009, however a knee injury caused him to retire shortly after signing his contract. For his career, he caught 307 passes for 4,412 yards and 28 TDs.
Bennett appear every Monday on ESPN2's First Take from 10 a.m. to noon ET.
Send your questions now and join Bennett Monday at noon ET!
More Special Guests: Previous chats | SportsNation
Buzzmaster
(11:59 AM)
Drew will be here shortly, everyone!
Drew Bennett
(12:01 PM)
Thanks for coming back, let's get going!
Dan (Texas)
Can the Colts or Saints make it perfect season?
Drew Bennett
(12:02 PM)
I think the Saints are going to have a letdown, either against the Patriots or Cowboys. I think the Colts have survived both of their letdown games, and have that kind of magic going where the ball always seems to bounce their way.
Kevin (Dallas`)
What is up with the Bears?
Drew Bennett
(12:03 PM)
The offensive line is a little bit old. The receivers are not developed enough to be a one and a two receiver. They can't protect Cutler and can't produce a run game, so he's trying to do too much. They need to go out and get a big-time receiver for him to lean on.
Tom (Washington)
Titans and Texans...what do you think of this matchup?
Drew Bennett
(12:04 PM)
I think this is the first real test Vince Young will have. I think that if the Houston Texans defense does even close to a good job of containing Chris Johnson, they should be able to pull this one out.
Dan (Baltimore)
Other than the Saints, Colts, and Vikings, which is the next best team out there?
Drew Bennett
(12:05 PM)
I think the Chargers are pretty impressive right now. After that, there's quite a letdown. When Troy Polamalu is healthy, I think the Steelers are a playoff team. Jacksonville is underrated and probably wants to continue to stay under the radar.
Steve (Dallas)
Who is the best defensive player this year?
Drew Bennett
(12:06 PM)
Darren Sharper has made a good case for defensive MVP. He singlehandedly kept them in the game against Miami. He's had seven interceptions, with three for touchdowns. Enough said.
Mark (KC)
Hi Drew. Peyton Manning got outdone by little brother Eli yesterday. With the exception of the 2 minute drill against NE last week, he seems a bit off the last few games. What's up with Peyton?
Drew Bennett
(12:08 PM)
Peyton Manning has always struggled against the Ravens. I don't think anything is up with him. The guy is still my MVP. It's a 16-game season, and you'll have games in which Peyton Manning isn't perfect, but when it comes down to the fourth quarter, he'll still take care of business every week.
Shawn (DC)
How about the guts Stafford showed by coming back for the final play of the game? That has to go a long way with his team mates.
Drew Bennett
(12:09 PM)
Definitely. To take a hit like that and win the game on the next play will make his teammates realize that they can lean on him a little harder than they have been. The fans in Detroit have got to love a rookie QB with that kind of desire to win the football game. Nevermind the 400+ yard game.
Frank (Pittsburgh)
How worried should the Steelers be? I mean, they lost to the Chiefs. THE CHIEFS!
Drew Bennett
(12:10 PM)
That's a good point. The team that scored 27 on them yesterday scored their first rushing TD in week 10. They've given up 23 points per game without Polamalu this season, and 13 with him. They need him to be healthy to have any chance at a playoff run. They should be worried.
Stephen (NJ)
The Giants looked a little better yesterday, but they still didn't look great....how do you assess their playoff chances?
Drew Bennett
(12:11 PM)
The most impressive thing yesterday was that their young receivers finally stopped looking like rookies. They made plays, caught the ball well, although a good team does not give up a fourteen-point lead in the fourth quarter. There is still cause for concern.
Tim (Maine)
will the Patriots be able to handle New Orleans high powered offense?
Drew Bennett
(12:13 PM)
If by "handle", you mean "contain", then I think yes. The Saints have had several games this year where Drew Brees did not deliver all the touchdowns you see on the highlight reels. If they can keep the Saints' offense run-based, then they should have a good chance to win.
John (Texas)
What's the key matchup tonight?
Drew Bennett
(12:14 PM)
Brian Cushing, Houston LB, vs. Chris Johnson, Tennessee RB. There's no secret to the formula for the Texans to win tonight: if they can stop Chris Johnson from a 200+ yard game like he had in Week 2 against them, then they should win the game.
Rob (Willow Grove, PA)
Best wishes for a Happy Thanksgiving Drew! Ray Rice lost the goal line carries again yesterday to Willis McGahee, after not doing so for many weeks. Is Rice losing stamina as the season goes on, or what? Those 2 stuffs on McGahee cost the Ravens the game (oh that and Flaccos INT)
Drew Bennett
(12:16 PM)
You never really know in a season as long as this one is what the reasons are for who gets the goal-line carries. Mostly, it depends on who is tired at the time, who has just carried three or four times in a row. Running backs fumble when they get tired toward the end of a drive. Also, coaches sometimes like bigger guys on the goal-line.
Jeremy (Dallas,TX)
Why are the cowboys having trouble getting points?
Drew Bennett
(12:18 PM)
The iconic players for the Cowboys are not doing what they are getting paid for. Roy Williams and Tony Romo are both failing to make any sort of plays. Roy Williams looks scared catching the ball, and Tony Romo's patented flick looks very unsure. They should lean on the run more with these two guys struggling.
DON (Georgia)
Do my Falcons get healthy enough these next 6 weeks to make the playoffs. Shouldn't they be favored or at home for every game. The close, late losses in a row are frustrating!
Drew Bennett
(12:19 PM)
They need Michael Turner more than ever for the playoff run. I think that Matt Ryan is a smart enough QB from the guys that I hear from in Atlanta that he will be able to bounce back from this small sophomore slump to be more efficient.
milton (illinois)
can any team afford to lose their starting q.b. less than arizona?..scares me to death when leinert comes in
Drew Bennett
(12:19 PM)
It's probably a tie between Denver having to play Chris Simms and Arizona having to play Matt Leinart. Leinart is very good at getting a team back into a game -- the other team.
rob duncan (muncie, in)
Is the reason that the panthers aren't playing up to their potential because of their quarterback play?
Drew Bennett
(12:20 PM)
Absolutely. You look at the games they've lost, and it correlates 100 percent with the turnovers that Jake Delhomme has had, whether it's interceptions or fumbles. I think they have a good defense and probably one of the top RB tandems in the NFL, when healthy.
Shane (Los Angeles, CA)
That's right DB, don't mention the Cardinals when asked who is the next best team out there! Keeps us flying under the radar until we get red hot for the playoffs!
Drew Bennett
(12:21 PM)
They stayed quiet until their last run last year. Good point. I won't say anything else.
Greg (Detroit)
How surprised were you with the Lions-Browns game yesterday? It was actually fairly entertaining. I never would have guessed!
Drew Bennett
(12:22 PM)
I was totally shocked. They probably beat the over by fifty points yesterday. Hopefully this will be a catalyst for both these offense to at least show some forms of life the rest of the season. It might be just what two young quarterbacks needed. Too bad it was blacked out in Detroit.
Marc (Charlotte)
Did you really call Bill Belichick a horrible human being in last weeks chat? Any evidence you have to back that up?
Drew Bennett
(12:24 PM)
I never said horrible human being. That's rough. I said he looks like a curmudgeon after he loses.
Walter (Boone, NC)
Which two coaches have the hottest seats in the NFL right now?
Drew Bennett
(12:25 PM)
Jim Zorn already has one foot out the door. I think Mangini's not going to get a second chance next year. Both these teams haven't shown signs of improvement.
Jose (NYC)
Josh Freeman -- do you see potential?
Drew Bennett
(12:26 PM)
I like the way Josh Freeman has looked. He seems very poised in the pocket. Obviously he has good arm strength and is a decent athlete, and he's given life to a very stale offense. I'm a little worried about his footwork in the pocket when he has to go through his read progression, but that is something that can be improved.
Eric (Indy)
Is it already evident that the signing of LJ has cursed the Bungles?
Drew Bennett
(12:27 PM)
I'm with you. I was against it from the get-go. Why take a team that has great chemistry and has all of their pass misfits focused and committed and add this variable?
Dan (Florida)
Are these final few games the final test for Vince Young? If he doesn't show he has the potential to become their franchise QB by the end of the season, do you think they start to look in another direction?
Drew Bennett
(12:28 PM)
Absolutely. This is his last job interview. He's done very well so far, but the next six weeks will determine whether they go out and draft a QB in the first round, or they reinvest in Vince and pay him that big bonus he has coming in March.
Walter (Boone, NC)
What is missing from the Redskins? They seem like a complete team with a decent QB....great defense...great half back when healthy....other than the coaching, are they missing something else?
Drew Bennett
(12:30 PM)
I think they're missing a QB. Jason Campbell seems to be just a guy. They have a solid defense, and if they could find somebody to get the ball more consistently to Randle-El and Santana Moss, they'd be a much better team.
Drew Bennett
(12:30 PM)
Happy Thanksgiving, and thanks for your questions!